Video Catalog Ads - How To Make Product Level Videos On Meta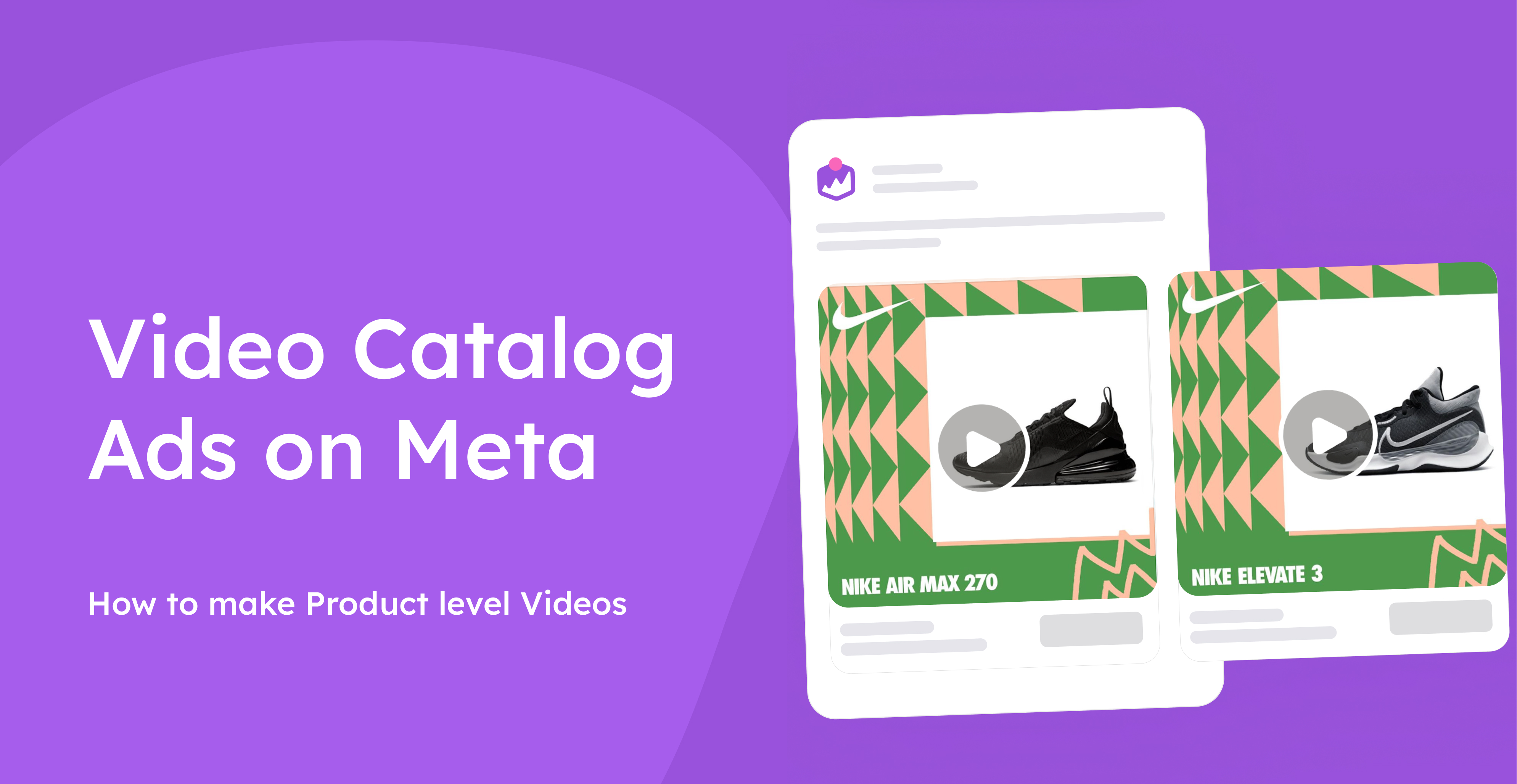 The Catalog Ads (Dynamic Product Ads. Product Feed Ads - or what you like to call them) that we all know and love (especially after the introduction of Advantage+) have always been restricted to static image ads. 
But what if I were to tell you that Meta is soon rolling out a new feature that will supercharge your Catalog Ads with videos?
Say whaaaaat?! 
Video Catalog Ads, or Product Level Videos, are the next generation of Meta ads.
With Video Catalog Ads, advertisers like you can upload Dynamic Videos directly into a catalog, and then let Meta's powerful algorithm display those videos to your ideal customers! 
Sounds pretty awesome, right!?
Catalog Ads (Dynamic Product Ads) in itself is a powerful tool in most marketers' toolkit. It allows you to focus on designing ads, trying out different messages, and A/B testing those - and let Meta take care of the rest.
If you want to know how you design the best possible Catalog Ads/Dynamic Product Ads out there - you can read more about it here.   
In the following blog, we'll explore everything there is to know about these new Video Catalog Ads, including what it is, why it's better than traditional DPAs, and a few of the best practices you can use to take your next ad campaign to the next level!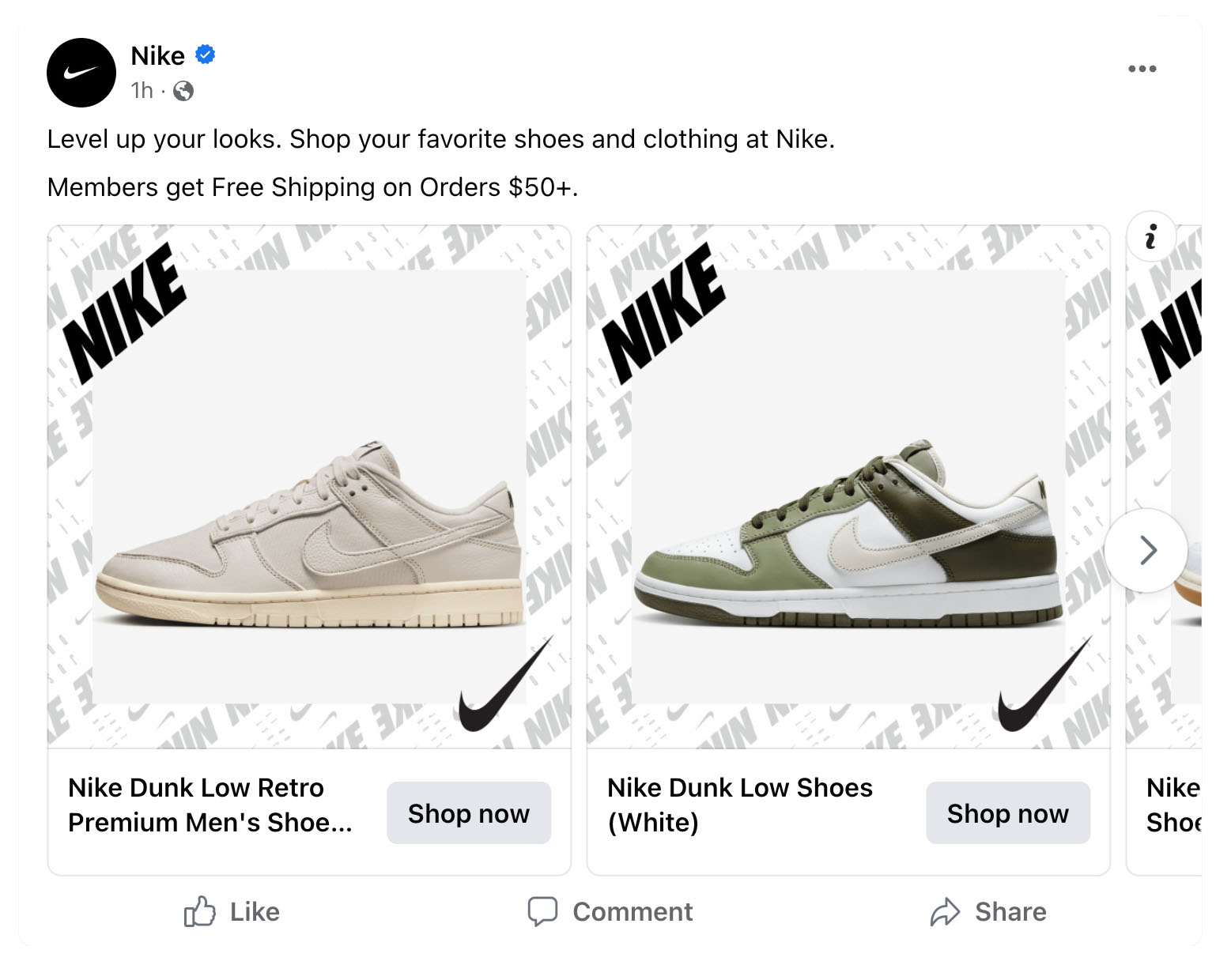 What are Video Catalog Ads, AKA Product Level Videos?
As mentioned, Video Catalog Ads are essentially Catalog Ads. 
Instead of static images, Video Catalog Ads display videos that Meta users can click on and interact with. 
Also known as Product Level Videos, Video Catalog Ads are still in beta testing, but they're meant to be a solution that allows advertisers to upload video content directly into their catalogs at a product/SKU level. 
Then, once a catalog is filled with video files, Meta's machine-learning algorithm will apply its existing knowledge to display those videos to relevant accounts. 
Ultimately, Video Catalog Ads offer even better advertising performance, delivering your content to potential customers based on the most suitable media format and product sets.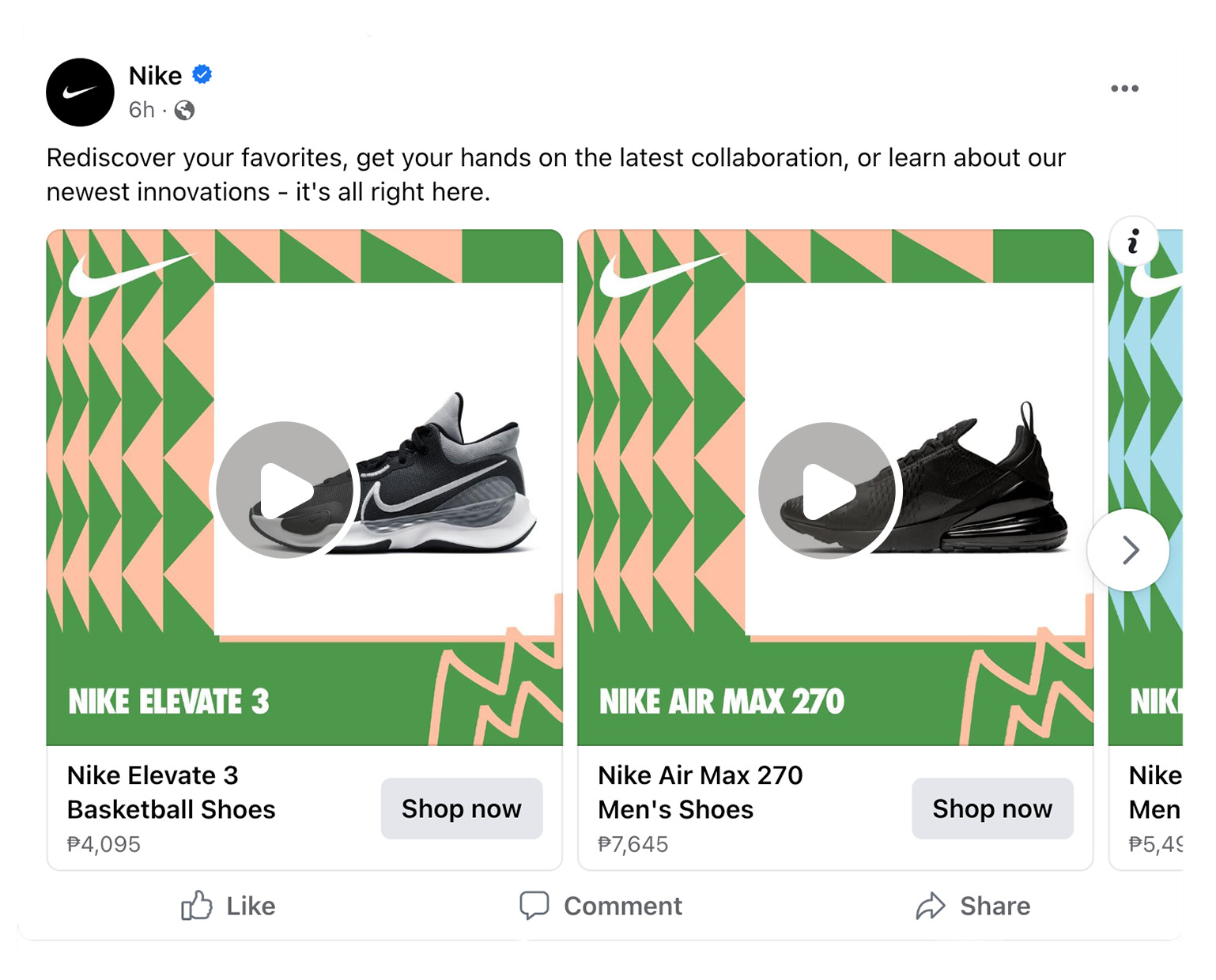 Why are Video Catalog Ads so powerful? 
One of the best parts about Video Catalog Ads is that it's still a new feature that hasn't been completely rolled out just yet. 
In other words, advertisers who familiarize themselves with this new form of Meta ads will be some of the first people to deliver their content in this way.
But that's not the only reason Video Catalog Ads are powerful! 
As an advertiser, you probably already know that videos are better than image ads since they're just that much better at capturing audience attention. 
But they also provide you with more advertising possibilities! 
Think about it! 
You could display PDP videos from your brand's website, user-generated content featuring reviews or testimonials, or even just topical videos featuring products and everything that makes them unique. 
On top of all that, with video ads, you can also: 
Focus your messaging - With a video, it's much easier to focus your ad on a single message at a time, e.g., you can show multiple USPs. Whereas, with image ads, you need to include all your messaging in one single frame. 

Answer more objections - Videos allow you to highlight more of your product's unique selling propositions (USPs), giving your viewers even MORE reasons to buy.

Scale your content

Include multiple images and videos

Product personalization
How to create Product Level Videos (Video Catalog Ads)
Luckily, the process for creating product-level videos is similar to creating a catalog for Dynamic Product Ads. 
So, if you've already used Dynamic Product Ads in the past, transferring your knowledge over to the creation of Video Catalog Ads should be relatively easy. 
Step 1 - Create your videos 
The very first step is to source the video files that you want to use for your advertising campaign. 
You'll need to choose video files, which can then be appended to individual products within your catalog. 
And, of course, being as product-relevant in these videos as possible is the goal - try to leverage the change to create dynamic videos by including the most important product-specific information.
Some of the most common video sources to use include: 
PDP videos from your brand's website 

Product Animation Videos (you can make these with Confect.io)

User-generated videos that feature individual products

High-fidelity videos that highlight hero products
Of course, some videos will be easier to create at scale than others. 
Step 2 - Incorporate the videos in your catalog
Next, you'll need to get your videos into your catalog. If you are using a platform like Confect.io, this is super easy once you've created your video designs.
Ask your Customer Success Manager for guidance on how to do this.
Step 3 - Upload video URLs to Meta Commerce catalog
After you've uploaded your videos to the online repository of your choice, the next step is to upload your video URLs into your Meta Commerce catalog.
If you've just added the videos to your existing catalog - the videos will be imported automatically, otherwise, you need to change your data source.
When you do this, Meta will automatically download and store your video files for its internal integrity review. 
But after that, you're pretty much ready to launch your brand-spanking-new Video Catalog Ad campaign! 
Note that Meta's feature can support as many as 30,000 products per catalog and there are now required minimums. 
Still, for best results, we recommend trying the videos on as many products as possible so the algorithm has enough content to work efficiently. 
Step 4 - Set up your campaign as normal 
The final step is to set up your campaign just like you would for any other Dynamic Product Ad, or Dynamic Ad for Broad Audience campaign. 
You can do this through manual flow, the Advantage+ Shopping Campaigns flow, or the Advantage+ App Campaigns flow promoting your new product set that contains your video URLs. 
Images Vs. Videos - Which is the better choice? 
Now, we're not bad-mouthing image ads. 
After all, Catalog Ads genuinely is a great way to share content with your audience and convert people into paying customers. 
But there's a time and a place to use images and a time and a place to use videos. 
So, what's the downside to creating Product Level Videos (Video Catalog Ads)? 
Creating videos can be a high-risk, high-reward endeavor. 
Yes, videos do perform better, and they are better at capturing viewer attention and giving you the space to explain what you've got to say. 
But, creating videos takes more time and requires more expertise to get right. 
Thankfully, with Confect, you can streamline your video creation process by creating just 1 or 2 great designs and then implementing them on all your products. 
Confect's easy-to-use editing software will also allow you to: 
Duplicate image design and insert them as video

Animate design elements like price, brand name, discounts, etc. 

Animate your image backgrounds or overlays

Insert animations into the middle of existing video content
Product Level Video Best Practices
Now that we've explained why Video Catalog Ads are so powerful, let's dive into some of the most essential practices to remember when creating these ads for your next campaign. 
1. Start simple 
When trying to come up with ideas for your videos, it can be easy to get overwhelmed and not know where to start. 
That's why we encourage you to start simple! 
Focus your videos on your brand and its product, all while keeping your target audience in mind. 
You can also make use of all sorts of age-old marketing tactics, like color theory, pricing psychology, FOMO, and the element of surprise to make your videos that much more compelling to your target audience. 
2. Keep important information front and center
It's crucial for you to remember that videos take a bit longer compared to images, especially for carousel swipe ads where there can be as much as a 0.5-second delay. 
Now, that really isn't all that much time, but… 
It's still good to include the most important information at the beginning of your video ad, just in case the viewer doesn't want to wait around for it to load.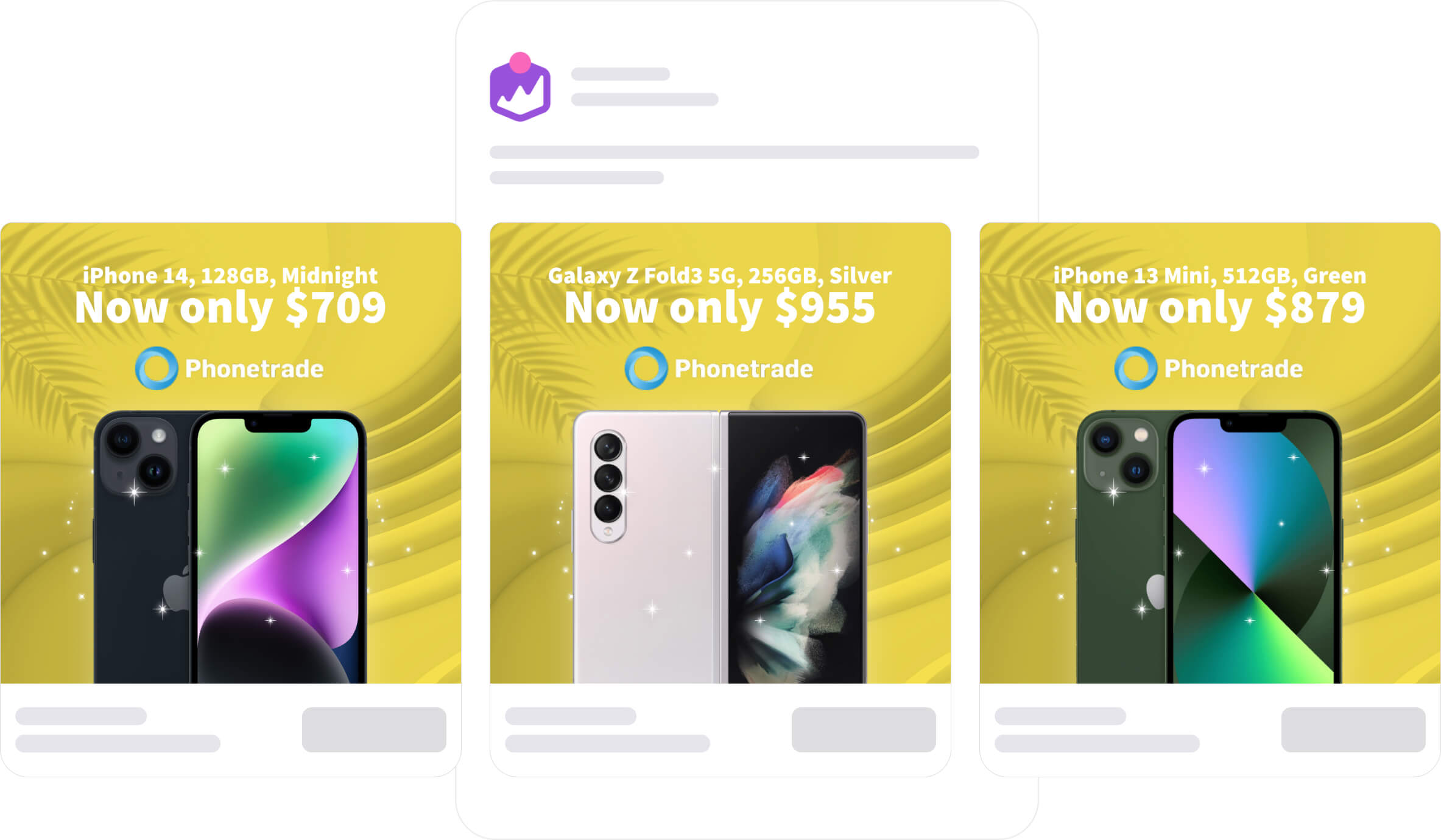 3. Keep your logo visible throughout your videos
It's a common mistake only to include your brand's name and logo toward the end of your videos. 
The great Meta itself even recommends having your logo visible throughout your entire videos, which ensures the viewer sees it, even if they don't watch the video through to the end.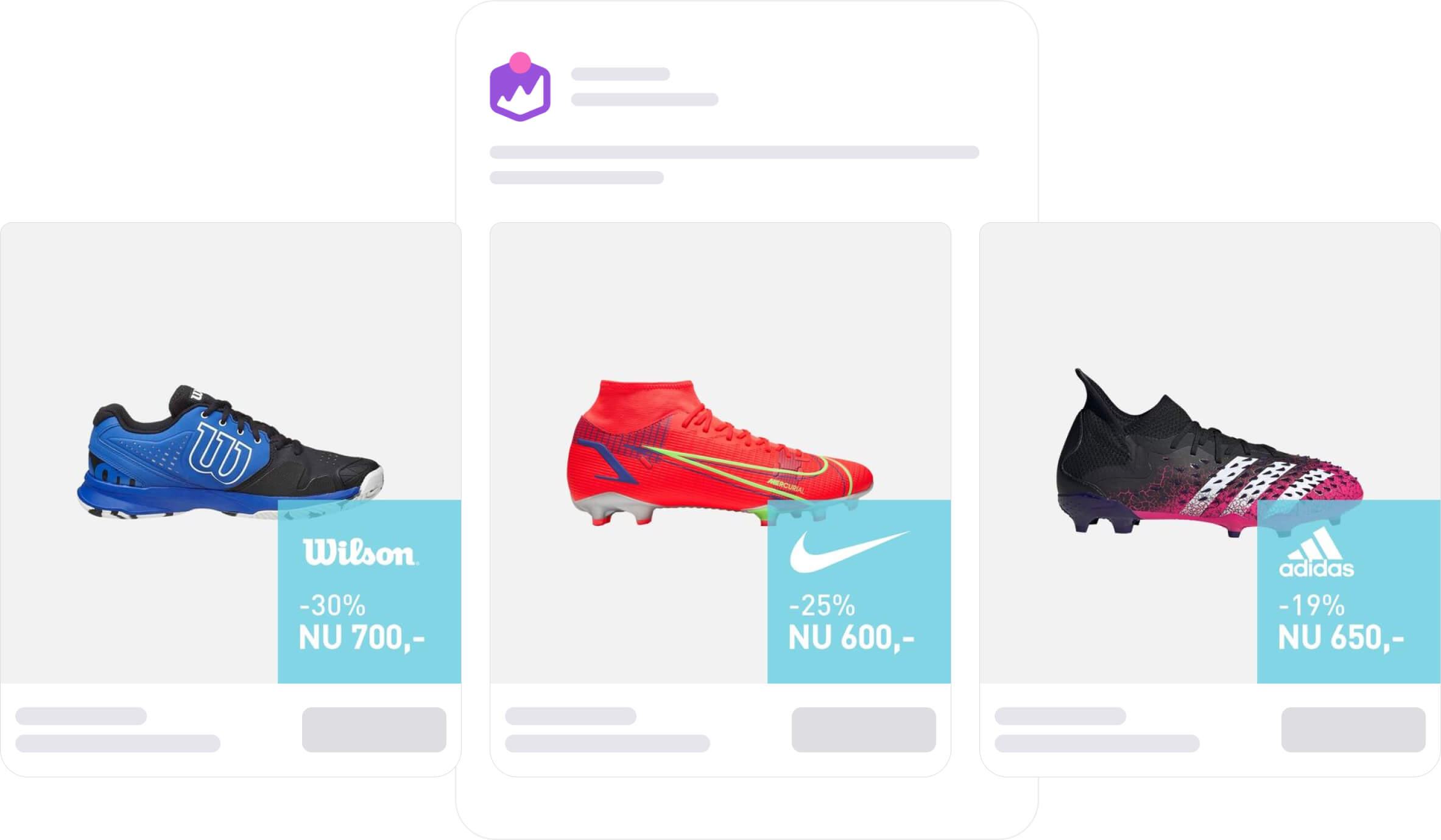 4. Use attention-grabbing animations 
When using single images, it's a good idea to use big attention-grabbing animations. 
For this, you can try animating important elements, like prices or discounts, which can help capture the viewer's attention and draw them in for me. 
5. Audio is only autoplayed on stories (not in-feed) 
No video is complete without a bit of audio, dialogue, or music. 
However, audio is only automatically played in story ads. 
So if your videos are being displayed in-feed, it's important to remember to create videos that don't rely on audio to get your message across. 
As a simple solution, you can use subtitles, which ensures that even if the viewer sees your video without any sound, they'll still be able to read what you're trying to say. 
6. Loop additional images
A quick and easy way to make an interesting video to watch while also showing a lot of information about your products - is to utilize your additional images. 
You can easily show one main image of the product and shuffle between 3 additional images next to it. 
Or, go all the way and shuffle between your main image, additional_image_1, additional_image_2, etc. 
This is a quick way to create movement in your video, without doing too much hardcore setup.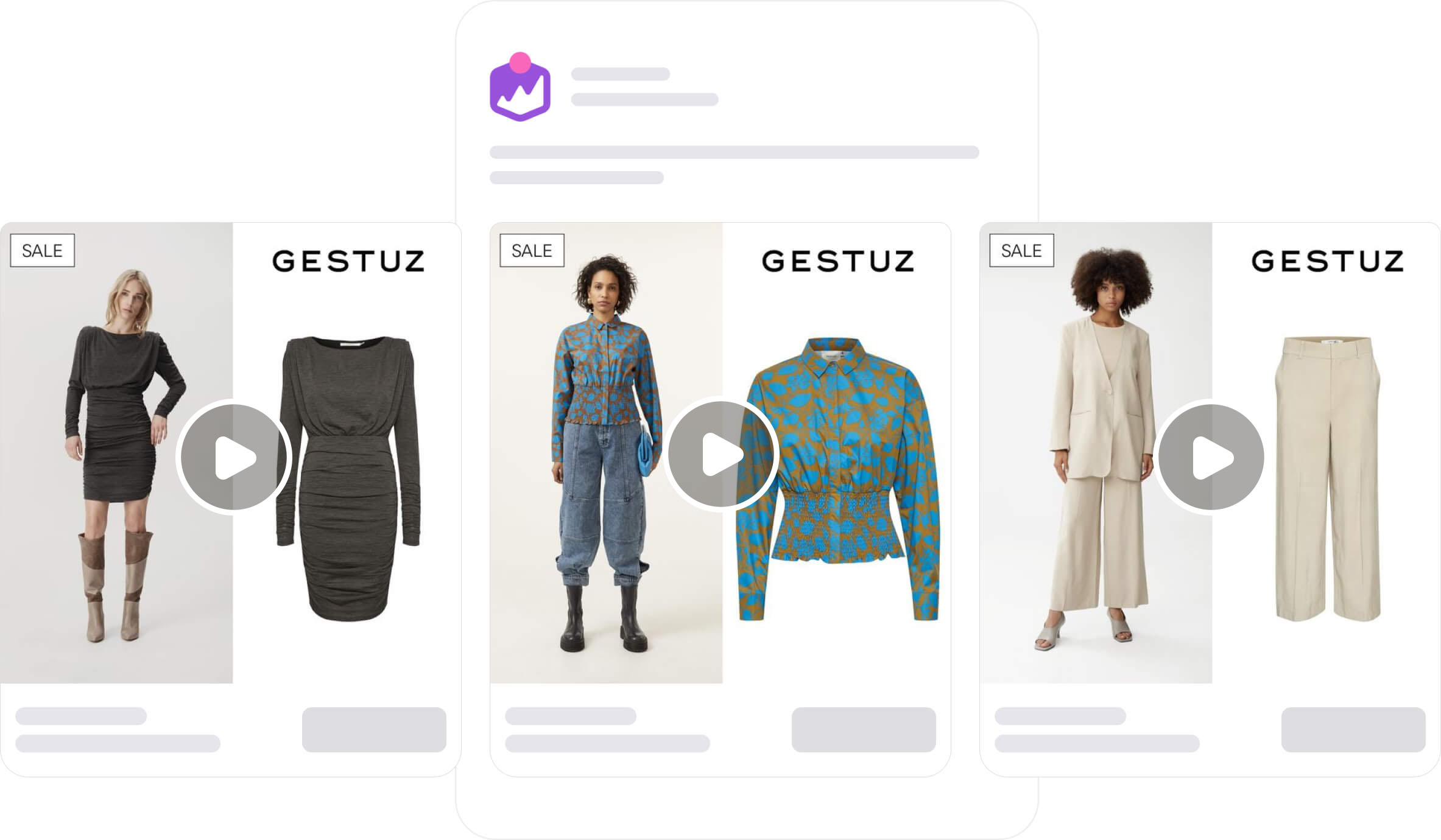 7. Animate your USPs and product info
Anything from the price of a product, through to its USPs, discounts, or other details can be animated to make your VCAs that much better at grabbing audience attention. 
Having these details animated also ensures that the viewer is more likely to pay attention to that specific piece of information. 
For example, if your goal is to show people how much money they can save, having the savings animated ensures they'll see this bit of information before they look at anything else.  
8. Animate overlays
Similarly, you can also animate your image overlays to make sure they're better at grabbing viewer attention. 
This can be a great way to make your ads more relevant to your audience. 
For instance, you could create an overlay of leaves falling to highlight an autumn sale, or create a snow-fall effect to highlight a winter sale. 
9. Keep it short and sweet
We think one of the most important best practices to remember is to keep your videos short and sweet. 
You probably already know, but people very rarely watch the entirety of your video; therefore, again, you need to keep all the important information front and center. 
This way, by the time most people drop off (usually around 5 or 6 seconds, take a look at an example from Confect), you'll have already gotten your message across to them.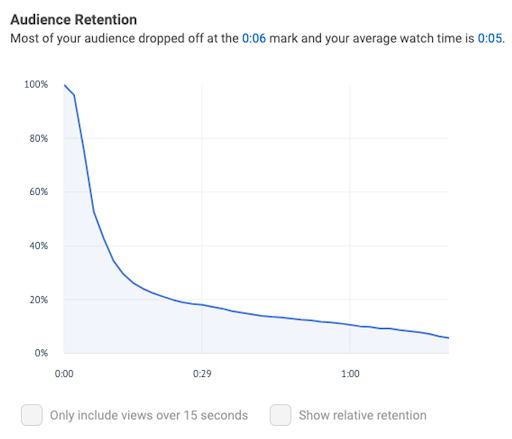 Level up your with Video Catalog Ads
Are you ready to try out video catalog ads? If you can access the feature sign up to Confect.io and start scaling your videos!