Get more leads for Black Friday with these text-hacks
Black Friday, Black Week, Black Month. An important season for many retailers and eCommerce companies.
And even though Black Friday is only 1 day of this whole month, a lot of companies are warming consumers up with emails beforehand.
So that the consumers are ready to buy - and know where to buy - when the big day arrives.
Our job, as marketers, is to persuade the consumer to sign up. Tell them all the good reasons - and how great offers they will receive - all by just signing up with their email.
But how much do you need to persuade the viewer to sign up - and how do you do it most effectively with text?
Let's look at 37.6 million impressions from Black Month 2021 - to see which small text hacks that improves our performance.
The more text, the more leads
A lot of us marketers remember the good old days with Facebook's 20% rule.
Having too much text in your content would make the algorithms go crazy - in the bad sense.
This has given a lot of us marketers some ingrown habits: looking out for putting text in our content.
But we often see the opposite work for advertisers: the more text they put in their content, the better performance they get. And it seems to be true for Lead Generation during Black Month too.
When you're running lead generation ads during Black Month, a high text amount performs 68% better than a low text amount: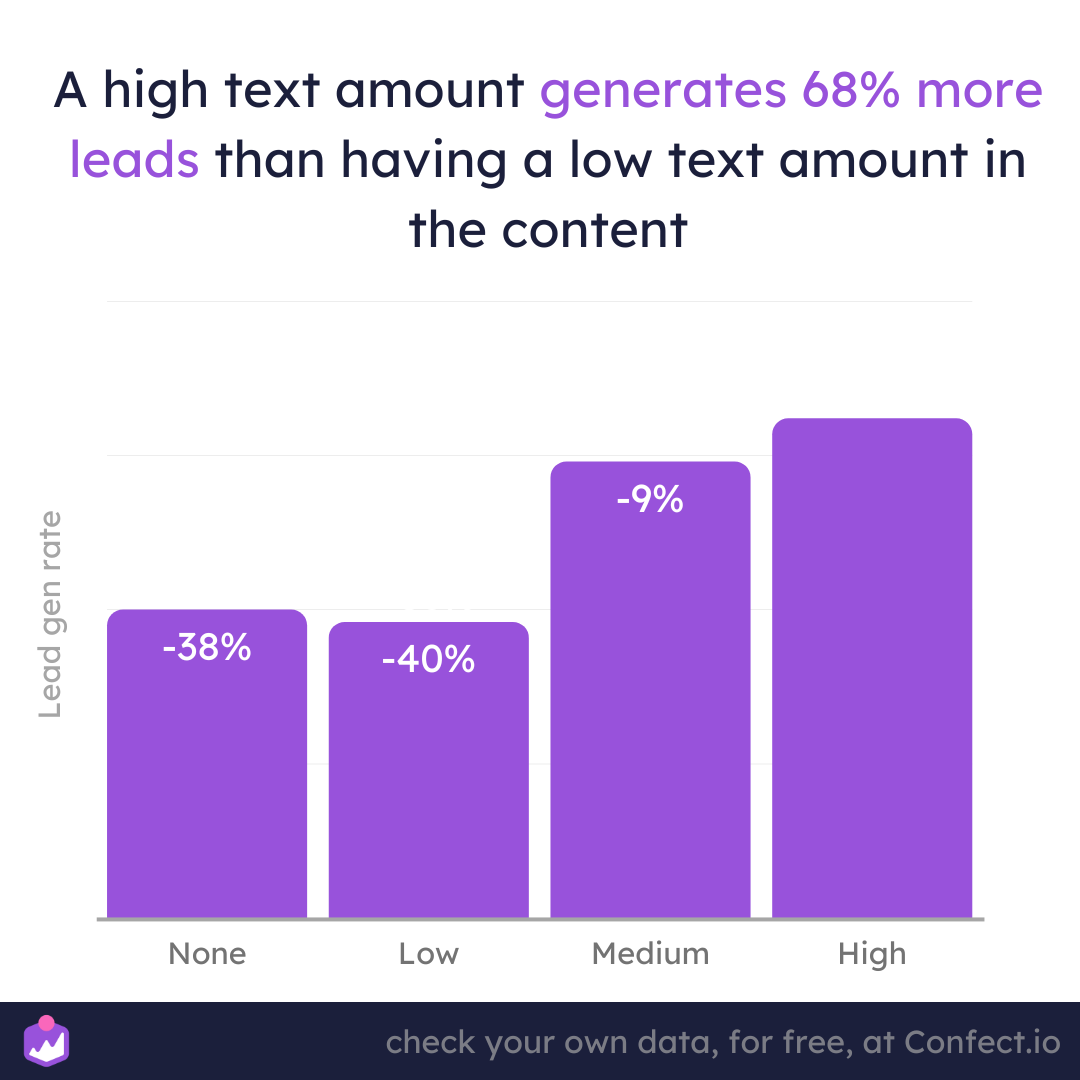 This makes sense, especially during Black Month: The more text you write, the better an offer it probably is.
Black Week? Nah, everyone has this.
But Black Week - where you can save up to 70% - and if I sign up I am the first to know about all these sweet deals? Sign me up!
Having short headlines like "SIGN UP" or "BLACK DEALS" are not effective - even less effective than not having any text at all. A clear pattern emerges: Make sure to tell people, a lot, about why they should sign up.
A reason for this, that no or very low text amount is so ineffective is that you are selling information: You are not a tangible product like in your sales ads, but a ticket to be the first in line for your Black Week deals.
If you're looking to optimize conversions with text, read this article.
Okay, so the text is king in your content - but where should you place the text?
Your text layout influence performance wildly
Having a lot of text speaks to your brain: It's about the amount of information you pass on.
But where to place the text speaks directly to your eyes: Here, the goal is to help the eyes find the meaning fast. Before the viewer scrolls away from your precious ad.
When people skim your content, they do so in a Z pattern: Making the first thing the see the top left corner, then travelling right to the top right corner, to move down in the bottom left corner, and finishing in the bottom right corner.
This means that people will see the top left corner of your ad as the first thing - and the bottom right corner as the last thing. It's simply the flow of the human eye.
Therefore its not a big surprise that text layouts with the text placed in the top - or in the left - side of the ad performs the best. And that ads with text placed primarily in the bottom or right side performs the worst.
The best text layout with text in the top left for instance performs 127% better than the worst performing text layout for lead ads during Black Month: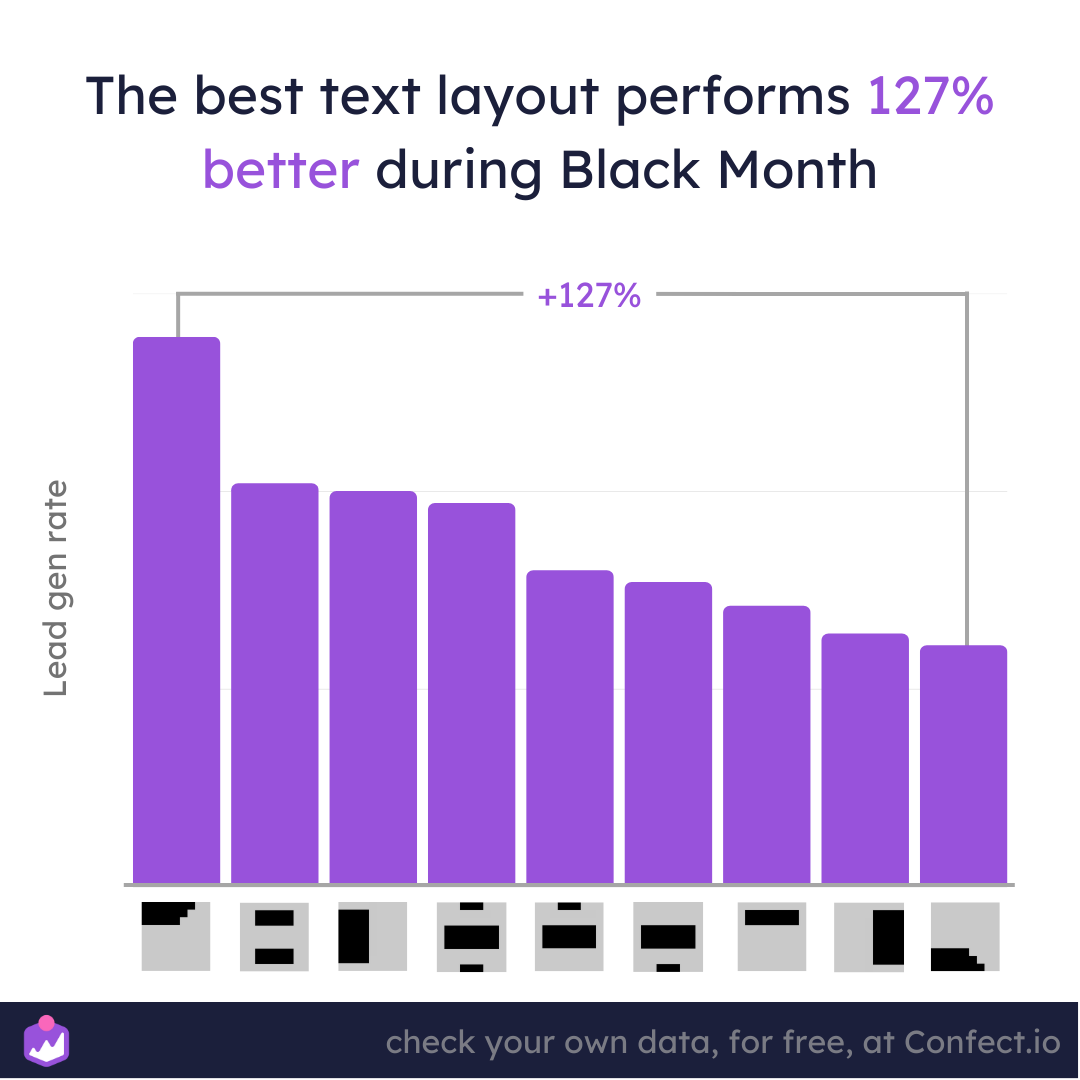 Below are some great examples that are utilizing the Z pattern to the fullest.
In the left example, the eye first sees the message: "Sign up & Win", before moving toward the human face of the model. After having seen that 1) this is a competition and 2) for a men's clothing brand, the eye can then move straight toward the bottom right corner: Where the logo is neatly placed.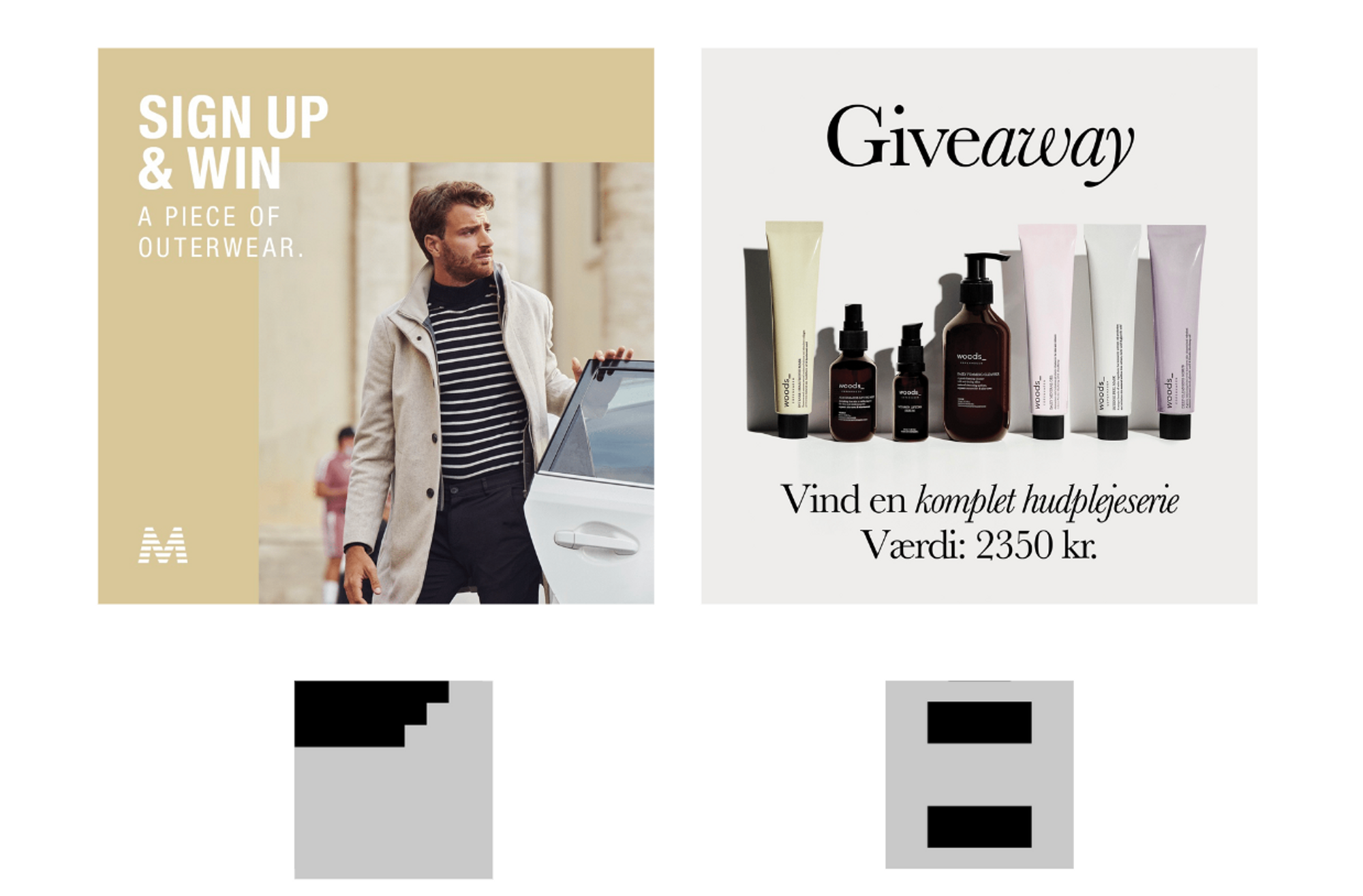 In the right example the eyes will first read Giveaway - quickly glance at the products in the middle - and then read how valuable the price is (a value of 2350 kr). Some great examples of how to utilize the Z pattern when designing ads.
The proper use of text will give you more leads
Having a great lead generation campaign during Black Month can make or break your Q4 results. And using text in the best way can increase the chances of making it.
When trying to persuade people to sign up for your newsletter, it's important to speak to their brain of how good an offer this is. And, the easiest way to convey how great an offer this is, is to add more text.
Lead Generation ads with a high text amount performs 68% better than lead generation ads with a low text amount during Black Month.
But you also need to speak to the eyes - and make your ad easy to skim. Can you sell your fantastic ad in the matter of a second or two? If not, people are scrolling by faster than you think.
If you want to learn more about successful lead generation tactics during Black Month, you can read how to do X or how to to Y.
More to read
Learn to make the most out of the next Black Month with the following insights:
Dataset
The dataset from this article is based on 37.6M impressions and 772 pieces of individual content on Meta (Facebook) platforms. It takes into account data from all countries and industries, with the campaign objective of Lead Generation. The period is from 1. November 2021 - 30. November 2022. 
Numbers are looking at correlation only, not causation. Remember to check your own data: numbers for different brands, industries, and contexts will vary.
If you were intrigued about a specific insight, you can go in-depth into the various dimensions and how data can be segmented in Confect,  here.