13 great Black Friday ad examples from paid social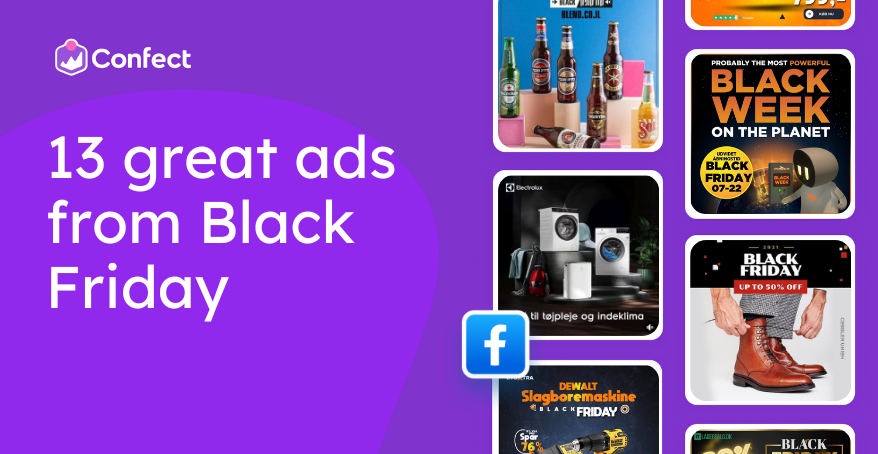 Black Friday ads are an essential aspect for all digital advertisers. The performance during Black Friday is absolutely amazing, and everybody should try to get a piece of that performance-cake
Especially paid social ads, with their ability to target specific audiences, paid social media campaigns can be incredibly effective in driving sales, especially around holidays like Black Friday. 
But how should your Black Friday ads look to get that high performance? That's a question we've been asked a lot of times. 
So to learn what works best, we've compiled the following list of some of the best Black Friday ads we've seen. 
Here are 13 great Black Friday ad examples from paid social that will help you create an effective holiday advertising campaign.
1. Color's never an issue
An estimated 20% of all consumers are indecisive, which has been a significant problem for advertising since businesses started advertising. 
But it's also precisely why this ad works so well!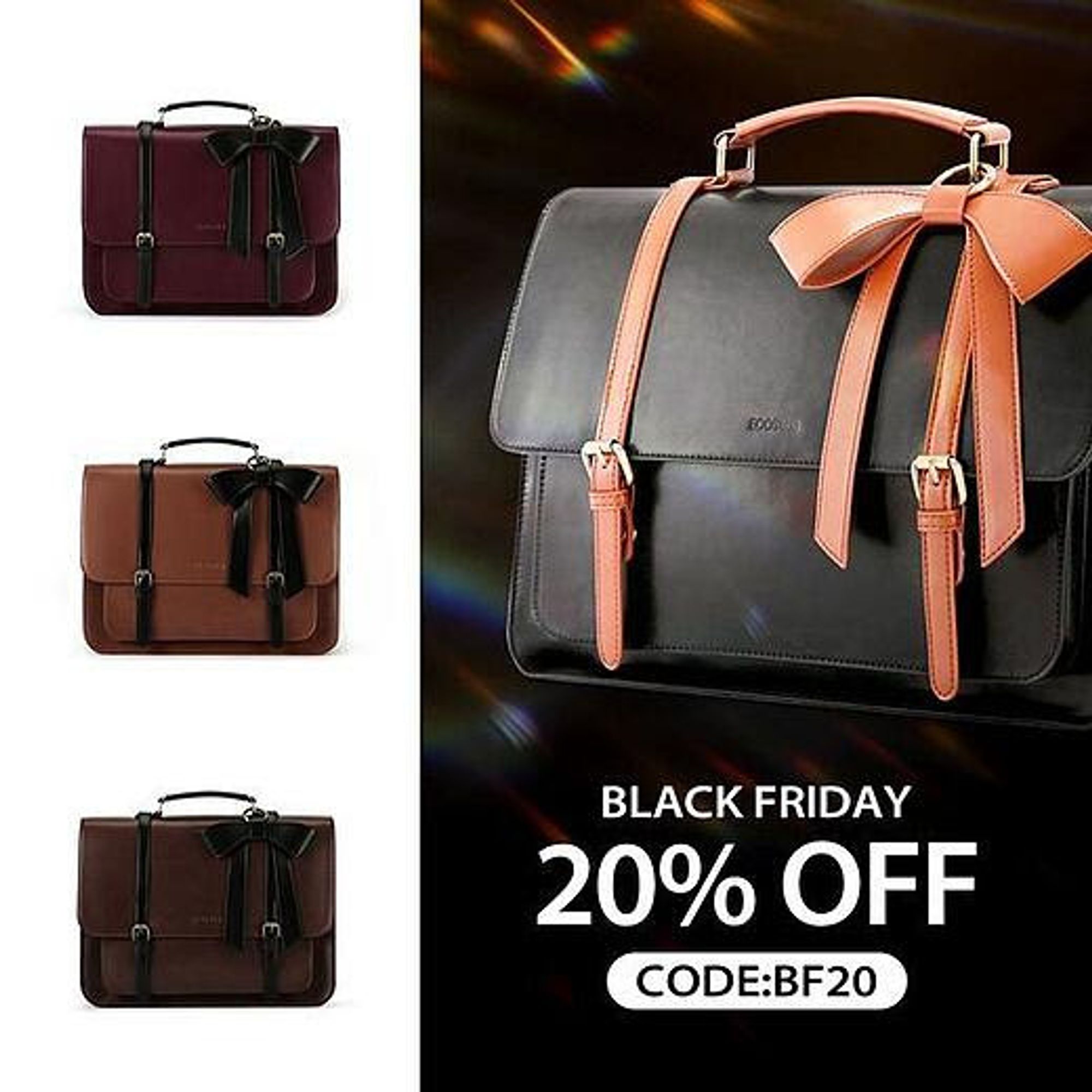 Rather than only showing one product version, this brand shows multiple variations of the same product in different colors. 
This way, no one has an excuse not to like their product based on color! 
The brand also includes a 20% Black Friday discount, enticing viewers to shop with them! 
2. The more the merrier.
Because consumers are so indecisive, it can sometimes be beneficial to show them as much as you can. 
Rather than highlighting only a single product, the following Black Friday ad example shows an entire product lineup.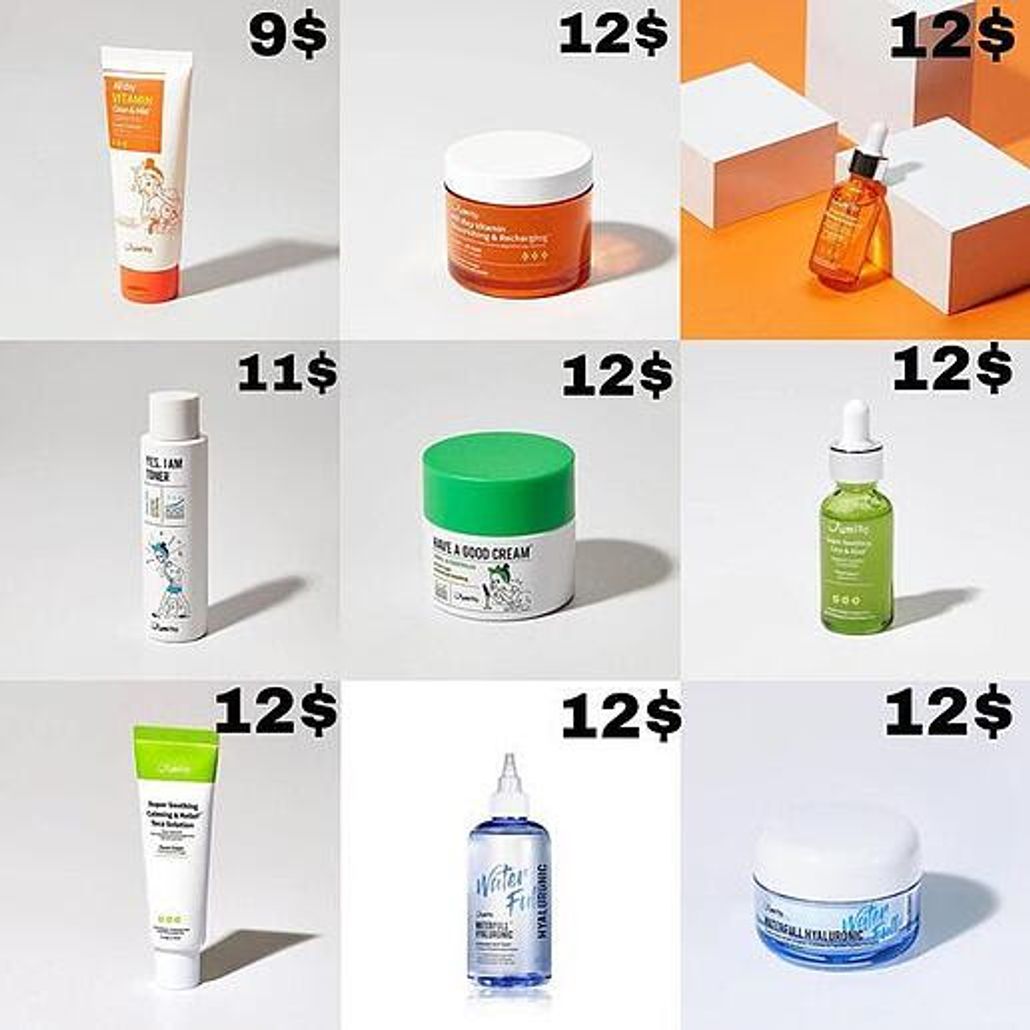 The fact is not everyone will like the product you choose to display. 
So when you show that you have more to offer than just a single product, people are more likely to be intrigued by your ad.  
3. UP TO your feet
This next tactic is tricky, but it's often a compelling way to evoke a sense of curiosity in your viewers. 
Rather than stating how much you can save, advertisers often say, "UP TO 50% OFF."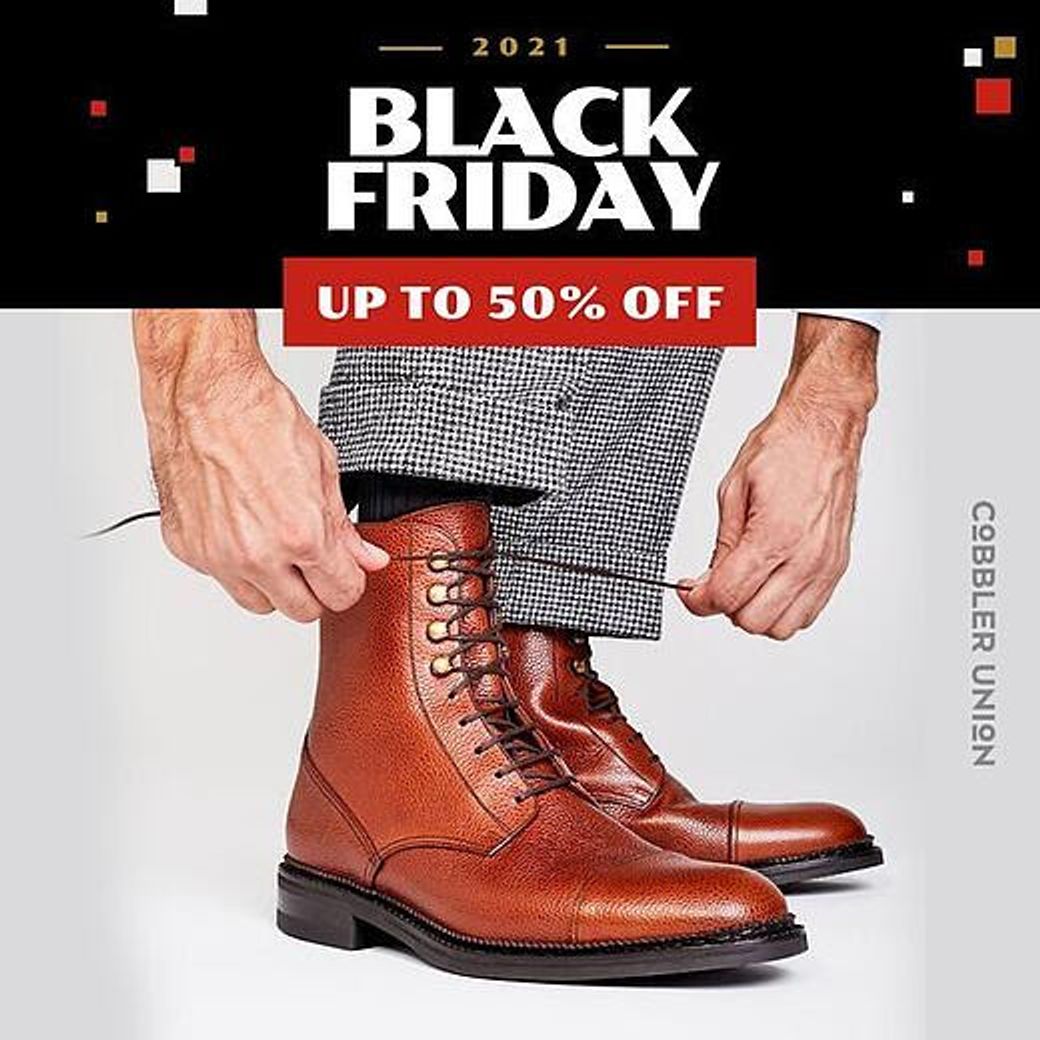 By doing this, viewers won't know what the actual discount is. The wording makes people curious, which is often enough to get them to click on your ad. 
4. Grab this deal before it's gone!
While being vague can incite curiosity, sometimes, being direct about what you're offering is just as effective. 
And this next ad does precisely that!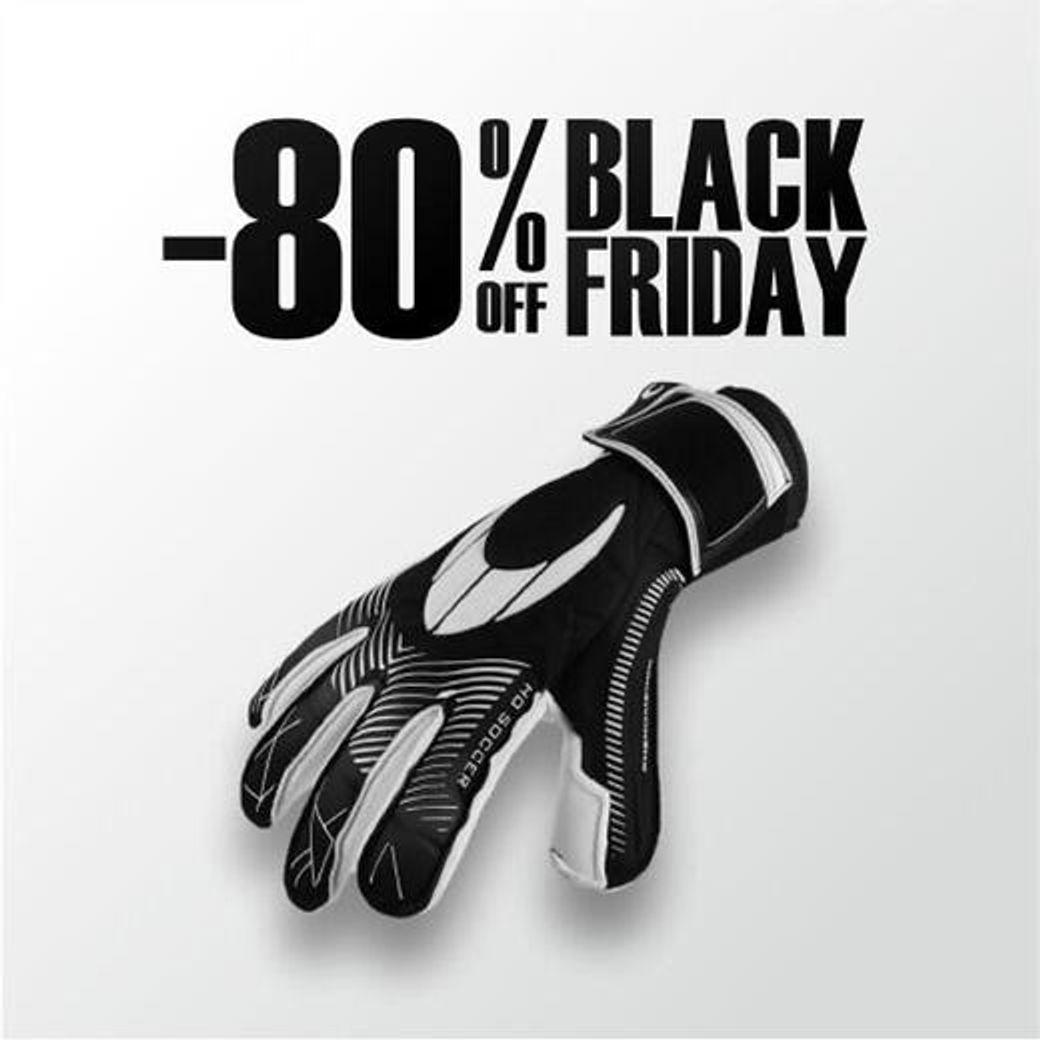 The color scheme is simple, but the discount is HUGE! 
That's why the brand put the discount front and center, ensuring nobody will miss this once-in-a-lifetime deal. 
5. BE-AU-TI-FULLLL offer!
We've mentioned before how effective using models in your ads can be. 
And that's what this next ad does that makes it so effective.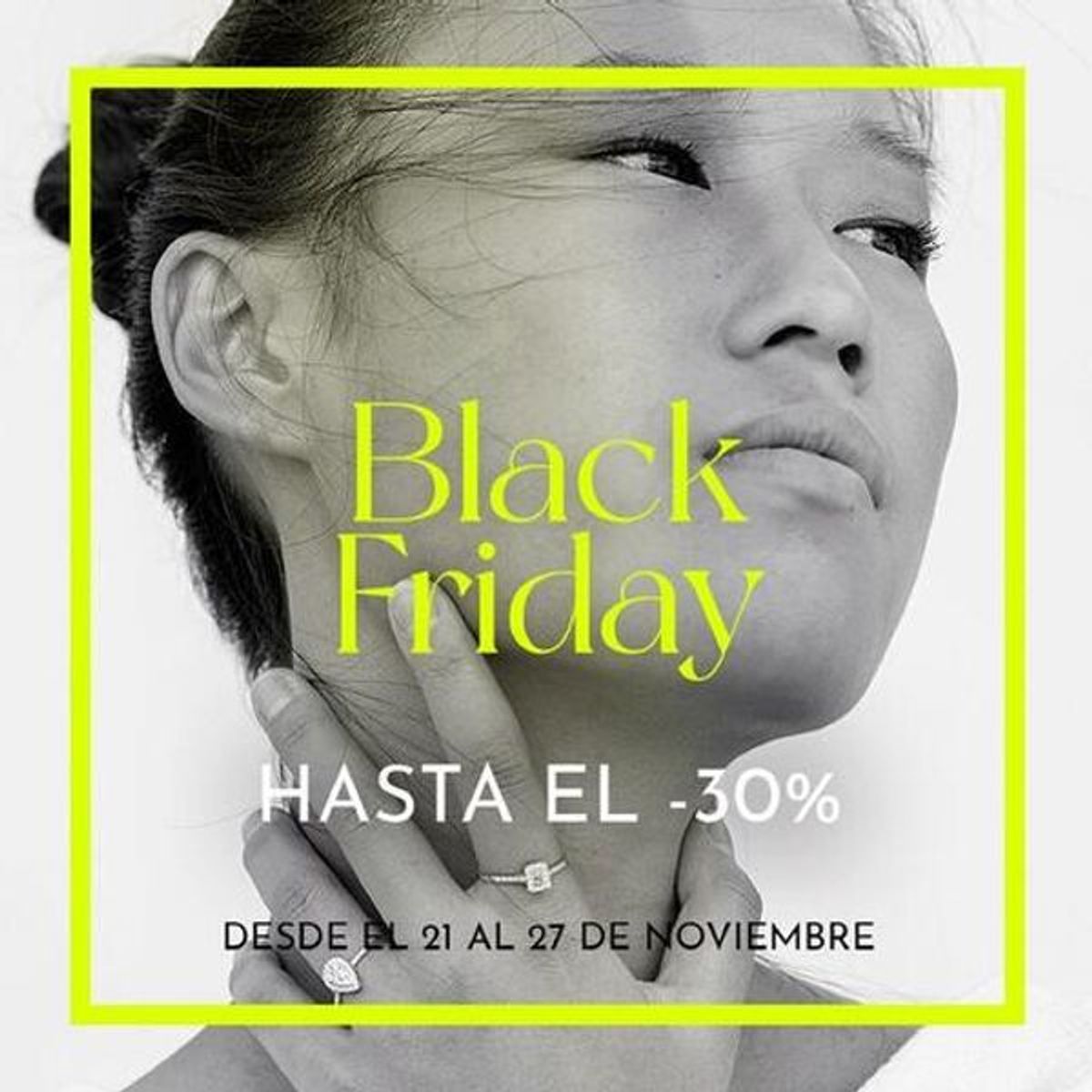 The model wearing the brand's jewelry takes up almost the entire ad, accentuating and emphasizing her beauty and the product's beauty. 
Another exciting aspect is the choice of a black-and-white image with a bold yellow font, which makes it stand out. 
6. The most comfortable deal you'll ever sit on
It's very common to see Black Friday ads that use black backgrounds and fonts. 
But this BF ad example shows us that Black Friday advertisements don't have to be so dark.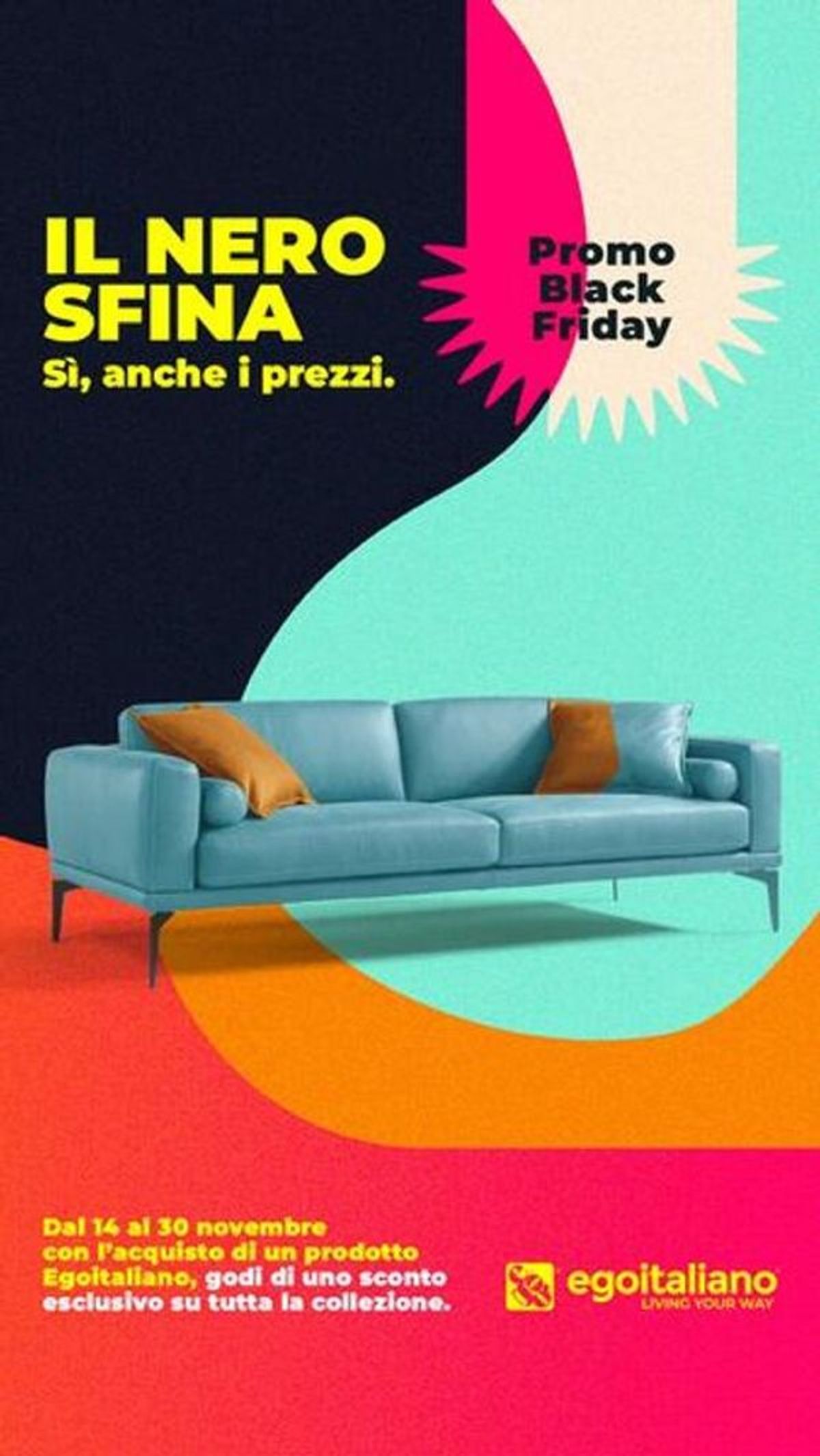 While the ad still does use a black background in some of the design, the rest of the image uses bright, vibrant colors to capture attention and entice the viewer to learn more. 
7. The best-caffeinated ad!
As we just mentioned, Black Friday ads are notorious for using black color themes. 
And that's because, as consumers, we've linked ads with darker color schemes to this highly discounted holiday. 
So when we see ads that use a darker color palette, we automatically think we've stumbled upon a good deal! 
And this ad shows us that black Black Friday advertisements are still effective at captivating attention. 
8. Lay back, drink a beer, and save money…
Sometimes, you have a bad day and want nothing more than to go home, crack open an ice-cold beer, and plop yourself down on the couch. 
Sounds nice, right?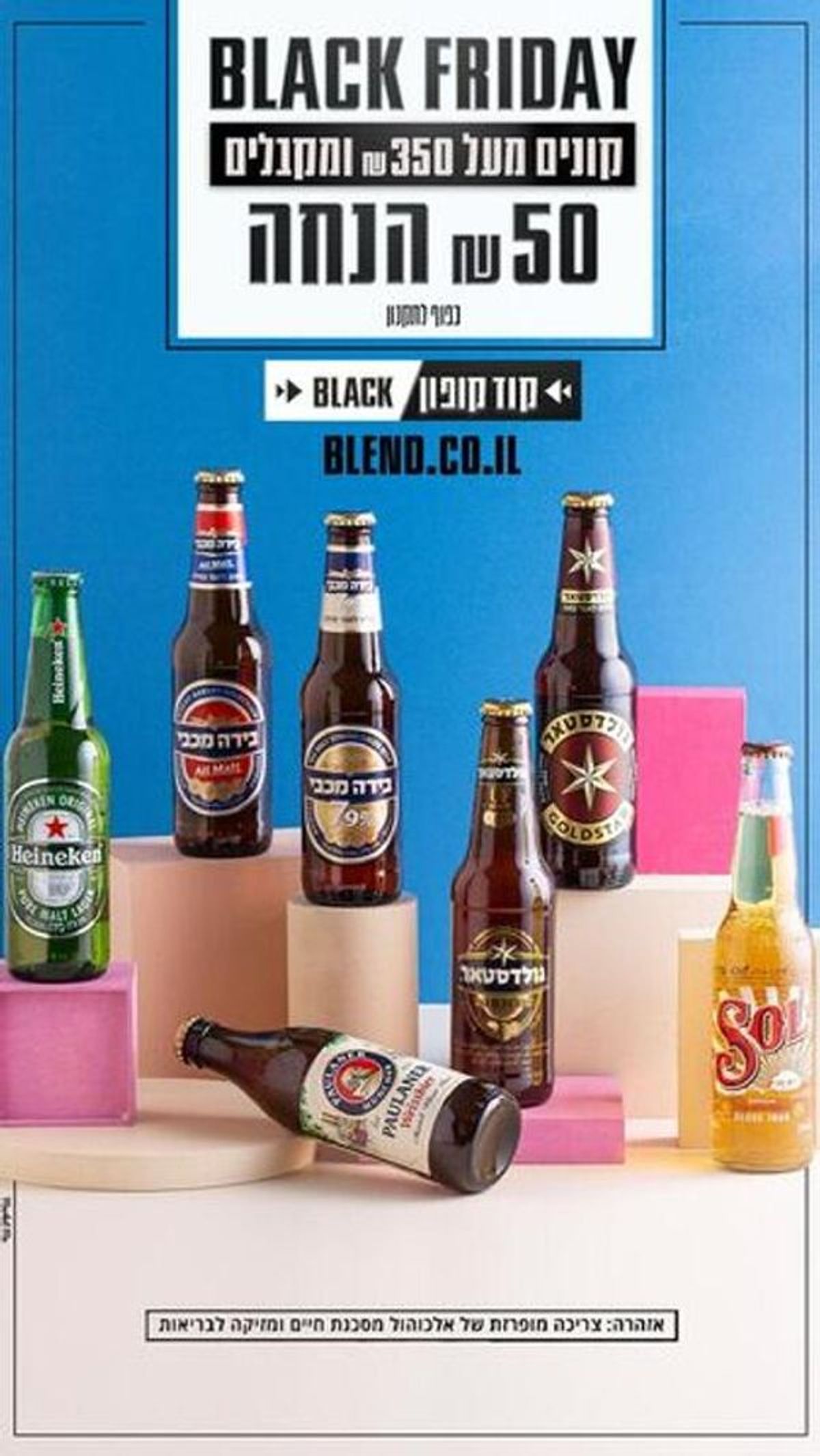 This next ad does a great job of leveraging a similar feeling by using a blue background, which exudes a sense of calmness, while also showing a variety of beers, which is something you might be craving after a long, hard day at work. 
And all this at a Black Friday discount! What's not to love? 
9. Ads that will clean your clients pockets and house
Because there are so many great discounts, Black Friday is an excellent time for consumers to stock up on appliances and other high ticket price items. 
The following example shows yet another ad that plays on the traditional Black Friday color scheme.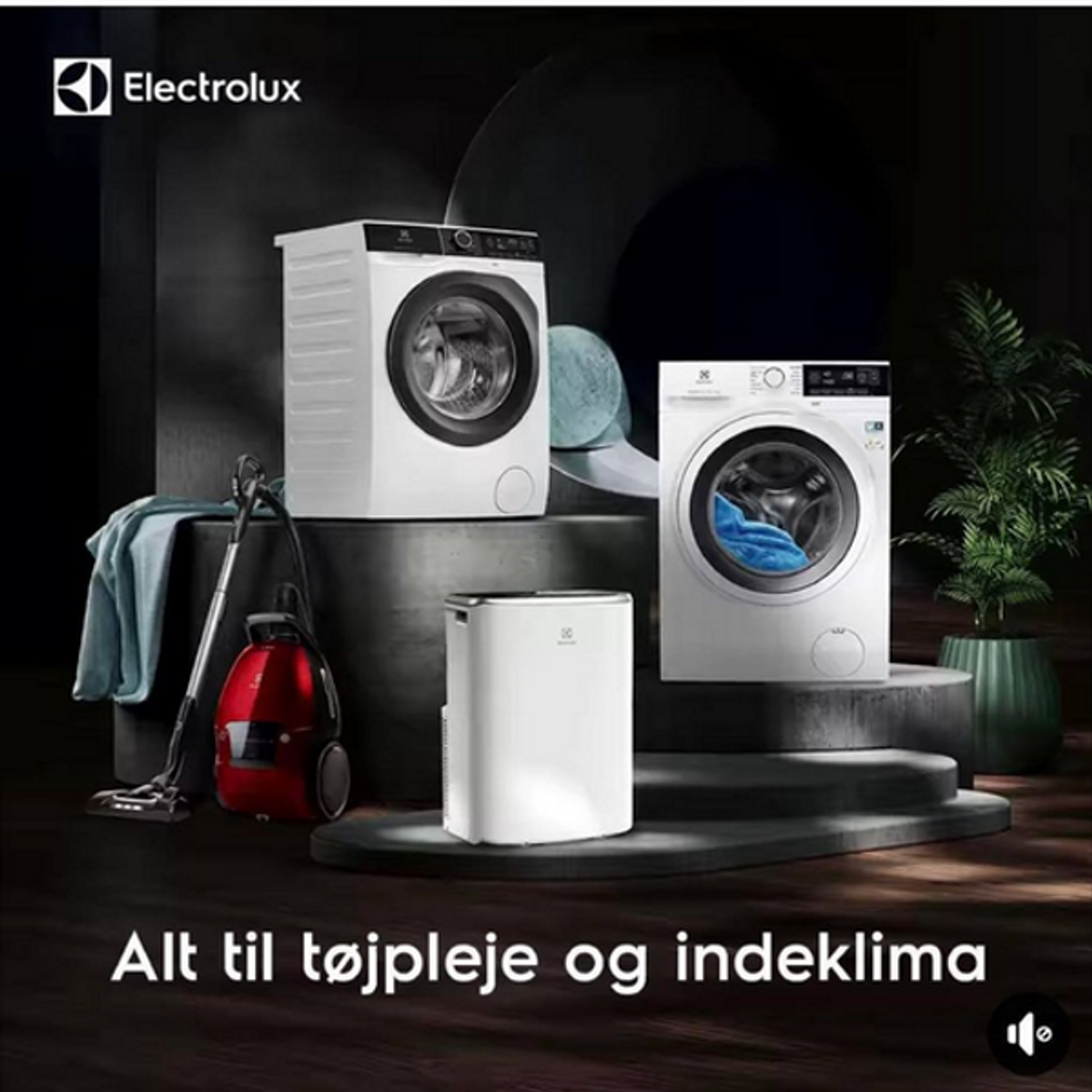 However, the ad highlights a variety of white home appliances, which truly stand out when shown against a black background. 
This is a great way to capture attention and highlight what your brand offers! 
10. Can you scan such a great offer?
This next ad shows a great product and an incredible 25% discount. 
However, this ad is set apart because the company is also throwing in a free product!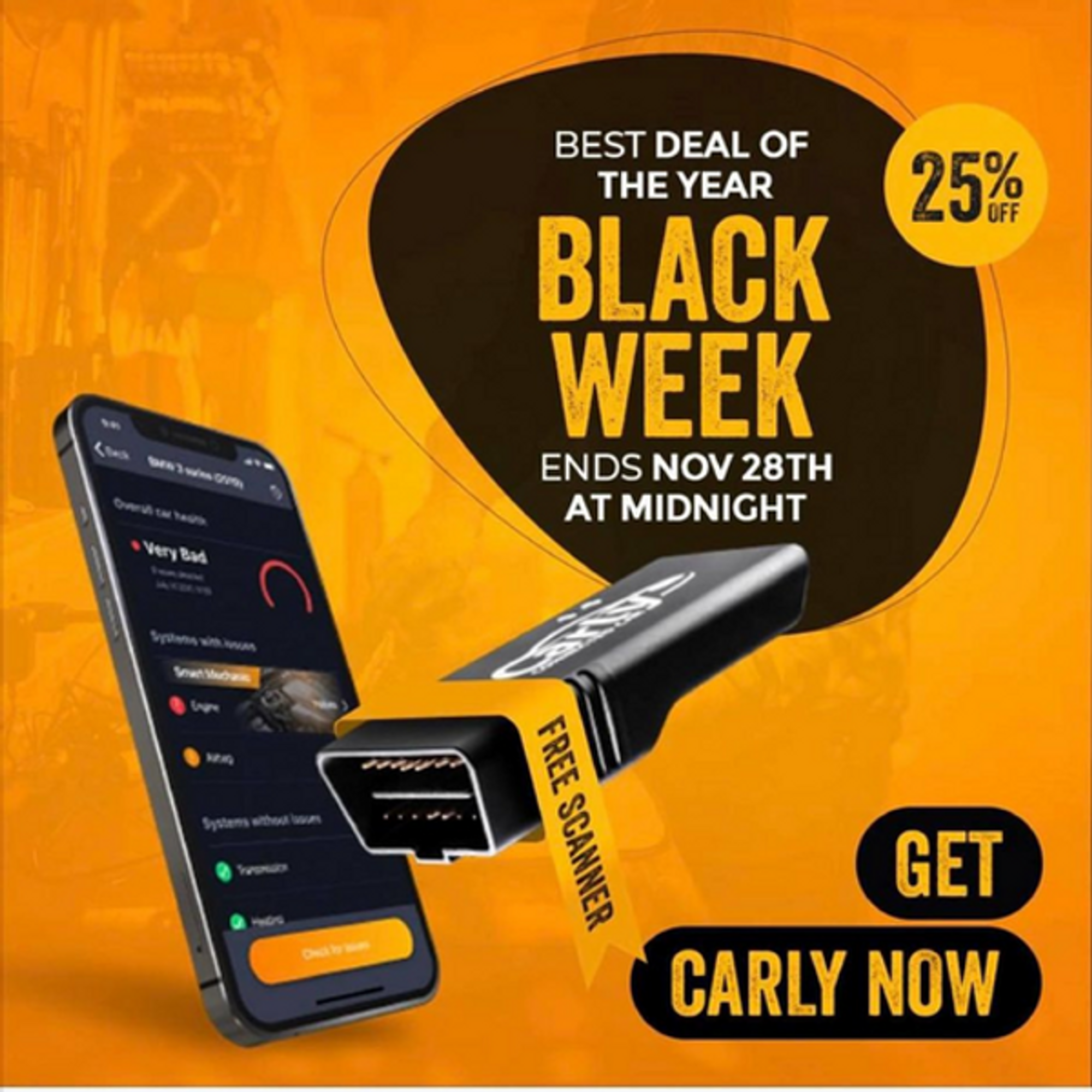 It's no surprise that people love getting free stuff. And that's why this discount ad, combined with its unbeatable free offer, proved successful. 
11. Ads that will clean your clients pockets 
Sometimes less is more. 
People don't always need fancy color schemes or other information to help them decide whether or not to buy a product. 
They need to know that they're getting a good deal, and that's often enough to get them to buy.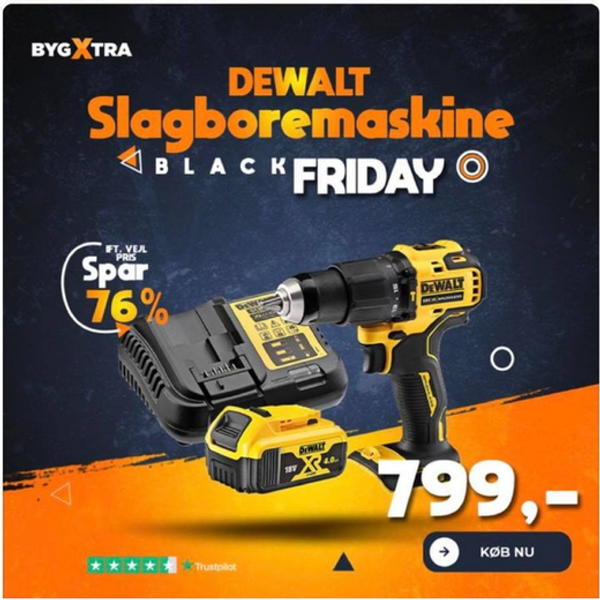 That's why this ad worked so well. It identifies the product price, the discount, and the fact that it's a Black Friday deal. 
Enough said! 
12. Can you scan such a great offer?
Our next example shows many fluorescent, eye-catching colors and big, bold text to convey its point. 
Bold visual elements catch the audience's attention and entice them to read more.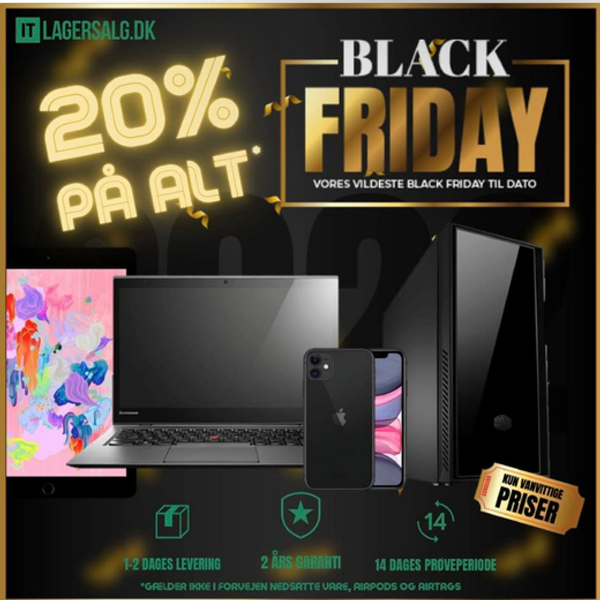 Furthermore, these elements stand out because they are placed on a black background. 
Since they're offering such significant savings, this brand did a great job using such a bold design! 
13. Black Friday ad example out of this planet
Finally, we have yet another excellent example of a Black Friday ad that used a traditional Black Friday color theme.
However, they went the extra mile by creating a unique, visually-compelling design.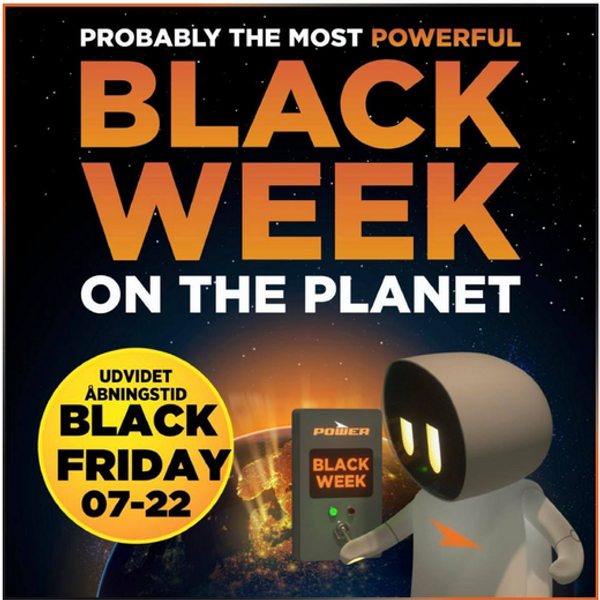 They used big, bold fonts and Black Friday colors to alert viewers of a good deal without them needing to think about it. 
And they used fun and creative wording too! 
With so many ads competing for attention, brands must be creative to help them stand out. 
Learning From The Best Black Friday Advertisers
Paid social media campaigns can be incredibly effective for businesses during the holiday season if executed correctly. 
These 13 great black Friday examples demonstrate how companies have used paid social media advertising to successfully reach their target audiences and drive sales during the holidays. 
With thoughtful planning and creative execution, any business can leverage paid social media advertising and reach its goals this holiday season!
Learn more about Black Friday: Performance boosting colors, Optimized ad body, Best way to use text, and 3 things to know before starting Black Friday advertising.
More great ads
Keep the insipration flowing with these amazing ad examples: