Should you show your logo in Lead generation ads during Black Month?
When doing lead generation before Black Friday, it's essential to focus on finding customers ready to buy from you when the big day arrives. To do this, you need to optimize your lead generation efforts to attract people who are likely to buy from you.
To be top of mind and inbox when Black Friday arrives, you need to win the attention of potential customers. This can be incredibly challenging, as many brands compete for the same attention.
One crucial factor to consider is the use of your brand's logo. Logos are typically the most important brand asset and the one that is most famous and unique for your brand. Therefore, it's interesting to consider whether doubling down on your logo is effective for lead generation or whether a more recognizable logo would be more effective.
Normally, using your logo in lead generation ads will decrease performance
Outside of black month, using your logo in lead generation ads can decrease performance by 13%.
You can read more about logos in lead generation campaigns here.
This might occur because people might want to avoid signing up because of your brand but because of what you offer. While a 13% decrease in performance might seem like a small issue in the short term, it's also important to consider the long-term effects. 
It's a dilemma for marketers to weigh the short-term effects of generating leads now versus the long-term benefits of coming top of mind when people want to buy your products.
It's important to carefully consider your branding strategy and how it might impact the success of your lead generation efforts. 
One solution to this problem is to use other brand assets instead of your logo, such as your colors, taglines, characters, or similar elements. This helps maintain recognition and association with your brand while allowing you to generate leads effectively.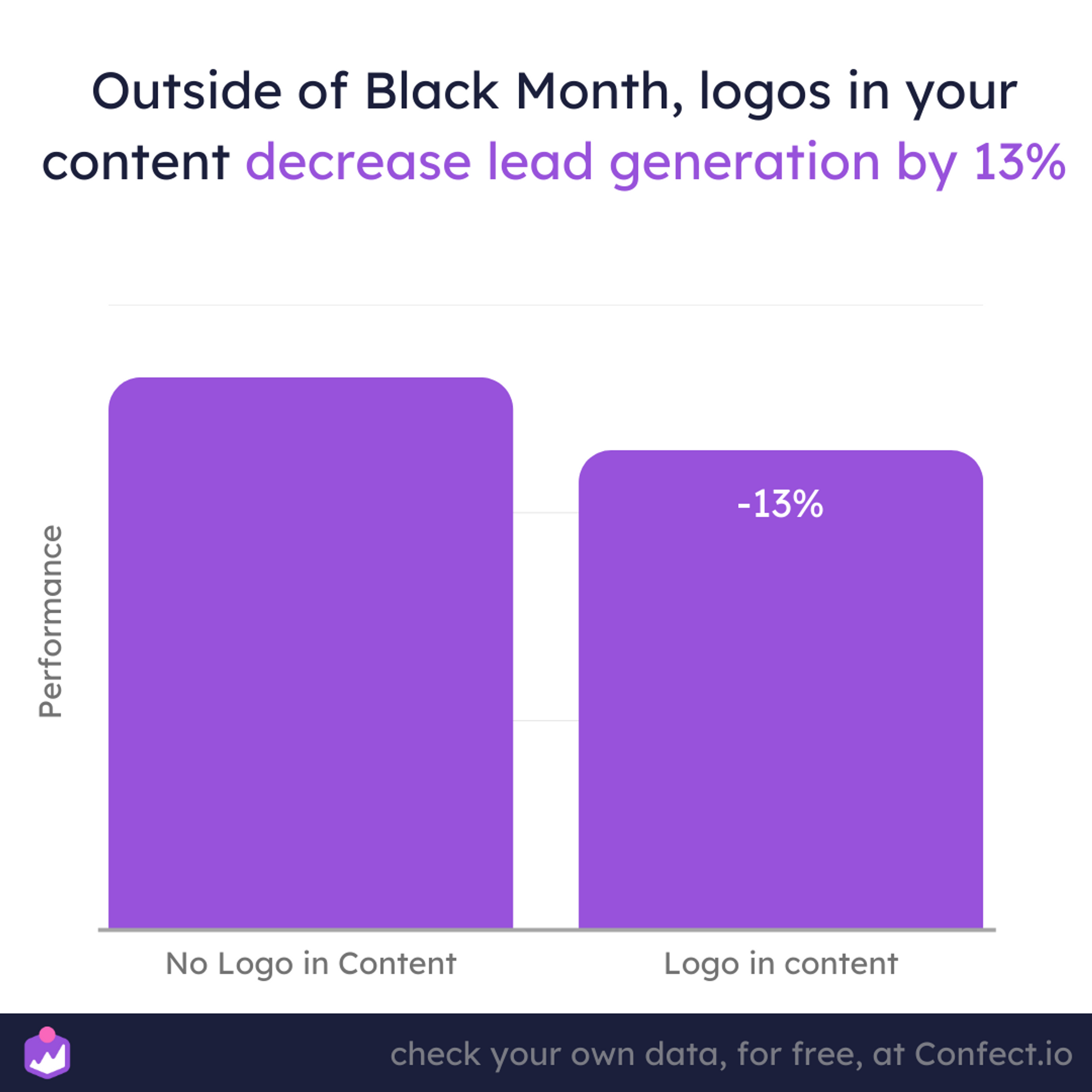 Your logo is an extremely powerful asset when doing lead generation during black month
Black Month is a unique month for many companies, including those that use lead generation as a marketing strategy. During Black Month, ads that contain the advertiser's logo tend to perform 42% better than those that don't. This is likely because people are more interested in accepting offers from brands they recognize and trust. Therefore, using your logo for lead generation during Black Month is an important decision with significant short-term and long-term benefits.
Overall, including your logo in lead generation efforts during Black Month is a great choice that can help drive success both in the short and long term. 
In the short term, using your logo can help to increase leads by 42%. In the long term, it can help to build recognition and trust with consumers during Black Month.  After the end of black month, you may have a better chance of getting people to open your emails due to the relationship you have built with consumers during that time. This will give you an advantage when competing for attention.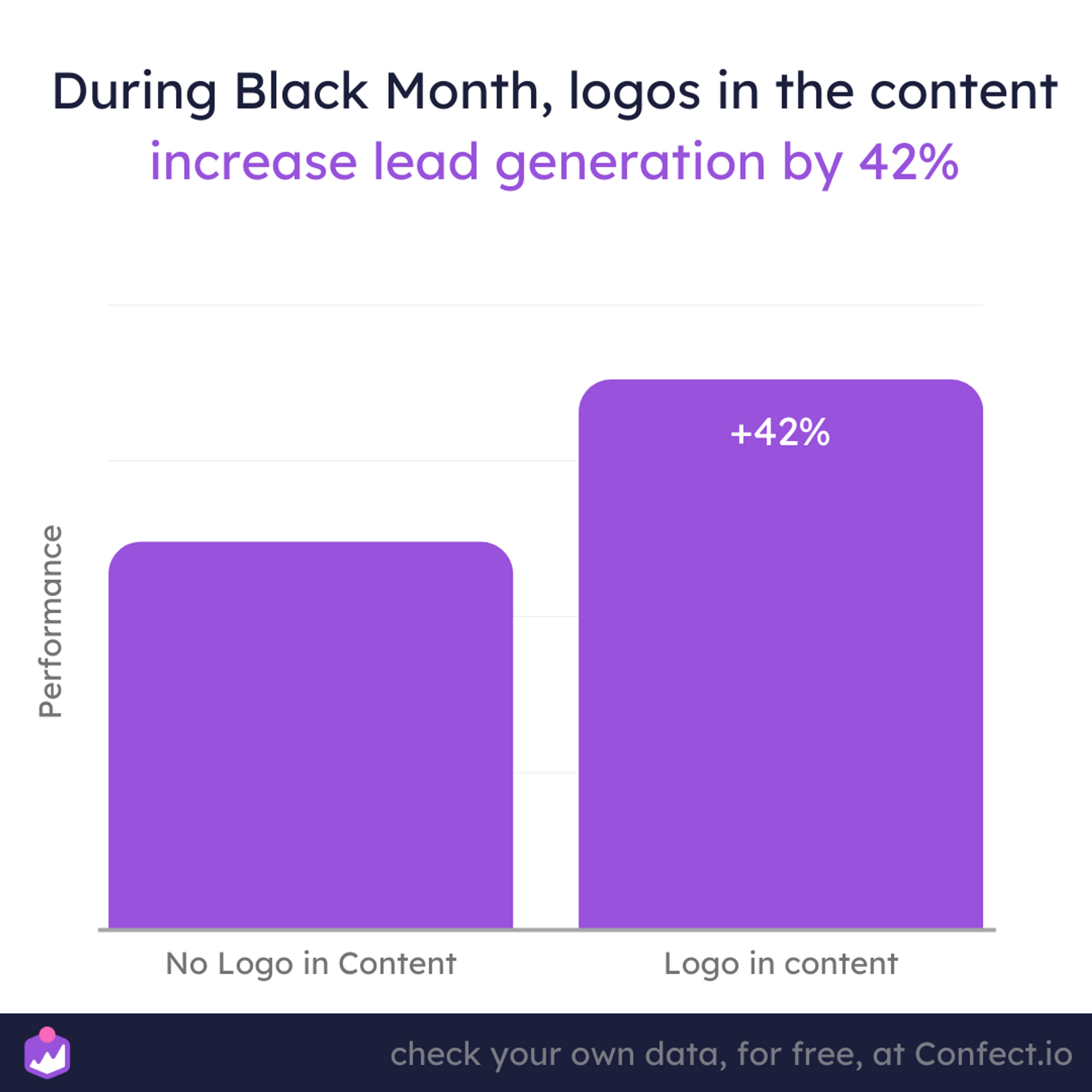 Logos are FANTASTIC for Black Friday competitions
Competitions are an effective lead generation tactic during Black Month, and showing your logo in a competition is particularly effective. 
On average, competition ads containing logos during Black Month perform 117% better than those without logos. Your logo makes it easy for the viewer to understand who is hosting the competition. This is important for answering two key questions: "Am I interested in entering this competition?" and "Do I trust the company hosting this competition?"
If people are familiar with your brand and find it interesting, they are more likely to be interested in entering the competition. By using your logo, you can leverage people's familiarity with your brand and make it a very effective asset for your ads. Similarly, showing your logo instead of hiding your identity helps to build trust and credibility with the viewer.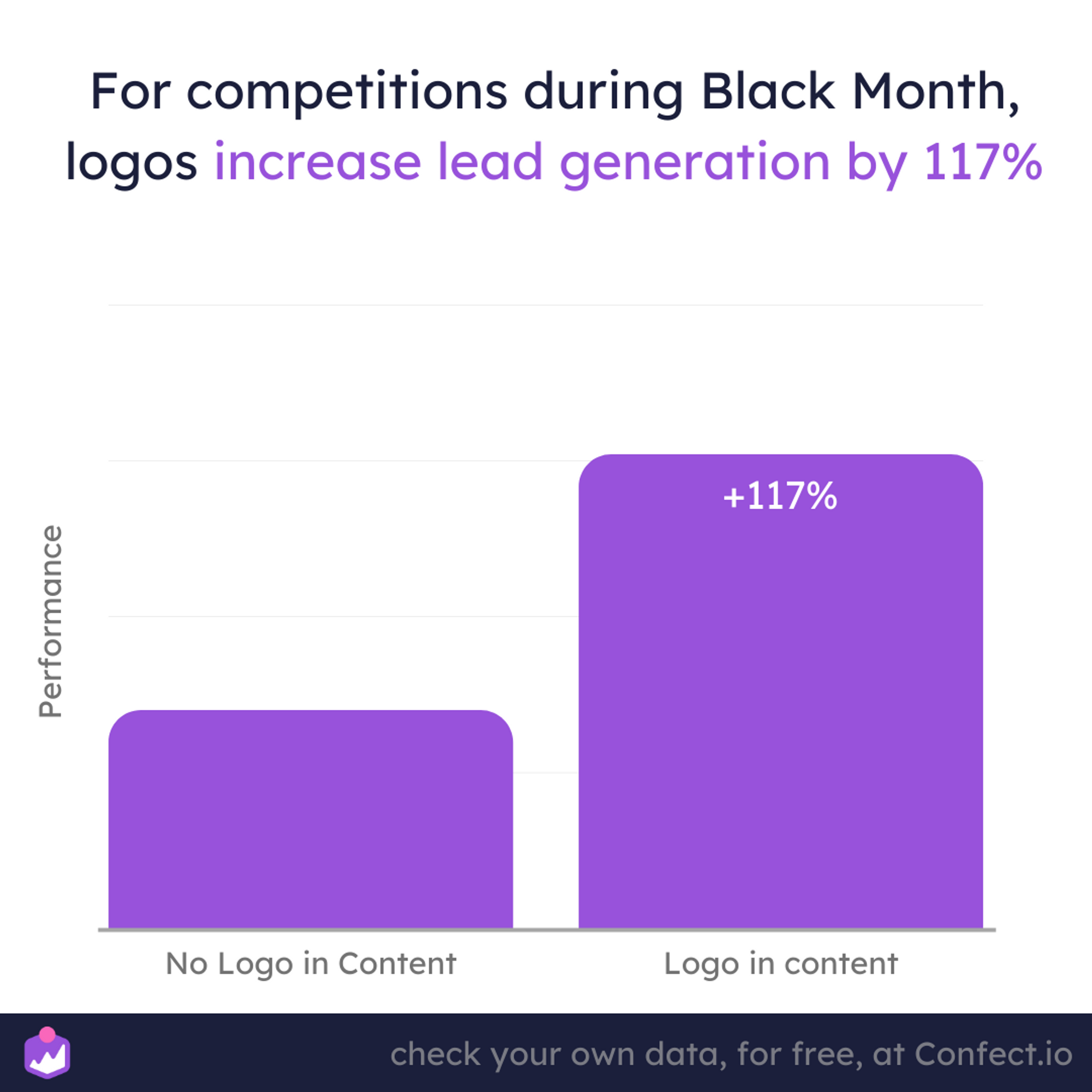 Here is a recap of how you can effectively use our logo in lead gen ads during black month.
During Black Friday, it's important to generate as many leads as possible and ensure that they are likely to open your emails in their crowded inbox.

Your logo is a powerful brand asset and can help you achieve both goals.

While using your logo in lead generation ads can typically decrease performance, it is especially effective during Black Month.

When hosting a competition, logos are particularly effective and can more than double the number of leads you generate on average.
More to read
This article focuses purely on logos in Black Friday lead generation content. Keep optimizing with the following insights:
Data section
The dataset from this article is based on 37.6M impressions and 772 pieces of individual content on Meta (Facebook) platforms. It takes into account data from all industries in all countries, with the campaign objectives of Lead Generation. The period is from 1. November 2021 - 30. November 2021.
Numbers are looking at correlation only, not causation. Remember to check your own data: numbers for different brands, industries, and contexts will vary.
If you were intrigued about a specific insight, you can go in-depth into the various dimensions and how data can be segmented in Confect, here.