3 things to know before you start Black Friday ads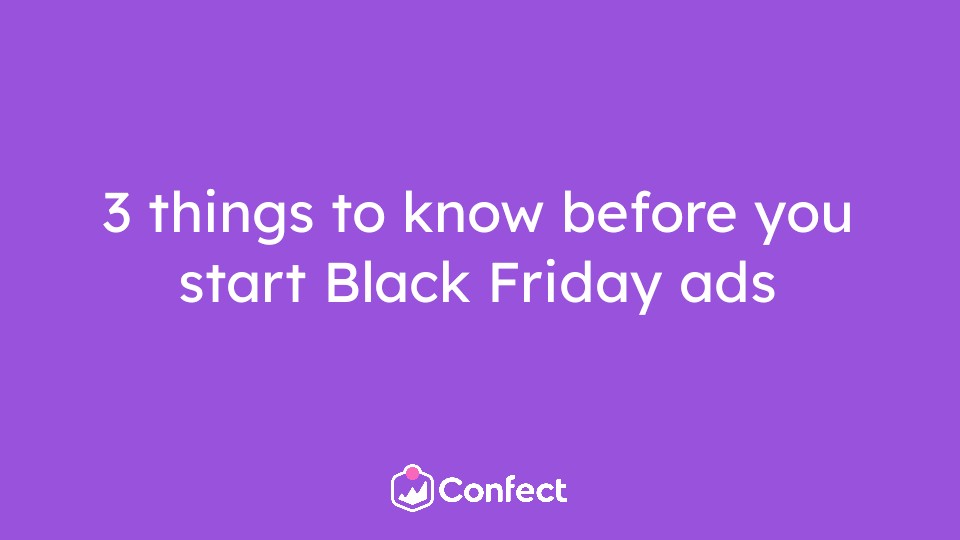 Black Friday and Black Month are the biggest sales times for ecommerce brands, and also the busiest time for marketing agencies working with these brands.
The expectations for success during this time are always high, and marketers are anxious to avoid missing out on good results.
Given that Black Friday is just one day, a lot of pressure and competition is condensed into that one day.
To combat this and get a head start on competitors, many brands choose to start promoting their Black Month and Black Week sales earlier, building up the intensity of the much-anticipated sale.
Some agencies and brands even begin preparing their campaigns as early as August!
This is also a time when consumers are likely to be in a spending mood, as they may already be thinking about Christmas gifts.
Let's take a look at 3 things you should know before launching Black Friday ads!
When do advertisers start with Black Friday ads?

How effective are Black Friday ads?

Who should you target with your Black Friday ads?
Let's roll.
60% of paid social content is mentioning Black on Black Friday
The content about Black Friday steadily increases from the start of November and reaches its peak on Black Friday itself.
The beginning of the month is mostly used for generating leads, when ad costs are still low and the share of impressions discussing Black Friday is also low.
Rather than driving sales, the early part of the month is used to talk about the great deals and offers that brands have.
But the real push begins on Black Week, when there is a sharp increase in ads mentioning Black Friday.
Hitting its culmination on Black Friday.
However, once December arrives, Black Friday ads quickly stop and are replaced by a focus on Christmas.
Black Friday is the day when most paid social content mentions "black".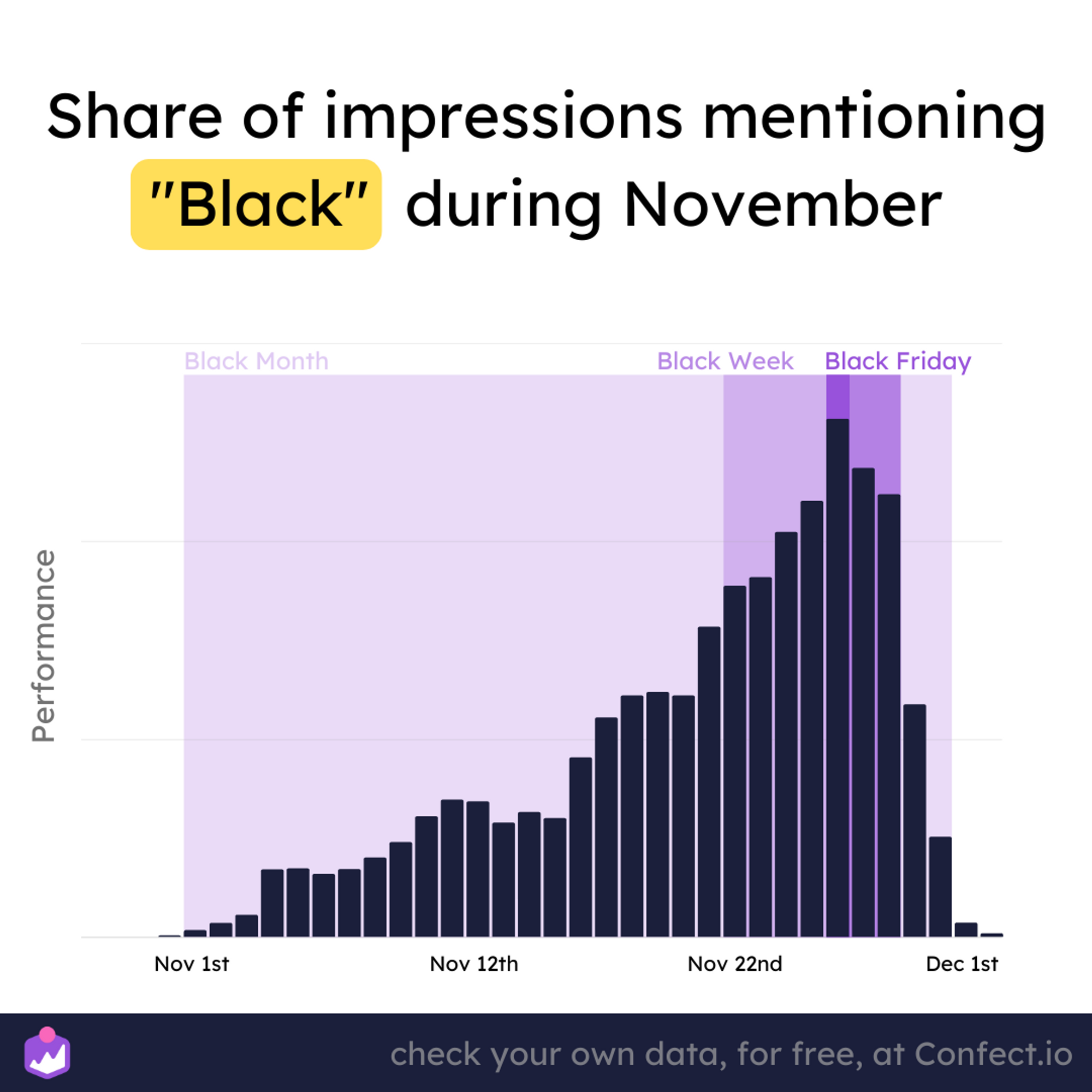 The most obvious reason why is the amount of sales Black Friday generates.
But is this buzz on Black Friday just a myth?
Black Friday has the highest Purchase rate of the year
The buzz around Black Friday is not just hype - the performance on paid social during this time really is impressive compared to the rest of the year.
The competition is fierce, no doubt, but so is the purchase rate. In fact, it's the highest purchase rate of the year!
Even the weeks leading up to Black Friday ads have a higher average purchase rate than the rest of the year.
We are talking about ads on social media, but keep in mind that these sales do not just come from ads - a significant portion also comes from email and in-store promotions.
Despite the high cost of advertising during this time, the performance can make it worth it. 
Some brands even report hitting sales amounts worth one to two months in just one day during Black Friday.
The day of Black Friday has a significantly higher purchase rate than the rest of the week.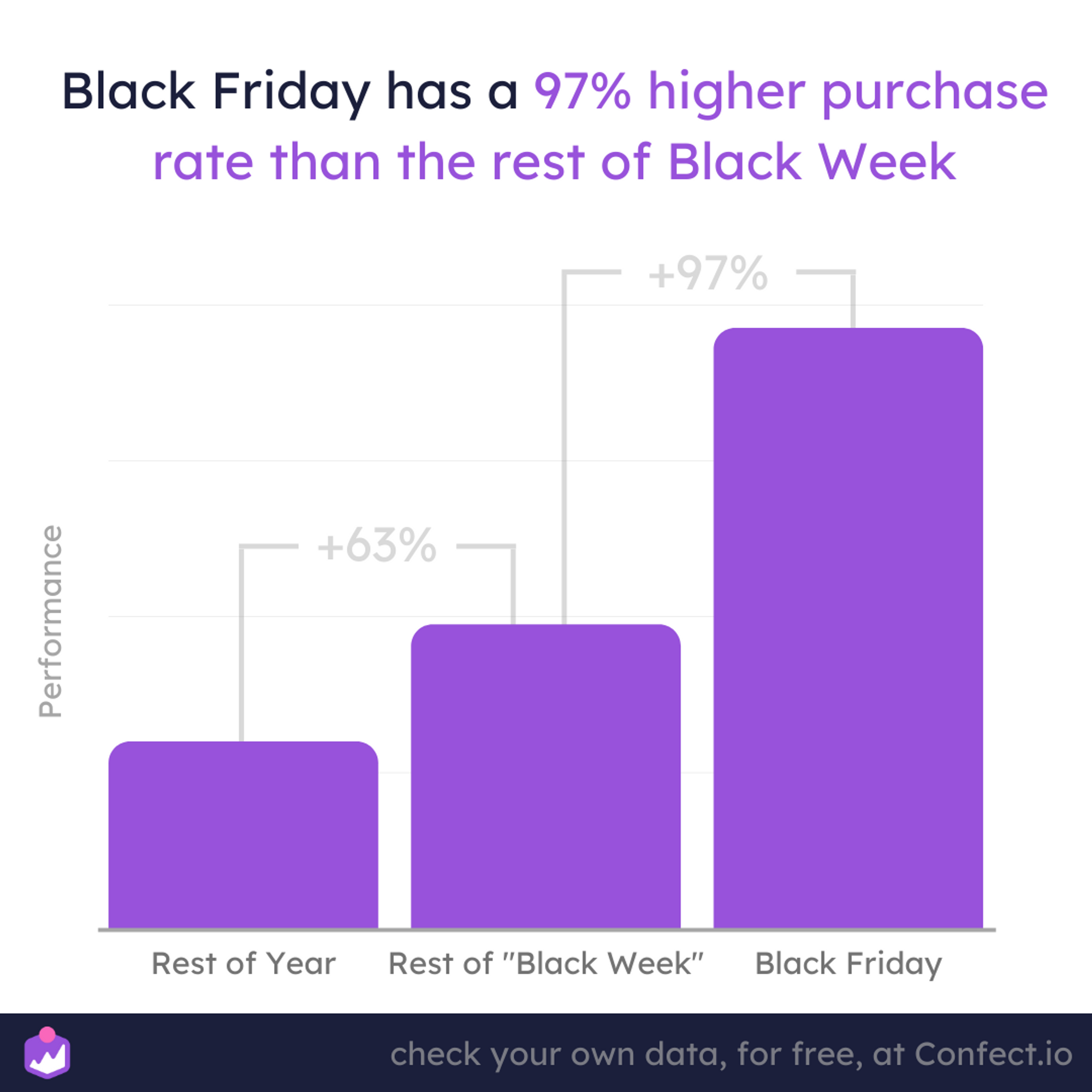 Knowing that Black Friday has the highest purchase is great, but to fully optimize your ads, you need to understand the differences in your audiences.
Custom audiences perform extremally well during black month
Black Friday is a day when you can reap the rewards for all the hard work you've put into bringing eyes and visitors to your site throughout the year.
If you have built a decent email list, now is the time to upload it to Facebook and warm up your pixel to achieve the best results.
It's important to build a strong retargeting and lookalike audience for Black Friday.
In addition, lead generation is crucial for success during this time!
Without brand recognition, it will be extremely difficult (and expensive) to compete for attention.
Throughout Black Week, the purchase rate for custom audiences is consistently higher than for broad audiences.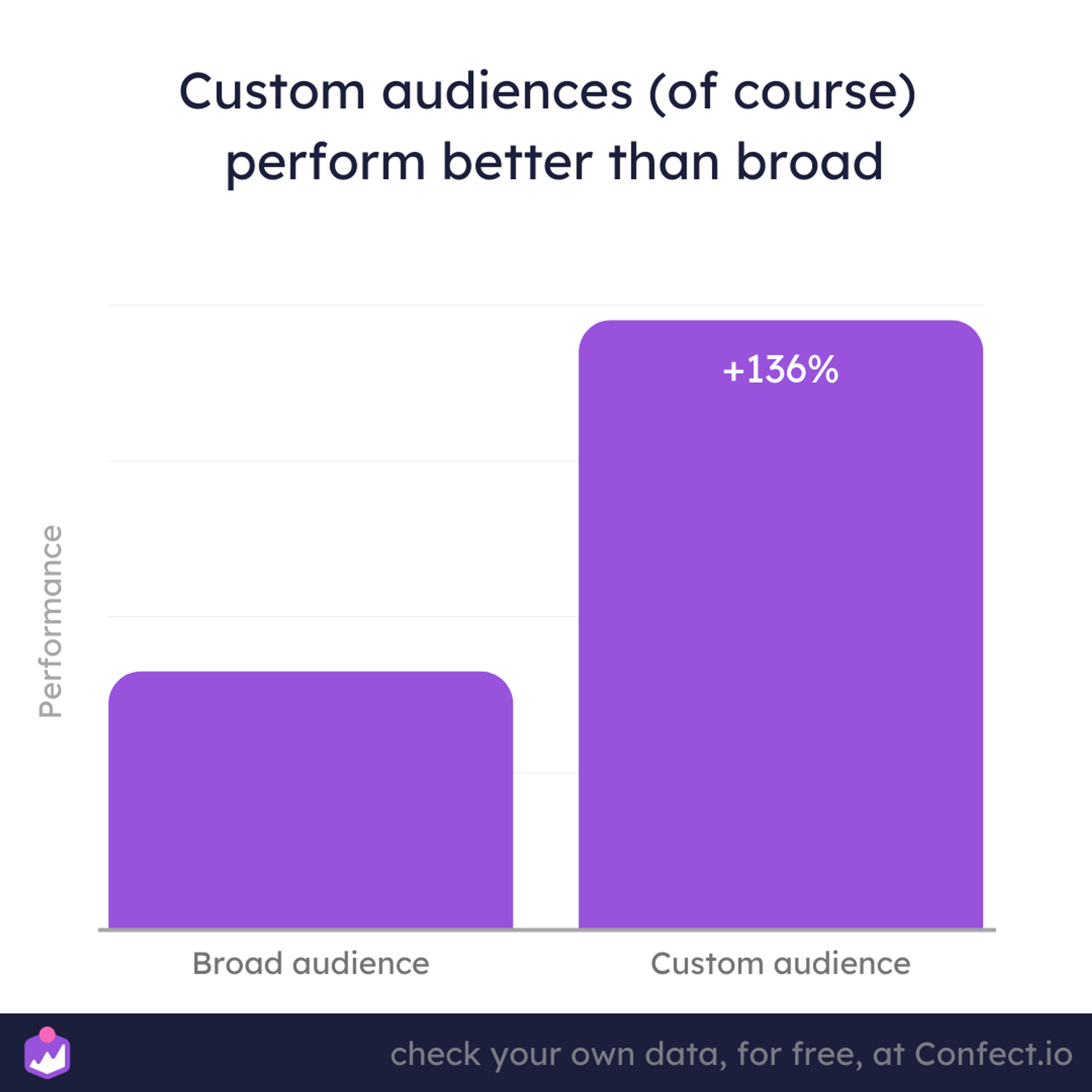 Consumers are more likely to buy from brands that they recognize.
This trend also seems to continue throughout the weekend.
Once again, this highlights the importance of building your audience in advance!
Trying to perform a last-minute miracle is unlikely to succeed, or at least will be costly and inefficient.
The biggest difference can be seen on Black Friday and Cyber Monday, when the most sales occur.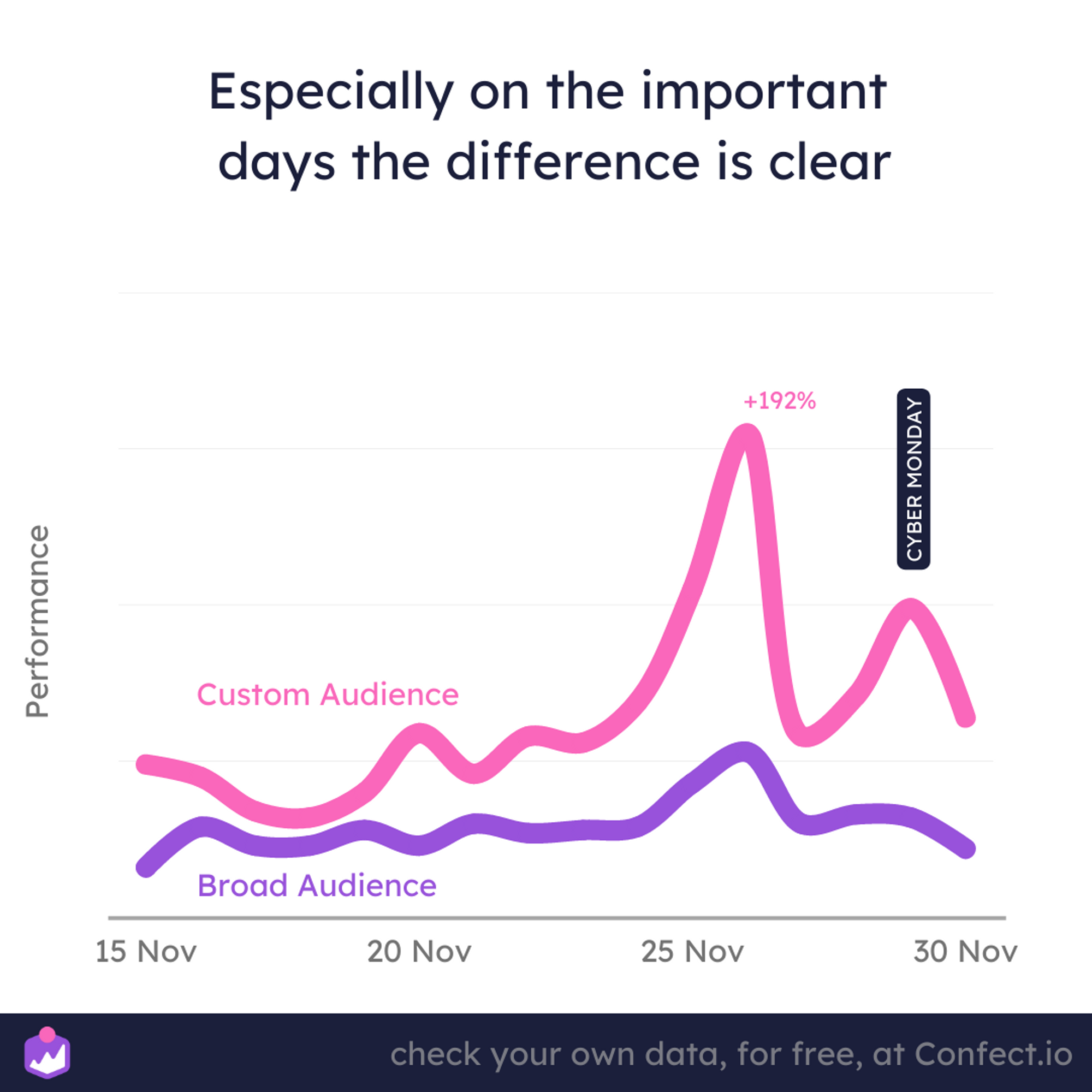 Conclusion
Black Friday and Black Month are crucial times for ecommerce brands and the marketing agencies that work with them.
The expectations for success are high, and the competition is fierce.
Keep these 3 things in mind before you start Black Friday Ads:
To get a head start on competitors, many brands begin promoting their Black Month and Black Week sales earlier in the year.

Consumers are ready to spend during this time, and the purchase rate is the highest of the year.

Custom audiences perform particularly well during Black Month, so it is important to focus on building and targeting these audiences.
Overall, Black Friday and Black Month provide a great opportunity for ecommerce brands to boost their sales, but it's crucial to plan and prepare in advance to maximize success!
More to read
Learn to make the most out of the next Black Month with the following insights:
Data section
The dataset from this article is based on 215M impressions and 6K pieces of individual content on Meta (Facebook) platforms. It takes into account data from all countries and industries, with the campaign objective of Conversions. The period is from 1. November 2021 - 30. November 2022. 
Numbers are looking at correlation only, not causation. Remember to check your own data: numbers for different brands, industries, and contexts will vary.
If you were intrigued about a specific insight, you can go in-depth into the various dimensions and how data can be segmented in Confect,  here.