How effective are models in fashion ads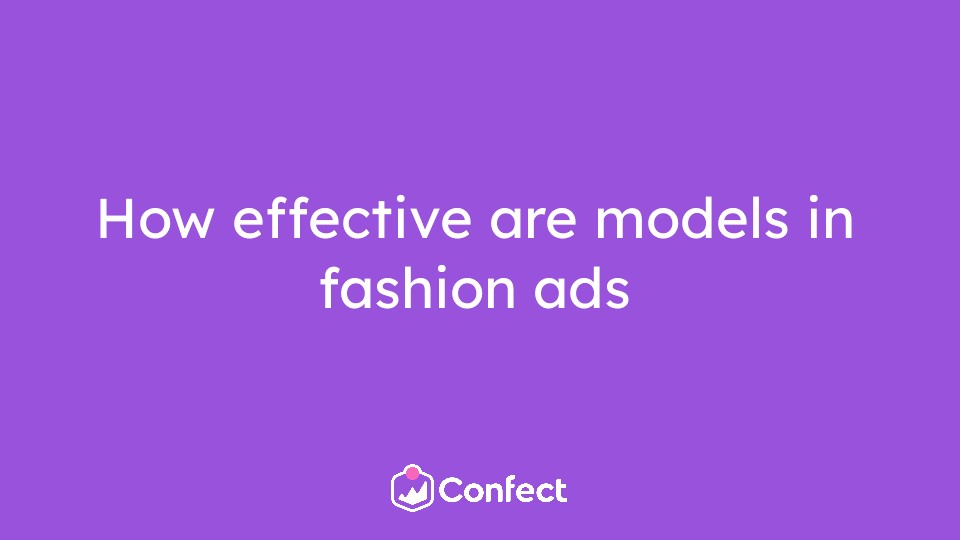 There's probably no other industry that uses as many models as the fashion industry.
From TV and magazines to Facebook ads, everything related to fashion usually has a model.
If so many fashion brands utilize models, something must be working.
But just how effective are ads showing models? And is it worth it? (models are expensive)
Let's take a closer look at some data on the effectiveness of models in fashion ads.
Models in ads fashion ads works very well
In general, consumers who are into fashion want to see someone wear the clothes that they're interested in.
Seeing the models wear the products gives the consumer an idea of how the clothing would look on them.
This is why models work so well in fashion ads and on average the performance of the ads improves by 33%.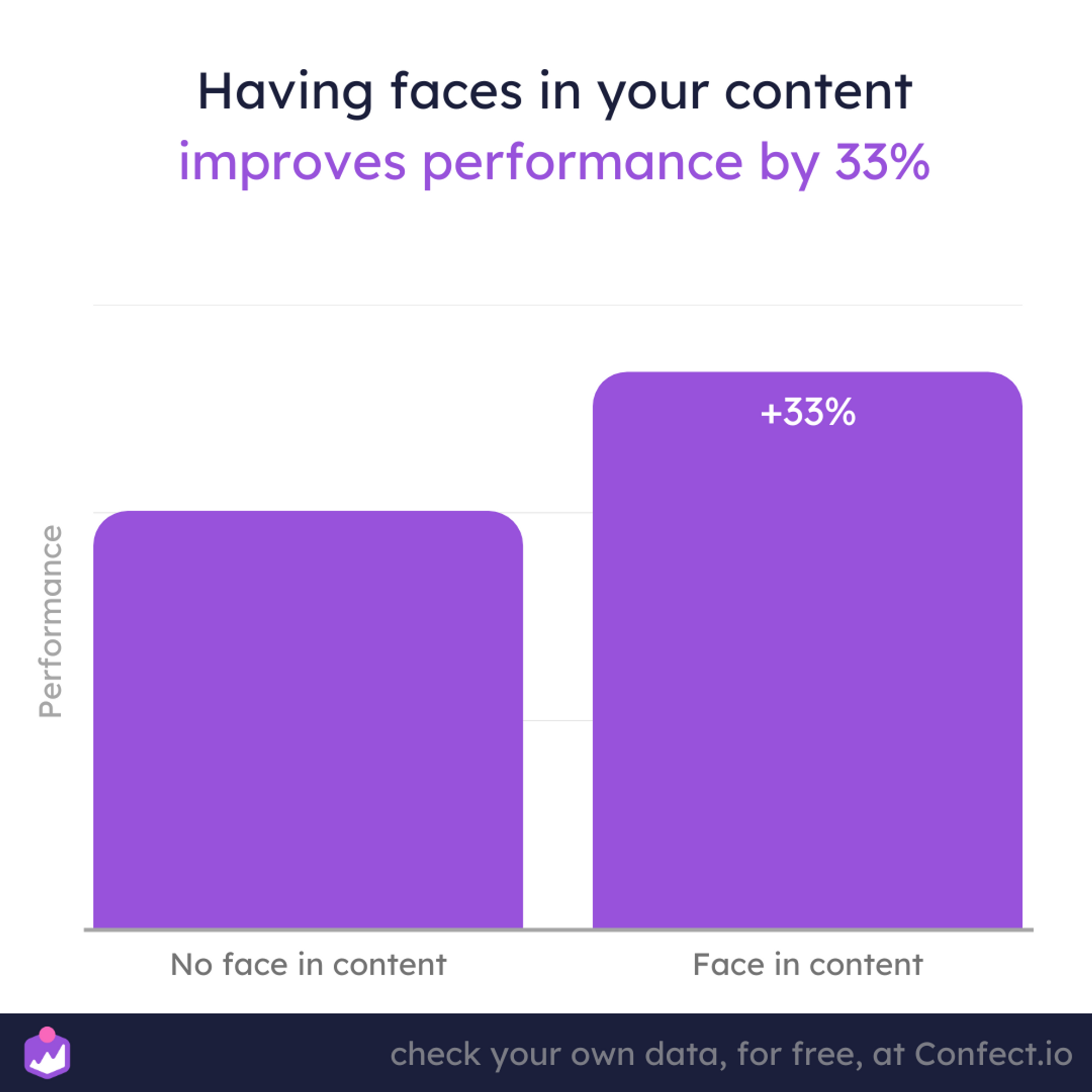 Read about why models improve performance.
However, not all fashion ads are created equal.
What your ad messaging says can impact how models affect their performance.
Model impact on performance across different fashion ad categories
In general, no matter what category your ad messaging falls under, using models increases performance.
However, ads that talk about "new" (new products, new collections, etc.) see the highest performance increases using models.
Having a model use the new product lets consumers see how the clothes fit, how the colors look on a human, and so on.
An ad about "new" with a model gives you double the number of purchases per impression compared to not having a model.
Models are also effective when used in ads about shipping.
When a model is shown wearing the product, it allows customers to see how the clothing fits, which can be helpful when deciding whether to make a purchase.
Coupling this with the offer of free returns makes for an effective ad, as it allows the customer to try the product for themselves and return it if they are not satisfied.
Again, no matter what your ad messaging is, using a model increases performance, but this is especially true for new and shipping ads.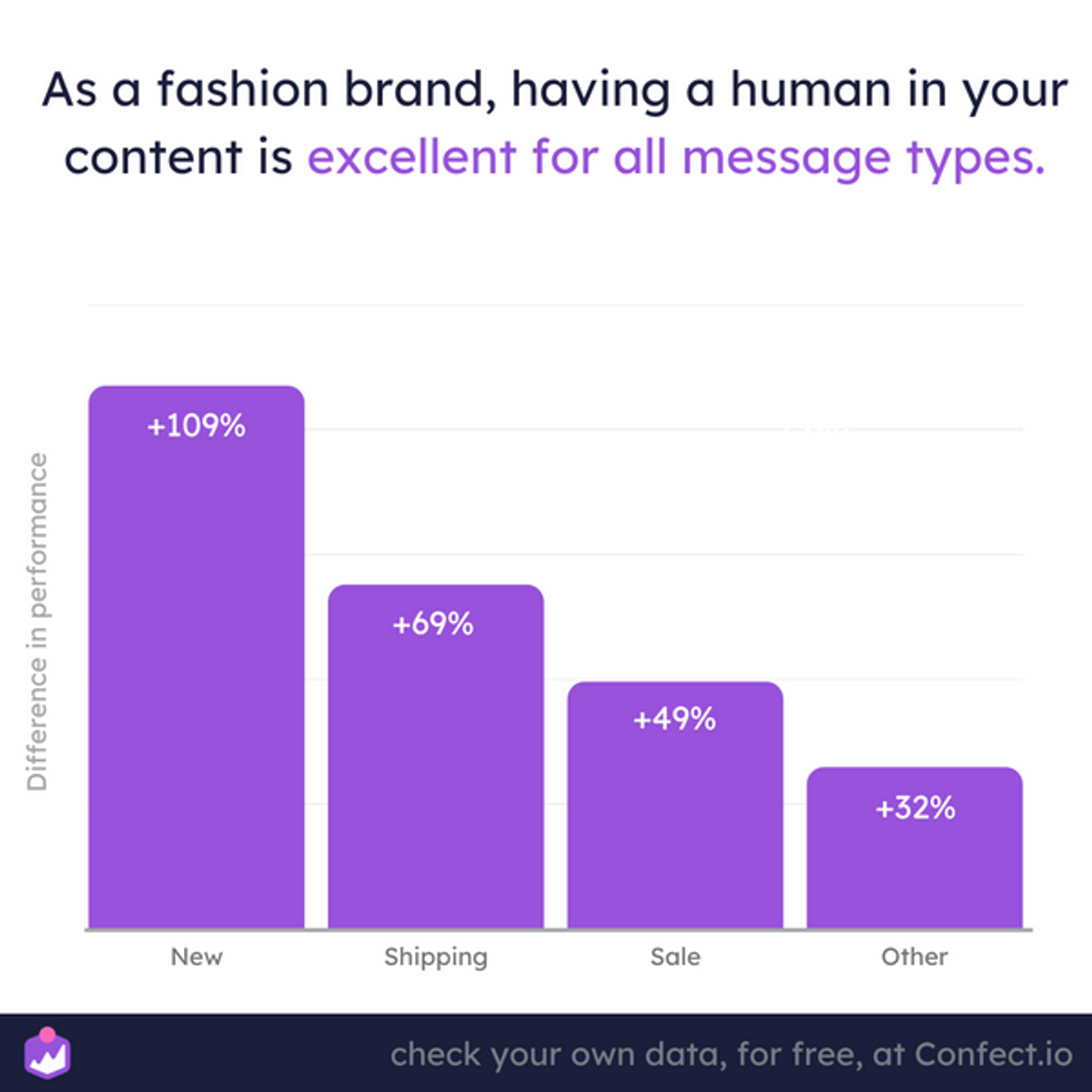 Keep using models in your fashion ads
After looking at the data, it's no surprise why models are used in fashion ads so frequently.
Using models gives your content a significant increase in performance.
This is true no matter what type of ad messaging your ad has.
However, the biggest increase in performance is seen with new ads and shipping ads.
If you're currently running fashion ads without models, it might be a good idea to start including them in your content.
We also suggest trying Confect to see how easy it is to design, edit, and customize your catalog ads to include all the relevant information necessary to land your business's next sale!
You might see some significant jumps in performance!
More to read
This article focuses on models in fashion content. Keep learning and optimizing with the following insights:
Dataset
The dataset from this article is based on 967m+ impressions and 9500+ pieces of individual content on Meta (Facebook) platforms from Fashion brands ONLY. It takes into account data from only brands within fashion industry in all countries, with the campaign objectives of conversions only. The period is from 01.09.2021 - 16.09.2022.
Numbers are looking at correlation only, not causation. Remember to check your own data: numbers for different brands, industries, and contexts will vary. If you were intrigued about a specific insight, you can go in-depth into the various dimensions and how data can be segmented in Confect, here.