How can fashion brands sell new products more effectively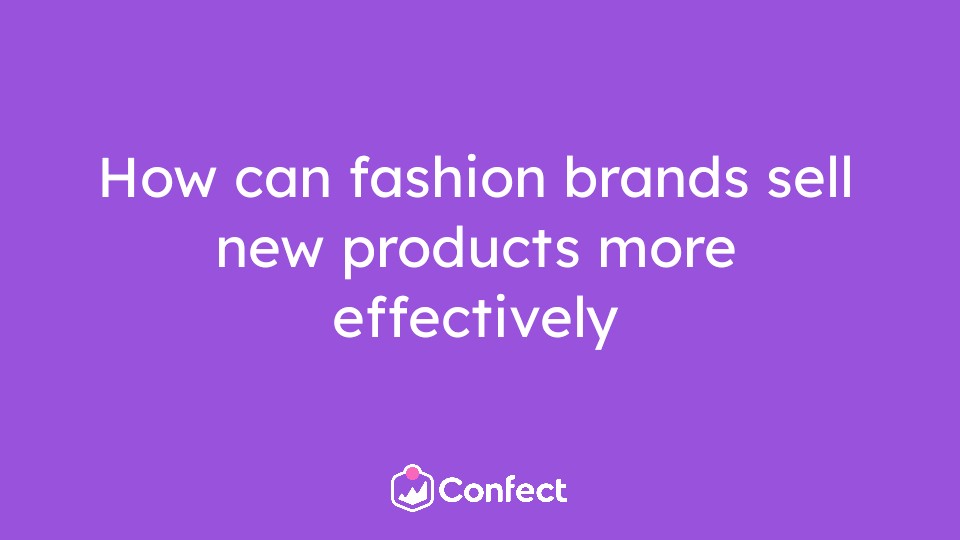 The fashion industry launches more new products than any other industry.
They range from Spring/Summer to Fall/Winter collections, to new products launched throughout the year.
To compete, your brand will need to be able to sell new products effectively.
This means understanding how to utilize advertising to sell your new products and maximize performance.
Let's take a look at some data to see how some of the design choices of fashion brands can impact performance!
NEW is among the best performing categories for fashion brands
Fashion is all about "new".
When you look at non-fashion brands, you'll usually see ads about new products perform 42% worse than sale ads.
But this is not the same in the fashion industry.
In fashion, new ads are among the top-performing ad categories, just performing  20% worse than sales ads when aiming for conversion.
Compared to other industries, in the fashion industry, it's much more effective to talk about new products in ads.
When buying fashion consumers are generally interested in everything new, like new products, new collections, new releases etc.
Ads talking about anything "new" is more effective than just talking about the products in general.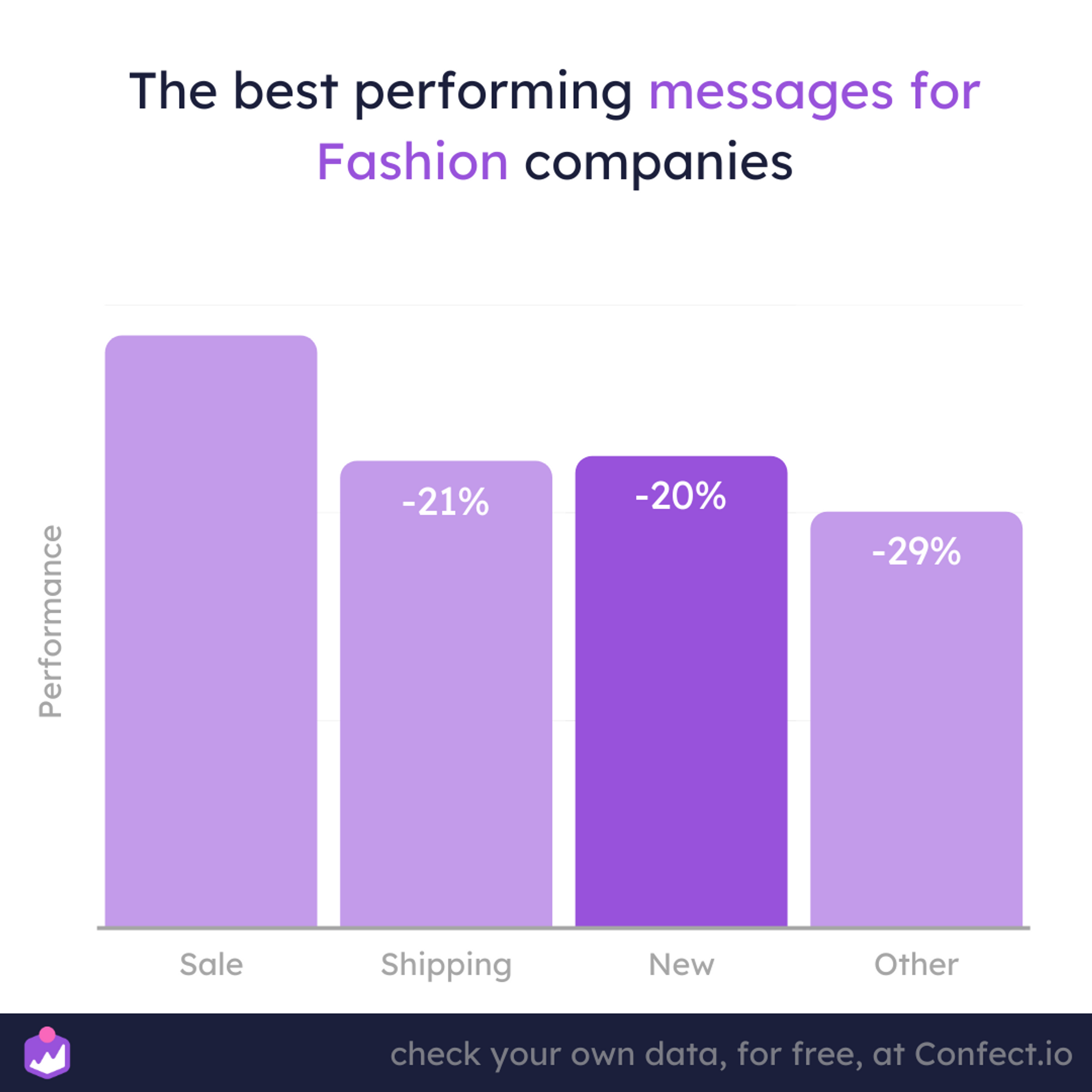 But if your ads are all about new, what should they include specifically?
Being specific about your New collection is great
If you're launching a new product within a collection, like Spring/Summer 23, be sure to mention it.
Just mentioning the specific collection improves performance by 18%!
In the fashion industry, consumers like to know the specifics of a new product, especially if it's part of a collection.
Simply mentioning the collection your new products are a part of increases the performance of your ads.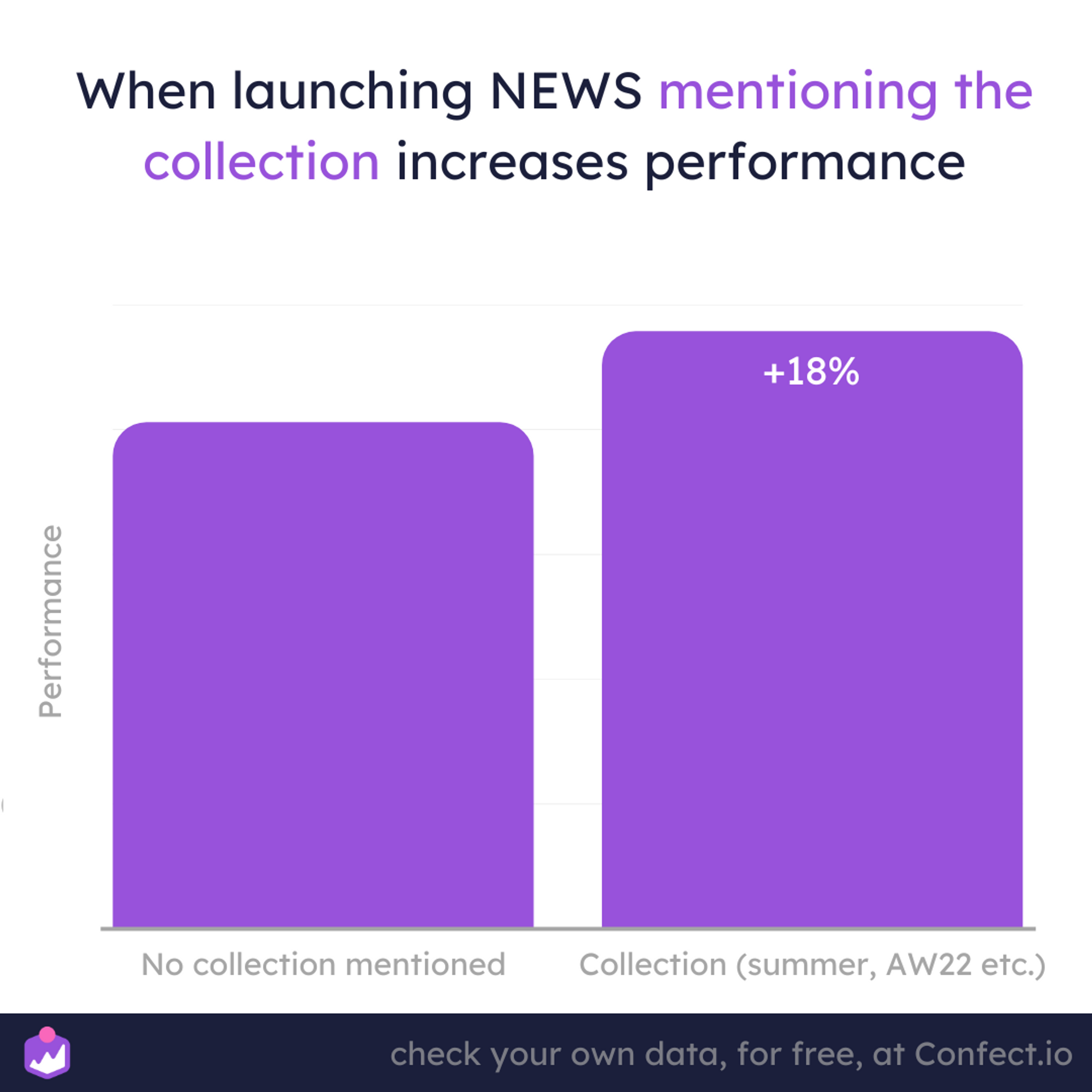 Collections sell great also when they are not new
Since the fashion industry is all about "new", you would think that old collection ads wouldn't perform well at all.
However, we found that even if the collection isn't new, mentioning the specific collection still increases performance by 7%.
Even if your ads aren't about new products, mentioning the collection still increases performance.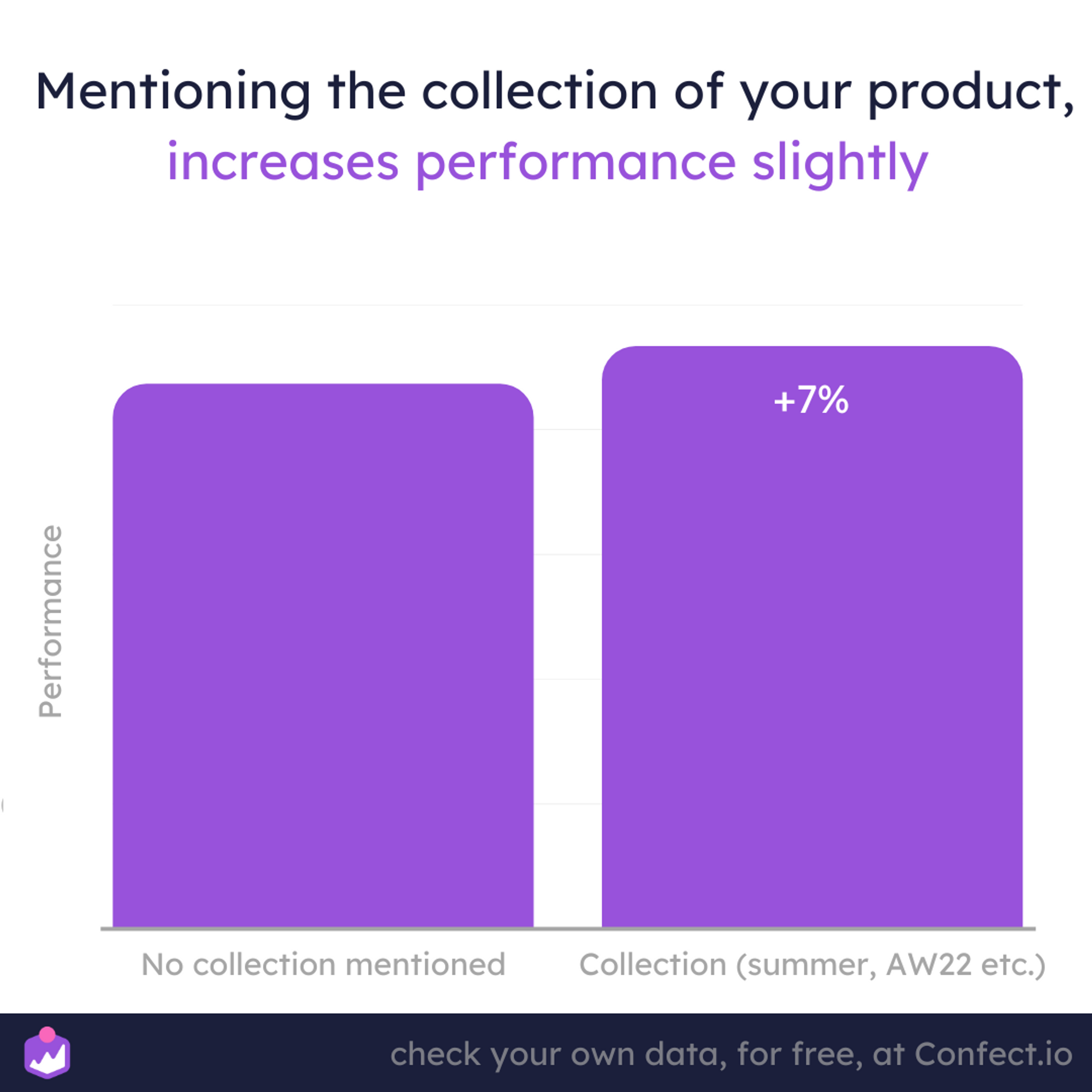 But what about the ad content itself?
Use low text amount in when talking about new products
Unlike other industries, the less you write, the better performance you get from ads focusing on new products. 
In other words, show, don't tell.
By using less text like "new collection" or similar, you build up curiosity in the audience. You don't need to do too much; just tell people it's new, new, new! Keep the text amount low in your new ads as this gives you the best performance.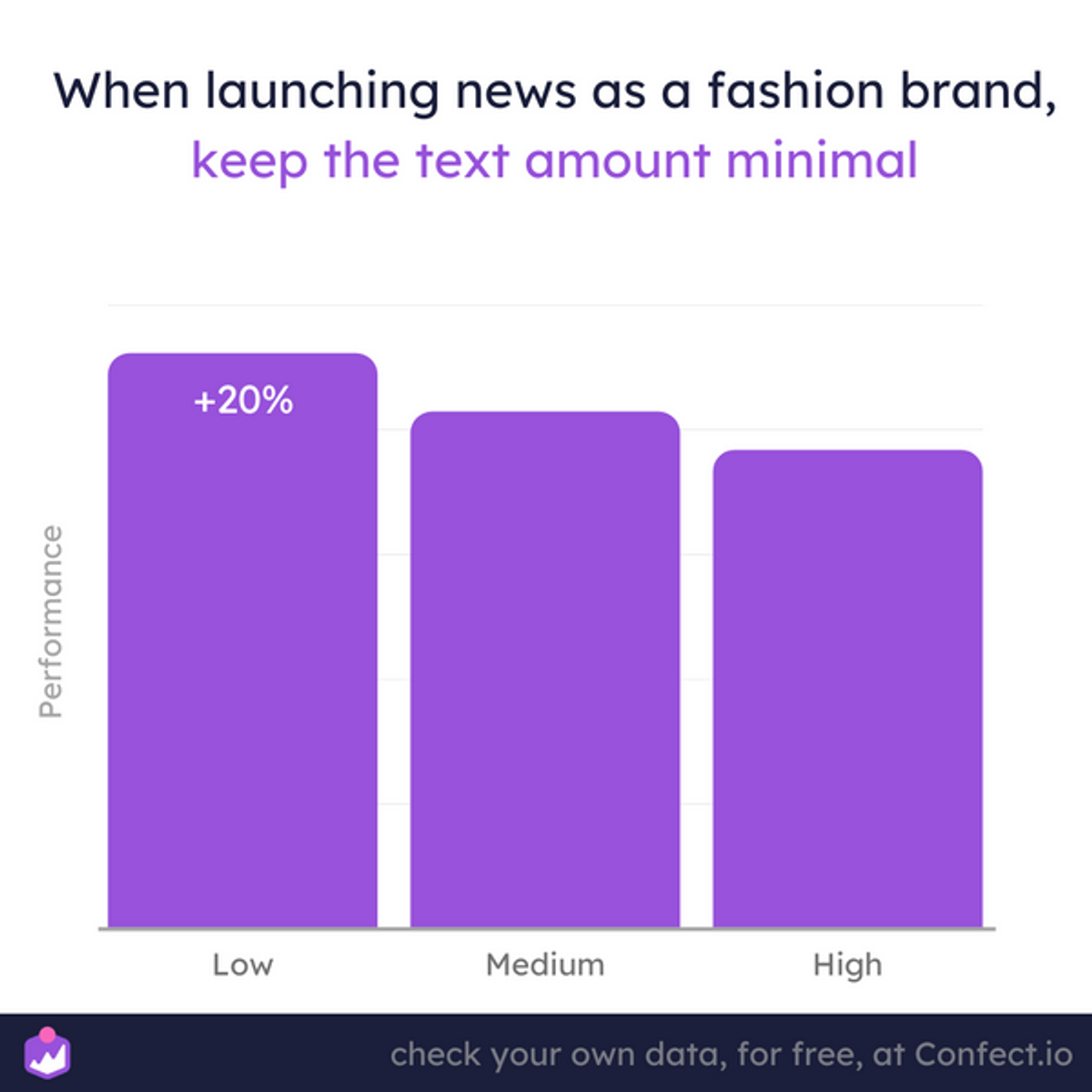 Of course, the text isn't the only thing that'll be in your ads.
Let's take a look at how your logo affects performance!
Purchase performance in NEW focused ads does not improve with logo in it
Surprisingly, when advertising new products, content with a brand's logo performed 41% worse!
Showing your logos in your ads about new products to viewers really hurts the performance.
This seems backward because as marketers, you usually want to create an association with your brand.
But based on the data, consumers don't care.
They aren't interested in learning more about your brand when seeing ads for new products.
They want to learn more about the product itself!
Although some message types perform better with a logo, avoid showing your logo in ads about new products.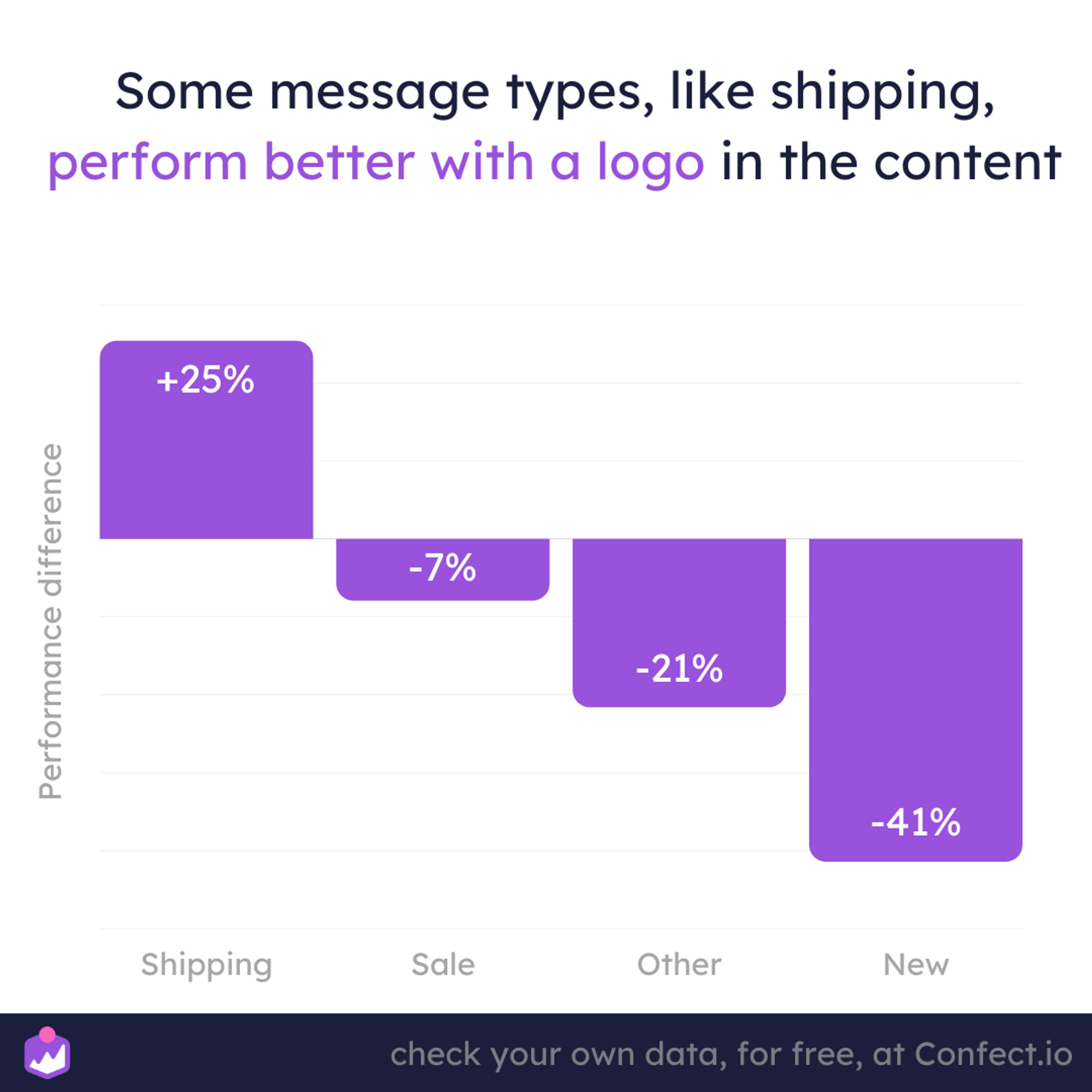 So if you should use fewer text amounts and also avoid using logos, what else is there to show?
Models in new ads work extremly well
On the complete opposite side of logos, using models works very well for your new product ads.
This is especially true for fashion brands with new ads, as simply using models, this DOUBLES the number of purchases you get per impression.
Again, remember to show, don't tell.
The best way to show this is to have a human being wearing or using the product.
There's a reason why models are so popular in the fashion industry…they are incredibly effective in making people buy!
Utilize models in your ads about new products for a massive increase in performance.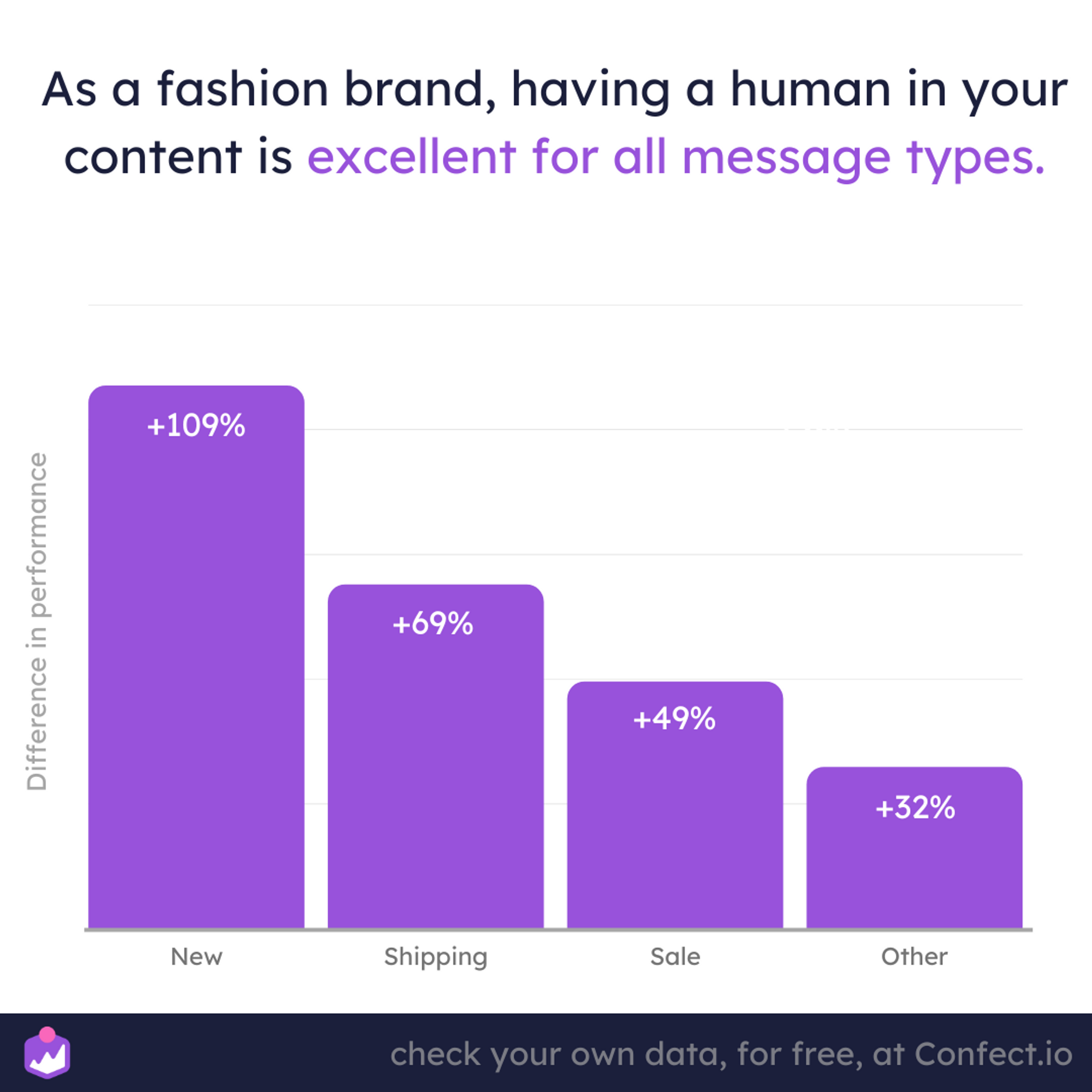 Try these tips for your brand
To summarize how to use your new ads to sell more effectively:
Be specific about your new and old collections

Use low text amounts

Use models
Remember, the fashion industry is all about being new and standing out, so try your best to optimize your ads for the best performance.
Give these tips a try and see what kind of results you come up with.
And as a reminder, every business and niche is different, so it's always a good idea to do some testing yourself!
More to read
This article focuses on improving the performance of news fashion content. Keep learning and optimizing with the following insights:
Dataset
The dataset from this article is based on 967m+ impressions and 9500+ pieces of individual content on Meta (Facebook) platforms from Fashion brands ONLY. It takes into account data from only brands within fashion industry in all countries, with the campaign objectives of conversions only. The period is from 01.09.2021 - 16.09.2022.
Numbers are looking at correlation only, not causation. Remember to check your own data: numbers for different brands, industries, and contexts will vary. If you were intrigued about a specific insight, you can go in-depth into the various dimensions and how data can be segmented in Confect, here.