How are January ads performing?
Like most advertisers, you might be putting all your focus on peak season classics: Black Friday, Cyber Monday, and Christmas.  
And without any doubt, a lot of revenue is generated then.
But how about right after Christmas? Did you know Boxing Day (a shopping holiday) and January are big opportunities for sales?
Some advertisers may not realize all the sales possibilities during this time.
Customers are still buying like crazy during January. Less advertising from competitors means more room for your business in the ad space.
Done right, this window can be a second Christmas for your eCommerce advertisers. 
Let's look closer at this hidden gem.
Average content performance remains rather flat in December & January
Customers are purchasing A LOT in December and November– especially on Black Friday. 
Everyone knows that! 
But what about forgotten January? 
According to data, the performance  doesn't drop. It remains flat in January, compared to December. " Performance is in this case how likely people are to buy from the ad: The number of purchases divided by the number of impressions "
Why? Leftover stock, that's why. Companies offer big discounts to sell leftover stock from December. Customers take advantage and buy.
So, your January advertising can be just as effective as in December!
In December and January, content performance hovers at approximately 0.3%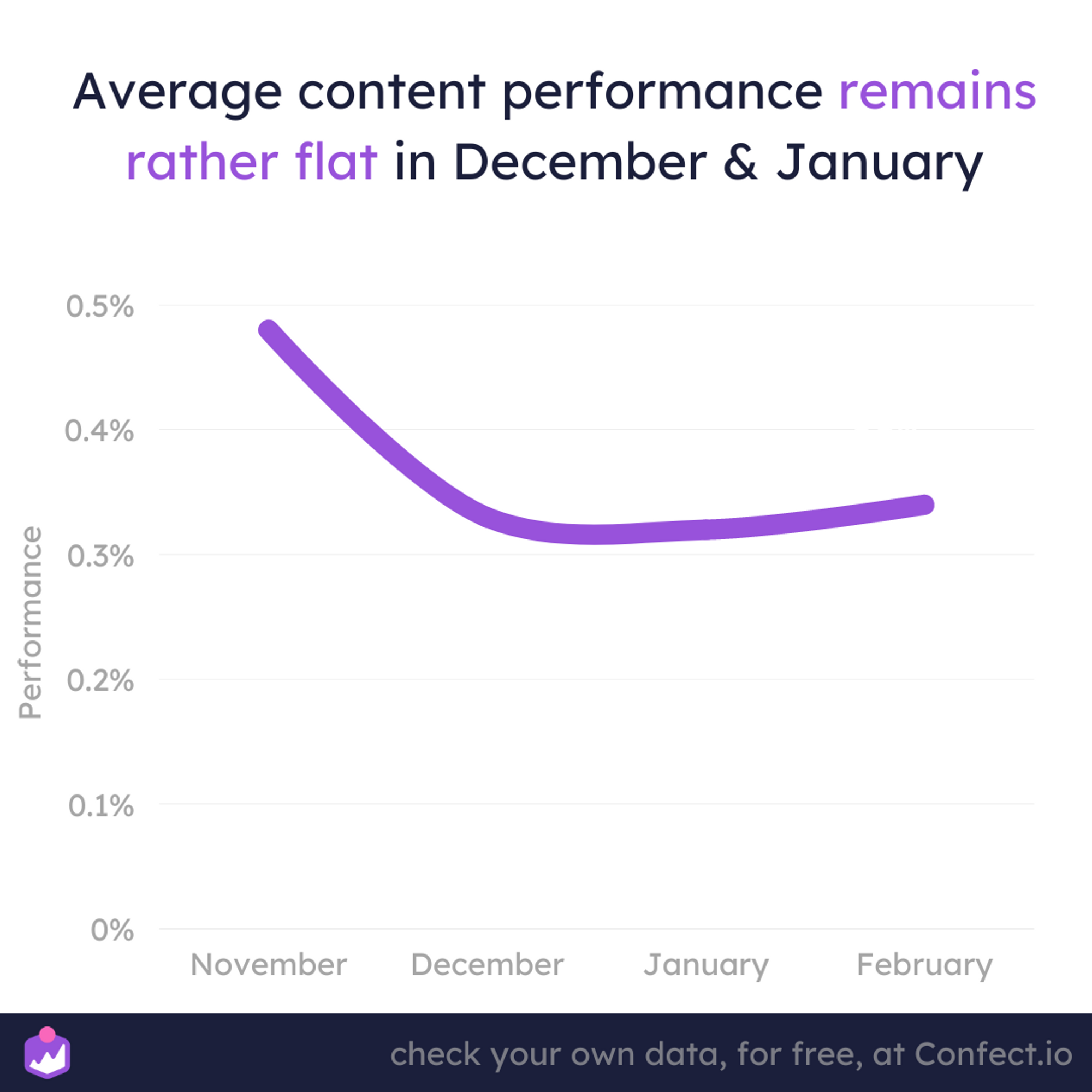 Now that we know about content performance, let's look into how much less it will cost you to advertise in January.
In January, CPM is 21% lower than in December
Many advertisers slow down their advertising after peak seasons such as Christmas and Black Friday. They create new budgets when people return from holidays.
Fewer companies are advertising. Competition and demand for ads are lower.
This means the CPM (cost per mille = cost per one thousand impressions) is lower than in December.
Fewer ads on users' feeds means it's easier for you to stand out and get attention.
So in theory, it is possible to reach the same customers. These customers have the same desire to buy as they did in December. But getting these folks in January will cost 21% less.
In the new year, CPM is 21% lower in January.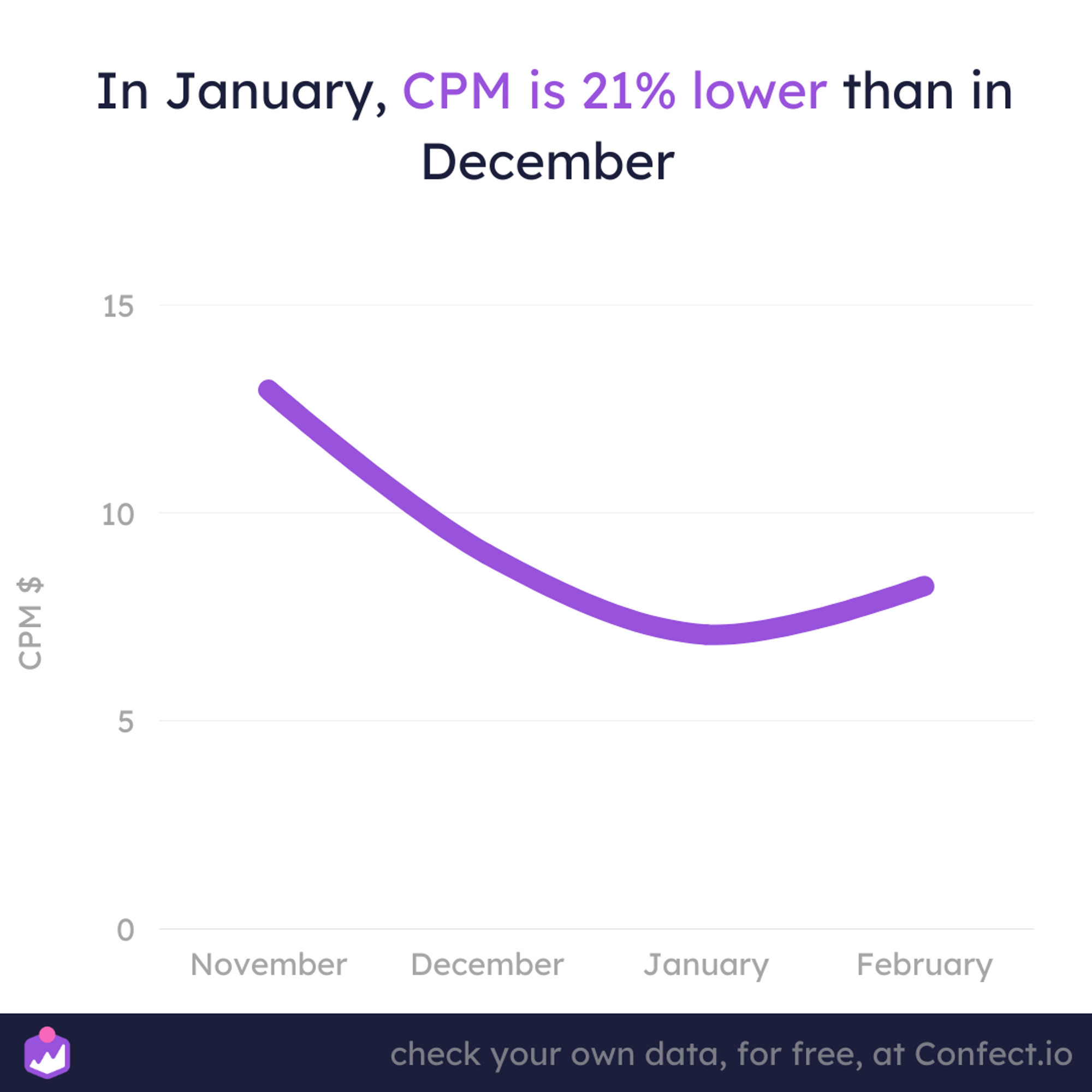 But can you cut costs even more? Can you still use Christmas ads after December 25?
After 3 Jan., January ads outperform Christmas ads
After Christmas Eve and leading into New Year's Day, many companies run After-Christmas sales or Christmas clearance sales.
With decorations still outside, customers still have plenty of Christmas spirit. But not for long . . . 
Why? According to Christian superstitions, leaving Christmas decorations out after the Twelfth Night (January 5th) is bad luck. So after this date, the "Christmas mood and spirit" fade out.
The same thing happens in the ad space. After Jan 3rd, shoppers are no longer interested in Christmas themes.
Ads mentioning January perform better when Christmas, along with Santa and his sleigh, are heading out of the ad space. 
So, mark this in your calendars: January 3 is the time to stop Christmas-related advertisements.
January 3 is the day when January ads begin to have more pull than Christmas ads.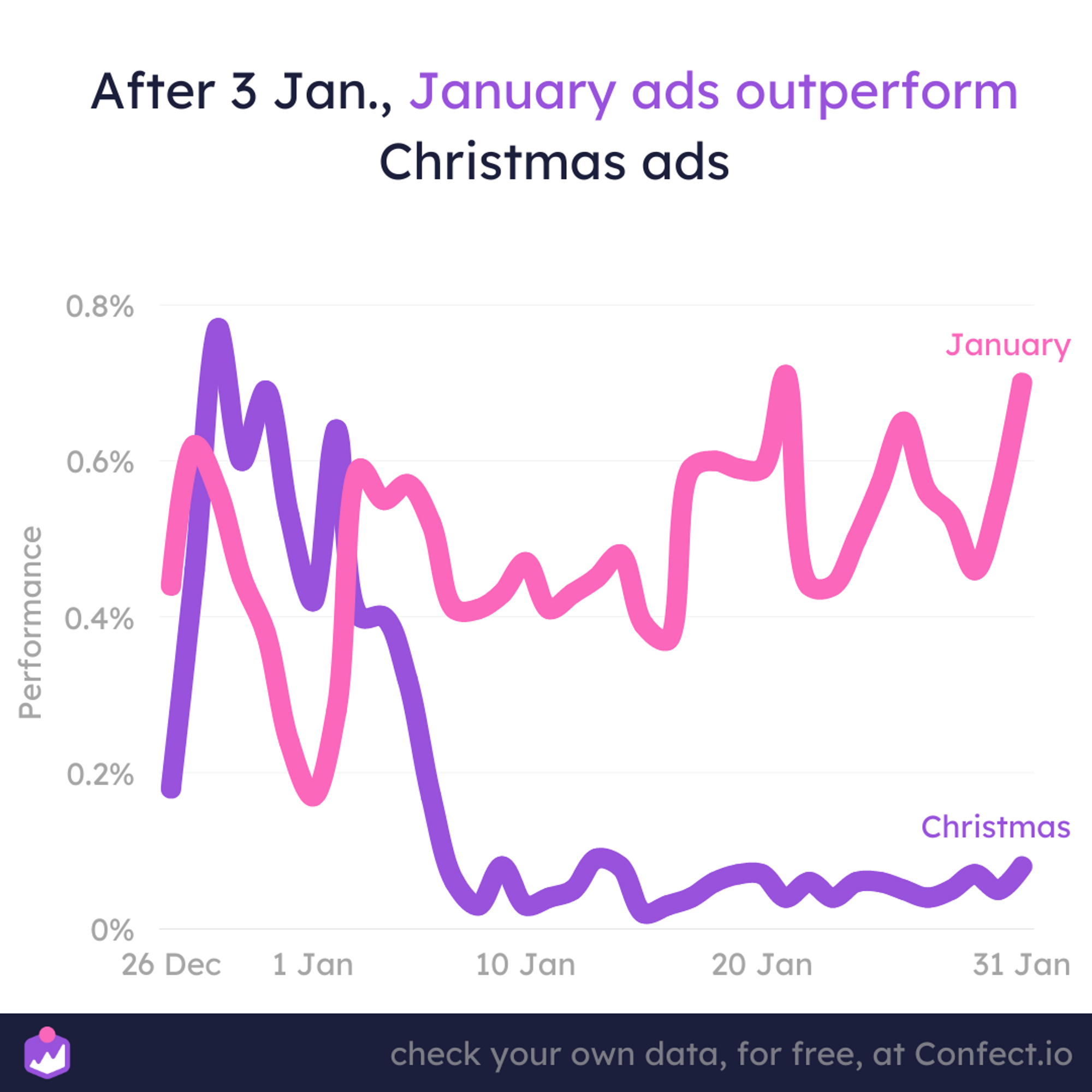 Optimize for a profit with January sale ads
It's a wrap. Here are our main takeaways from January sale ads. 
Boxing Day and January are a good time to move leftover or excess items from stock to make room in the warehouse.

During this time, ad performance is the same as in December. 

The cost is 21% lower and there is less competition.

Although customers are still buying, not as many advertisers are acting on it.

After the 3rd of January, shoppers are not in a Christmas mood. Christmas-themed ads become ineffective. 

Ads mentioning January perform much better during this period.
Try keeping these new timeframes in mind and see what sales results you come up with based on your business/industry.
More to read
This article focuses purely on the performance and cost of advertising in January. Keep optimizing with the following insights:
Data section
The dataset from this article is based on 308M+ impressions and 3.1K pieces of individual content on Meta (Facebook) platforms. It takes into account data from all countries and industries, with the campaign objective of Conversions. The period is from 26. December 2021 - 31. January 2022.
Numbers are looking at correlation only, not causation. Remember to check your own data: numbers for different brands, industries, and contexts will vary.
If you were intrigued about a specific insight, you can go in-depth into the various dimensions and how data can be segmented in Confect, here.