When should you include a logo in January content?
A Logo is a representation of your brand and all its values. Logos carry a lot of weight, but do they always do most of the heavy lifting? 
Most marketers will argue that a logo should be included in virtually all content to drive brand recognition and trust. The more the buyer sees the logo, the easier it is to recognize and recall the brand.
Even though a logo reinforces brand awareness over time, in certain scenarios we found it can negatively impact another important, short-term metric – conversions.
Let's dive deeper into the reasons. . .
Normally, a logo in content lowers performance by 10%
Outside of January, during the rest of the year, a logo in content decreases conversions by 10%.
As we mentioned, it's possible for the content to build brand awareness and trust. But when we look at the short-term perspective of the conversion rate, ads without a logo normally perform better. 
Why? Content with a logo screams "I am an ad!"; consumers might find them too salesy. 
Other brand guidelines are important, too!. The logo is not always a solitary king of branding. Design choices, colors and tone of voice are heavy lifters, too! 
They also communicate the brand and what it stands for. You can create branded content even without a logo.
Performance lowers by 10% when you show your logo in content outside Boxing Day and January.
Ok, but my logo wants to shine! Are there times when my logo will boost performance? 
Showing your logo during Boxing Day & January improves performance by 25%
Let the logos out in January! That's when a switch happens. In the first month of the year, a logo improves the performance by 25% on average.
Why?
Users see and are exposed to the logo multiple times in November and December. During January, it's their chance to take advantage of the deals and offers, and buy from the brand.
Since customers likely used up their entire budget to buy presents in December, a new month means a new salary, and an opportunity to purchase that product they wanted.
Perhaps, some users have been wanting to buy from the brand for some time. Seeing a logo reminds them of that desire to purchase.
Performance improves by 25% when a logo is present during Boxing Day and January.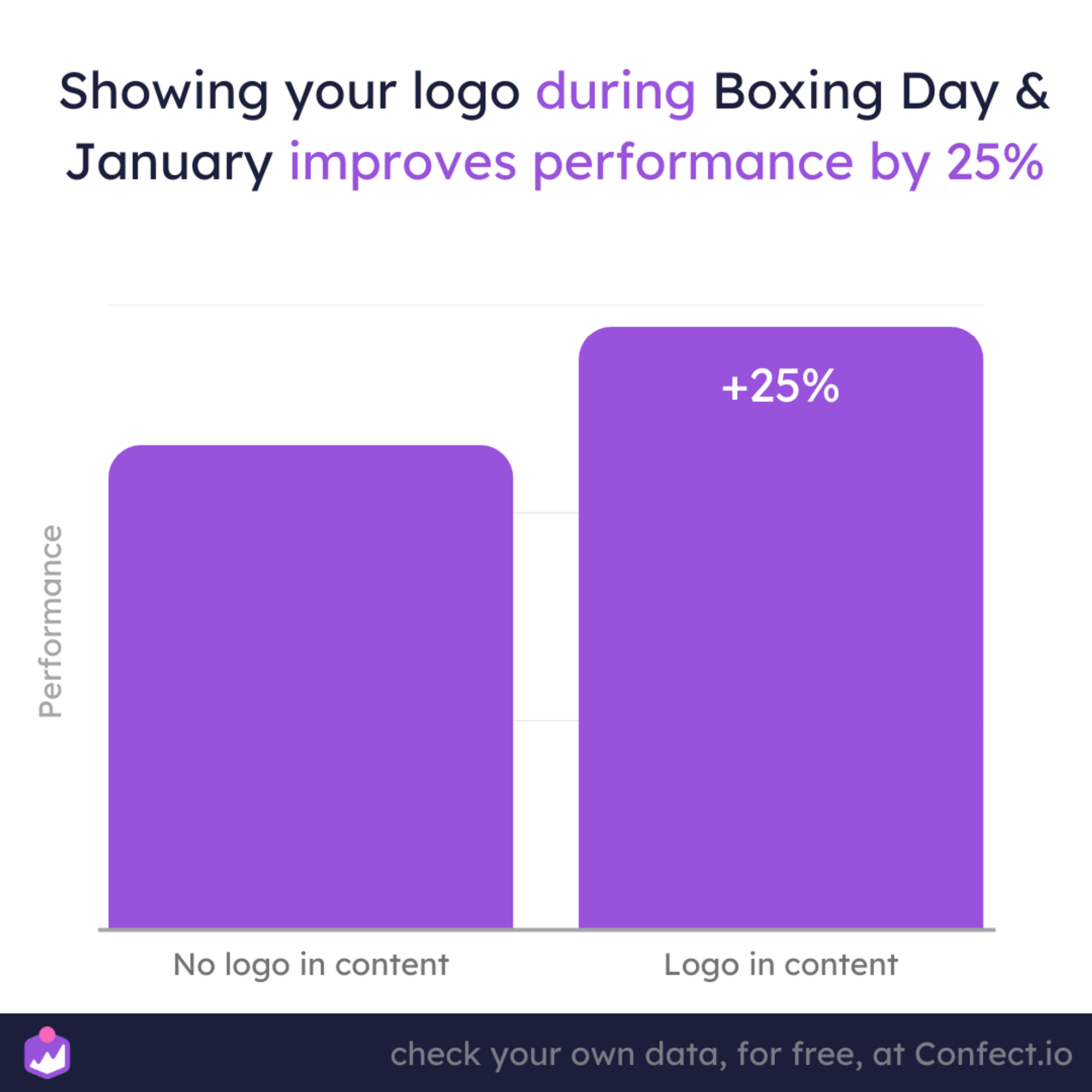 Now that we know the customers' eyes are on your logo, could a logo improve the performance even further in January? 
For SALES during January, a logo improves performance by 31%
When you run sales and discounts, the logo also works to improve performance. Even more than in the overall picture – by 31%.
Sitting on unsold stock from December, many companies offer big discounts to empty their warehouses.
But… this could also include products returned after Christmas or lower quality, less desirable products that simply did not sell well.
Anytime there are big discounts, many users think it might just be too good to be true!
With these doubts in mind, a logo, especially of a respected brand, can convey trust and credibility. Customers can be confident that they are getting a quality product, instead of a returned and perhaps faulty gift.
A logo in sales content improves performance by 31% during Boxing Day and January.
Read specifically about Sale ads.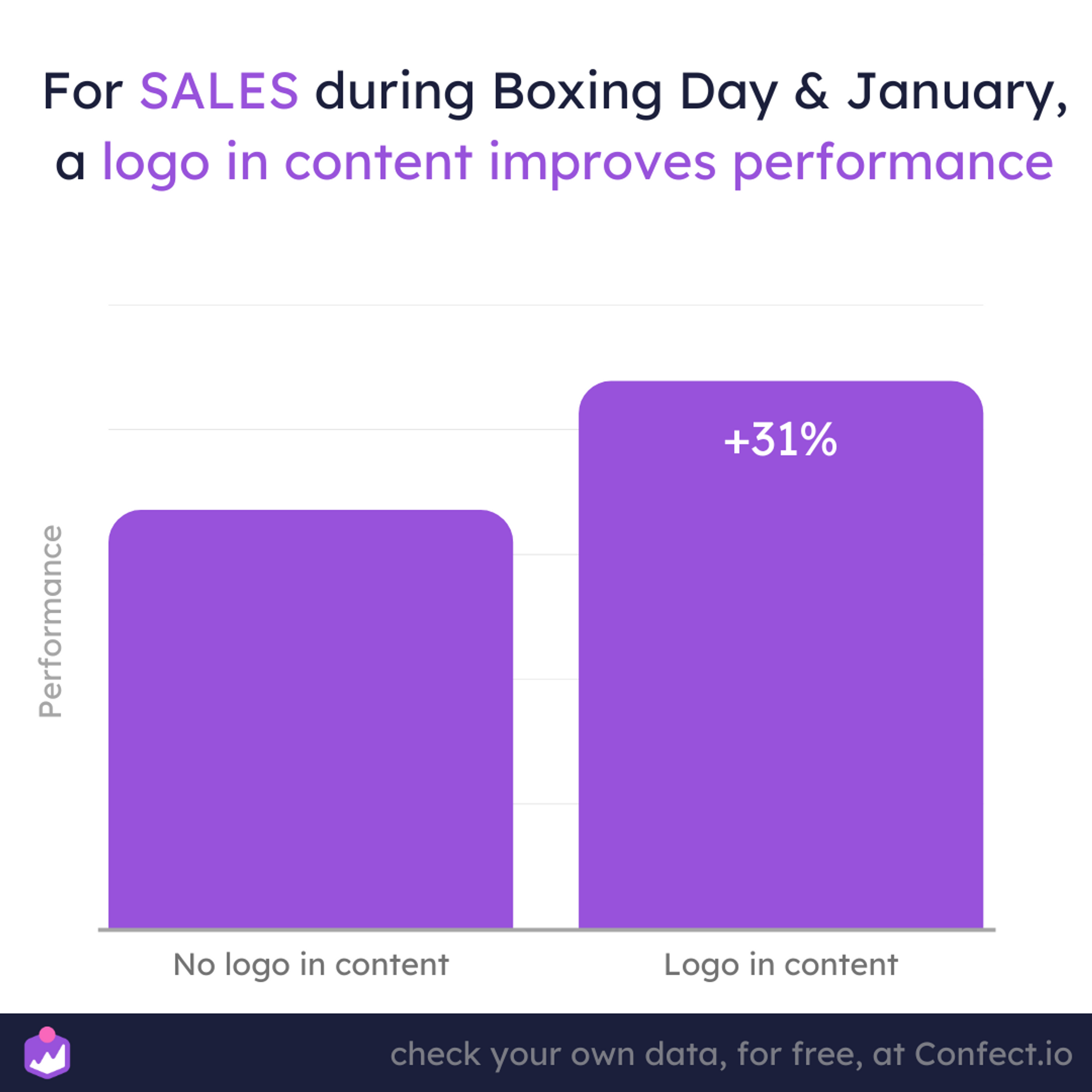 That's understandable for most merchandise, but does a logo influence customers in buying new products? 
When launching new products or collections, a logo lowers performance
Get ready for a drastic decrease. For new collections during January, a logo lowers conversions by 46%. A small element can have a big effect! 
Here, a similar logic as we used for outside January applies. Brands need to be recognizable from their design – not only the logo.
Take a lesson from the best ads. The logo can be removed and buyers still recognize the brand. For example, if your colleague brought in an Apple laptop to the office, you wouldn't need to see the logo. You would recognize it as an Apple by its design.
Exclusivity and curiousity rule - especially when ushering in new products and collections! 
Some buyers want to be among the first to get their hands on a new release. They will even take risks because the product is brand-new and might not be the best.
So it is obvious: desire for newness and originality drives these purchases, rather than the trust of a logo.
In January, a logo lowers performance by 46% when used to launch new products or collections. 
Read specifically about News ads.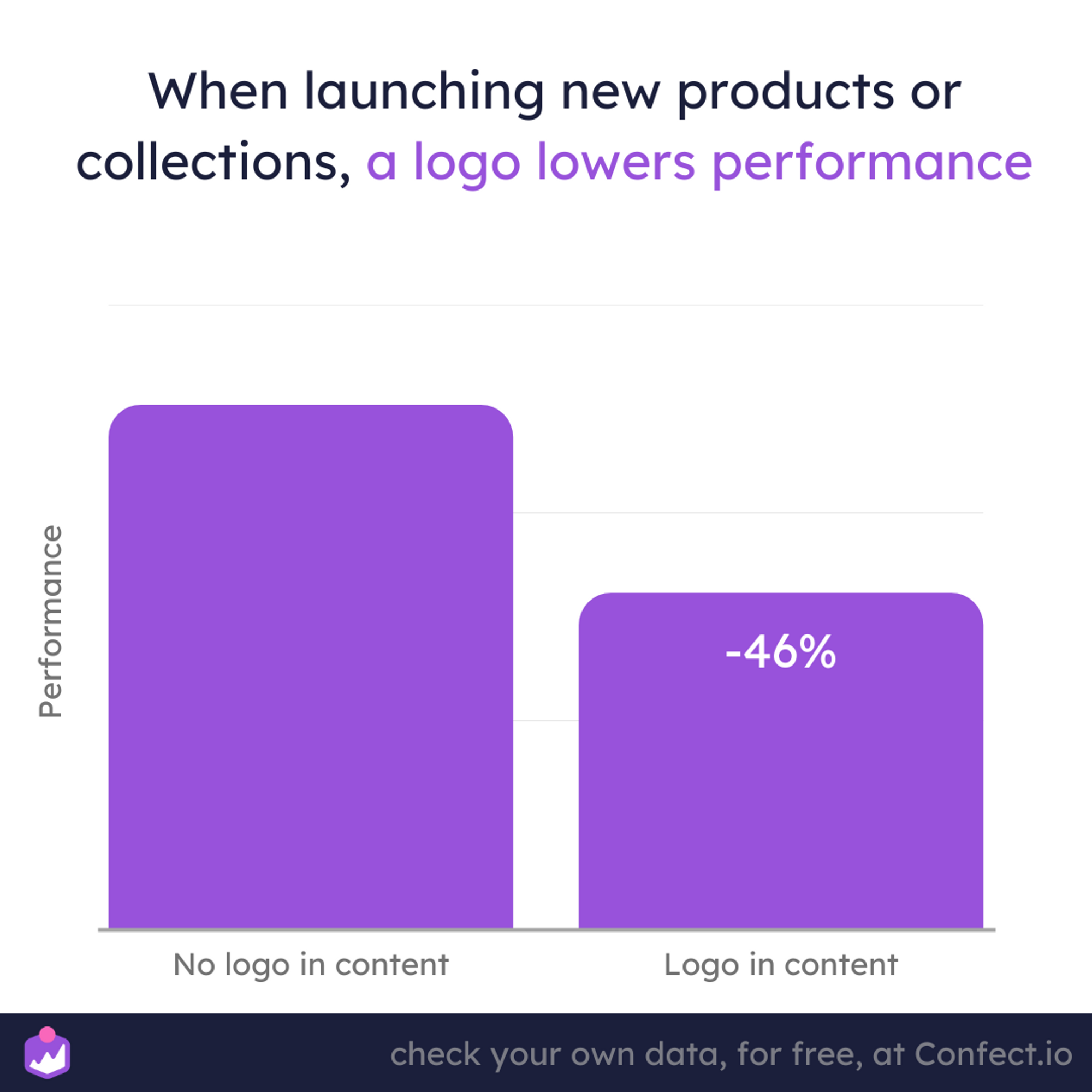 Conclusion:
To logo or not to logo, that is the question. Here is a recap of our answers:
Normally, a logo in content lowers performance. Too many advertisers create similar looking ads, with only the logo being the difference. The brand needs to be recognizable even without the logo.

With January advertising, your logo can improve content performance. Users have been exposed to your advertising during November and December, and in January seeing the logo reminds them of the product they wanted, but couldn't buy for themselves as they were budgeting purchases to afford presents for close ones.

Overall, many buyers are wary of large discounts, so a trusted brand logo will reaffirm trust. Buyers want to trust the brand to make sure they won't receive a product that has flaws or is in very low demand.

The only exception is new collections and products. When buying brand- new releases, newness and originality motivate users to buy, instead of the credibility of your logo.
With these guides for your logo in your back pocket, test to see if these principles apply the same way for your business. 
More to read
This article focuses purely on logos in January ads. Keep optimizing with the following insights:
Data section
The dataset from this article is based on 308M+ impressions and 3.1K pieces of individual content on Meta (Facebook) platforms. It takes into account data from all countries and industries, with the campaign objective of Conversions. The period is from 26. December 2021 - 31. January 2022.
Numbers are looking at correlation only, not causation. Remember to check your own data: numbers for different brands, industries, and contexts will vary.
If you were intrigued about a specific insight, you can go in-depth into the various dimensions and how data can be segmented in Confect, here.