Which content messages to focus on during January?
As an advertiser, you put a lot of thought into "What are my ads trying to communicate?" You probably know this is the key to a solid foundation for your content. 
Your message, or content category, can have a major impact on ad effectiveness.
The best-performing message changes over time. There's no black-or-white answer. So it's good to keep an eye on how the message type correlates with performance.
During January, many advertisers underestimate the opportunities in the advertising space. With your content optimized, January can have a similar performance as December!
If you need a big way to improve your effectiveness, consider the message used.
Let's jump in and consider the following messages. . .
Outside January, Sales and Shipping messages perform best
Outside of January, having a sale is the best-performing message. Sales move users to buy!
Having a sale converts 41% better than the overall average.
Saving money is an evergreen motivation. Saving is always in season, long after customers put their Christmas tree back in the box or haul it to the collection bin.
So if people can get the item they want for less, of course it makes for more conversions! 
Now onto shipping. Customers want to know how long shipping takes and how much it costs. Giving them these answers in content performs well. 
Offering free shipping, clarifying the delivery methods, or time it takes to receive the purchase is a good way to align customer expectations.  
When mentioning shipping, the content performs only 3% below the average.
Sales and Shipping are the messages that perform best outside of January
But what about the messages in January? Let's find out…
Sales and News perform better than the rest during January
When looking at all performance in January, sales are still the top-performing message. They rank slightly higher above the average than the rest of the year.
Why do many advertisers run January sales campaigns? They know a sale is what audiences are looking for. That's where customers purchase the most.
Coming in second is the new category. A new product release, or an entirely new collection.
In January, news dethrone the shipping message. A new year ushers in the thought "new year, new me" in buyer's minds. This mindset is reflected on ad performance.
Buyers want to see new exciting products. They want to be ahead of the game – the first to have a new release.
Sales and News snag the best performance in January.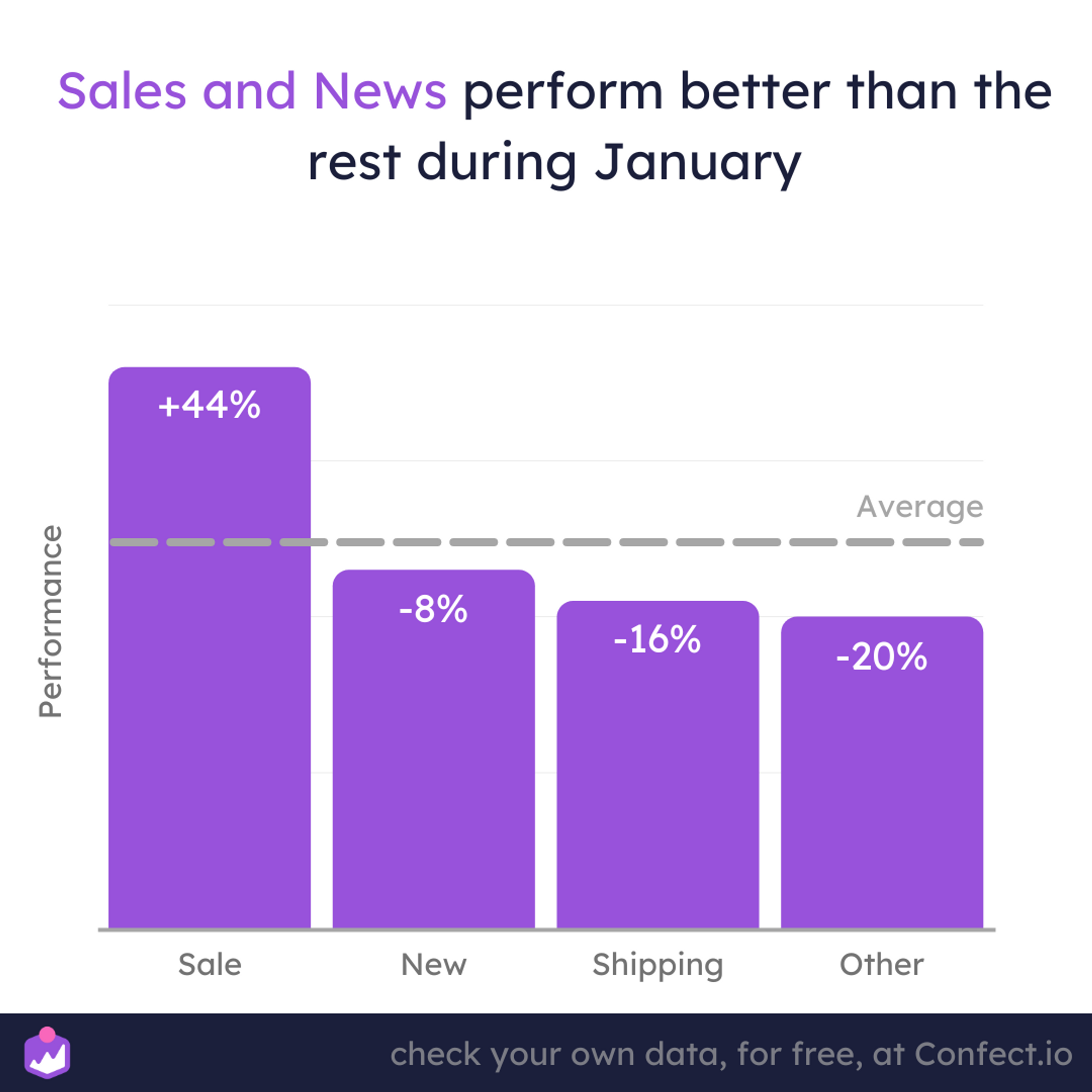 During January, does the best message change throughout the month? Let's take a look. 
Performance of content categories throughout Boxing Day & January
Let's have a look at performance over time. 
The domination of the sale category aligns with the Boxing Day shopping holiday – major discounts abound as companies try to clear unsold items from their warehouses in the new year.
And buyers know this! During this time, they make LOTS of purchases.
Meanwhile, the news category performs relatively well throughout the whole period. A good time to introduce new products or collections!
Thoughts of "new year, new me" take place in the buyer's minds, wanting to reinvent themselves, boosting news ad performance.
"What about shipping?" This message performs rather poorly at the beginning of the month. 
At the beginning of January, users don't seem to care about fast shipping. Perhaps because Santa has already delivered a lot of presents?
Mid-January is the time to start reintroducing shipping ads. Buyers start to care about this more and more in the new year. It increases steadily with a major spike at month's end. 
The Sales message dominates in the period from Dec. 26th to about Jan. 5th.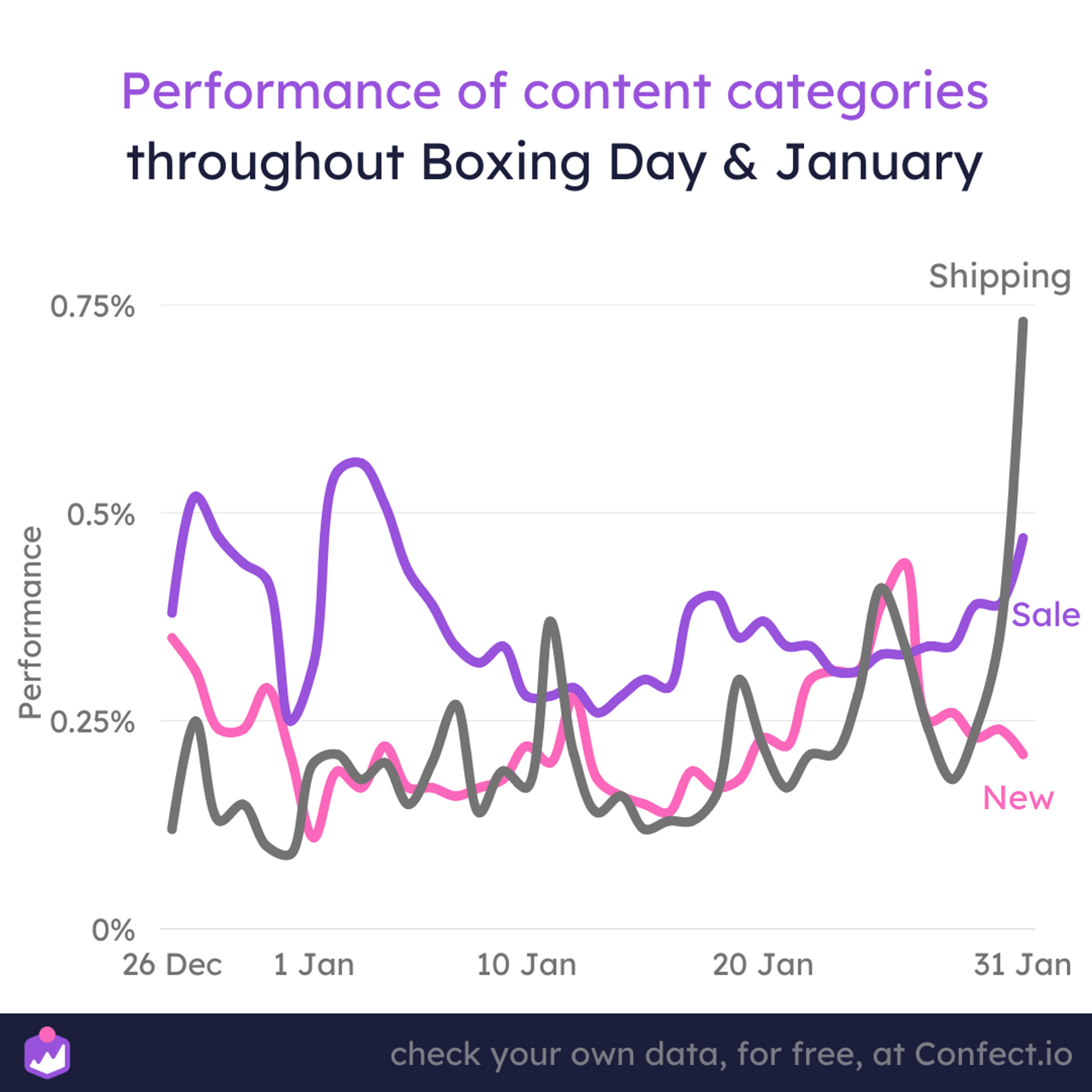 Conclusion:
Jumpstart your new  year with these tips: 
Sales are a great performing message all year round. Everyone wants to save on the items they want!

After the new year, sales still stand as the top-performing message. Savings are a universal motivation.

Don't forget that customers are in the mood for new things, experiences and products. Introduce new collections that are just waiting in your product portfolio.
Use these insights to test what results you can achieve in your business/industry. 
More to read
This article focuses purely on the performance of message types in January. Keep optimizing with the following insights:
Data section
The dataset from this article is based on 308M+ impressions and 3.1K pieces of individual content on Meta (Facebook) platforms. It takes into account data from all countries and industries, with the campaign objective of Conversions. The period is from 26. December 2021 - 31. January 2022.
Numbers are looking at correlation only, not causation. Remember to check your own data: numbers for different brands, industries, and contexts will vary.
If you were intrigued about a specific insight, you can go in-depth into the various dimensions and how data can be segmented in Confect, here.