How to make the best possible SALE campaign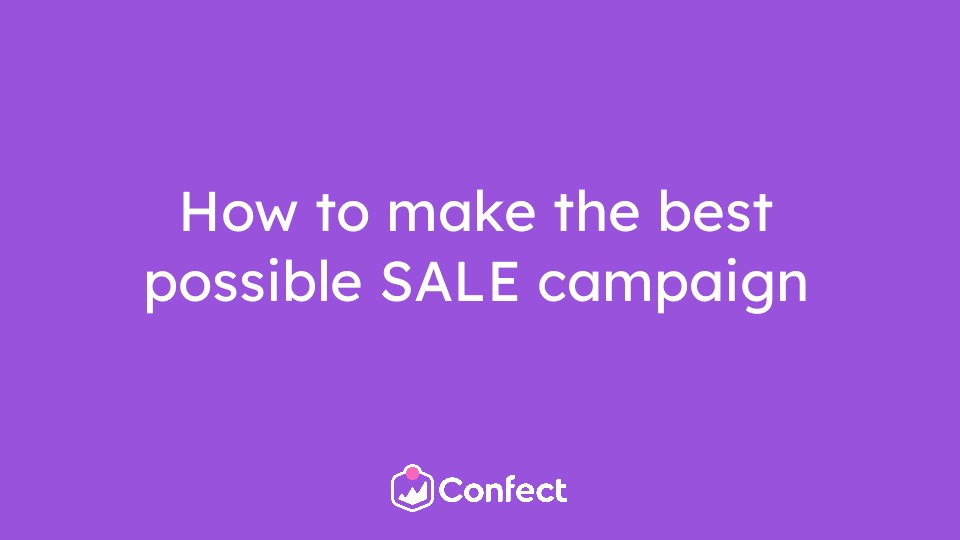 Sales campaigns are typically one of the best-performing campaigns for almost everyone advertising on Meta platforms.
And it's not hard to see why - who doesn't love the chance to save money on something they really want?
Saving money on a product the customer is interested in is a universal, evergreen motivator!
Even though discounts can mean lower profits, a well-done sale campaign can increase performance so much that it more than makes up for it.
In this article, we'll give you some great insights and strategies to make your sales campaign a total success.
Let's dive in!
When advertising sales and discounts you almost can't write too much text
When it comes to creating content, one thing you might wonder is how much text to include - along with all the other Facebook ad design choices you have to consider
Some people worry about using too much text because they don't want to seem too "salesy" or cluttered, but that might not always be a problem.
In fact, we found that using more text in sale ads can actually increase performance by a whopping 163% compared to using a low amount of text!
But, what is the reason behind this dramatic performance boost?
One possible reason is that people often want to know more about your product before they click on an ad, and adding more text (while still keeping it easy to read) is a great way to give them the info they need.
Also, keep in mind that not everyone will read the full ad body or go to the product page to learn more.
Including text in the ad can help make sure important information is noticed and available to potential customers as they decide.
Read about how text amount affects other messages here.
Now that we've established that using a bit more text is a good idea, let's move on the the next obvious question: "What should we write?"
Showing savings increases performance by 63%
We found that simply showing the savings you are offering can boost performance by 63%!
There are some interesting reasons as to why this is.
Whenever you're advertising a sale, it might seem like a good idea to use phrases like "BIG SALE" or "GREAT PRICE REDUCTIONS'.
But from the customer's perspective, those don't really tell them much - in fact these phrases don't tell anything about the sale.
Just saying "further reductions" could mean anything from 10% off to 80% off - that's a big difference!
If someone clicks on a sale ad and finds out that the discount is only 10%, they might be disappointed and not buy anything.
On the other hand, if they see "further reductions" and assume it's only 10-20% off, they might not even bother clicking.
But if you specifically mention what kind of savings you're offering, you can avoid any unpleasant surprises and make sure people know what to expect, potentially boosting your ad performance!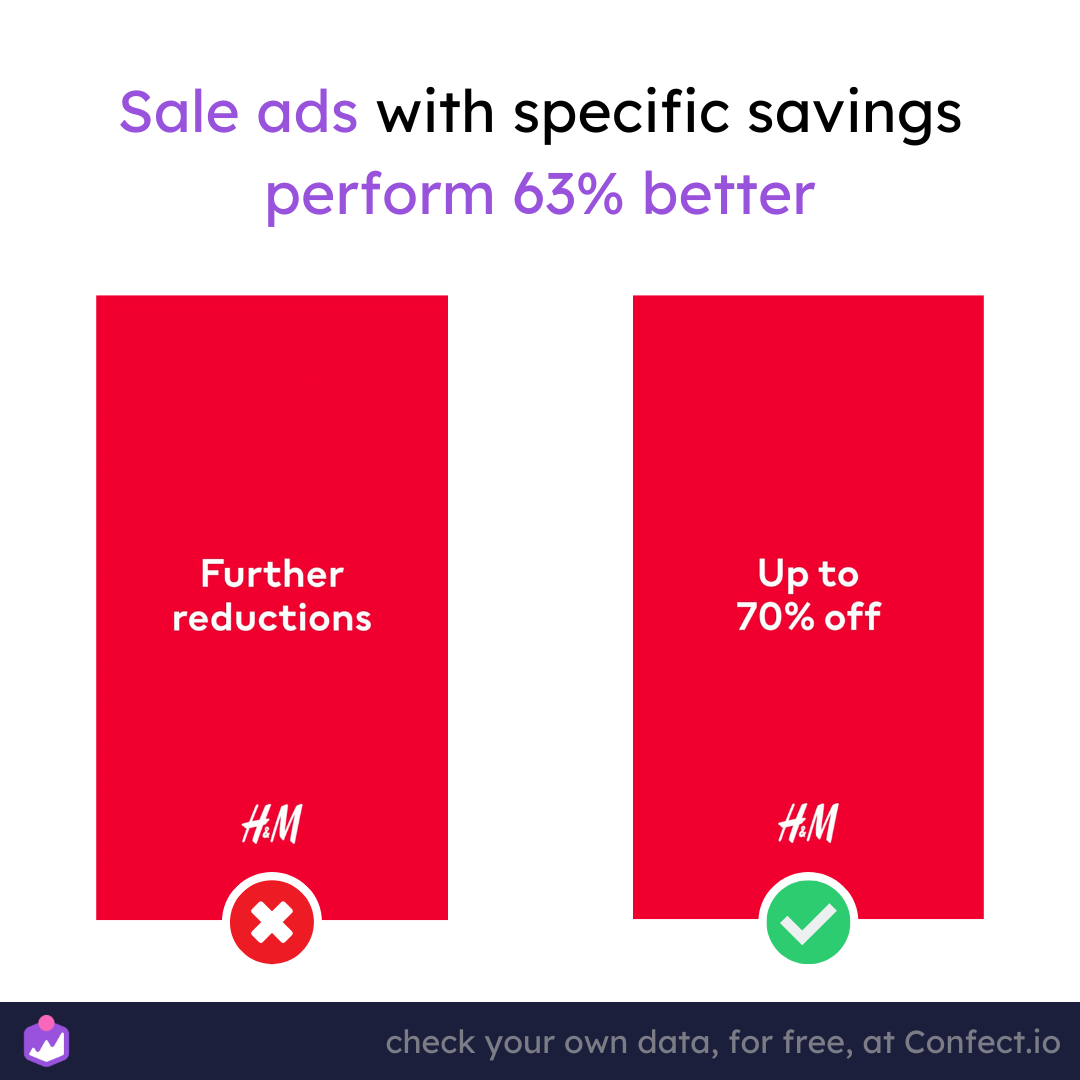 Text is only one part of the equation.
One other important aspect is the timing of your ads.
Let's take a look!
Facebook ads about sales run half as long as other ads
When you're putting together a sale ad campaign, it's a good idea to think about how long it should run.
Interestingly, we found most campaigns last around 8 weeks, but sale campaigns are shorter - only about 4.3 weeks on average.
That's because sales rely on two big things - the sense of urgency and the impulse to buy.
People are more likely to make a purchase quickly when they see a sale as a chance to save money that might not be around forever.
But if you keep the sale going for two months, it starts to feel less unique and more like the "new standard price."
This can kill the sense of urgency and make the ads less effective.
So don't forget to think about how long your sale ad campaign should run - it can make a big difference to performance.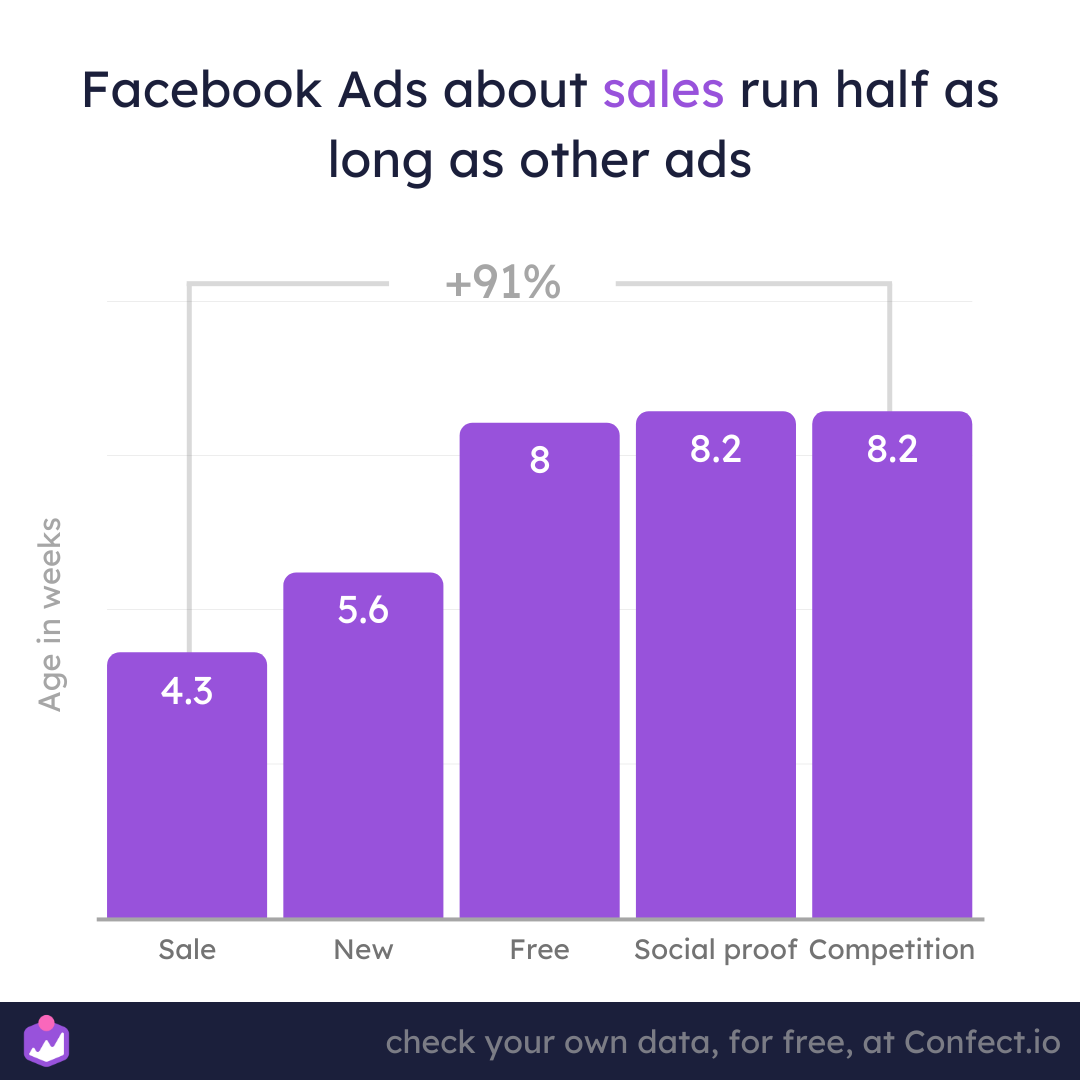 Sale ads are a powerful tool for ecommerce
If you have an eCommerce brand, sale ads can be a really powerful way to get people interested.
To make them as effective as possible, it's a good idea to use a lot of text so people can easily see and understand the important information.
Also, it's better to be specific about the discounts you're offering - instead of just saying "sale," try using something like "X% off."
And don't go too crazy with sale ads - the average campaign only lasts for 4 weeks, and if you keep it going for too long, people might not see it as a special, urgent opportunity.
More to read
To learn more about becoming a sales advertising master, you can read these blogs:
Data section
The dataset from this article is based on 7B impressions and 17.1K pieces of individual content on Meta (Facebook) platforms. It takes into account data from the eCommerce industry in all countries, with the campaign objective of Conversions. The period is from 1. September 2021 - 16. September 2022.
The insights were filtered to only include data regarding "sale".
Numbers are looking at correlation only, not causation. Remember to check your own data: numbers for different brands, industries, and contexts will vary.
If you were intrigued about a specific insight, you can go in-depth into the various dimensions and how data can be segmented in Confect, here.