The best type of ad messages to use in 2023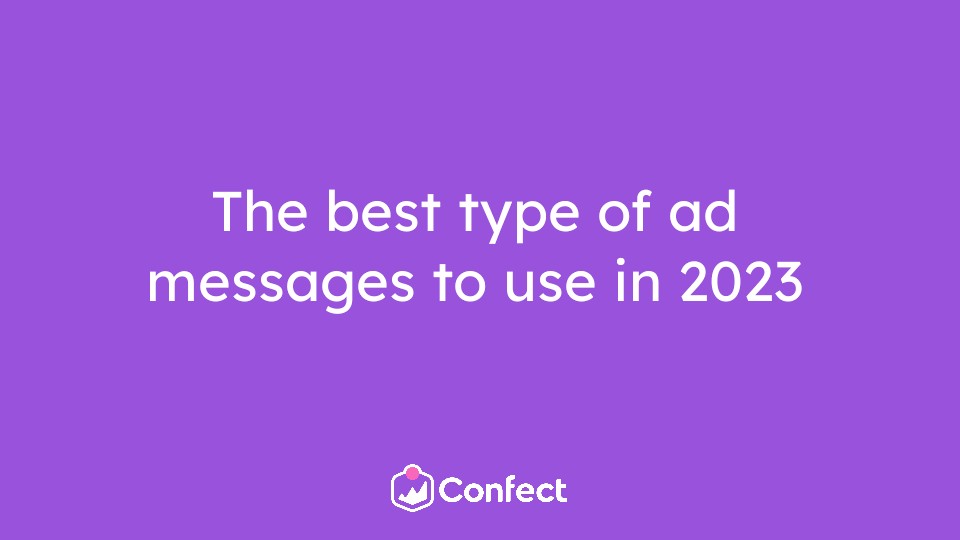 Every year, we see many of the same ads over and over again, which gets boring. 
But we also see internet users interact with those ads in the same way. 
And that's something that can be extremely insightful! 
So as advertisers, marketing agencies, and solo marketers prepare for the new year, one of their biggest questions should be:
What ad messages will work best in 2023? And how can you optimize your product ads to be the best they can be?
To help answer that question, we've looked back throughout 2022 and found a slew of data to help us understand.
So, let's dive into what we can expect from ad messaging this upcoming year.
Sales, Competitions and News have the highest click-through rate
When it comes to paid ads, advertisers can have many different campaign objectives. 
For instance, the goal might be to reach as many people as possible, to increase awareness, or to get people to click-through an ad and land on a website or landing page.  
In the case of click-throughs, we found that the best messages to use are sales, competitions, and news.
In fact, sales messages obtained a click-through rate about 43% above average!
Whereas competition and news messages had CTRs that were respectively 25% and 21% above average.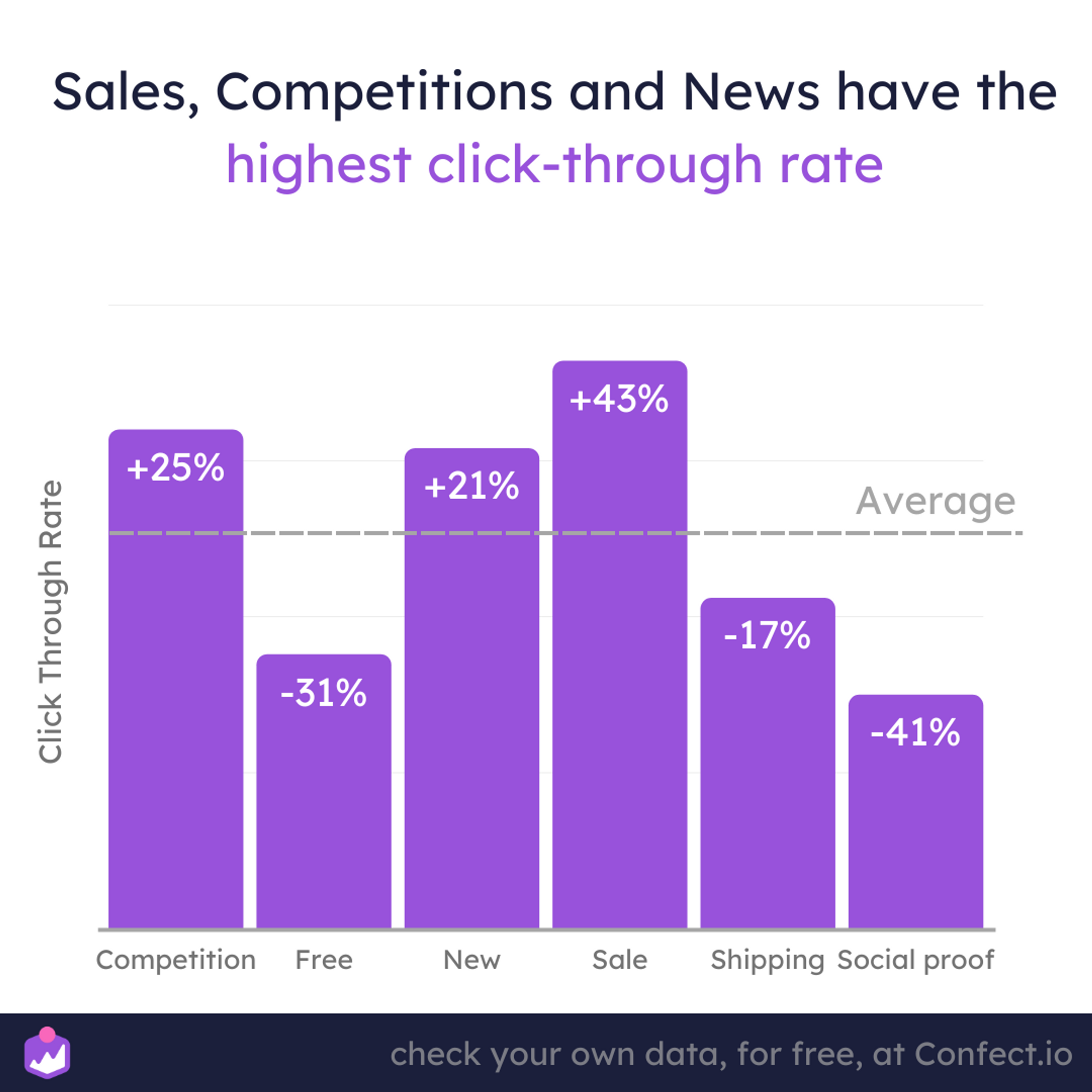 On the other hand, we found messages about free stuff, shipping information, or social proof obtained click-through rates that were as much as 41% below average. 
It seems that people are simply more interested in ad messages about sales, competitions, and news.  
These messages are better at creating a sense of curiosity and enticing people to click on an ad to learn more about the offer. 
However, that doesn't mean that free, shipping or social proof messages are completely ineffective. 
It's just that you probably want to use these messages for other campaign objectives, such as increasing reach or raising brand awareness, rather than getting people to click-through to your website. 
So now we know what messages obtain the highest click-through rates. 
But what type of messages are best at converting ad viewers into paying customers? 
Let's find out!  
Sale, Shipping and News messages have the highest performance
When we looked at overall performance, we found that sales messages performed better than all other categories.
Actually, sales messages performed 102% above average!
So it seems that offering your customers a good deal in any industry is a universal, evergreen motivator to get people's attention and convert new customers.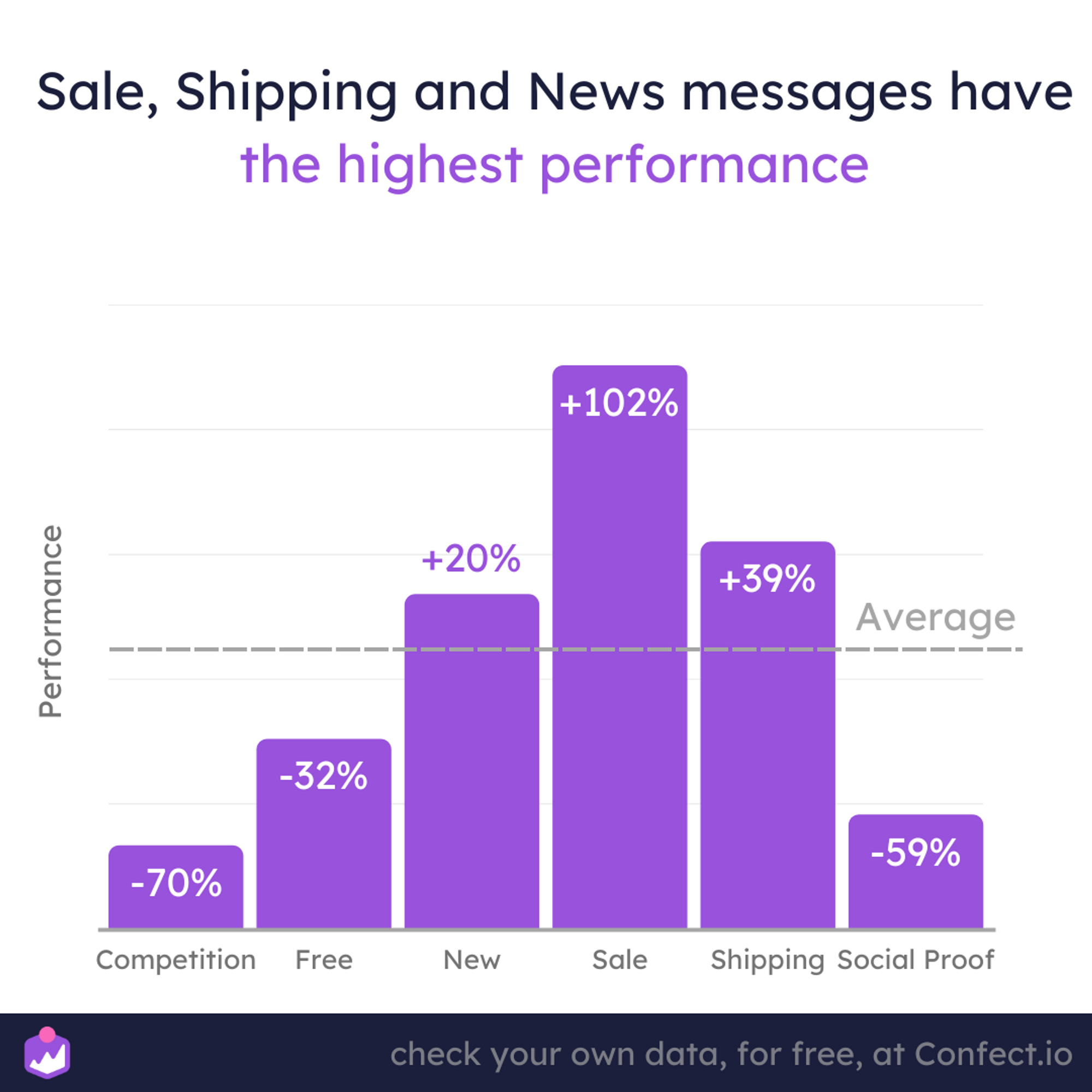 Following in second place, we found shipping messages performed 39% better than average.
As a consumer, delivery times and shipping costs are crucial when deciding whether to make a purchase. 
After all, if shipping takes too long or costs too much, users often abandon their carts right before checkout.
Therefore, clarifying your company's shipping policy in your ad ahead of time works well to prime your shoppers, so they'll know exactly what to expect. 
This leads to less cart abandonment, and a much smoother checkout process. 
In third place, we found messages about new products or collections performing about 20% better than average. 
Consumers often see themselves as innovators and want to be the first to try or own new things, which means they're easily attracted to ads and messaging about new, novel products or services. 
And finally, the worst-performing ad message was competitions, which performed 70% below average. 
Running a competition is a great way to create hype and generate brand awareness. 
But based on our findings, it's best to avoid competition messages going into 2023, especially if you're running a conversion-based advertising campaign. 
So what else can we learn from our data? 
The CPM is rather stable across all messages
While there were marginal differences, we found no significant difference between CPMs (cost per thousand impressions) across different message types. 
In fact, there was only a 30% difference between the most expensive and the least expensive ad messages. 
So no matter what type of message you want to advertise, even if you opt for the best-performing messages (sale/shipping/news), you can expect to pay roughly the costs. 
That said, we did find competition-related ad messages to be the most expensive to run, with an average CPM of $9.60.
This higher cost, combined with the fact that competition messages performed the worst, supports the idea that you should avoid using this type of message, especially when trying to convert new customers. 
You'll likely spend a lot of money, and convert few, if any, customers.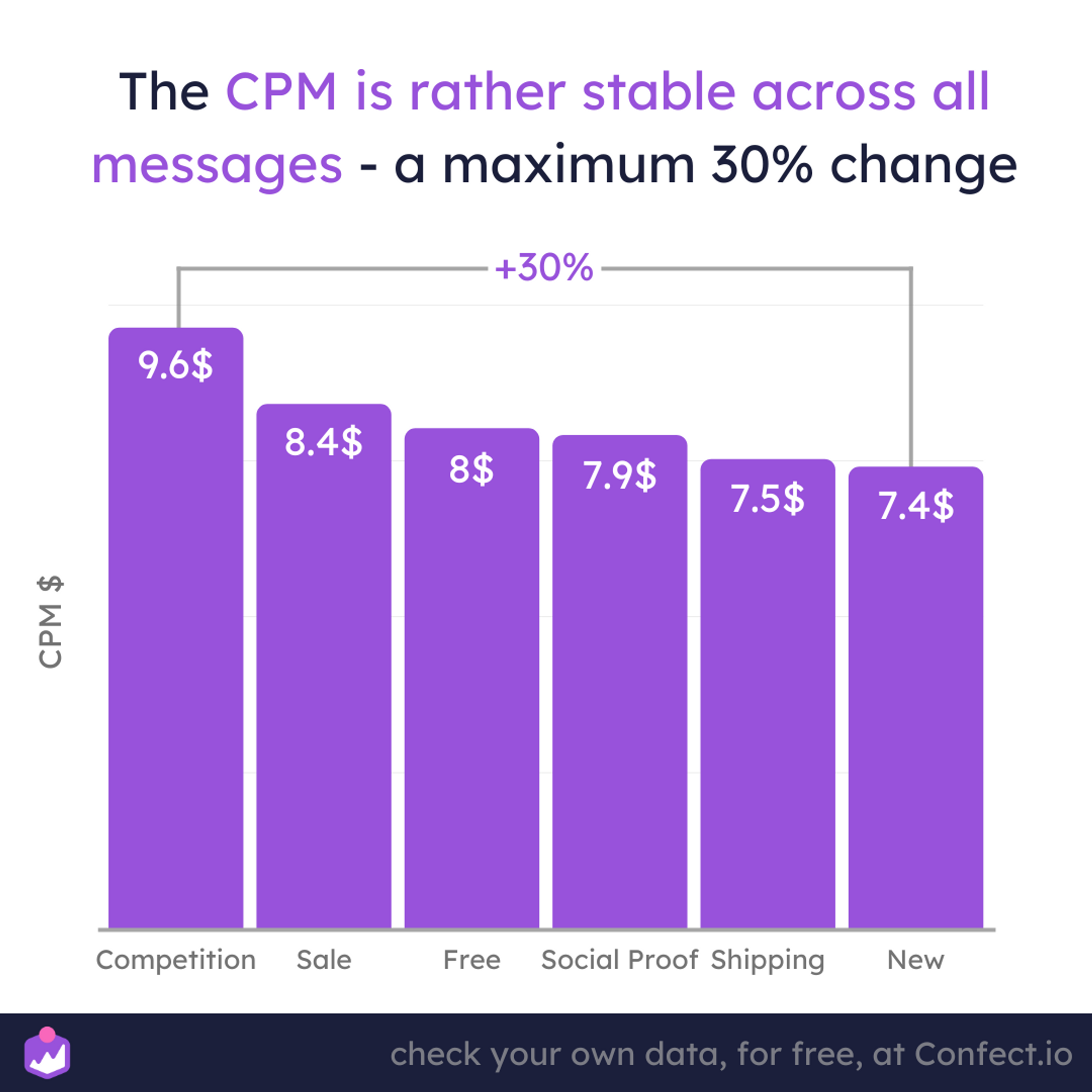 Next, we found sales to be the second most expensive ad message, with an average CPM of $8.40. 
The fact is that there are lots of advertisers competing to display these types of ads. 
Advertisers want people to see these ads and, therefore, are willing to pay more, which means they end up bidding CPM increasingly higher. 
Finally, we found news messages to be the least expensive to run, with an average CPM of only $7.40. 
This is excellent NEWS! (Excuse the pun!) 
Especially since news messages were the third-best-performing ad message. 
When you combine this with the fact that news messages have a lower CPM, you can expect to pay less and maintain an above-average conversion rate! 
How's that for something NEW to talk about?
The best ad messages to use going into the new year
As we look ahead to 2023, advertisers should remember that sales ads get more impressions than any other message type. 
It's also a good idea to include sales, shipping, and news elements into your ad messages, since they tend to perform the best. 
Additionally, advertising costs remain relatively stable across all message types.
But news messages did have an average CPM about 30% cheaper than competition and sales messages, making news one of the best message types in terms of both performance and CPM. 
With this knowledge, we hope marketers can now confidently create optimized ad campaigns tailored with the best-performing messages for 2023!
More to read
This article focuses purely on the performance of different messages in an outlook into 2023. Keep optimizing with the following insights:
Data section
The dataset from this article is based on 7.1B impressions and 59.1K pieces of individual content on Meta (Facebook) platforms. It takes into account data from all countries and industries, with the campaign objective of Conversions. The period is from 1. September 2021 - 16. September 2022.
Numbers are looking at correlation only, not causation. Remember to check your own data: numbers for different brands, industries, and contexts will vary.
If you were intrigued about a specific insight, you can go in-depth into the various dimensions and how data can be segmented in Confect, here.