Meta ads outlook into 2023 - Meta ads prices in 2022
Whether you're an advertiser, marketer, or business owner, staying informed and planning is crucial as we move into another year. 
After all, knowing what's trending and how trends will change in the near future can help you make the right decisions for your business. 
But with the pace of our digital landscape continuously changing, how can you know what will be trendy next year? 
Luckily, user behavior is somewhat cyclical and repeats itself time and time again. 
And that's precisely why we dove head first into a mountain of user analytics to learn as much as possible from the past. 
So without further ado, let's look at what advertisers can expect from Meta ads in 2023.
In the beginning of the year and over the summer, CPM is below average
They say that spring is the season of rebirth. 
It's a time when the last traces of snow melt. Trees sprout new leaves. And businesses restart their financial calendar. 
And because it's the financial year's end for many businesses, it's also the time when most companies start planning and launching new marketing campaigns. 
This causes an increased demand for advertising space. And with increased demand, we should also expect to see price levels increase.  
So it's not surprising that we found CPM costs slightly above average during spring, mainly between April and June.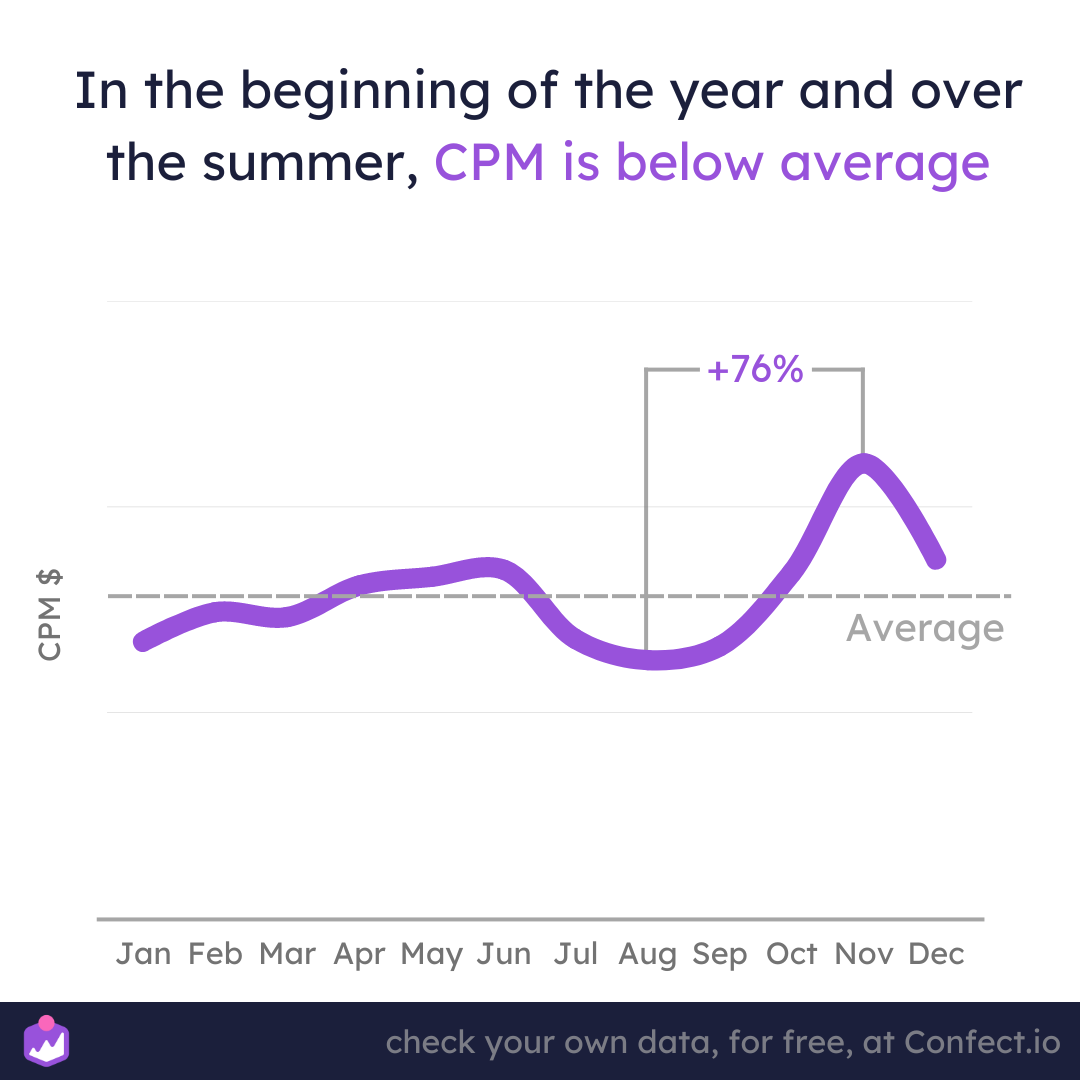 Then, heading into the end-of-year holiday season, advertisers begin promoting Black Friday, Cyber Monday, and Christmas sales. 
Because of this, we see yet another increase in demand. 
And that's why we see CPM costs spike in November to about 76% above the August low. 
We now know advertising costs are above average in spring and way above average in the fall.  
So when is the most affordable time to advertise? 
At the beginning of the year and from July to September, CPM costs are at their lowest, with August offering the lowest CPM throughout the entire year. 
During these periods, winter and summer, people just generally want to relax and enjoy their lives, which can be linked to spending more of their hard-earned money. 
So when you combine this with CPM costs being their lowest during these periods, any savvy market should see this as an ideal advertising opportunity.  
Performance spikes in May and October
We also found noticeable spikes in May and October when we looked at overall ad performance throughout the year. 
For starters, in October, we saw a 42% increase in ad performance from August. But this shouldn't be a surprise. 
After all, this time of year is when most businesses start running Black Friday and Cyber Monday promotions and consumers start their holiday shopping.
However, we also saw a 34% performance increase between March and May, which is yet another ideal opportunity for those in the know. 
Around this time, many companies are advertising spring clearance sales or launching new spring product collections. 
This leads many consumers to take advantage of these sales, which accounts for why performance starts to creep upward during this time. 
Advertisers are launching less and less new content from Jan. to Sept.
We all know that launching new ad content helps keep things fresh. 
After all, when consumers see the same ads repeatedly, they tend to lose interest, which seriously harms campaign performance. 
So it was a bit of a surprise to learn that advertisers launch less and less new content throughout most of the year, specifically between January and September.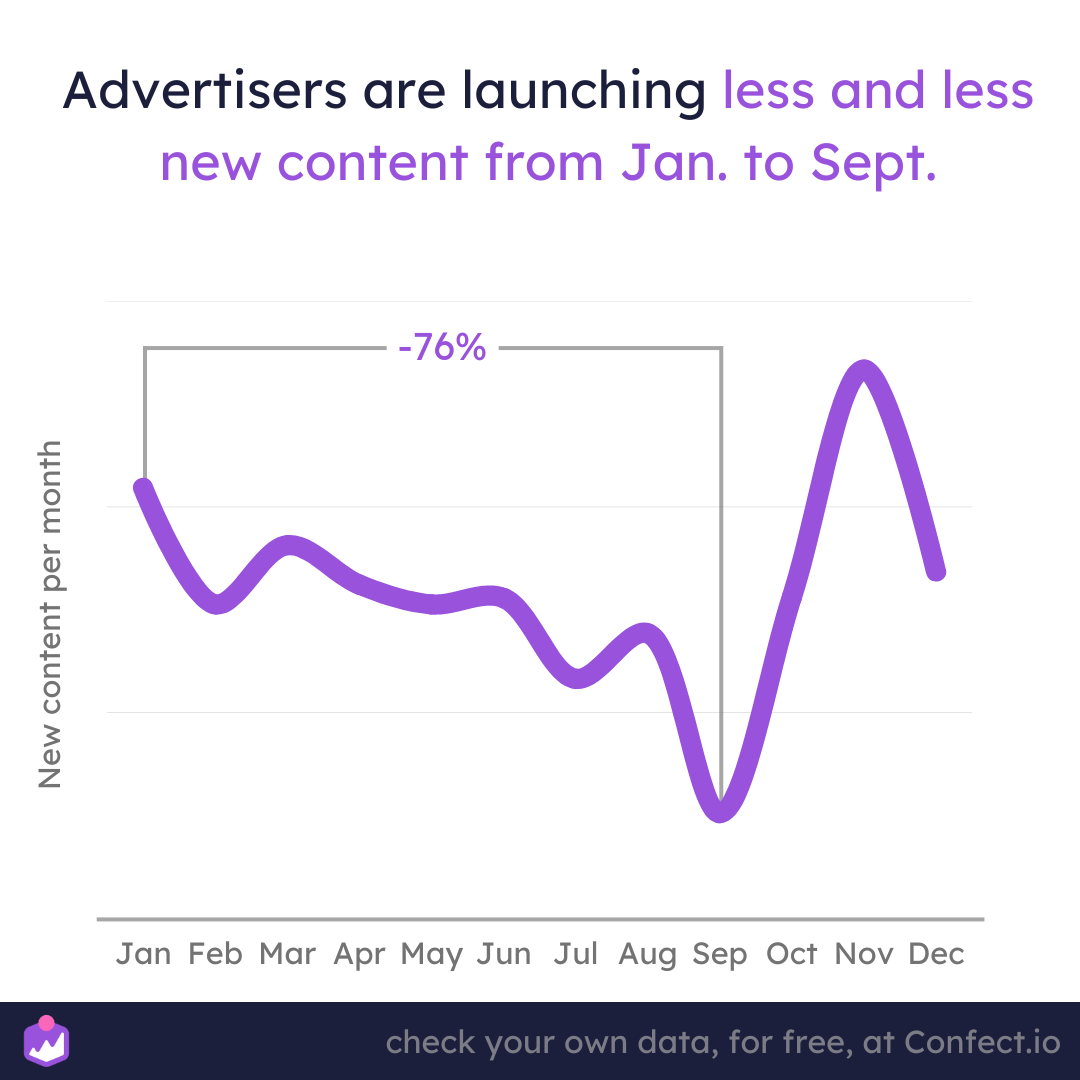 From January to September, new content declined steadily and dropped by a total of 76%. 
But then, in November, we see a huge spike in new content being launched, which lines up perfectly with when we'd expect to see advertisers rushing in to promote their holiday deals. 
When we think about it, this means new ad content should stand out better between January and September.
So if your business can keep pushing out new ads during this period, you can benefit from less competition and increased visibility! 
And never forget that you use Confect to easily edit your Facebook ads to include relevant information, such as prices, discounts, brand logos, etc.
Looking back on Meta ads CPM, performance, and competition In 2023
Overall, advertisers should expect a cyclical pattern for CPM in 2023, with advertising costs being their lowest in and around August. 
August is also when ad performance starts to increase, peaking in October as advertisers launch their holiday campaigns. 
But due to the intense competition during this time, savvy marketers should look to May, when ads also have a considerable spike in performance. 
Finally, advertisers launch the least amount of new content between January and September. This represents yet another ideal opportunity for advertisers to stand apart from their competitors. 
So as we can see, we can learn a lot by looking at yearly trends. 
And by understanding consumer behavior, and analyzing past data, advertisers, marketers, and business owners can position their businesses for success in 2023. ​​
More to read
Make sure 2023 is your year with the following insights:
Data section
The dataset from this article is based on 7.1B impressions and 59.1K pieces of individual content on Meta (Facebook) platforms. It takes into account data from all countries and industries, with the campaign objective of Conversions. The period is from 1. September 2021 - 16. September 2022.
Numbers are looking at correlation only, not causation. Remember to check your own data: numbers for different brands, industries, and contexts will vary.
If you were intrigued about a specific insight, you can go in-depth into the various dimensions and how data can be segmented in Confect, here.