Data-backed tips to help you sell more gifts during Christmas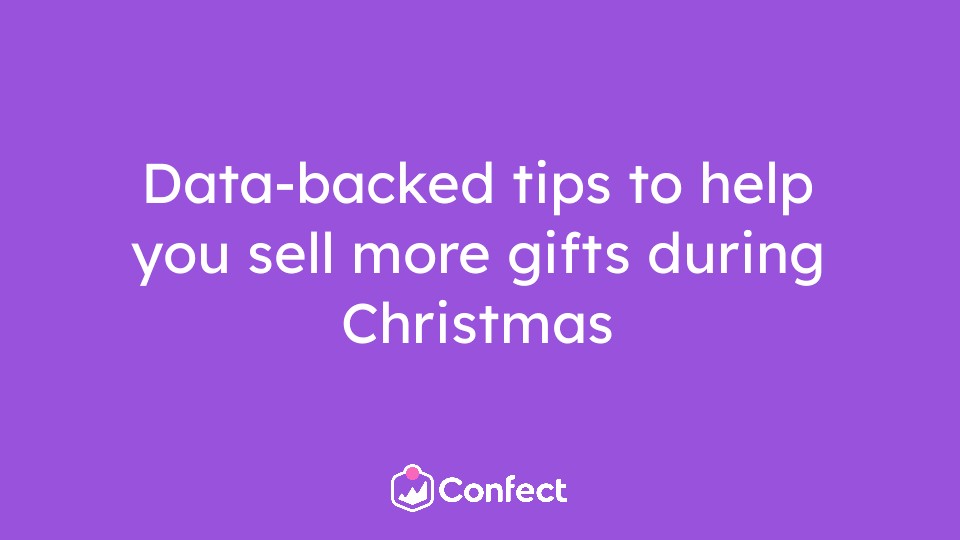 Christmas is a time of giving and receiving, but it can also be an excellent opportunity for businesses to increase their sales. 
Savvy marketers have known this for years and are already well into planning and executing their holiday advertising strategies. 
But what holiday sales strategies work best? 
Are there any specific marketing strategies that work better than the rest? 
Lucky for you, we've scrounged through a mountain of data from Facebook to find you some of the best and easiest to implement marketing strategies that will help your business boost ad performance and sell more gifts this holiday season. 
Let's dive in!
Sale focused ads perform well during December
Throughout the year, it's a well-known fact that ads focused on discounts or other types of promotions are a great way to drive more sales. 
During the holidays, we've found that this is no different. People are always looking for a good deal, so using sale-focused ads can help you capitalize on that impulse. 
Learn about creating the best possible sale campaign.
Our data shows promotional sales ads perform as much as 59% better during Christmas.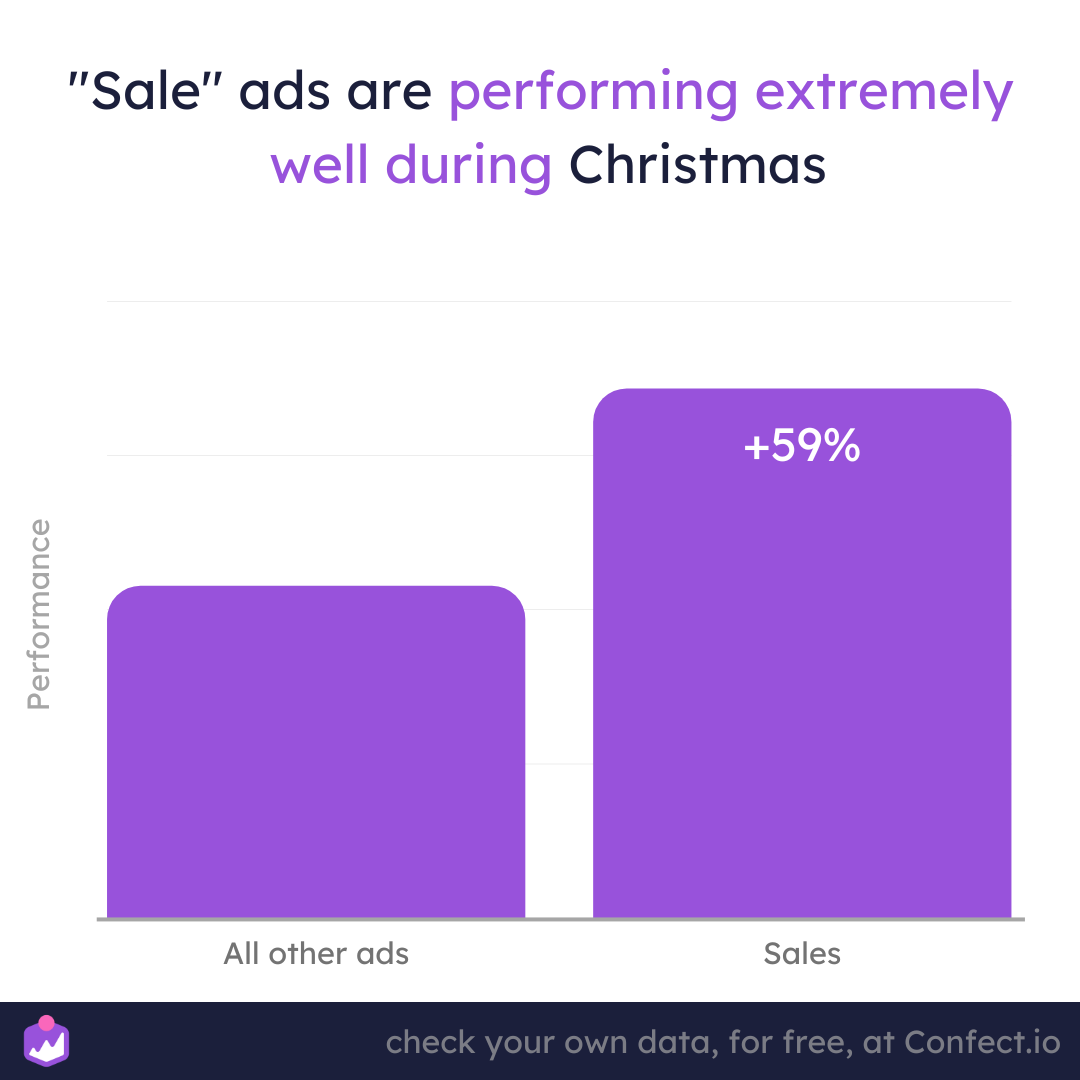 Most people want to do their Christmas shopping as quickly and efficiently as possible without paying full price for anything. 
Therefore, you can boost your Christmas ad performance by making your discount easily visible and creating a sense of urgency for your deals. 
For example, you might create a headline like "Get 20% off in just two clicks" or use limited-time-only deals. 
With these tactics, viewers are more likely to click through immediately and take advantage of the offer before it's too late.
Mentioning "gift" does not improve the performance
Although Christmas is known as the gift-giving season, we've found that using keywords like "gift" or "present" can negatively impact your overall ad performance. 
As we can see in the chart below, mentioning these keywords has proven to cause as much as a 10% reduction in ad purchase rates.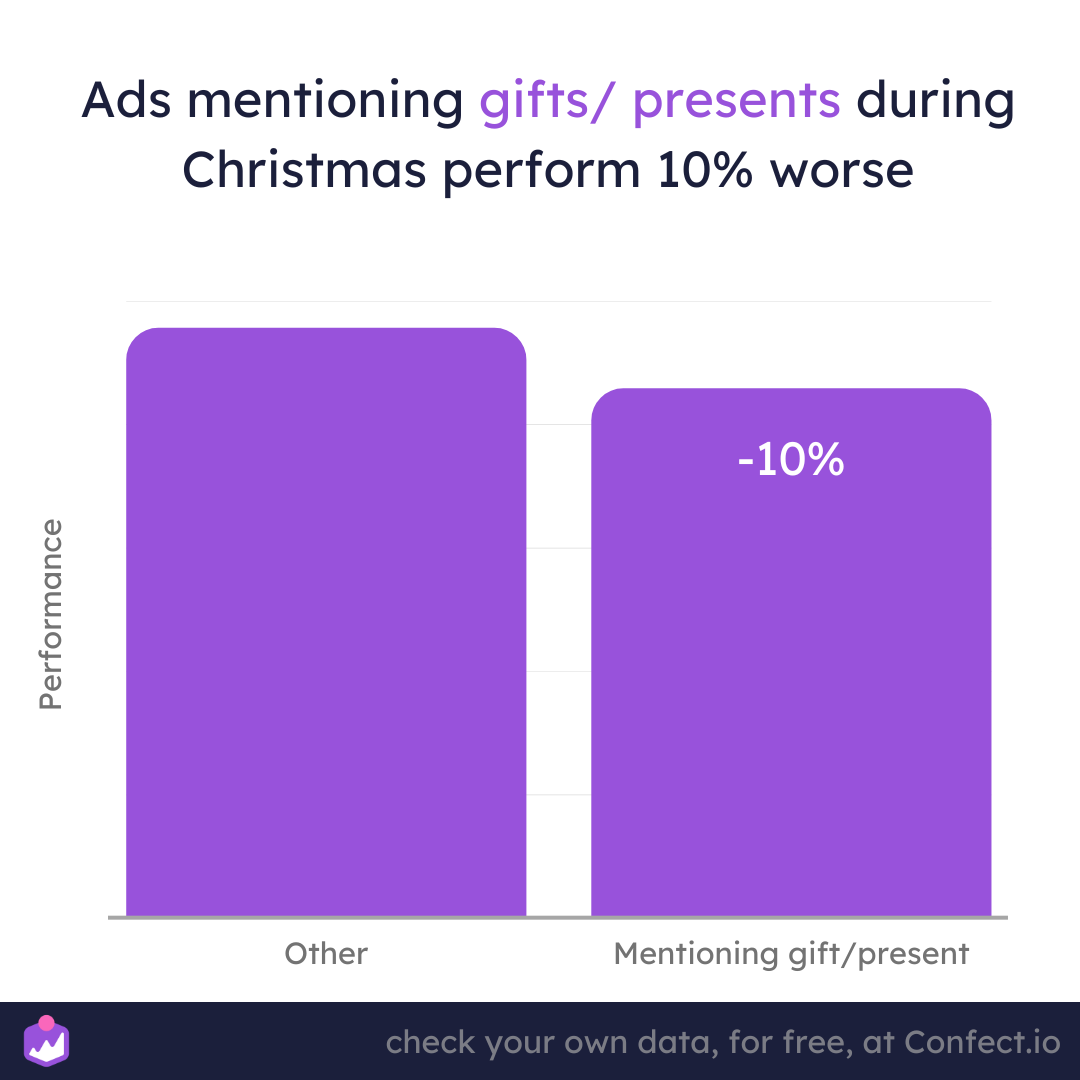 It's entirely possible that because people are already shopping for gifts, they don't respond much to these terms, especially not in comparison to how people react to keywords like "sale" or "discount."
But honestly, we're not entirely sure why these keywords harm ad performance.
Either way, the data doesn't lie! 
If you want your content to perform to the best of its abilities, then it's best to avoid using these terms.
Be specific about whom the gift is for
When creating content or ads about gifts, specify who your products are intended for—him, her, kids, etc. That way, potential customers know exactly whom they should be buying for. 
While it might seem unnecessary, our data shows that Christmas content that mentions terms like "him" or "her" performs as much as 109% better than other ads.
Christmas shoppers already have a lot on their minds. 
Therefore, we recommend making it easy for your viewers to know if your products are for men, women, children, or any other demographic.  
This makes it easier for customers to decide what they need and, in the end, makes it more likely that they'll purchase it from your business. 
Avoid using inspiration-themed ads for Christmas
If you've ever searched for gift ideas online, we're sure you've run the issue where all you can find are generic "listicle" websites that offer similarly themed gift ideas. 
While we're sure that these types of websites can be helpful sometimes, it's best to avoid creating this type of content during Christmas. 
When we look at our data, we see that guides and listicles don't perform well during Christmas.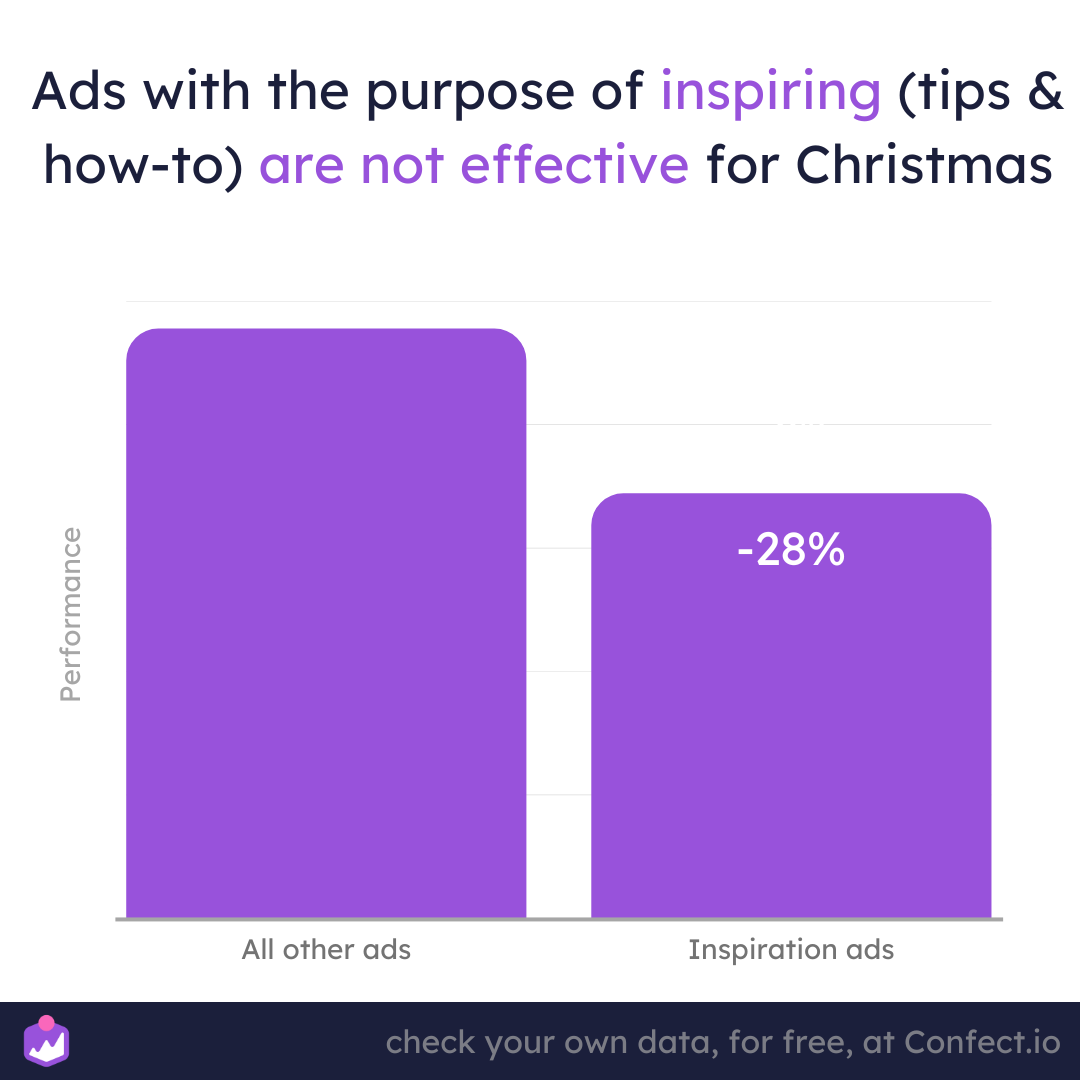 Inspiration-themed ads performed roughly 28% worse than all other ads.  
This is likely because people don't want complicated information. 
They want simple, direct answers quickly!
Therefore, inspiration-themed content pages might confuse and overwhelm your target customers when they're already overwhelmed with everything else Christmas related during December. 
Instead, we recommend making decisions easy for your audience using direct information, sales, or promotions rather than creating listicle-style content.
Boosting gift sales using data-backed science
With Christmas right around the corner, now is an excellent time to capitalize on increased demand by utilizing innovative ad strategies designed specifically for the holiday season. 
Sales-focused ads are great ways to drive more sales, just like any other time of year.
But be sure to be specific about whom your products are intended for, as this makes it easier for customers' decision-making process when shopping around. 
Lastly, avoid using inspiration-themed ads, as these tend to perform poorly during this time of year.
Instead, focus on creating content that offers simple ideas, direct information, and relevant products, providing customers with clear solutions and no confusion. 
More to read
Learn and optimize your Christmas advertising with the following insights:
Dataset
The dataset from this article is based on 500m+ impressions and 8300+ pieces of individual content on Meta (Facebook) platforms. It takes into account data from all industries in all countries, with the campaign objectives of conversions only. The period is from 01.12.2021 - 24.12.2021. Numbers are looking at correlation only, not causation. Remember to check your own data: numbers for different brands, industries, and contexts will vary. If you were intrigued about a specific insight, you can go in-depth into the various dimensions and how data can be segmented in Confect,  here.