How to make top-funnel SALE ads that actually convert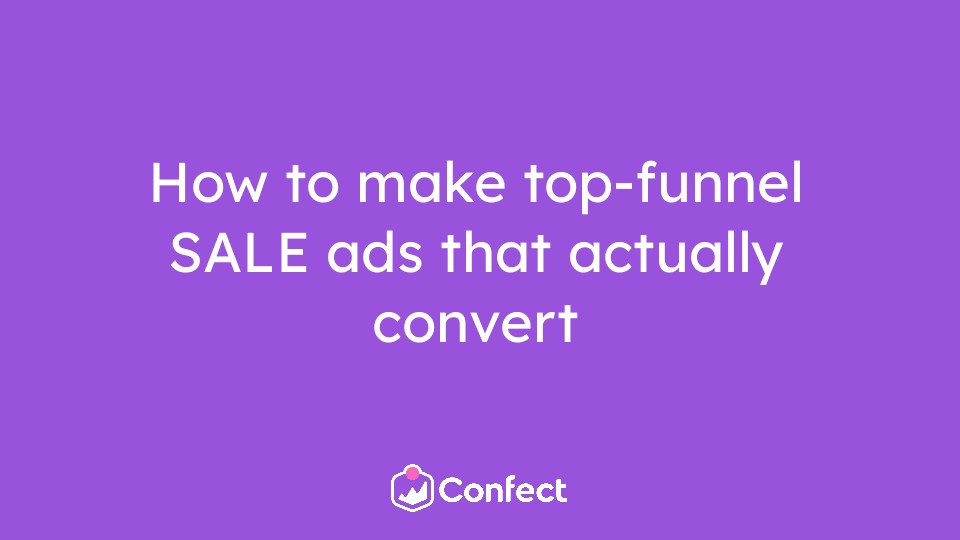 Not all customers are the same, so why should your marketing be? It's important to tailor your advertising to different sales funnel stages. 
This means creating top-funnel sale ads that are engaging and relevant to your target audience and then following up with bottom-funnel sale ads tailored to people who are ready to buy. 
Top funnel audiences are those that still need to learn about your brand. These people are at the beginning of the sales funnel and are still considering their options. They might not even know what their options are. 
Compared to bottom-funnel ads targeting people ready to buy, top-funnel ads, on average, have a 47% lower performance. 
However, top-funnel ads are still valuable. In fact, 3 out of 4 impressions come from top-funnel ads, making them a great way to expand your customer base and acquire new customers.
Relying solely on your bottom-of-the-funnel audience can be risky, as this group can easily be overwhelmed or need to be bigger to sustain your business. 
Bottom-funnel ads are the low-hanging fruits, but they're, by definition, difficult to scale compared to your Top-funnel ads.
On the other hand, top-funnel audiences have the potential to become ready-to-buy consumers, so it is crucial to get them interested in your brand and offer.
So how exactly do you create top-funnel sale ads that convert? 
Keep reading as we breakdown simple strategies you can implement into your Sale ads to skyrocket performance.  - based on more than 5.5 billion impressions on Meta.
In Top Funnel, Sales is by far the best-performing message
The best way to persuade customers who don't know your brand to buy from you is to offer a sale or discount. Even if customers don't know your brand, they may still be familiar with the product you're selling. They may be making mental comparisons with similar products from competitors, and a sale or discount can help tip the balance in your favor here and now.
Sales perform 54% better than the average top funnel ad, making them a powerful tool for persuading potential customers to buy. This is because sales are often connected to some urgency or scarcity, such as a limited-time offer or limited stock, which motivates people to act now. The lower price that comes with a sale or discount also makes it a better deal for the customer, further increasing its appeal.
Learn to create the best possible sale campaign.
Overall, sales are a strong motivator for customers who are on the fence about buying from your brand. By offering a sale or discount, you can persuade them to take the next step and become a paying customer.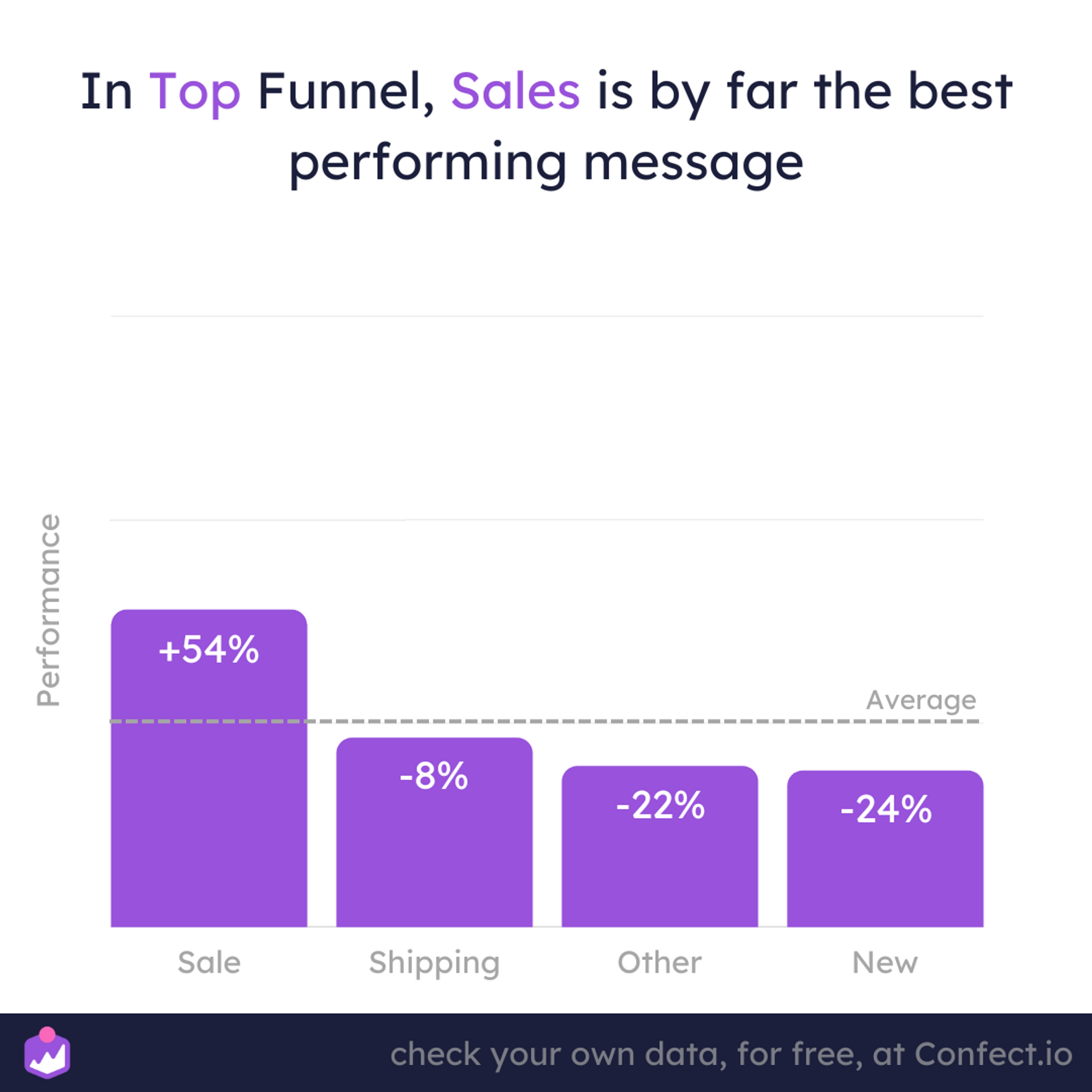 Showing price in Top funnel ads improves the performance
Since top-funnel audiences are unaware of your brand and products, they logically have no idea about your prices. This is why showing the price  in your content can be beneficial. 
By providing this information, you are giving potential customers more transparency and allowing them to form an opinion about your brand.
Actually, you make them evaluate whether the cost of the product is attractive compared to the value getting from the product.
For example, a low price may suggest that your products are affordable, while a high price may indicate that they are of premium quality.
Another reason to include prices in your ads is that numbers tend to draw attention to themselves. This is because they represent facts, and people subconsciously look for information when encountering an unfamiliar brand. By including numbers in your ads, you can make them more noticeable and credible.
Overall, showing the price in your content improves performance by 15% and can help potential customers make an informed decision about whether or not to buy from you.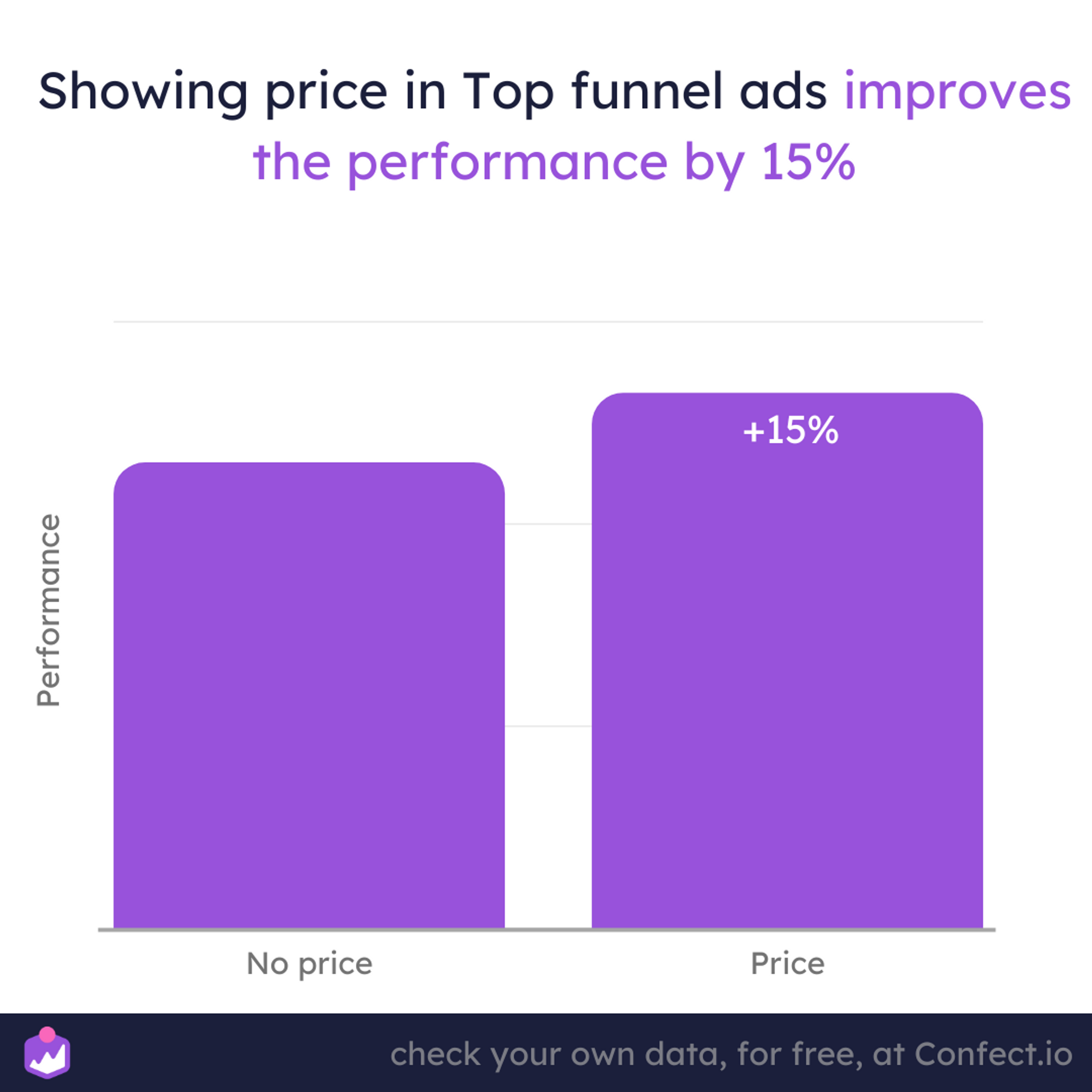 When running a Top funnel SALE, faces in content double the performance
Including models and human beings in your content is one of the most effective changes you can make to your top-funnel ads. In fact, this can lead to a 101% increase in performance. 
Faces are instantly recognizable and noticeable, making them a powerful tool for grabbing people's attention. Our brain is hardwired to look for faces.
In addition to drawing attention to themselves, faces can also help direct attention to other elements in your ad. That can be a model glancing over an important detail of the product, or an important message.
For example, if the model in your ad is gazing in the direction of text or a call-to-action, this can make these elements stand out more. This is because people tend to naturally look in the same direction as others, a phenomenon known as "joint attention." 
By using faces in your ads, you can guide people's attention and make your content more effective. On average, using a human being in your top-funnel ad doubles the performance.
read more about faces in marketing here: https://uxdesign.cc/faces-prime-emotion-54d1fbc2982b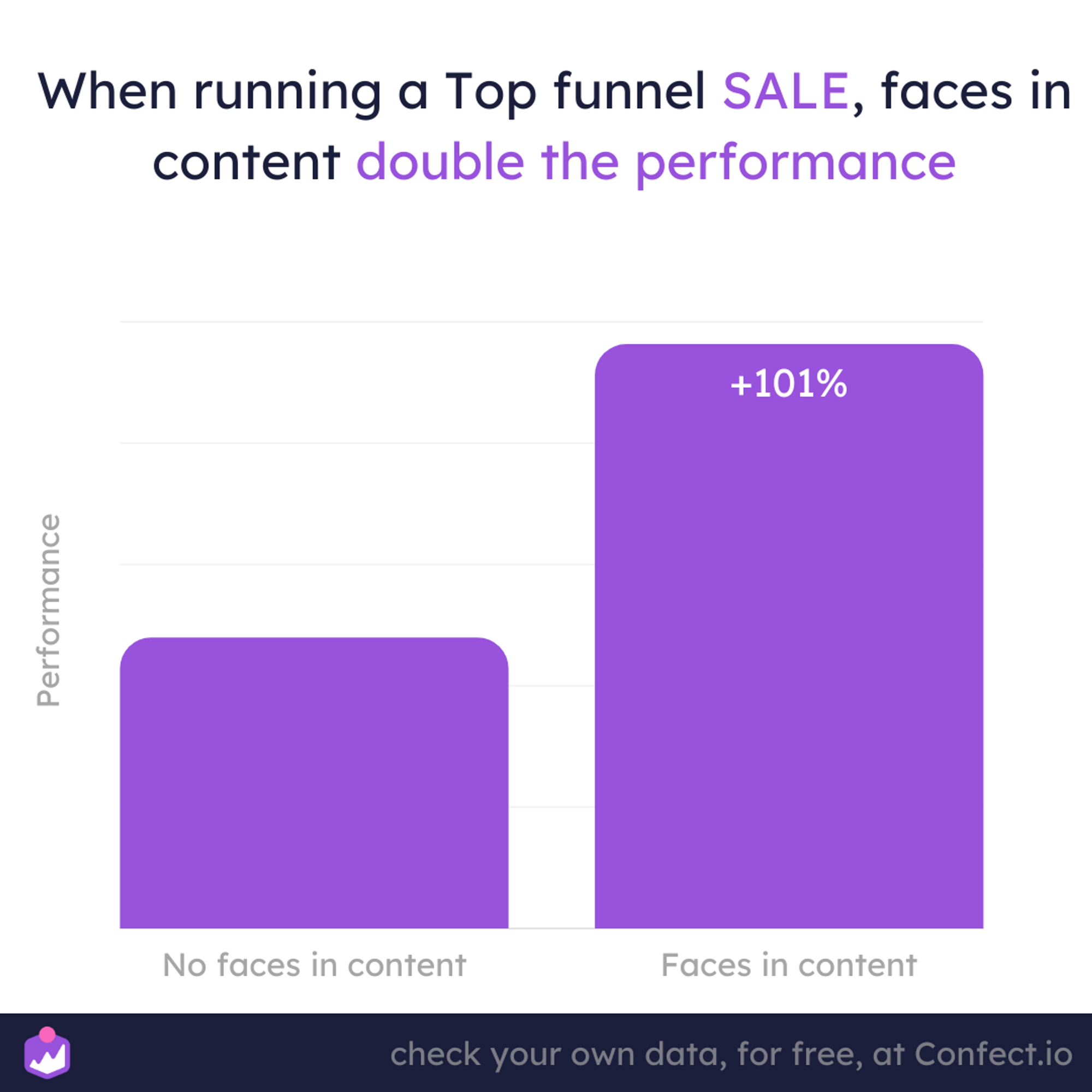 Follow these tips to create top-funnel sale ads that convert
Optimize your ads specifically for top-funnel audiences. By doing this, you can reach new customers who don't know you and generate revenue for your business at the same time.
Focus on the sale category for your top funnel ads. This is the most effective type of ad for top-funnel audiences. 
To create the best performing top-funnel sale ad, try including the price and faces/models in the content. This can help increase results even further and make your ads even more effective. 
More to read
This article focuses purely on text amounts in Top funnel ads. Learn more with the following insights:
Dataset
The dataset from this article is based on5.5B impressions and 49.6K+ pieces of individual content on Meta (Facebook) platforms. It takes into account data from all countries and industries, with the campaign objective of conversions only. The period is from 1. September 2021 - 16. September 2022. The data is categorized based on audience type, being either Broad (Top funnel) or Custom (Bottom funnel).
Numbers are looking at correlation only, not causation. Remember to check your own data: numbers for different brands, industries, and contexts will vary.
If you were intrigued about a specific insight, you can go in-depth into the various dimensions and how data can be segmented in Confect,  here.