Create new customers with Facebook dynamic product ads in a full funnel strategy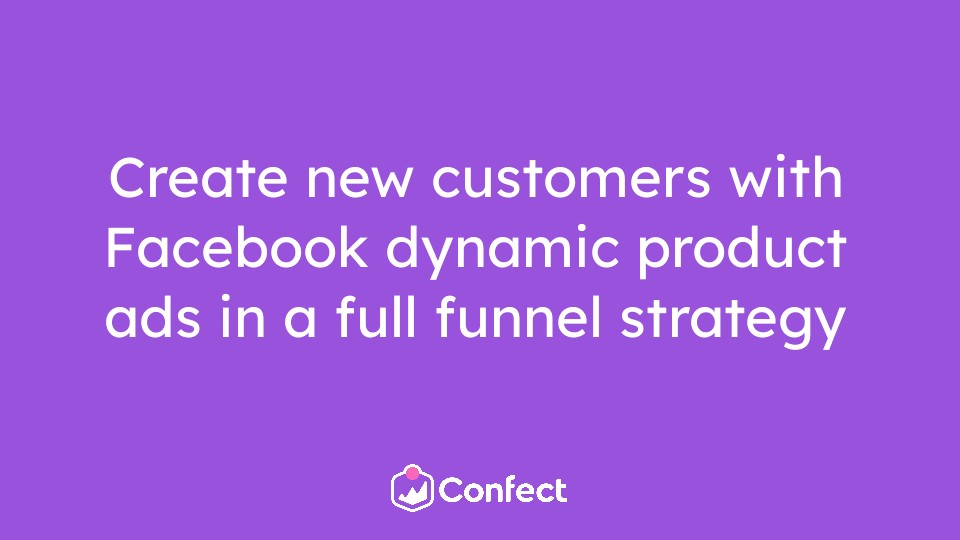 Create new customers with Facebook Catalog Ads in a full-funnel strategy 
If you work in a structured way with Dynamic Product Ads, you are probably already both skilled at vacuuming the entire lower funnel for existing demand and at conducting retargeting with both high conversion and low cost per order.
If you are also the owner of an ambitious growth plan, you have probably also experienced that it can be difficult to increase demand and create new customers with Facebook's DPA Prospecting—especially if you want to keep a low cost per order and at the same time create the volume you need.
There can be several reasons for this.
One of them may be that going directly into product mode is a little too direct a shortcut towards people who may not have even heard of your brand before.
Therefore, today we'll zoom in on how you can incorporate DPA retargeting into a full-funnel strategy where you create brand awareness and engagement with other Facebook formats in a more inspiring way—right at the top of the funnel—and then close the sale with Dynamic Product Ads.
But first, let's cover the basics…
What is a Facebook full-funnel strategy?
A Facebook full-funnel strategy refers to a more comprehensive approach to advertising on Facebook taking into account the entire customer journey, from the initial awareness stage to the final action, which will hopefully result in potential customers buying your products or service. 
Essentially, a full-funnel strategy on Facebook goes beyond creating one-off ads used to promote specific brand events, products, or services. 
Instead, a full-funnel strategy integrates your Facebook ads into a broader digital marketing strategy, which should be fully aligned with your company's longer-term marketing goals and overarching business objectives.
To illustrate the difference between a traditional ad strategy and a full-funnel strategy, think about any time in the past where you (or one of your employees or co-workers) may have created a Facebook ad without having any clear strategy or long-term objective in mind. 
Your goal was simply to promote something in the moment. 
On the other hand, a full-funnel Facebook strategy recognizes that longer-term planning and brand coordination are crucial for achieving success with your Facebook ads. 
So rather than focusing on promoting a specific product or event, and immediate sales, this type of full-funnel strategy touches on each stage of your marketing funnel: starting with awareness and initial interest (reaching out and finding new prospects or potential customers), then it moves on to the action (turning those prospects into paying customers).
To properly plan and implement a full-funnel strategy, it's important to shift your mindset from using your ads to promote a product or service to considering how your ads can contribute to your overall digital marketing strategy. 
Think about it like this: You don't just want to show one of your products to a potential customer.
You want to reach out to them, introduce them to your brand, and then, only after they've shown some form of interest, show them specific products or services that they're already likely to buy from you.
The trick to doing this correctly is thinking strategically about how your ads need to generate awareness among a target audience, spark interest and garner engagement, and ultimately prompt the desired action, such as a purchase or sign-up.
By adopting a full-funnel approach, businesses like yours can create a more cohesive and effective Facebook advertising campaign that aligns with your broader marketing objectives. 
Essentially, it gives you a more holistic understanding of your customer's journey and enables your businesses to optimize its ads to drive better results.
And this is done by building brand awareness, nurturing relationships with potential customers, and ultimately turning those potential customers into paying customers.
Full-funnel is cross-channel
The method we zoom in on is quite obvious for B2C ecommerce but can also be used for B2B ecommerce, sales of services, experiences, content, etc., as long as your products can be placed in a product catalog in Facebook Business Manager.
Don't forget that a full-funnel approach is also a cross-channel approach.
All the traffic you can create with your upper funnel Facebook efforts is also traffic you can utilize for retargeting in Google Ads and others. Just like you can leverage traffic in other channels to build retargeting on Facebook.
How to best differentiate KPIs and targets
Precisely the interaction with other channels also creates a need for you as a marketer to first and foremost coordinate all the different efforts, so that content and creatives are aligned, but especially also to create an overall business case for the entire effort.
If you buy traffic expensively into one channel, there may be a greater need to process it with retargeting in a cheaper channel, etc.
First of all, you need to measure the effect of each step in your funnel based on the real purpose.
A video campaign on Facebook should not be assessed by sales but on the number of plays or on how large a retargeting audience you can build.
The best and most correct approach is to calculate what a new customer is worth to you in a Customer Lifetime Value perspective.
This way you know what it may cost to land a new customer and you have an expectation of how much resale you can create over time—for example via offer emails, if you also create an e-mail permission through the first sale.
Then you might just suddenly allow yourself to create first-time customers at twice as high a target cost as on your retargeting campaigns.
It's a super important exercise to get done, and once that overview is created, you can calculate backwards and set your pain threshold for each level in the funnel: 
Cost per impression

Cost per Video Play

Cost per Instant Experience Engagement

Cost per Click

Cost per Product Page View

Etc.
How to set up a full-funnel campaign
And now for the operational stuff.
A full-funnel approach consists of several campaigns under the auspices of Facebook.
In this case, we set up three campaigns over a low number of steps—one for each funnel step.
You can, of course, add several layers—for example, supplement the video campaign with a reach campaign with Instant Experiences ads.
Top funnel: Video views

Mid funnel: Traffic

Low funnel: DPA retargeting
In the following you can see, step by step, how to set up the three campaigns and how they work together.
Step 1 - Upload video
Upload your campaign videos Facebook's Asset Library via your Business Manager. 
You need to select or produce videos that match your main message of the campaign. These must be inspiring for new users who do not know your brand, and then of course they must be adapted to Facebook's requirements—i.e. adjust the length to different locations.
Facebook provides a full overview here: https://www.facebook.com/business/ads-guide/video
Step 2 - Build audiences for your video campaign
Go to Audiences and first build audiences for the video campaign based on the following.
Prospecting audiences
Lookalikes on.
Top 25% most time-consuming visitors to your site

Your email permission list

Your followers on Facebook and Instagram

Buying customers (last 180 days)

Relevant interests or demographics
Your prospecting target audience may be large, as we are going out fishing for new customers and must expect that it is a small proportion who end up engaging with the video.
Of course, you can also supplement with demographic or interest-based audiences. Over time, you can test yourself to which broad target groups you have the easiest time engaging.
Retargeting audiences
Although we are looking for new customers, it may well make sense to involve a retargeting audience—especially the previous visitors or buying customers who have not converted in a long time, as we can use the campaign to reactivate these.
So, bring your usual retargeting audiences, but exclude those who have bought, for example, the past 90 days, or what naturally matches a buying frequency for your products and your shop.
Step 3 - Build audiences for the traffic campaign
Now we need to build the audience that we need to target the traffic campaign to, namely the people watching our video.
A clear advantage of both the video format and Facebook's Quick Experiences or Instant Experiences format is that we can not only engage users top-funnel but at the same time also build target groups for retargeting on these formats.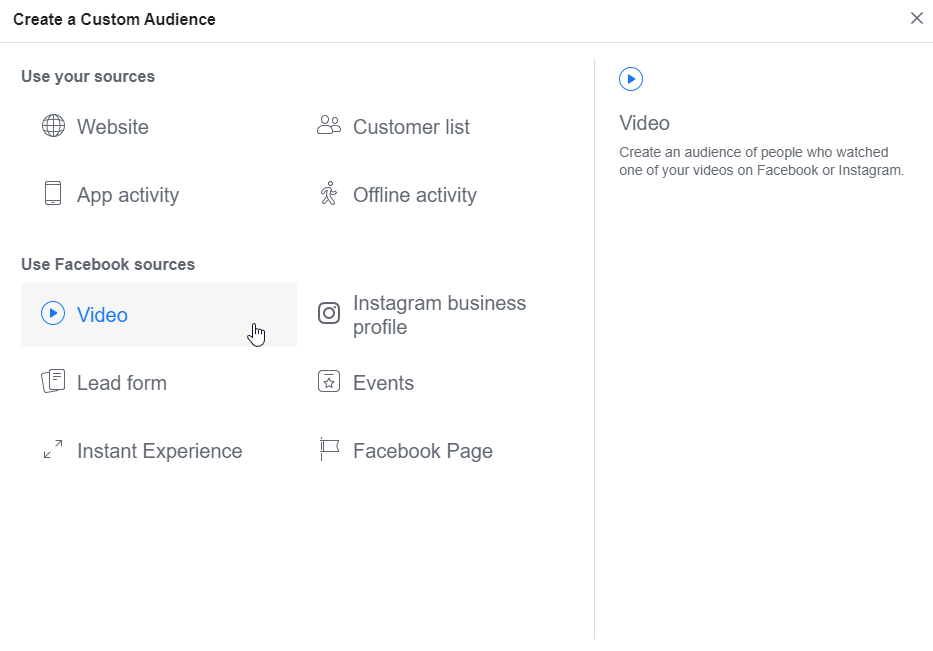 You now need to choose which specific videos you want to base your retargeting audience on. Select your purpose-uploaded campaign videos here.

Step 4 - Set up the video campaign
Now it's time to set up the actual video campaign.
You are probably used to setting up many different types of campaigns and know most of the settings. Here we focus on the most important things you need to keep track of.
The objective for the campaign is Video Views, and Optimization for ad delivery is Thruplay.

Targeting we have already mapped; here you choose your new, broad audiences from step 2. And remember that you can do this for Lightning Experiences in exactly the same way.

You can choose to split your campaign into multiple ad sets with different targeting options—one for your lookalikes and one for each of your interest-based audiences. It's smart if you want to learn who you can most easily engage with.

Remember that you need to run a campaign-level budget so that Facebook's algorithm itself can distribute spend to the ad set that performs best. You can also choose to run a split test on targeting to get even more learning.

Use lifetime budget in favor of daily budget. Then the algorithm itself can freely deliver the most ads when the target group is most active.
Step 5 - Set up the traffic campaign
Then the turn has come for the traffic campaign.
The most important settings are here:
The objective for the campaign is Traffic, and Optimization for ad delivery is Landing Page Views.
Targeting is set to the audiences you built in step 3 - ie. all the ThruPlays that have been on your video and possibly. combined with the commitment that has been on related Instant Experiences.
Again, it is obvious to exclude all users who may have bought recently, as we are here looking for new customers. Those who have just bought, you can appropriately target with an after-sale flow instead—e.g. the DPA feature Cross-sell Products.
Remember again that you need to run with campaign level budget, Campaign budget optimization and use lifetime budget rather than daily budget.
Build ads that support your video by focusing on different aspects of the same message—perspectives on the same theme. This could be your new theme's landing page, an evergreen blog post, a category page that provides an assortment overview, a lookbook or content that dives deeper into your business and/or brand.
     Step 6 - Set up the DPA campaign
Now the turn has come for the DPA campaign—sales from the catalog—the kicker who has to get the ball into goal.
Here are the key steps:
Set up the campaign with two ad sets. The first should be classic retargeting against people who have interacted with your products without buying— e.g., in the past 14 days.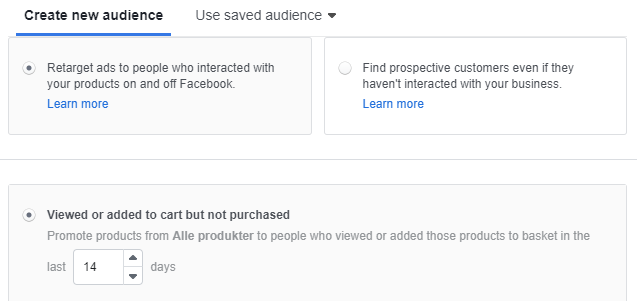 The second set of ads must be targeted to custom audiences. Hit users who have seen the pages you sent traffic to with your traffic campaign—such as category pages, guide pages, blog pages, theme pages, etc.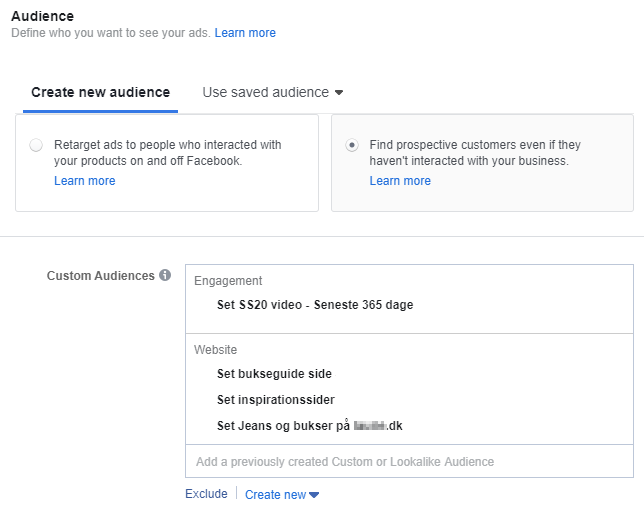 Both ad sets must use a product set that matches the content and creatives that your video campaign and your traffic campaign consisted of. This can be products from a selected category, a specific brand or with a thematic common denominator.
Not to brag, but if you have access to a tool like Confect, you can enrich the products in your product feed so that they graphically appear more inspiring than the slightly sad product carousels we see so often in our news feed. It gives you the opportunity to stand out and to present your products in line with the visual identity you had in your video, your instant experience, etc. Then you also create quick recognition.
Remember to split your creatives. For example, test the standard product display against a visual version from Confect or test different visual versions against each other. Also split test on which product attributes and elements should appear in the ad. For example, should you include the price in the ad? In some cases YES. In others NO. Test it!
Optimize and evaluate your full-funnel campaign
Your campaign is now set up.
Have a little patience with the results. You need to create a lot of video views before your retargeting segment grows big enough for the DPA campaign to really take off.
Consider your full-funnel campaign as an always-on activity that needs to be continuously energized. You have to feed it with new creatives at all three levels to give the algorithm something to work with—and something for you to evaluate and learn from.
You can expand with new ad sets with new themes still in the same campaign. The shared campaign budgets ensure that you spend your money where there is the most return to be gained.
And remember in your evaluation that a new customer is more expensive to land a conversion on and that you invest in the customer with an expectation of more sales in the future.
You must therefore continue to work with new customers with follow-up nurturing flows and build loyalty—not just with Facebook Ads.