Collection ad - an inspiring ad format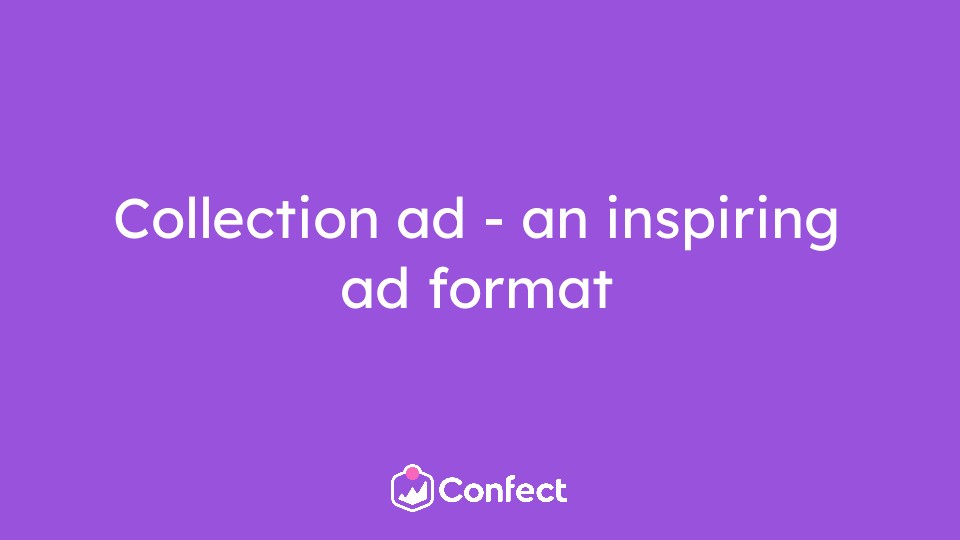 Collective Ads are a format that allows your target audience to explore a whole universe of products.
This format only works on mobile and is thus optimized to provide a good experience on mobile devices—or as Facebook calls it: "A hassle-free and engaging experience."
96% of active Facebook users use their mobile phone when they log onto Facebook—this just makes collection ads even more interesting.
At the same time, the format also works on Instagram.
In short, you can display an image or video in the collection ad, which includes product images (taken directly from your product catalog) below the image/video in a grid layout.
People who click on your collection ad are quickly and easily taken on to a visual experience that loads quickly, as an overlay directly in Facebook or Instagram—also called a "lightning experience."
See examples below.
Make use of Facebook templates
You can take advantage of Facebook's own templates when you need to create your collection ad.
Here you can see examples of the two templates we use most often when we create collective ads for our eCommerce customers: "Store facade" and "Product images".
What do collection ads look like?
Store facade
Here you can view products and for that you use your product catalog.
You can either choose to use all your products or create collection ads based on product sets, eg brands, product categories, favorites, special offers, or something completely different.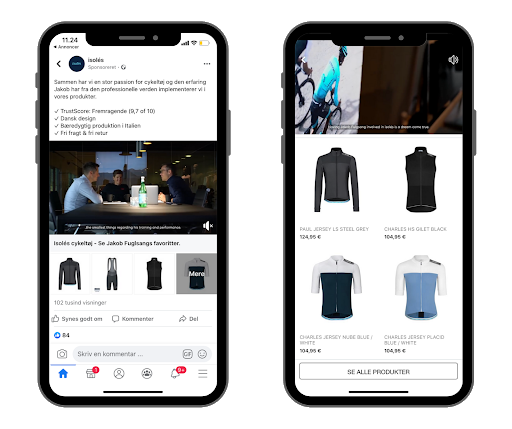 Product images
With this template you can let people explore your products in an environment by showing them lifestyle images and then tagging the products that you see on the lifestyle images.
Here you choose which products from your product catalog you want to tag.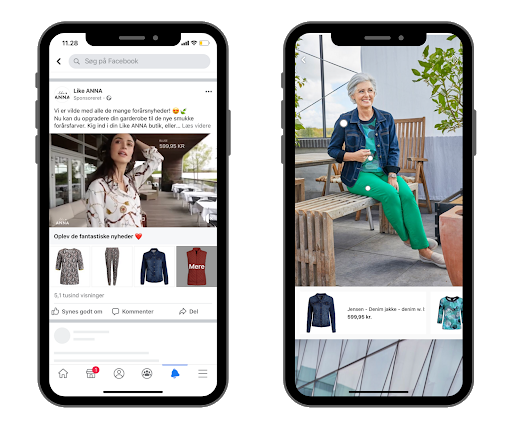 Extras: Collective ads with dynamic ads retargeting
You can advantageously create a collection ad, which is displayed to those who have been inside and visited product pages and have put items in the basket, but have not yet purchased.
Here you can let Facebook make a dynamic cover video.
Here, Facebook takes pictures, prices and product name from your product catalog and turns it into a video.
This video is dynamic and tailored to the individual, based on what products he/she has seen and put in the basket inside your website.
To apply dynamic ad targeting to your collection ad, use the following:
A catalog that contains product information about all the items you want to advertise with your Facebook ads.

Correct implementation of the Facebook pixel. This is used to measure the effectiveness of your advertising and to understand the actions that people take on your website.
Can be used for the goal "Sales from catalog".
How do group ads fit into your campaign structure?
Collective ads work well for both new audiences and remarketing audiences.
When we create a group ad, we typically show it to both new audiences and remarketing audiences. That way, you can inspire both new leads and those who already know your brand.
Your collection ad can be customized to fit the items you sell.
It is important that you create product sets that contain the products that your collection ad should promote.
Below we've have gathered some ideas on how to use collection ads.
For instance, you can use the collection format to advertise:
New collections

Selected brands

Product categories—e.g. sneakers, dresses, wine from specific areas, products under/over DKK 500, men's/women's clothing, etc.

Most popular products

Items on offer

Some products in several variants
Getting started
Enough talking. We need real action.
Now you need to start creating your collection ad - before you begin, consider what your collection ad should contain and promote.
You can find inspiration in the examples above.
Next, create a product set consisting of the products you want to advertise in your Dynamic Product Ads.
This is done under "Catalogs" in Business Manager, where you can create a product set under product sets, where you choose which products are to be included in the product set.
Then you need to have a picture/video ready that you want to use as the primary ad content—it appears above the pictures when people scroll through News on Facebook and Instagram.
If you want to use lifestyle images, you need to have them ready so you can upload them to the collection template "Product Images."
When creating your campaign, choose a goal that supports the aggregation format (Traffic, Conversions, Catalog Sales, or Business Traffic).
In the ad itself, select the "Collection" format and then select a template.
Now you can create your instant messaging experience, add images, and customize the instant messaging experience.
Once you've made your lightning experience, you can click on preview on mobile and receive a notification in your Facebook app, so you can see what the ad looks like in the target audience's News Feed.
In the Images section, you choose how the 4 images under the primary image or video should be displayed—you can also let Facebook select these dynamically.
Publish the ad and see the results.
An important parameter for success with Facebook/Instagram advertising is optimization. So remember to monitor your campaigns, audiences and ad content and take a closer look at what works and performs best.
From there, you "just" need to keep doing more of what works!
Enjoy.