How Sinnerup lowered their CPA by 50% with a multi-variant feed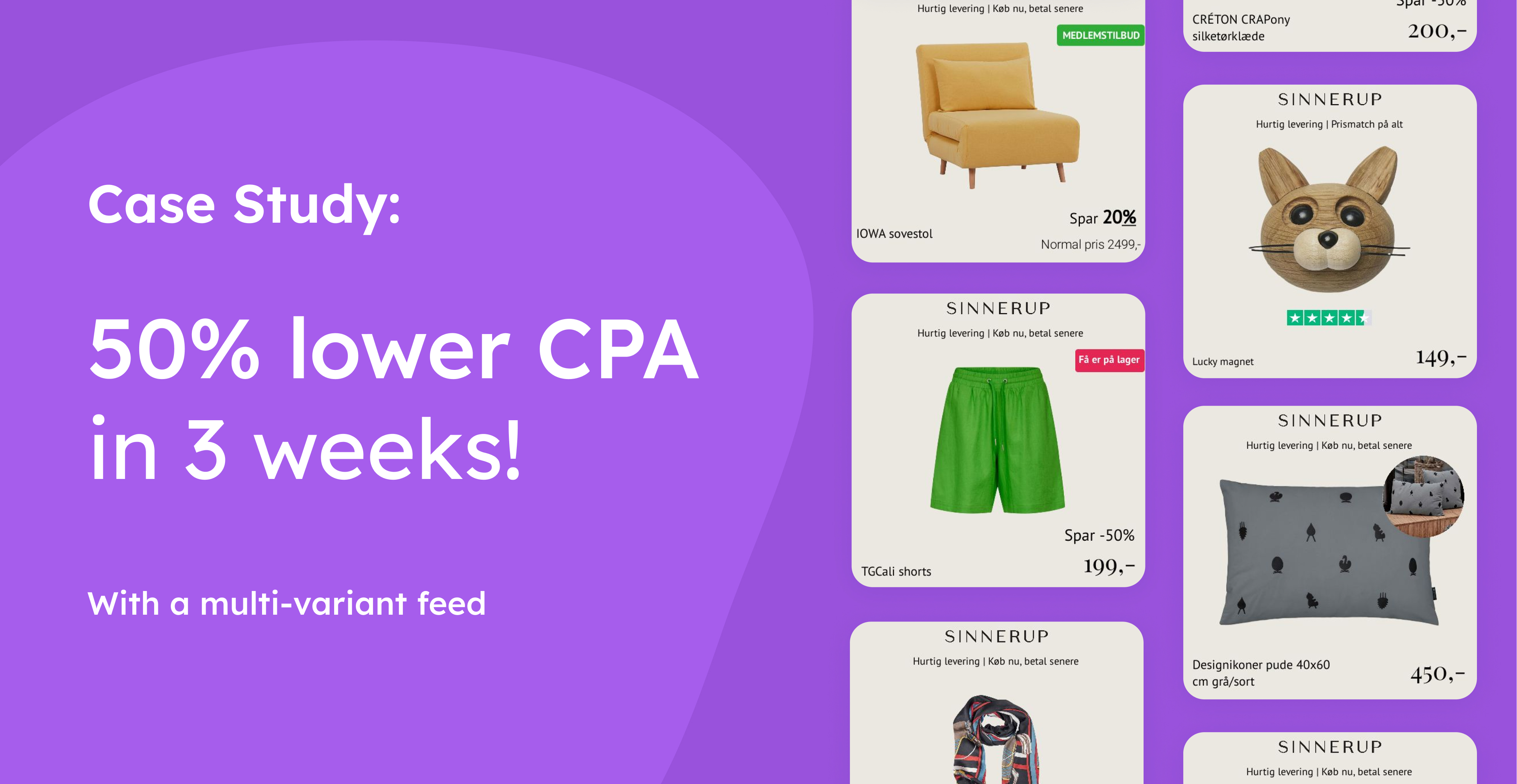 Sinnerup, a Danish furniture and fashion retailer, decided to take its Dynamic Product Ads to the next level. They wanted to test and optimize their feed consistently, aiming for a lower CPA, higher conversion rate, and higher ad spend returns.
And a multi-variant feed was the perfect solution.
However, like many other advertisers, Sinnerup was running their FB Shop and Dynamic Product Ads from a single catalog. To use our multi-variant feed feature, they had to create and build up a brand-new catalog.
However, their story is proof that doing this is worth it. 
After building up the new catalog and taking it through the Learning phase, they reported seeing their CPA drop by 50%, their conversion rate shoot up by 60%, and the click-through rate rise by 33%. 
Overall, that's almost a 60% improvement in POAS (Profit On Ad Spend), their metric of choice!
How they did it
The setup
Before being able to use multiple design variants in a single feed, they had to build up a new catalog. Since our multi-variant feeds are not compatible with catalogs connected to an FB Shop, the setup requires that the Shop and ads run from separate catalogs.
This process didn't discourage Sinnerup, and over a period of 3 weeks, they created a new multi-variant catalog and used it to conduct an A/B test, while their original campaign was left "as-is" not to impact their revenue.
Over these 3 weeks, they would only spend about 30% more (in ad spend) to optimize this new catalog. In the words of Sinnerup's Paid Social and Email responsible, Jeppe:
"The opportunity for optimization outweighs the slightly higher advertising spend. In comparison to the potential gained, the extra cost is peanuts."
- Jeppe S. Nielsen
Gathering data
While this A/B test ran, the new catalog slowly became more and more optimized. Eventually, it reached high enough performance to replace the original catalog completely!
(Click here for an in-depth guide on building up a new catalog with this method.)
Since Sinnerup left the original campaign untouched until the new catalog reached satisfactory performance, they were still able to reliably bring in the revenue they were used to seeing.
"Initially, the new catalog had a lower performance compared to our original campaign, but we still had very high ROAS. No revenue was lost overall."
- Jeppe S. Nielsen
Over a period of 3 weeks, the new catalog gathered enough data and started outperforming the older one.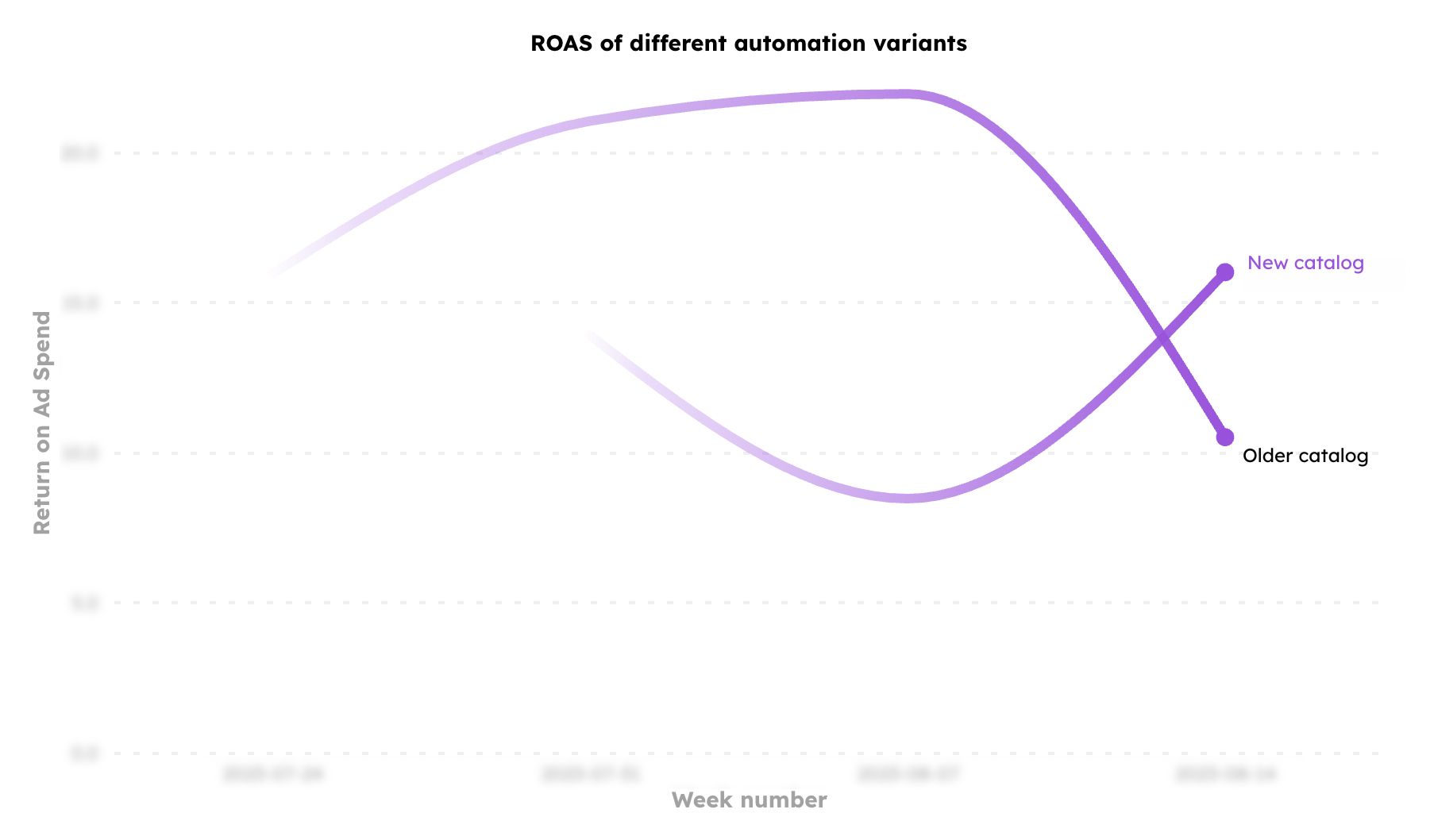 Doing this was relatively easy. This is how Jeppe put it:
"The whole change was quite easy and I received sufficient support in the live chat. The only annoying part is waiting for the new catalog to gather data, but that has to be accepted as a part of the process."
- Jeppe S. Nielsen
Reaping the benefits
Simply switching to a multi-variant feed by itself is not the trick to improving results. But having multiple variants is what makes it possible.
The key is trying different versions of the design in search of changes that increase performance. Each improvement made adds up, creating enormous impacts down the line.
"It's extremely important to test and optimize feeds... Just do it. It is better to do it proactively than reactively down the line. Think long term."
- Jeppe S. Nielsen
And that's exactly what Sinnerup did. They tested different design choices, including adding their Trustpilot ranking, a "low stock" warning, additional images, and more!
And thanks to the multi-variant option, they were able to test all of these at once.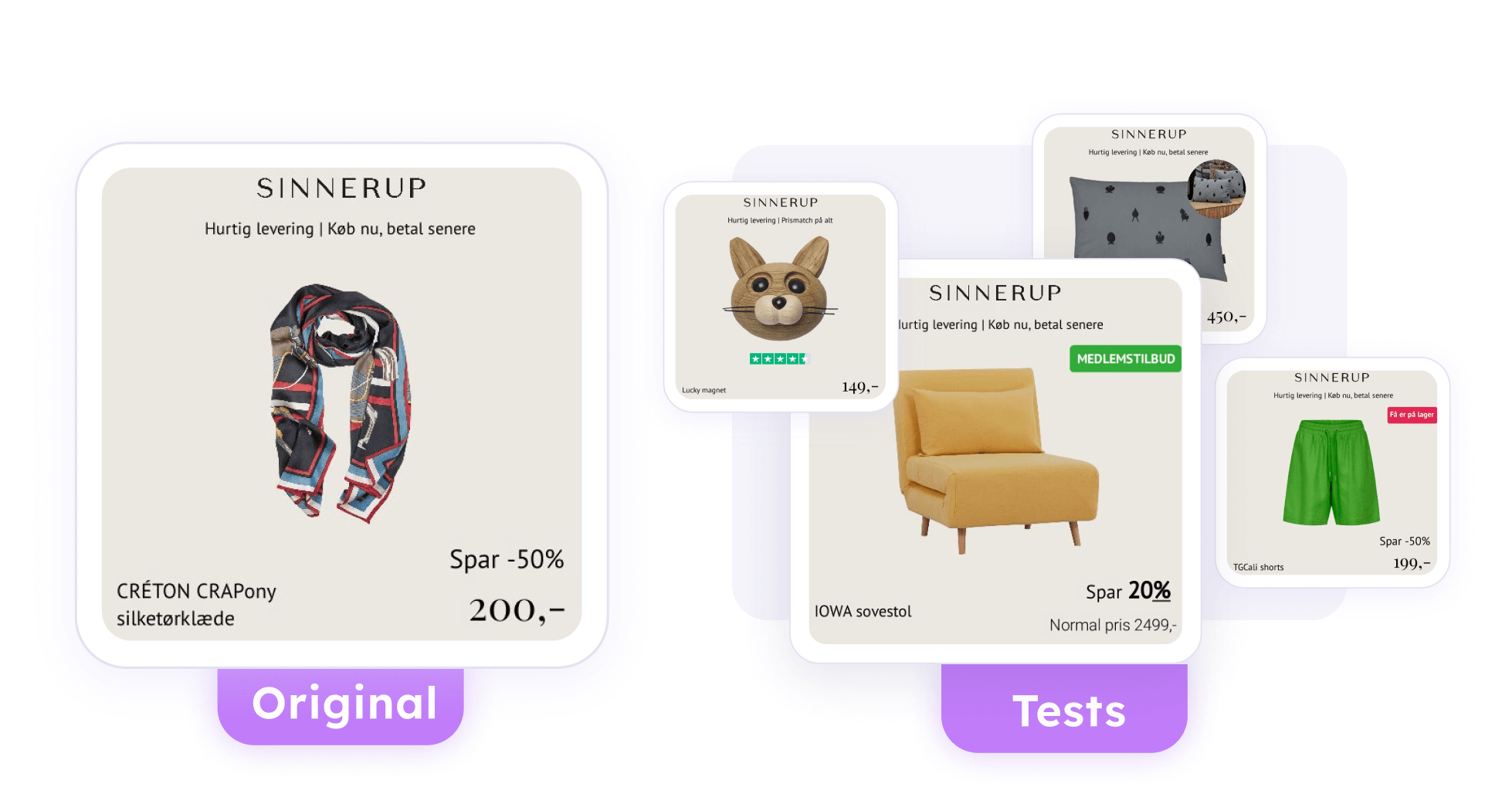 Also, by running multiple creatives at the same time, Meta algorithms can figure out exactly which version of the design to show to which users for optimal performance.
All of that combined led to a 60% increase in their conversion rate. With everything considered, it now costs Sinnerup 50% less to create a purchase compared to what it used to be.