How does this Danish retailer create remarkable Dynamic Product Ads?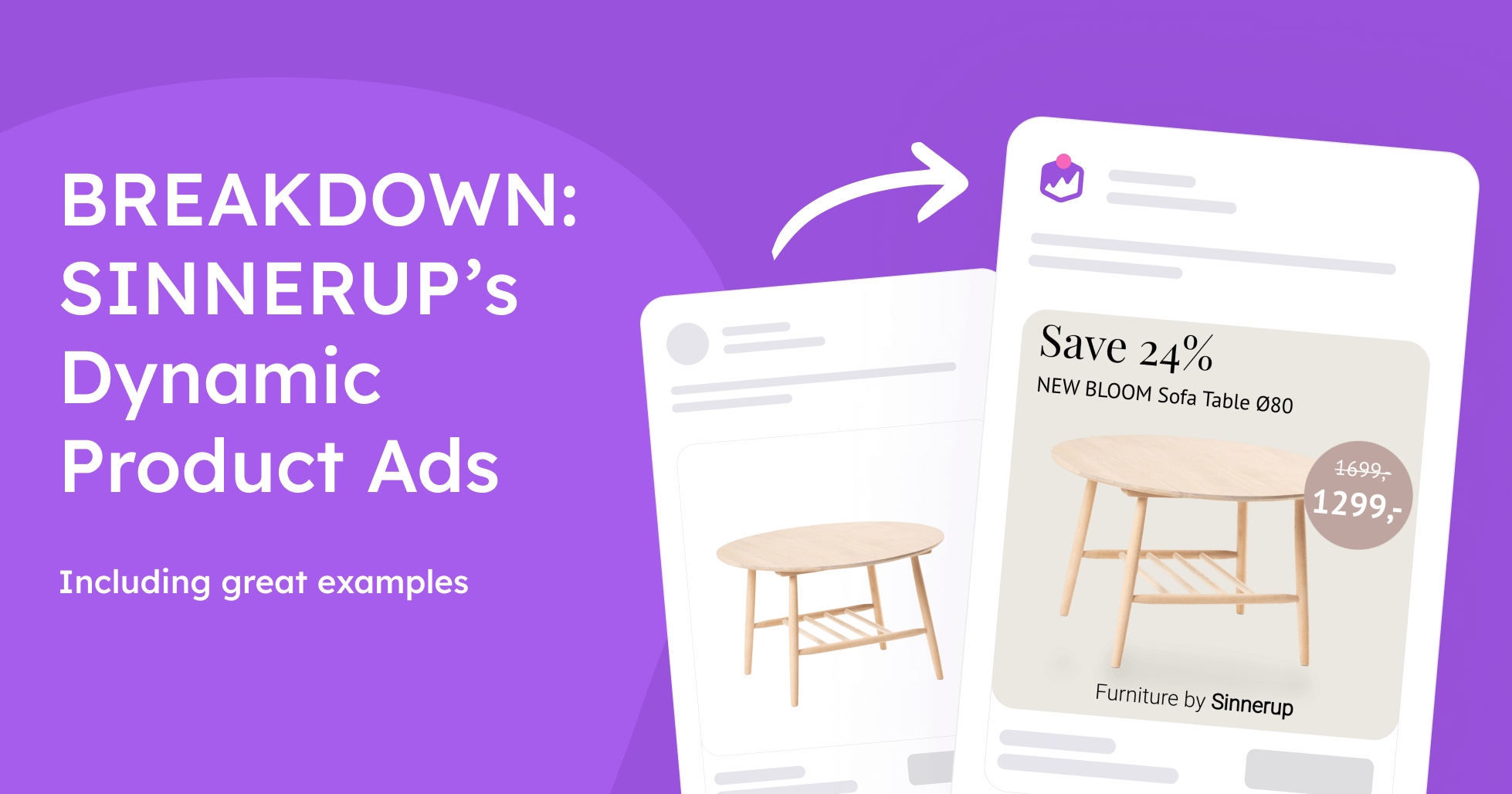 Sinnerup, a 100% Danish and family-owned business, might not yet be a household name all over the world, but when it comes to Denmark, they've built up quite the awareness and reputation over the past 50 years.
And they did it by placing attention on the details. Everything that this company does communicates a coherent message and values - including their Dynamic Product Ads.
All Sinnerup products are inspired by the unique Nordic style, and their foundation for success are just three simple words: lifestyle, quality and design.
They're a brand that wants to inspire people, create memories, and bring a cozy and pleasant atmosphere to their customers' homes.
And with such attention to detail in everything they do, ranging from materials to the shopping experience, it's no surprise that creating customised paid social content that breathes brand identity was high up on their list of priorities.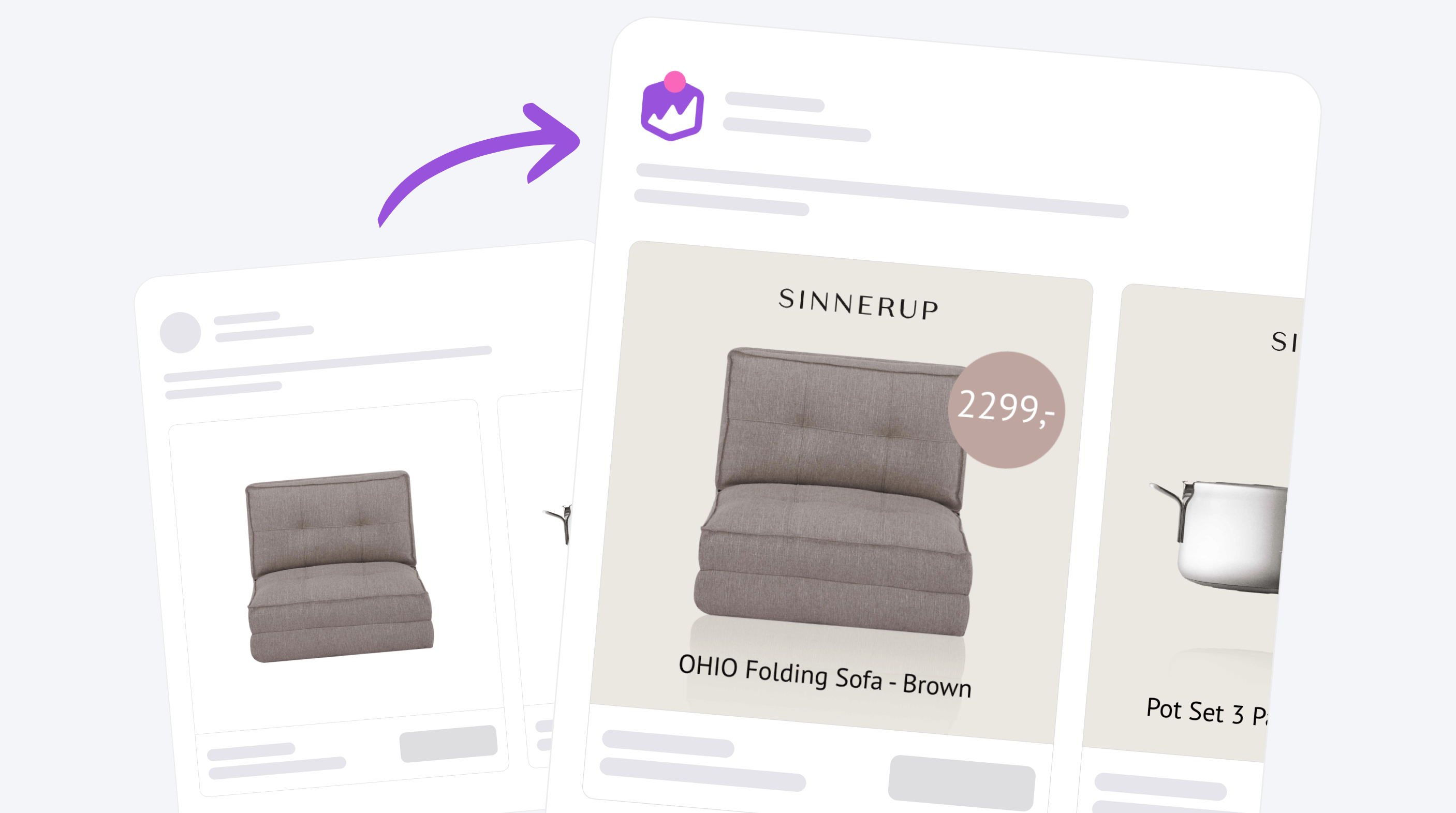 While the products from Sinnerup mostly speak for themselves, their creatives for Dynamic Product Ads needed to match the quality, and attention to the visuals, of their items.
By creating customised catalog ads, they are now able to keep their ads relevant with up-to-date offers, and fully capitalise on special promotions with tailored and time-specific designs.
And we don't even need to mention that they also help them generate awareness, recognition and ultimately revenue, for their brand.
How does SINNERUP design catalog ads?
Let's first look into how Sinnerup uses different types of designs.
As a default, their ads use a simple always-on design, showing the name and price of the product, as well as their logo. When a product goes on a discount, this design changes to also include the savings information.
When not running any special promotions, their Dynamic Product Ads look like this, with percentage savings on discounted items.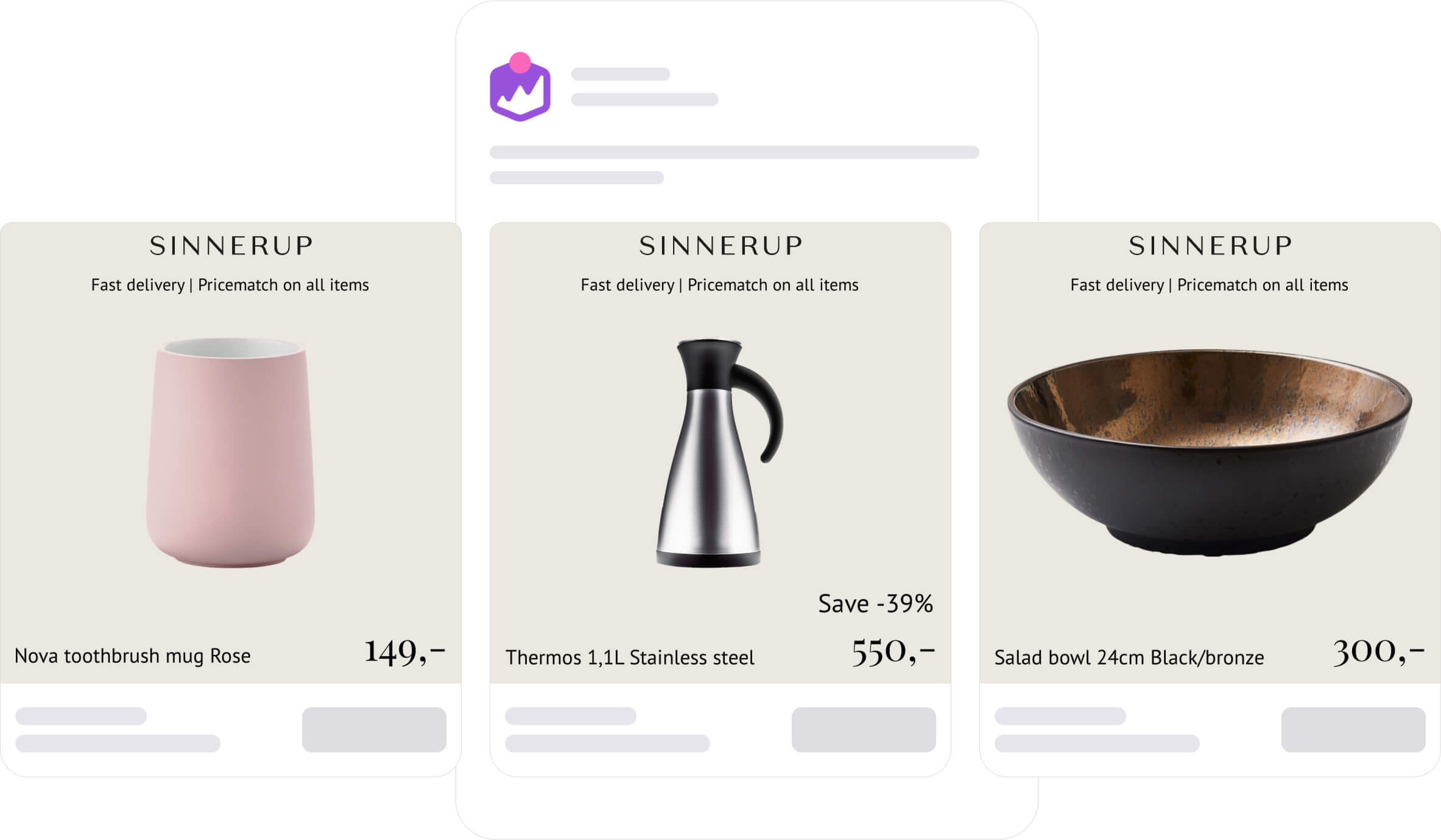 In addition to this, they schedule designs for time-specific campaigns, such as Black Friday or Valentine's day, ahead of time, as well as change the always-on design regularly to avoid ad fatigue.
On another note, you too can easily edit and customize your Facebook catalog ads to include this type of information by using Confect!
Using Confect makes it easy to create custom designs for your ads and include all the relevant information needed so your potential customers can make an informed decision about their next purchase!
But now that we have the basics, let's jump into some of Sinnerup's more specific use-cases.
Additional image design
The first example we wanted to show you is great at providing more visual context for the buyers.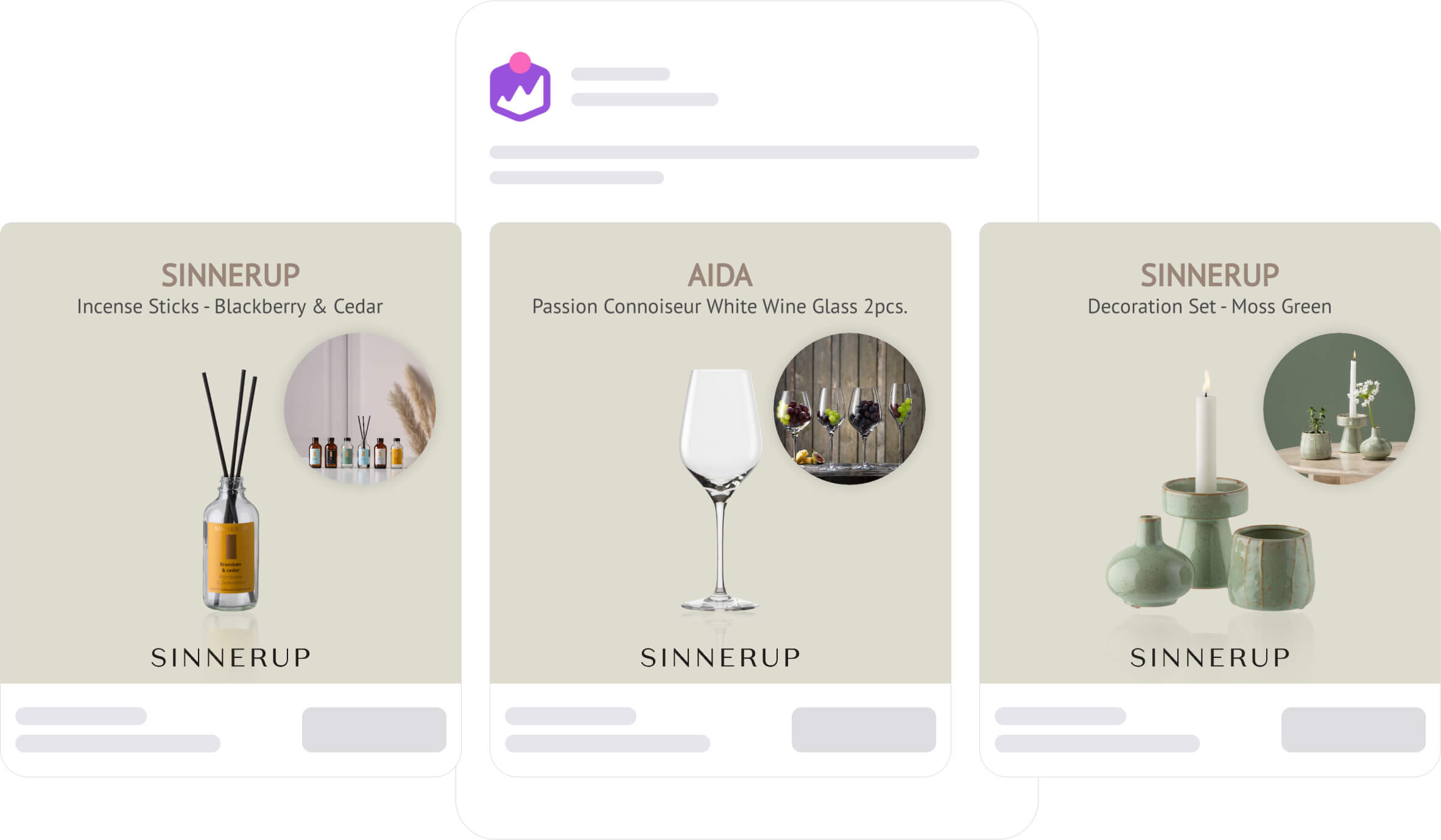 Here's the thing about using white, or transparent, background images for advertising - that's not what your product really look like once the customer gets their hands on it.
Sure, it's the same products, but it can be hard for users to visualise how the product will look once in use. It's the same reason why fashion companies often use model photos to show their clothing - seeing a product in the context it's meant to be in makes it easier to relate to, and imagine owning.
That's what we like about this ad from Sinnerup. It uses an additional image in the design to show the accessory placed in its natural environment - a home.
Also, pay attention to the subtle details, such as the mirror reflection below the product, to make it blend smoothly into an otherwise flat background.
November sale design
This next ad is something that virtually every eCommerce company recognises - a Black November campaign.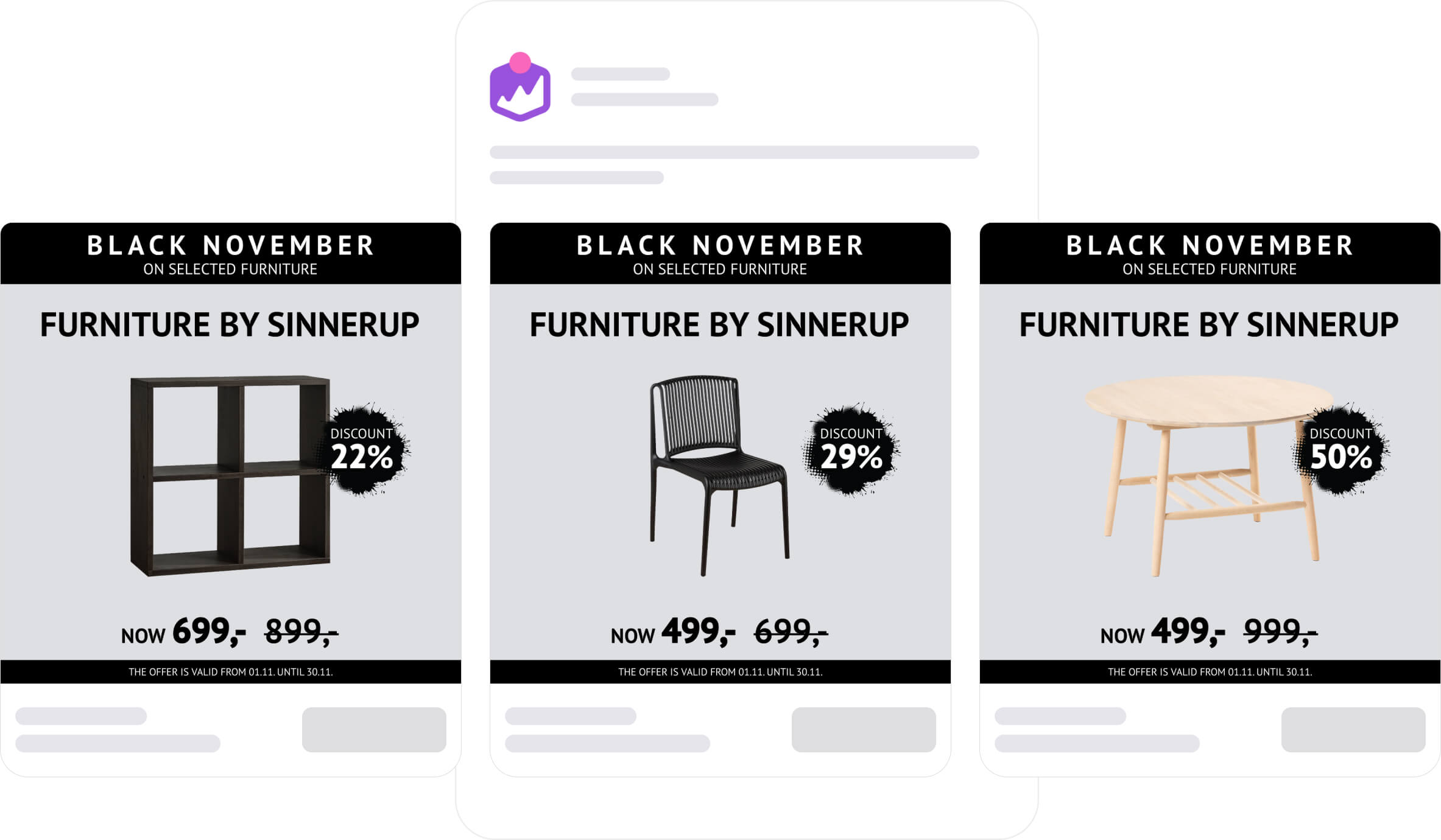 This is obviously a Black Month ad on first glance. The banner text at the top and the colours make absolutely sure that you know what campaign you're looking at.
In the spirit of sales, this design hits the trifecta of discount information. It includes the sales price, the original strikethrough price, as well as the percentage savings. There's no confusion about them offering A DEAL!
Also, as if a Black Month promotion didn't cause enough fear of missing out, they also specify the dates in which the offer is valid to create that extra bit of urgency.
When we went into our dataset of 1.3B+ impressions on Dynamic Product Ads, we found that content that is focused on time-limited offers performs 80% better than all other DPAs. Now this really shows that urgency makes consumers rush to the checkout page.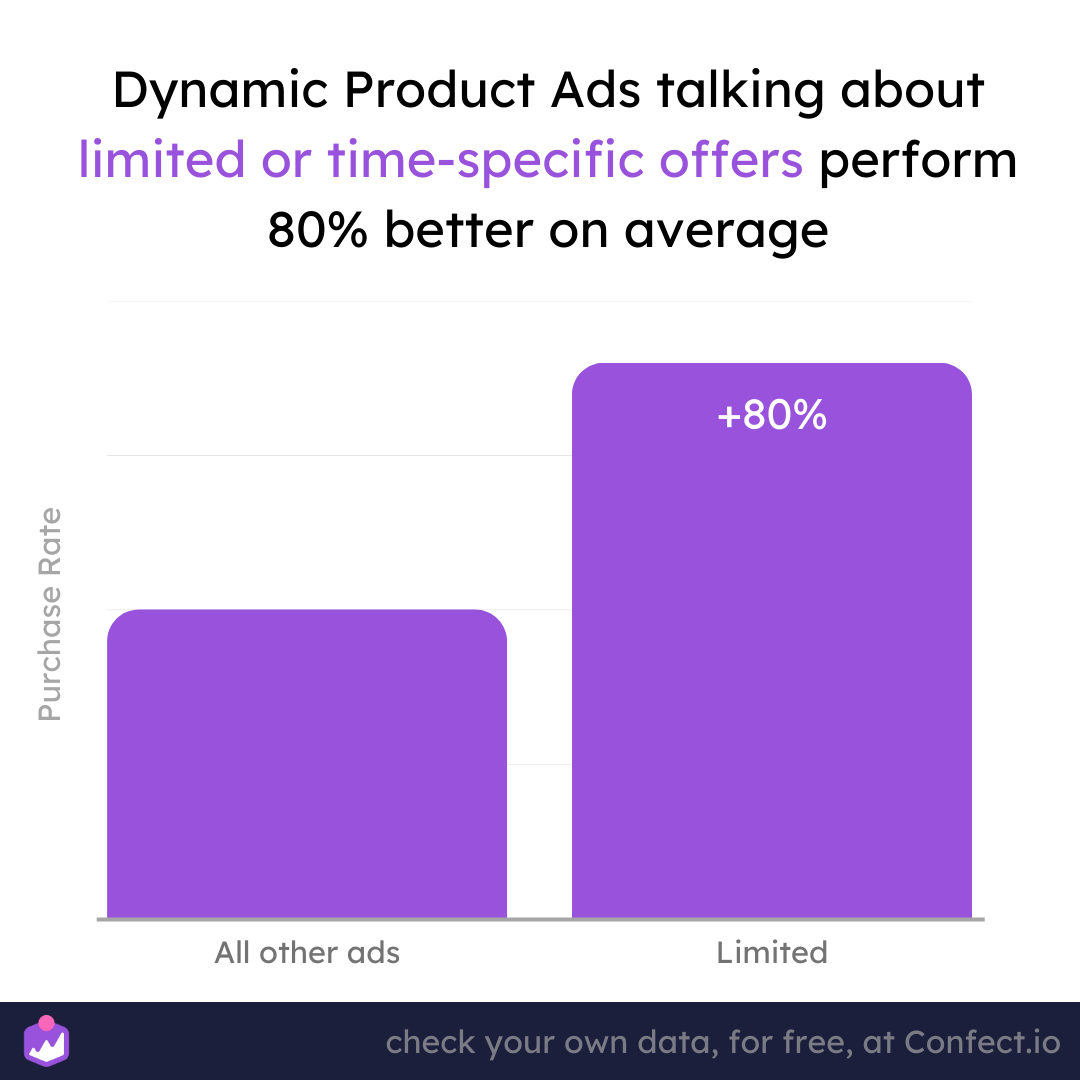 Valentine's day design
This next and final ad from Sinnerup might just seem like a regular Valentine's day promotion, but it proves a very interesting point.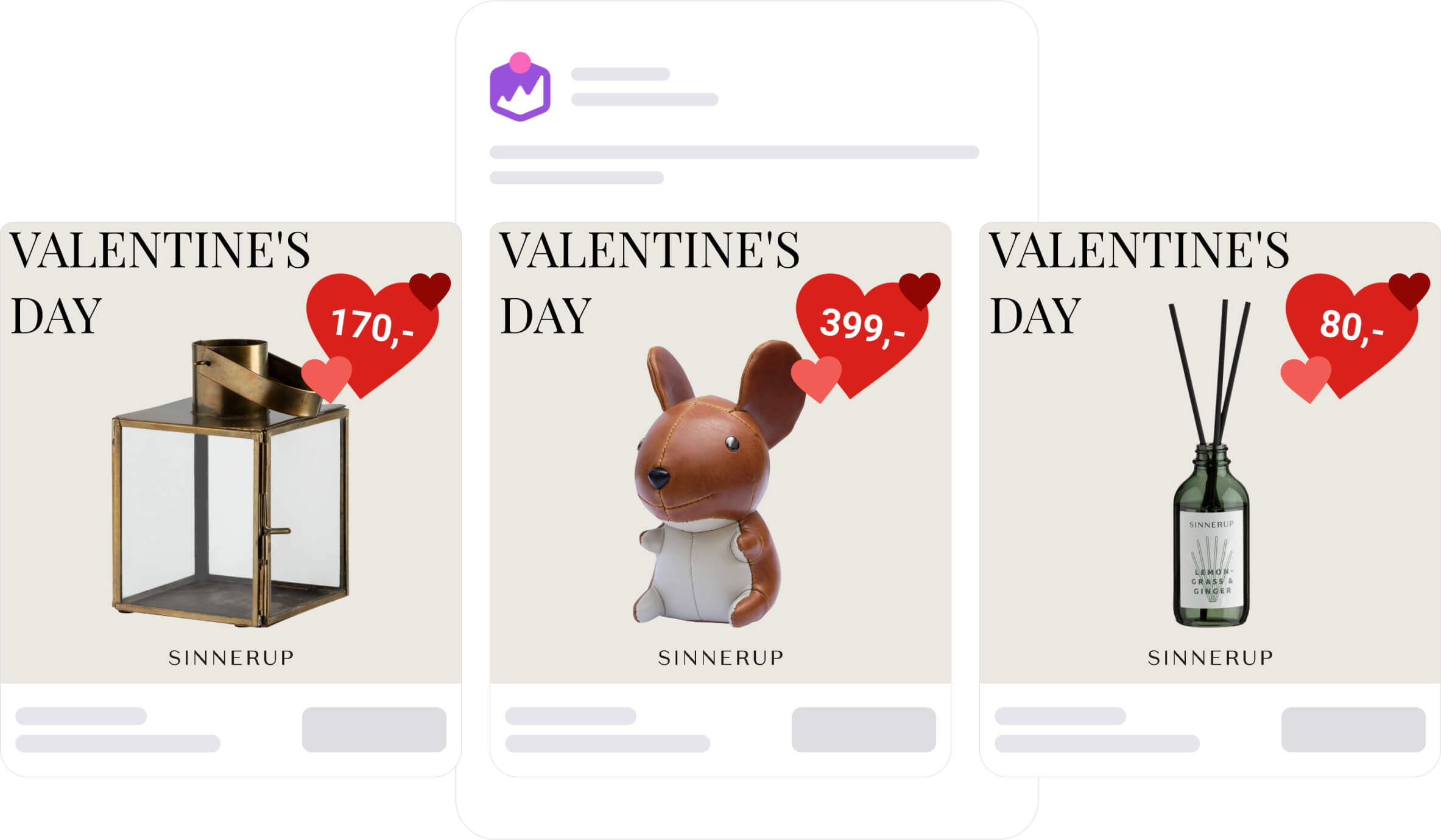 On first glance, even when scrolling fast, the heart-shaped price splash and text make it instantly recognisable as a Valentine's design.
But if you look closer at the example, you'll notice that Sinnerup isn't offering a discount or special deals. It's just a design tailored to the Valentine's day period.
Many businesses feel obligated to run sales during significant calendar events, but it's not always necessary.
Even without crazy discounts, this is a well performing design due to its recency. If something is recent and up-to-date, it feels more relevant. And that's exactly what Sinnerup did here.
By simply tailoring the creative to the calendar event, they've reaped the benefits of an increased performance, without having to reduce their profit margin by lowering the prices.
From our analysis, Dynamic Product Ads that create recency by stating a specific day, week, or month, reach a 79% higher performance on average.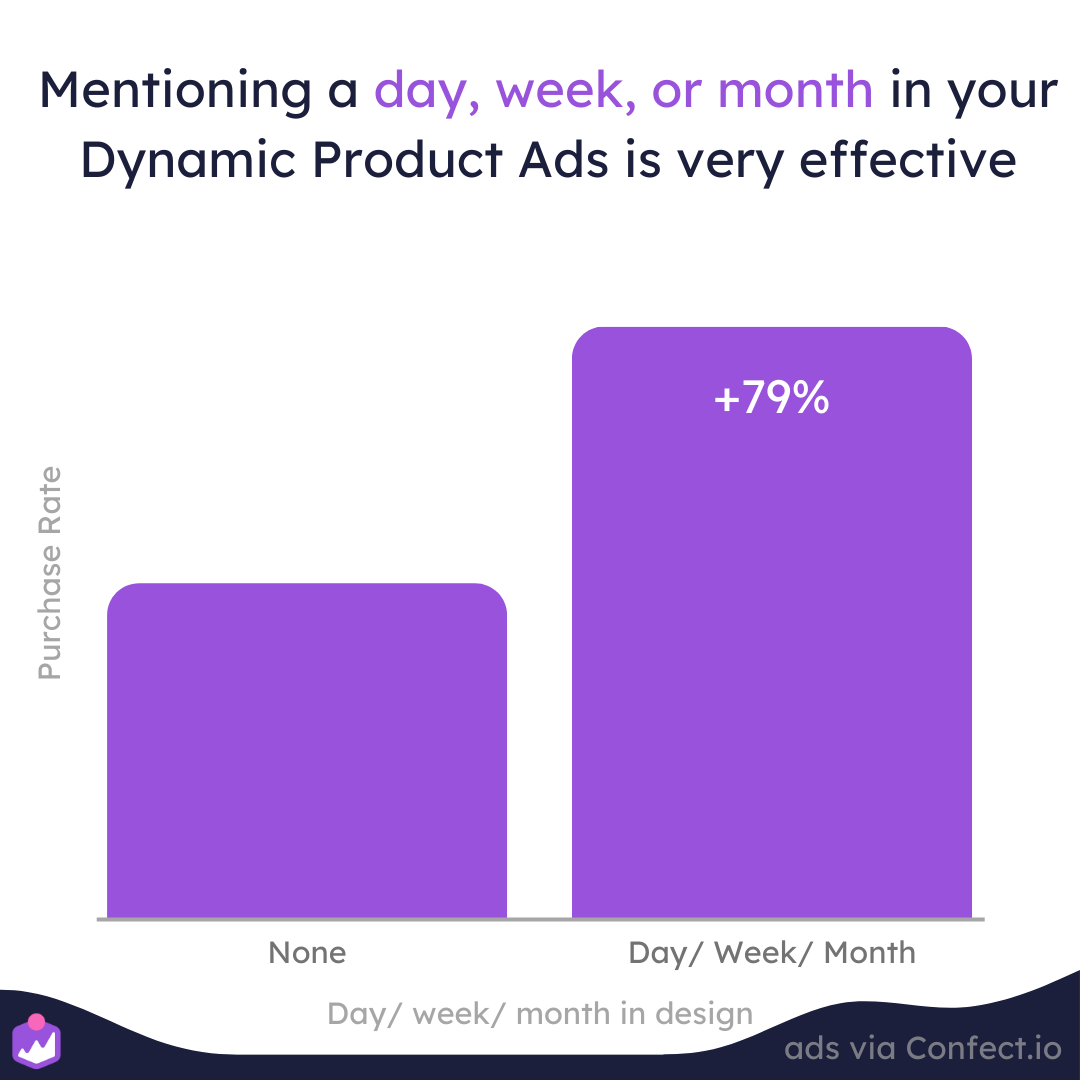 What can we learn from SINNERUP?
There's a couple of interesting lessons from Sinnerup's ads, that we think virtually any advertiser could apply in their content.
Try reflecting on how this could be executed in your Dynamic Product Ads:
Keep your main, always-on design simple and focused on the product.

When running special campaigns, include discount information in the design and clarify that it's limited-time offer in your content. For example, you can state "This week only", "Valid until X.Y.", or "Until stock lasts".

Capitalise on significant calendar events, even if your brand isn't running any special promotions, by tailoring the design to make it relevant and time-specific.

If it's relevant for your products, experiment with showing the items in their intended context. An image of a product in use is always more relatable than a white-background picture.