Get more out of your dynamic product ads - forget about the shotgun approach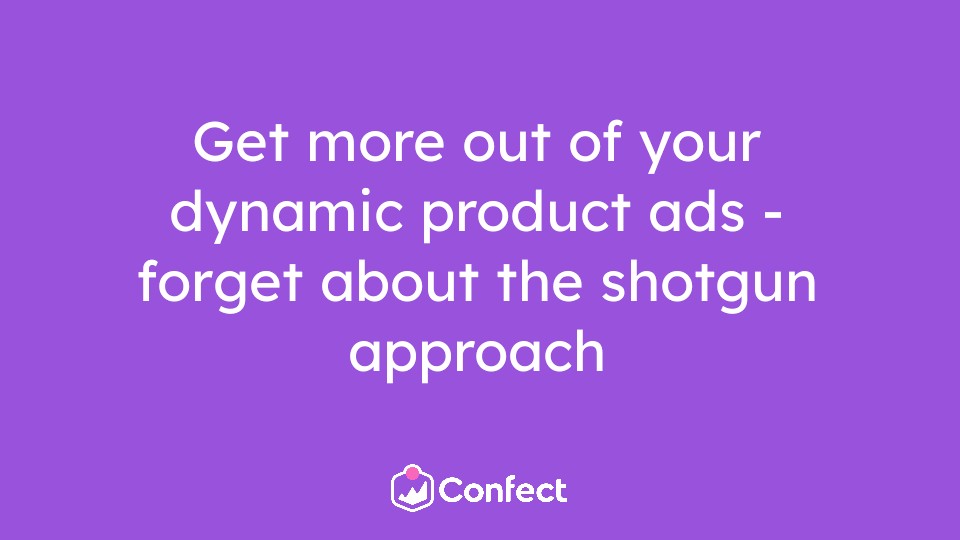 Dynamic Product Ads can do so much more than just bottom-funnel remarketing.
We'd like to take the next five minutes to tell you how.
It's actually quite rare to see Dynamic Product Ads used outside of remarketing effort—most are even often used as the last pre-purchase campaign.
Which is fair. It is the most obvious timing for DPA as a form of campaign, and Facebook itself mentions this.
This accounts for somewhere around 95% of all campaigns using DPA.
And do you know what that means? So much lost potential!
DPAs can do so much more for you, which is why we decided to put together a few examples of just how much DPAs can do—from top to bottom-funnel.
It's time to put down that shotgun for a while and instead pick up the sniper rifle.
Because DPAs can be both.
But to ease you into the process, we'll flip the funnel upside-down and start with bottom-funnel strategies, which is how we see most DPAs used.
Bottom funnel dynamic product ads
Consider this campaign:
Audience
All visitors who have seen a product or added an item to the cart on your website in the last 14 days.
Campaign goal
Sales from catalog or conversions
Nothing unusual here.
Depending on the product and/or industry, you may want to adjust the length of the period, but other than that, this is pretty much your standard, run-of-the-mill DPA setup.
For this setup, you may very well want to be aggressive in your CTA. You are, after all, targeting people who're already on the verge of converting.
In other words, you'll probably want to aim for 'Buy now' over, say, 'Read more.'
And that's pretty much it, isn't it? You could hit Publish and get on with other tasks.
Or…
You could squeeze the lemon and increase ROAS by up to a factor of 10.
Here's how.
Use individual products sets instead of your entire catalog
Avoid using your entire catalog
If you use your entire product catalog (with all your brands, product categories, etc.), you'll rarely know which products the recipient actually sees.
Facebook makes sure to show the products that the person has previously looked at, but your control over the process is limited.
Moreover, you'll also be forced to have only one general ad text for your entire product line.
This means you have fewer options in terms of anything from the choice of splashes to shipping and returns policies, reviews, delivery times, price guarantees, and so on.
Since your DPA needs to be broad enough to span the full breadth of your catalog, it's likely to be vague and generic, which in turn makes it far more difficult to actually catch people's attention.
The advantage of individual product sets
The advantage of using individual product sets is that you have the opportunity to be much more specific in your ad text and design.
Does it take more time this way? Yes.
But it's SO worth it.
Let's say you work at Zalando. You need to create a DPA campaign targeting people looking for skirts, but at the same time, you'd like to target people interested in dresses too, maybe even jeans—because there is a chance these people might actually be looking for a skirt and just don't know it yet.
So, instead of one massive DPA that includes half of Zalandos catalog (which is big, very big), you set up one product set for skirts, one for dresses, one for jeans, etc.
Maybe you also arrange one set by brands.
The point is, you have far more control not only over who sees your DPA but also what they see. This includes:
Product- and audience specific ad copy

Target-relevant splashes

Social proof (e.g. product reviews, recommendations, etc.)

Design elements

And much more
The more control you have over the proceedings, the better you can craft your ads to target specific groups, the better you can split-test and adjust as you learn more, and the better your ROAS will look, because you have the power to optimize rather than leaving it in the hands of Facebook's algorithm.
This is how you set up individual product sets in your DPAs
Setting up individual product sets requires two things:
That your target group is large enough (i.e. you have enough visitors)

That you have enough conversions in your campaign
The size of your target audience depends on how many product sets you use.
Also, pro-tip, when you create a campaign on Facebook with a goal of conversions, the campaign goes into a learning phase. Each product set needs at least 50 conversions within 7 days for the Facebook algorithm to perform the best.
Furthermore, no matter how many product sets you decide on, we do still recommend that you also set up two ads (with significantly different ad copy and/or design) that do include your entire product catalog. The goal here is to hit target-groups you may not yet have thought to include in your more targeted campaigns.
A classic DPA campaign from INTERSPORT. Here, the ad is optimized with a tool (e.g. Confect.io) to ensure that the ad stands out in the crowd with custom background, price, and savings.
Bring your target audience closer to buying with DPAs
The goal is to bring people closer to hitting that 'Buy' button—how can DPA help us do this?
We have seen really good ROAS using weekly campaigns that focus on specific, customized target groups and product sets.
For example:
Audience
All people who have visited your website in the past 180 days

All people who have interacted with your Facebook page in the last 365 days

Recipients of your newsletter (Made as a custom audience in Facebook)

All people who have placed an order in your webshop (Made as a custom target group in Facebook)
Campaign goal
Reach, traffic or conversions with View Content/Product View as conversion.
Depending on the size of your audience, you can choose different goals for your campaign.
If you have a small target group (e.g. 5.000–10.000 people), you're likely interested in reaching as many people as possible (Objective: Reach)—rather than just the people Facebook's algorithm assesses have the greatest chance of conversion.
If your target audience is big (e.g. 200.000+ people), you can let Facebook's algorithm select the best (Goal: Conversions)—here there'll simply be more of the "desired type" of people, statistically.
The above people know your business. They may have even shopped with you before.
What we want to achieve with this campaign is reactivation of the target audience.
Why does this ad work?
The above ad doesn't use products that people have previously looked at.
Instead, it is a collection of their latest offers gathered into one ad.
Moreover, the ad format used here is "Collection", which opens a full screen experience when you click on the ad. This tends to work well, because I get an instant overview of this week's or month's offer from Kop \& Kande.
If you're interested in a specific product and continue to the website but do not buy the product, you will be shown the product in the ad we mentioned at the start.
So, how do you make DPAs work for your top funnel?
Top-funnel advertising is for people who are further from hitting that 'Buy' button. It might even be the first time they're interacting with your business or brand.
Target group
Classic segmentation or Copy/lookalike target group
Campaign objective
Engagement or Traffic
Facebook recommends that Copy/lookalike audiences have a size of min. 100.000 people. But basically, the larger your source for copy audiences, the better. 
Moreover, Facebook also recommends that the source of the target audience should be min. 10.000 people. Here you could, for instance, upload the e-mail addresses of all your previous customers, which helps Facebook find people who are most similar to your existing customers.
And since we include people who have interacted with your Facebook page in the section above, Engagement might be relevant as a goal of this campaign.
The over-arching purpose here is to reach people who may be interested in your product but either don't know it yet or aren't familiar with your business.
This means standard marketing principles still apply.
For instance, because this may be the first time they're interacting with your business, you'll likely want to focus on adding value rather than going straight for a hard conversion.
Whether DPA or something entirely different, you always want to craft your message and design your ad towards your audience.
This is, after all, the whole point—with more power comes more control, and with that comes a greater need for a well-thought-out approach.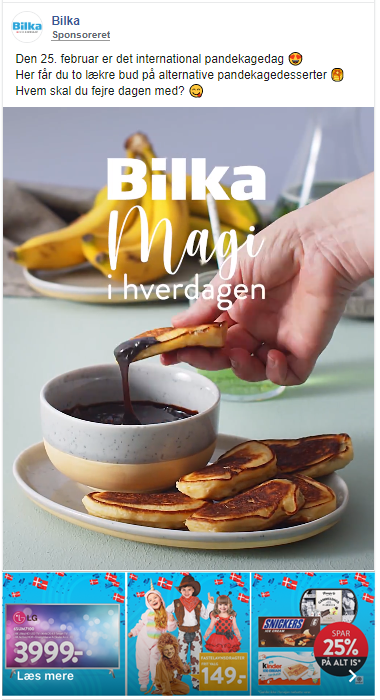 The purpose of this ad is to reach new people in connection with International Pancake Day. A film is shown with various pancakes that can hopefully inspire the recipient.
The products displayed at the bottom of the ad must therefore be products that relate to the content of the video. For example, a bowl set on which you can serve pancakes, pancake-ready mix or something to that effect.
What does all this mean?
If nothing else, we hope you've learned this: DPAs can be used for other purposes than procuring direct sales.
They can be used to:
reactivate your target audience or

bring new people closer to a sale
These can be weekly campaigns, for example, where you select products for a specific product set and market them through a Dynamic Product Advertisement.
This not only gives your far more control over the process, the audience being targeted, and the design of your DPAs—it also vastly increases the chances of the right ad landing in front of the right customer at the right time.
If you are interested in improving your Dynamic Product Ads, try a free demo of Confect today, which will allow you to easily customize Dynamic Product Ads for the best performance on Facebook.