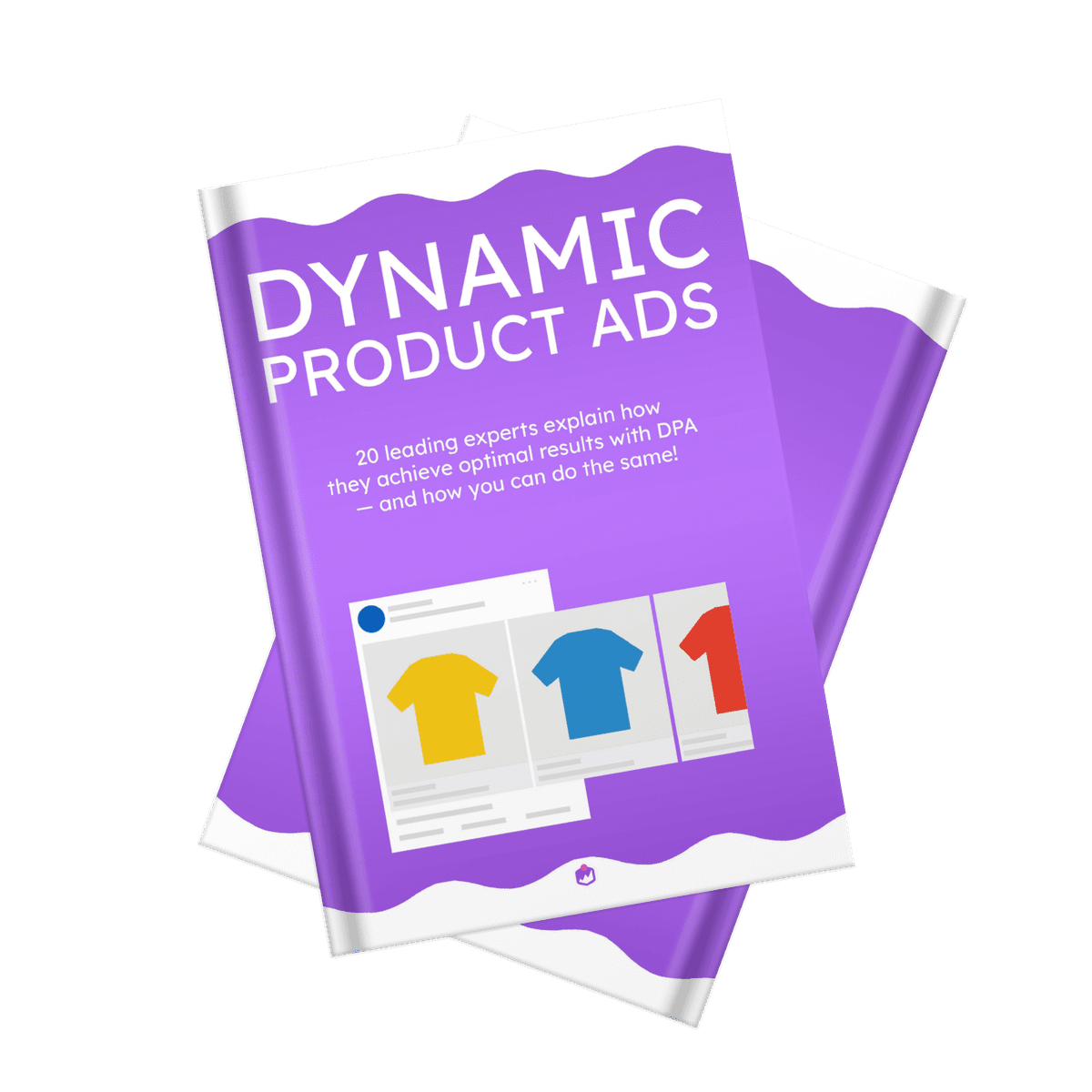 📗 The greatest book on Dynamic Product Ads. Ever.
20 marketing experts have gathered all you need to know about Dynamic Product Ads to unleash the full potential of your performance.
Written by Paid Social Specialists from the most ambitious performance agencies








Ready to master the art of Dynamic Product Ads?
Get your hands on a free copy today!
Unleash the full potential of your ads performance
with tactics from 20 leading experts. Summarized examples: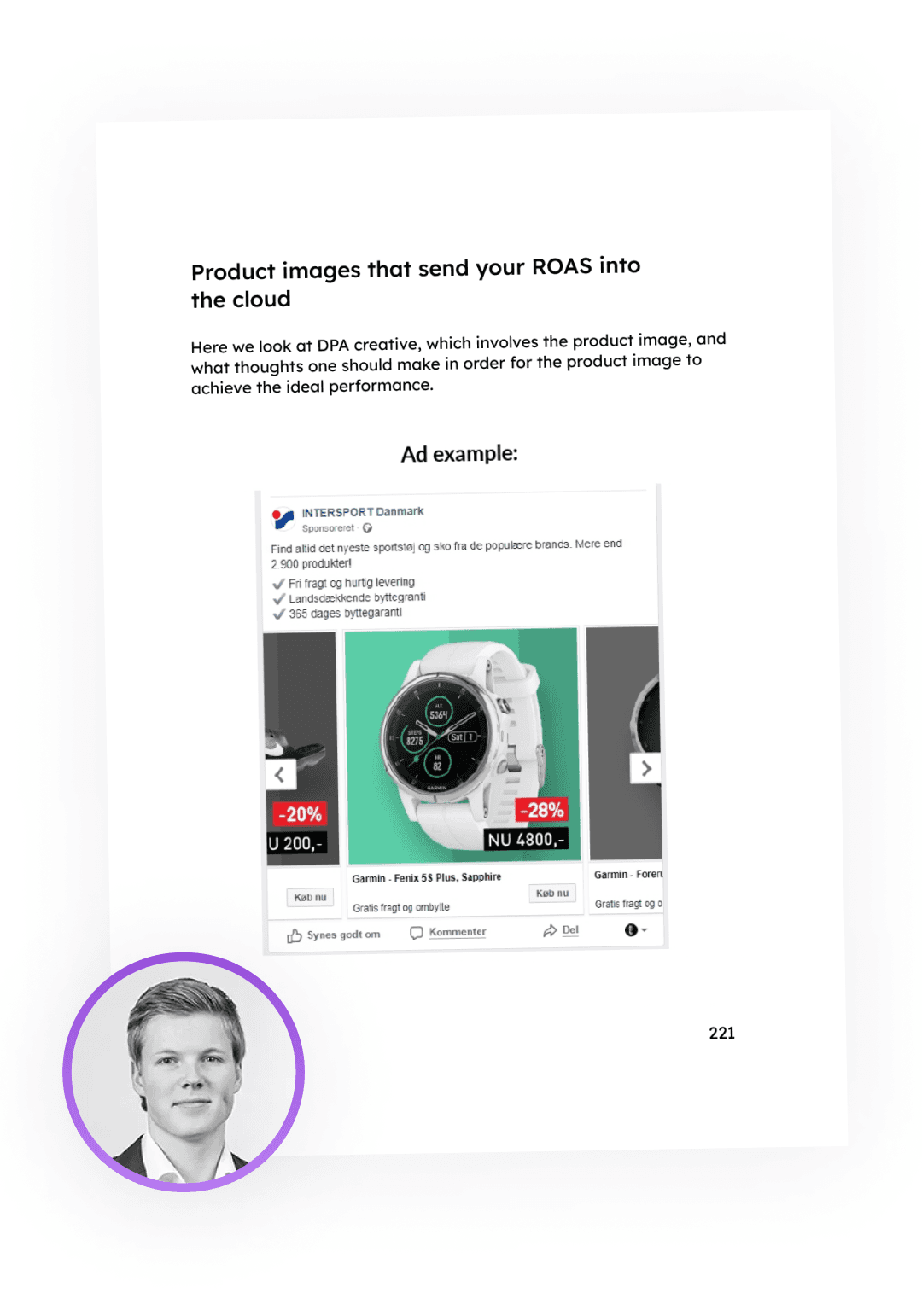 Product images that send your ROAS into the clouds
Here we look at DPA creative, which involves the product image, and what thoughts one should make in order for the product image to achieve the ideal performance.
Niklas Bruun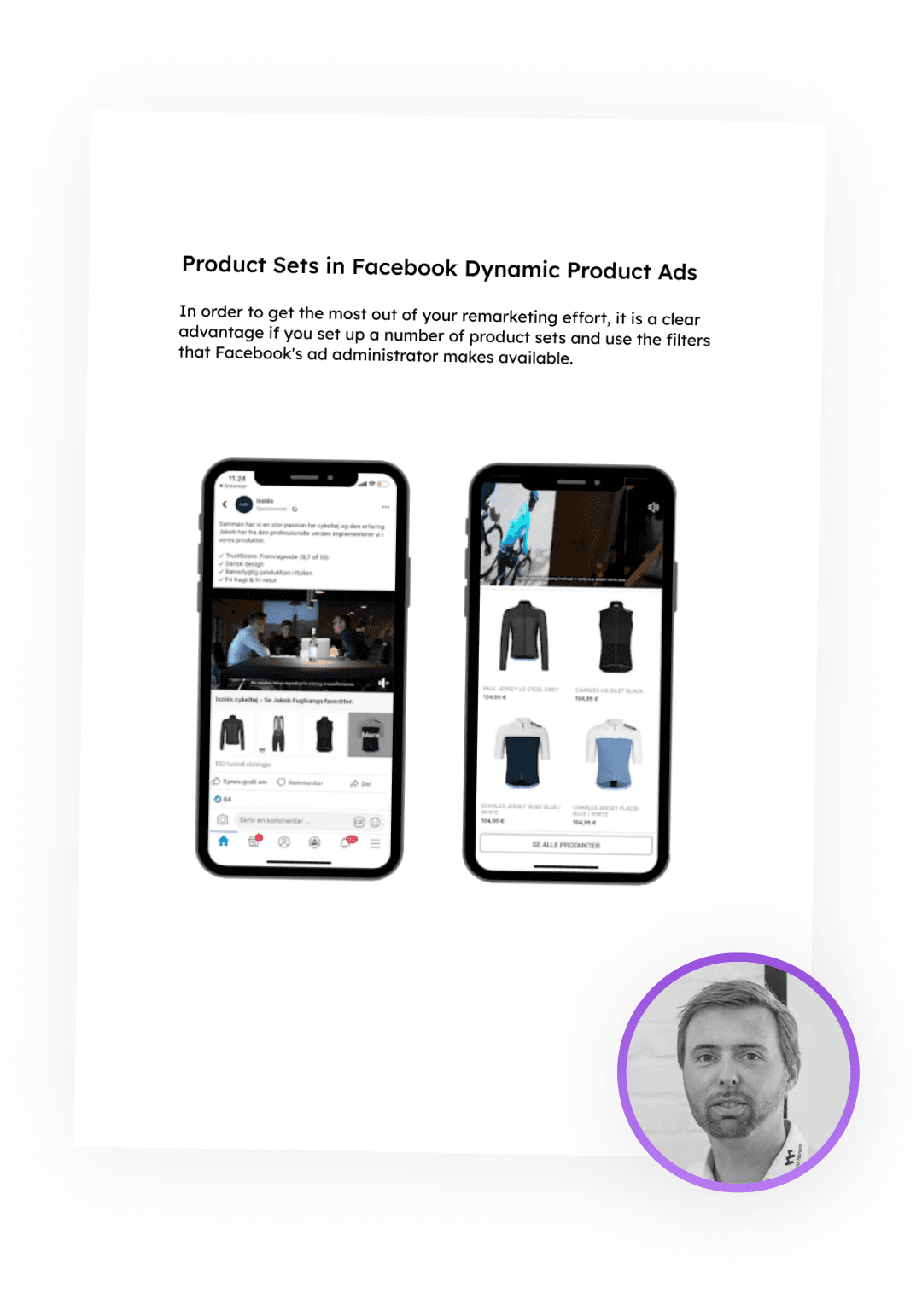 Product Sets in Facebook Dynamic Product Ads
In order to get the most out of your remarketing effort, it is a clear advantage if you set up a number of product sets and use the filters that Facebook's ad administrator makes available. It could, for example, Be it to create a new product set consisting of all products that are in stock in the webshop and can be ordered now - or e.g. Products that can be pre-ordered.
Kasper Hamann
Eager to check complete examples?
Download the full ebook - it's free!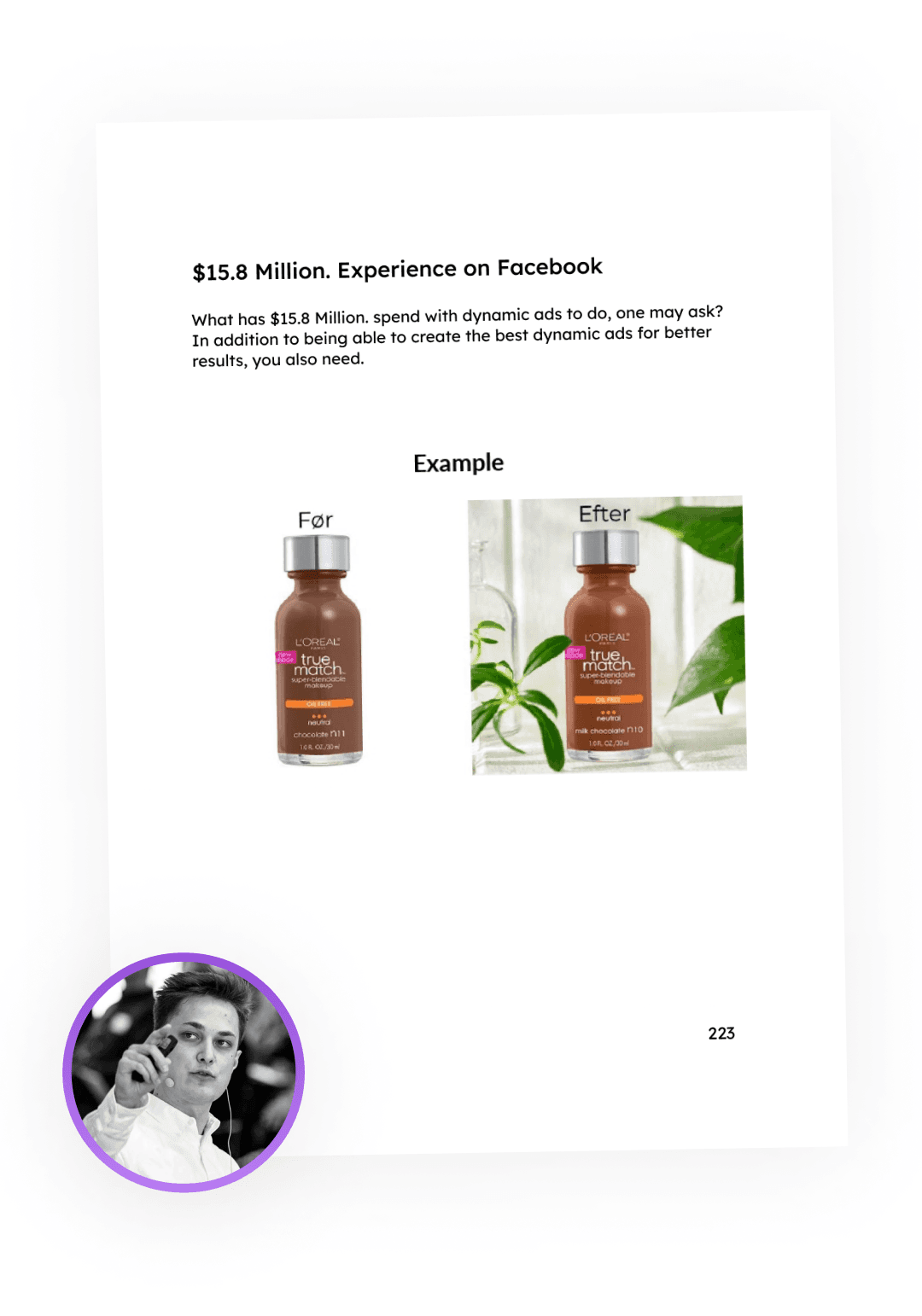 $15.8 Million. Experience on Facebook
What has $15.8 Million ad spend with dynamic ads to do, one may ask? It gives you loads of experience and tests on what to do and what not. Often quantity beats quality. Being agile, fast, and experimental is often better than being rigid, perfectionist, and conservative.
Kristian Larsen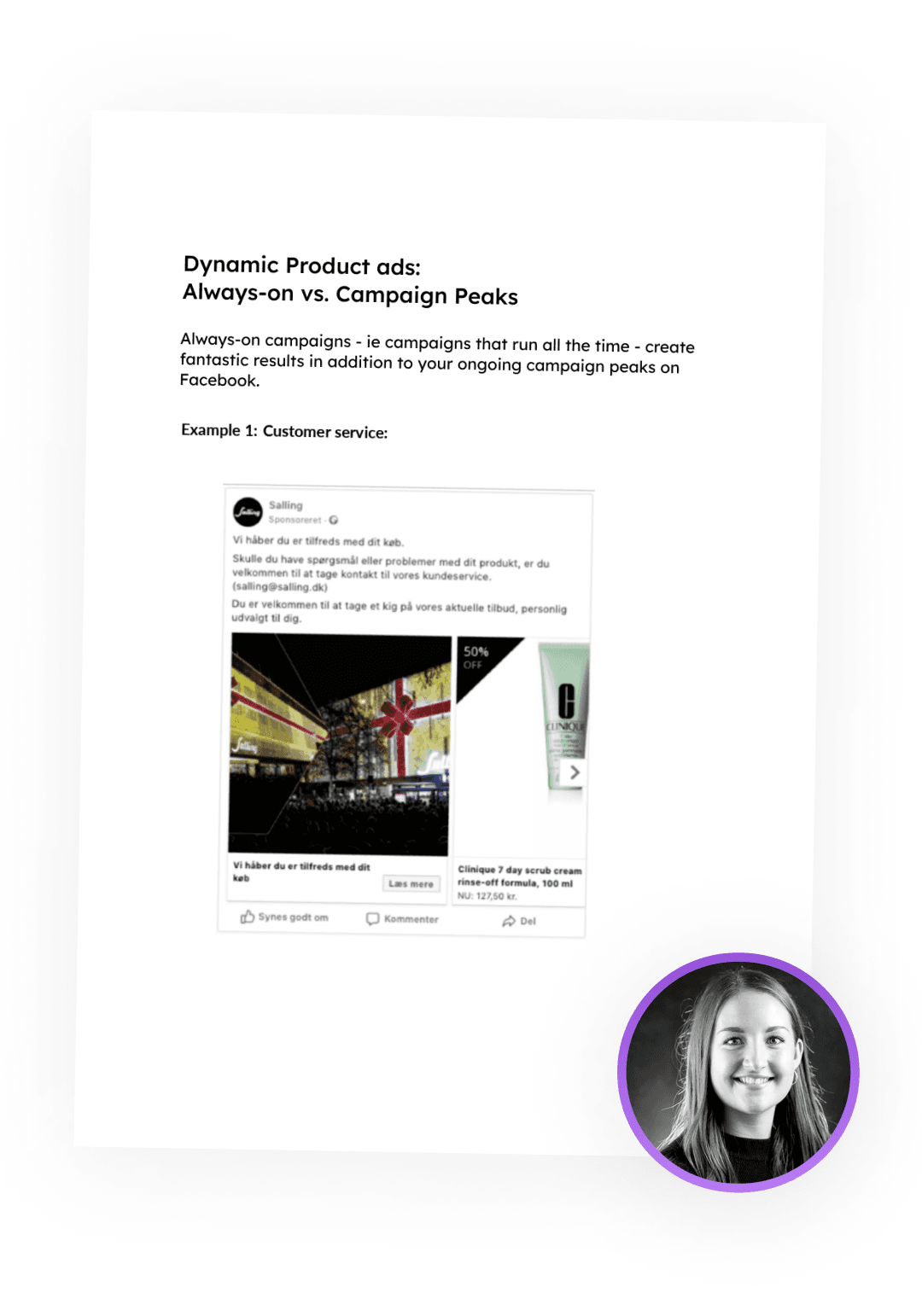 Dynamic Product Ads: Always-on vs. Campaign Peaks.
Always-on campaigns - ie campaigns that run all the time - create fantastic results in addition to your ongoing campaign peaks on Facebook. In general, but especially for your dynamic product ads. Imagine if your advertising managed itself and converted customers in your store while you could even sit and drink coffee? And what if you didn't have to constantly invent and create new campaigns in an endless stream?.
Mette Halborg
Get The Greatest Book on Dynamic Product Ads
Frequently asked questions
Worlds best book about Dynamic Product Ads