This retailer has one of the best Dynamic Product Ad strategies ever!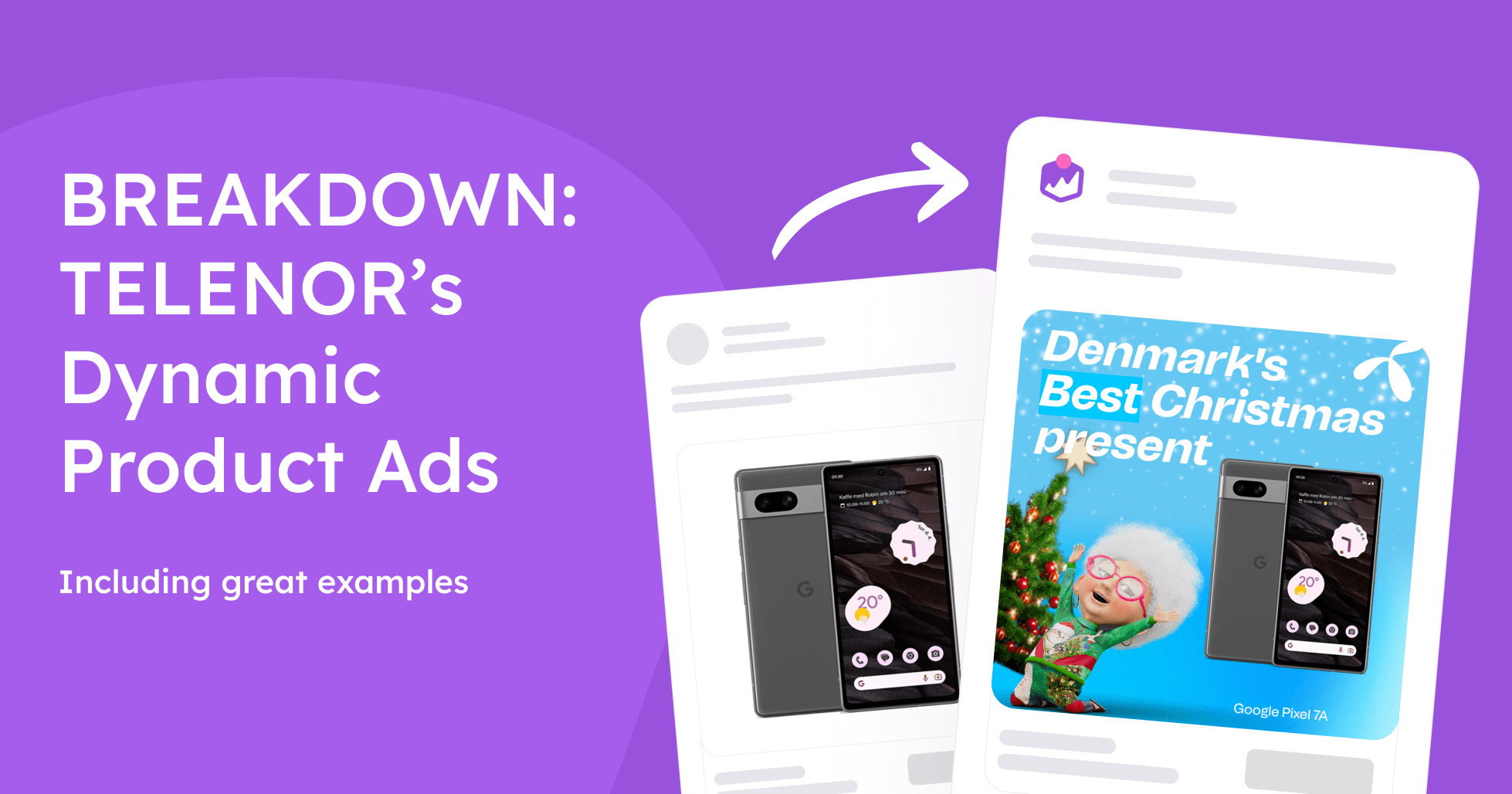 Nowadays, almost everyone has a phone and an internet connection.
And for 158 million people across the Nordics and Asia - it's Telenor who provides it.
Being one of the largest telecom companies in Scandinavia, they not only offer mobile and internet subscriptions, but also run their own web shop full of the latest smartphones and other accessories.
To advertise these phones, Telenor needed to create branded and campaign-specific creatives for hundreds of products without destroying their graphic designer in the process. And for this company, Confect was the answer.
They managed to create beautiful branded creatives for their catalog ads, capitalising on the enormous recognition and trust they've built up over the years.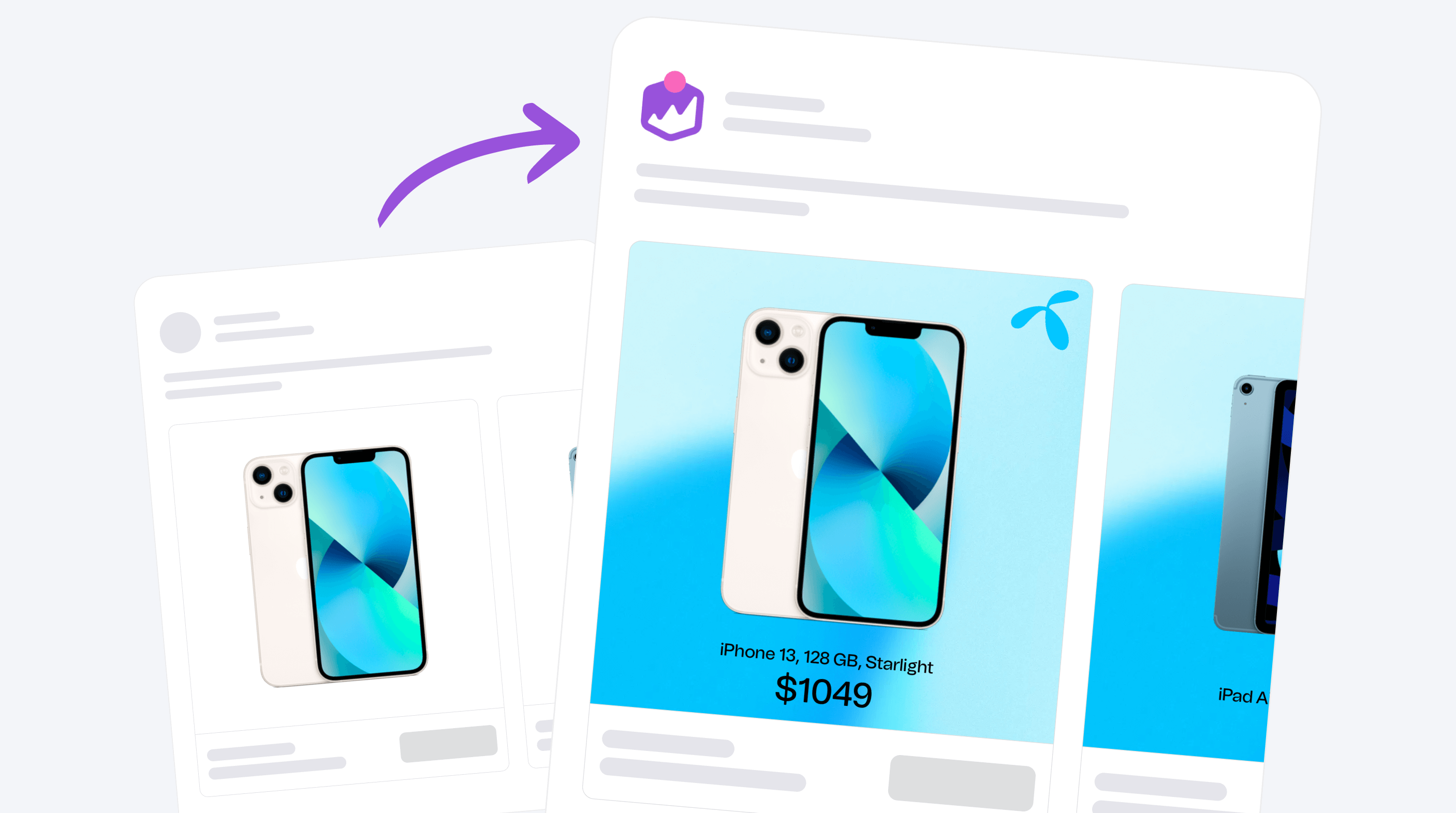 Standard, white-background Dynamic Product Ads (left side) were simply not a viable option. Generic, non-customised, paid social content would not fit with their other marketing activities, and frankly, would look super boring.
This giant has become a household name in the Nordics, known for stimulating innovation and progress - and their Dynamic Product Ads definitely had to live up to that standard.
How does TELENOR design catalog ads?
Telenor follows a very fundamental, but extremely effective philosophy with their Dynamic Product Ads:
First, reach new prospects and make them interested,

Then retarget with a relevant offer to close the deal.

And lastly, keep the ads fresh and recent with various marketing campaigns.
We'll dive deeper into the specific designs in just a minute, but let's appreciate the simple genius of that strategy.
People that aren't too familiar with their propositions won't respond well to seeing a super-specific offer. Instead, they first introduce the products, and only after the prospect shows interest by clicking through and browsing will he be retargeted with a specific offer.
It may not sound ground-breaking, but it's a winning strategy when done right.
Prospecting design
The first design we'll take a look at is their prospecting creative, used for top-funnel ads.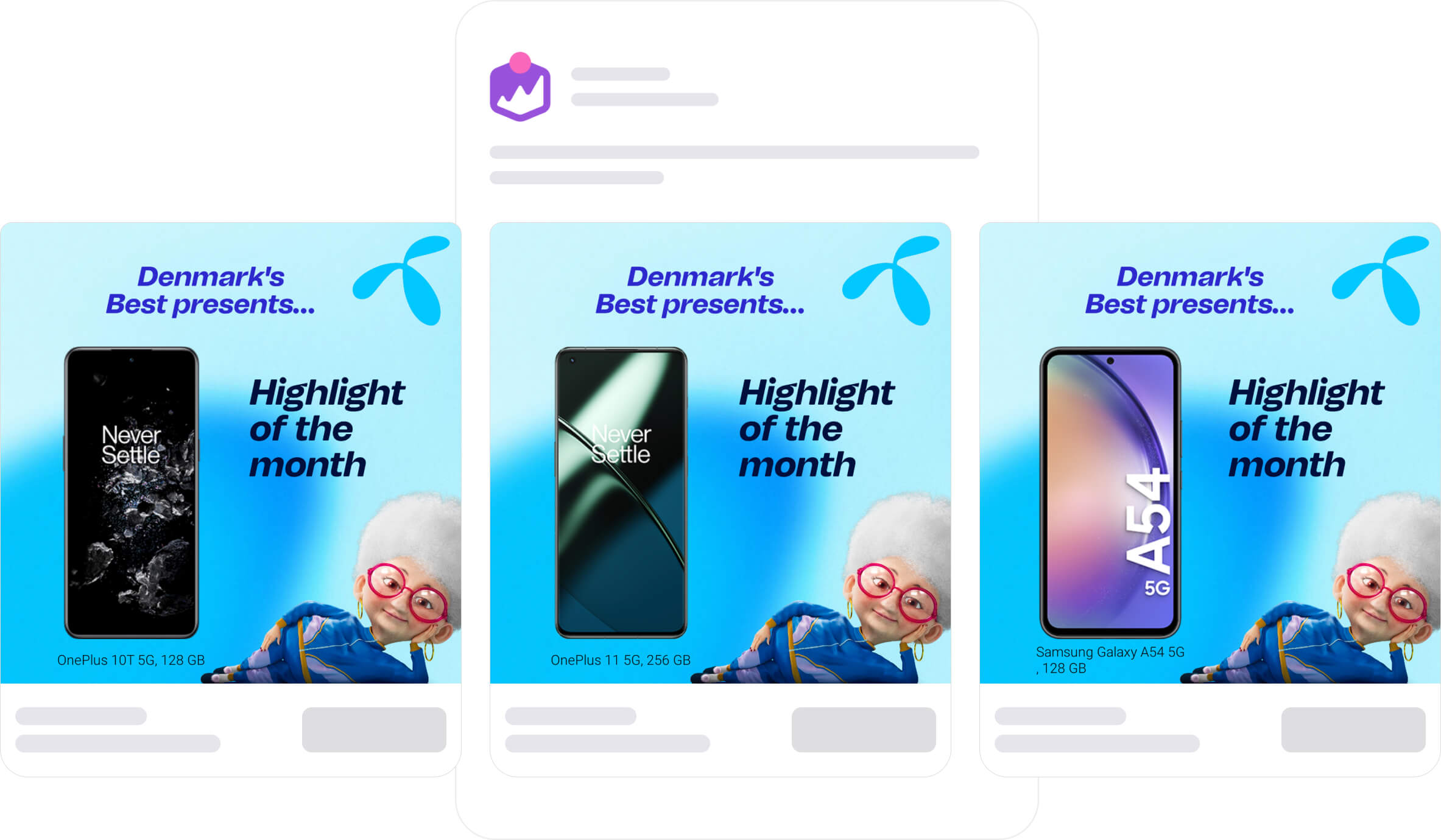 The audience for this ad consist of broad audiences - prospects that have not yet interacted with the brand online.
Given the target group, this design has one simple objective - to generate interest.
You'll notice that the ad example doesn't include specific information. It only shows the product name (which is extremely relevant for electronics) alongside their tagline "Denmark's best presents".
Instead of trying to convert the prospect, they simply highlight popular phones each month. In that way, this ad is less focused on "selling", and more focused on "showing".
But it's not only about showing the product. Showcasing the brand, especially considering that this is a top-funnel ad, is equally important. Their logo is in plain sight, building recognition and awareness.
Based on our analysis of 1.3B+ impressions, Dynamic Product Ads with the advertiser's logo in the design reach a 43% higher performance on average.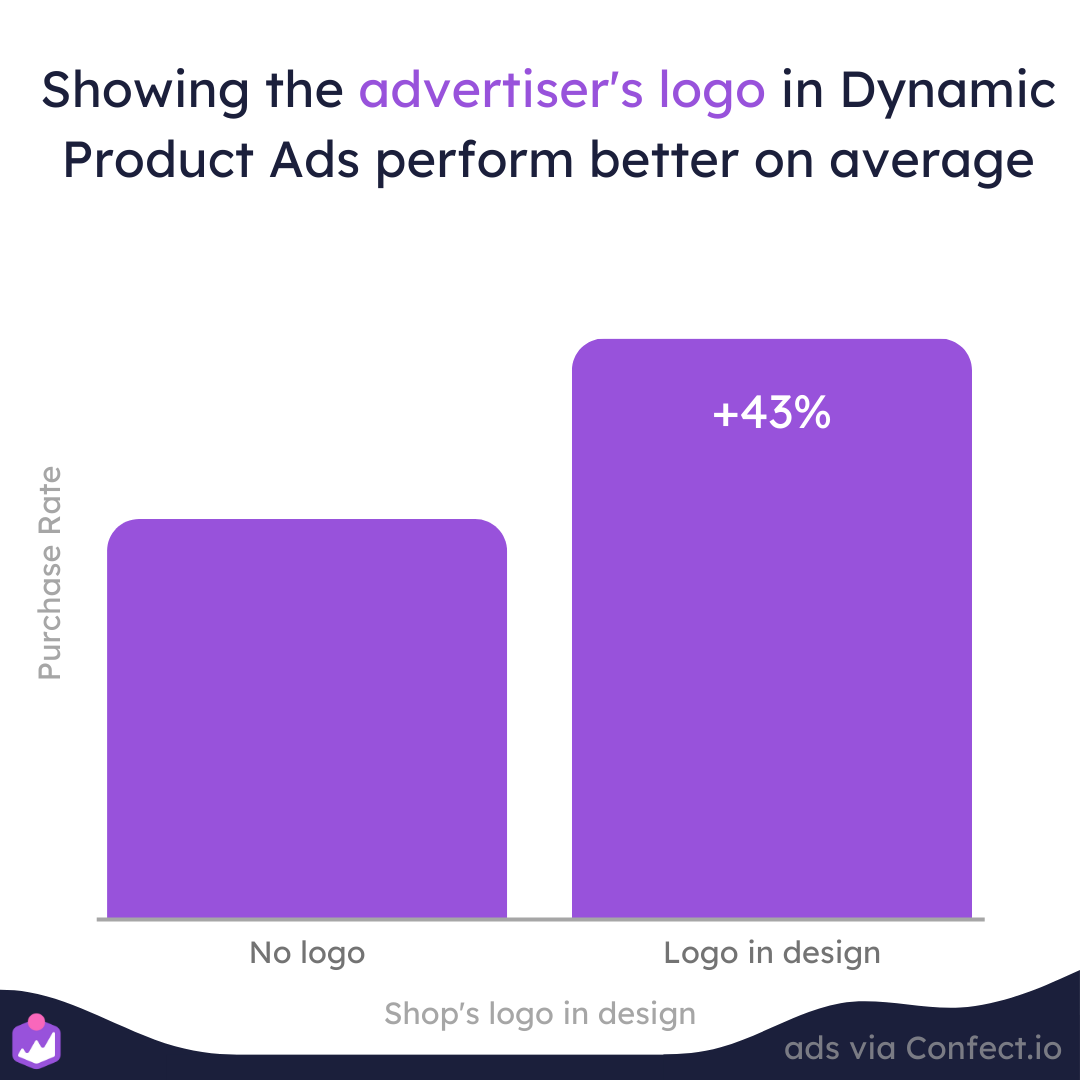 And once a prospect finds the "highlight of the month" interesting and clicks through to the landing page, he'll learn more about the offer and be better prepared for the next step in their marketing funnel - retargeting.
Retargeting design
Now the prospect is familiar with Telenor, their offers, and it's time to get a bit more pushy.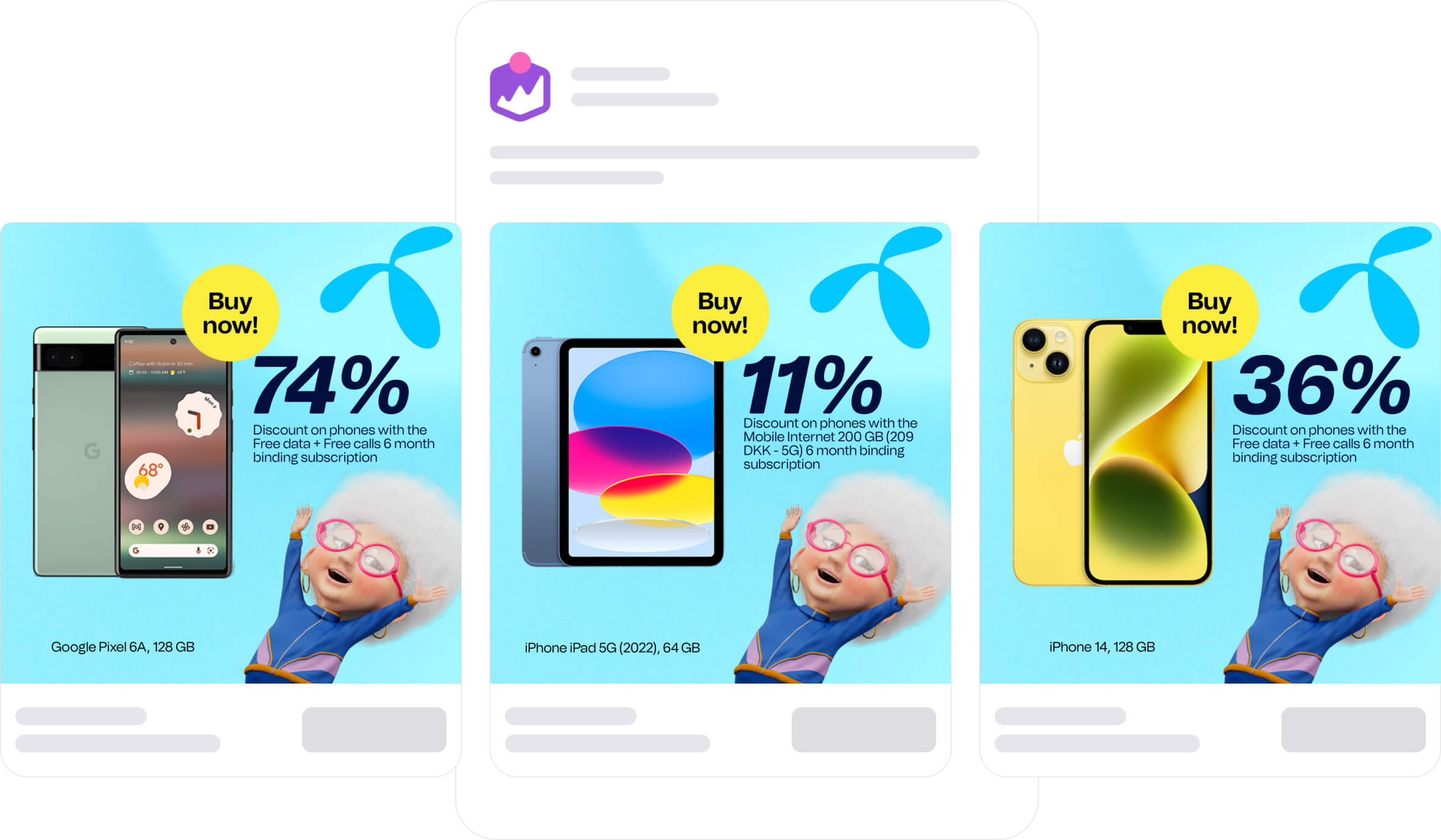 In comparison to their prospecting design, the retargeting creative includes A LOT MORE specific information.
It's the first time that the user is presented with a direct offer: "Get a discount on a phone when buying a subscription".
The creative includes the exact conditions for the discount, as well as the first call-to-action in this marketing funnel. When comparing it to the prospecting design, the difference is obvious.
From our huge dataset, we see that creatives with relevant information about the offering are much more effective at converting users into customers.
Again, the simple genius of this is mind-blowing. Since the prospect has shown interest in phones by clicking through, chances are he's looking to replace his current smartphone or get one for his loved ones. And all he has to do to get a discount is just sign up for a Telenor subscription.
For most people, big savings on a phone they want might just be a sufficient reason to switch their network provider.
Campaign design
And lastly - it's no surprise that Telenor also keeps their ads fresh and relevant during significant calendar events.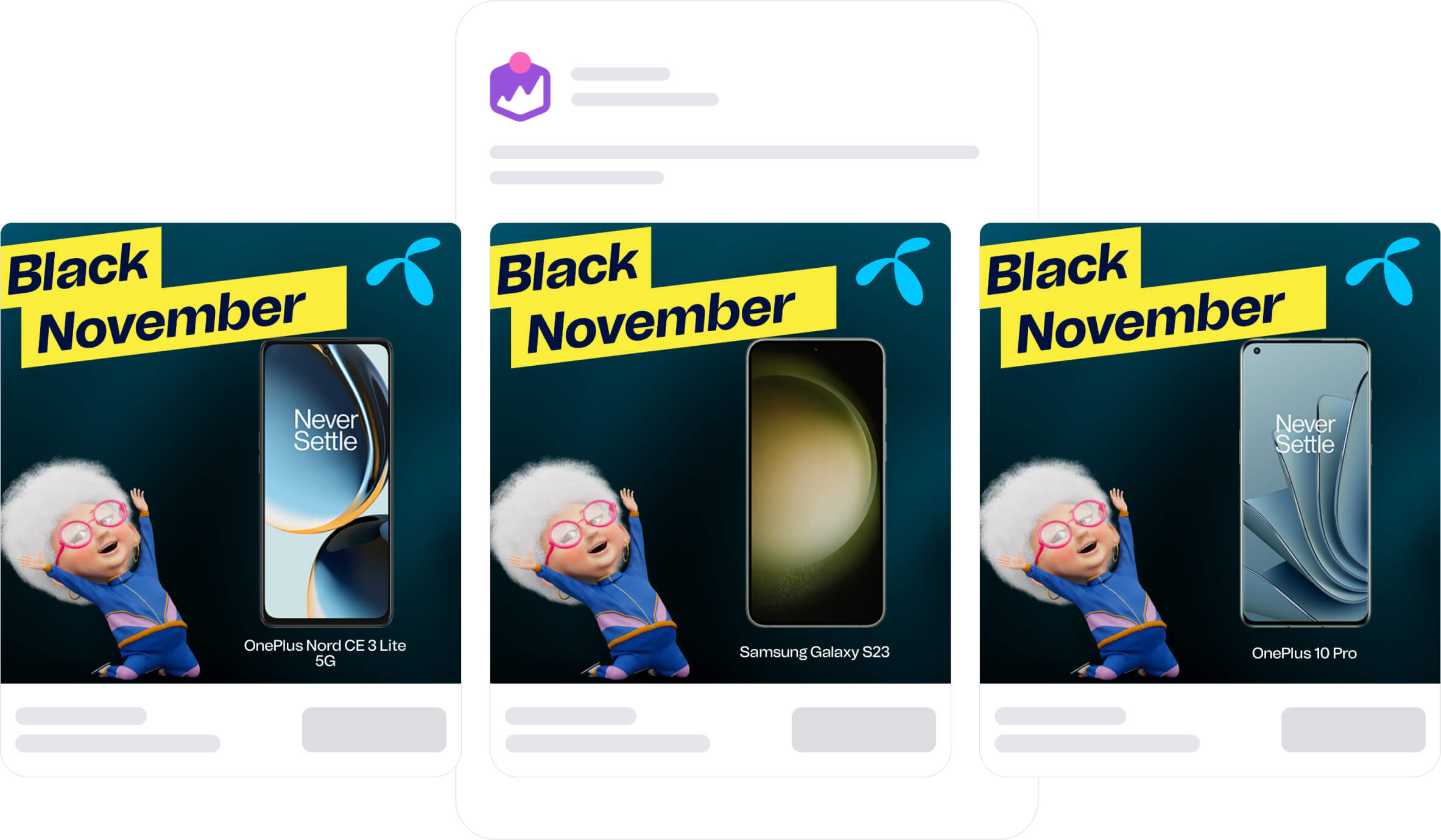 This ad example comes from their 2022 Black November campaign - recognisable by the signature black and yellow colour combination.
But you might notice an unusual thing - the price and discounts are missing - exactly what Black Friday is known for.
That's because this design serves the function of prospecting during Black Week.
Instead of trying to convert the user instantly with big savings, they use this design to keep their prospecting campaign recent and effective during November.
Ads that are specific to the current period are perceived as more relevant, are received better by the target audience and reach better results. And mentioning the current month is one of the easiest and most straight-forward options.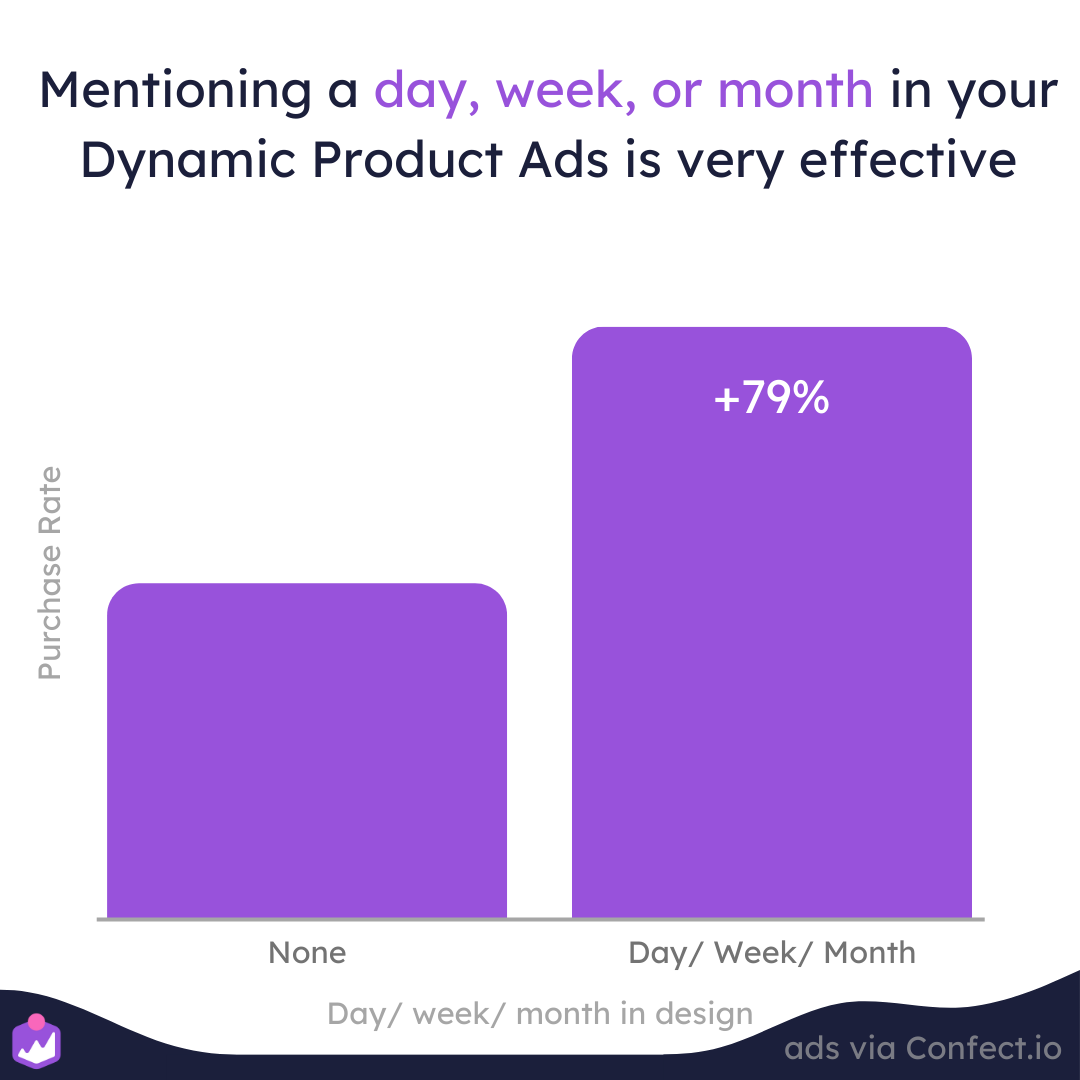 Dear Telenor... you're absolutely killing it.
What can we learn from TELENOR?
It's no surprise that Telenor is so successful. With such a clear and effective strategy, their Dynamic Product Ads were a pleasure to dive into. And what's even better, they serve as the perfect example for all other advertisers.
To keep the learnings fresh, we'll just sum up the key golden nuggets:
Make sure to reflect on the information needs of your customers throughout the buying journey. Avoid overwhelming your top-funnel audience with too much detailed information.

Retarget website visitors with specific offers to close the deal. This is the stage to include more details about your proposition.

Participate in significant calendar events even if you're not running a sale campaign. Simply tailoring the design to that specific time period is likely to give you a performance boost.
Want to make your next Facebook ad campaign as effective as Telenor?
Try a free demo of Confect to edit your product ads to compete with the best!