How does the largest underwear brand in Scandinavia design Dynamic Product Ads?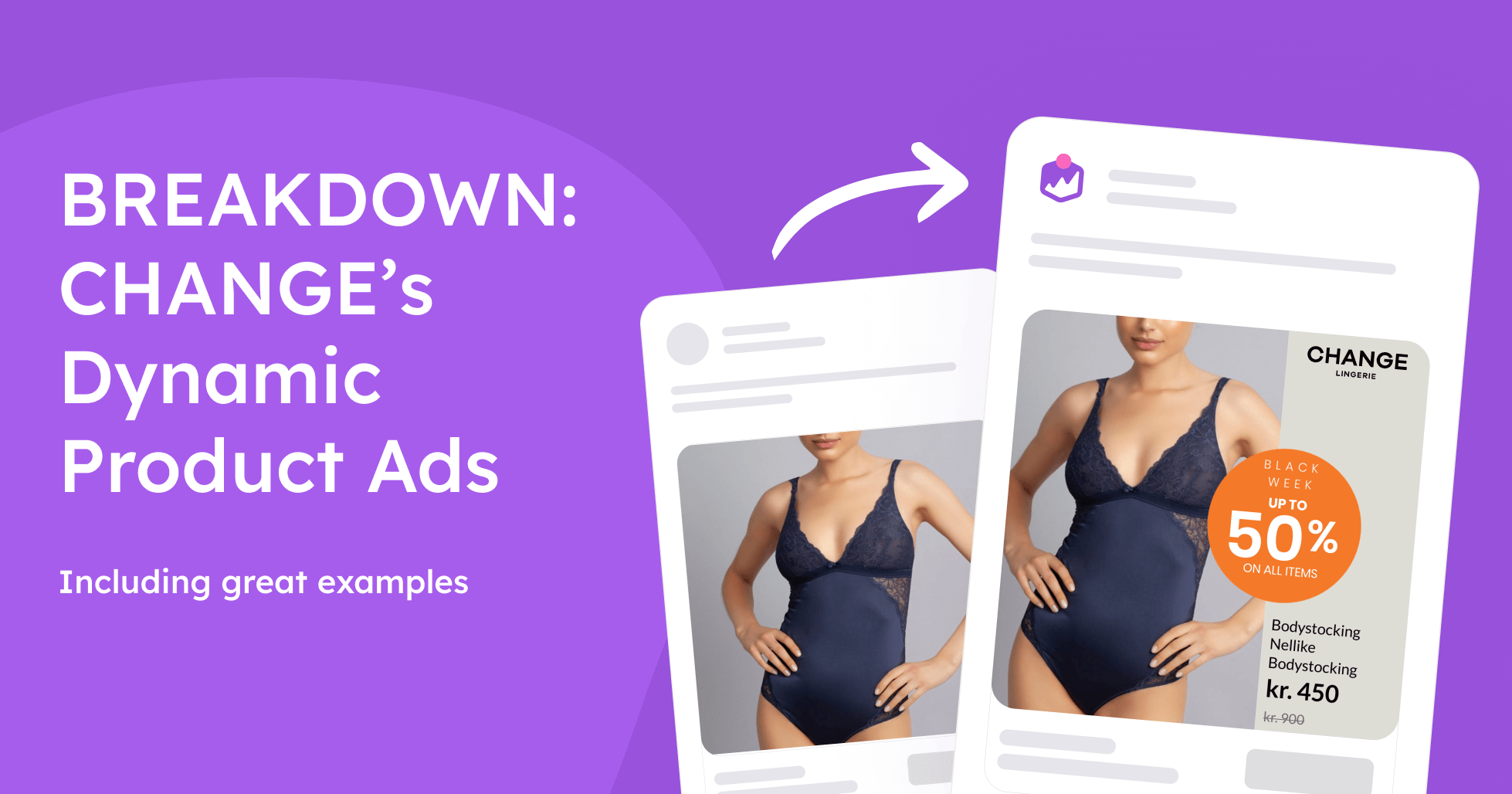 Have you ever heard of CHANGE? Well, they're the largest underwear brand in all of Scandinavia.
And they've got some great ads we're excited to show you!
Ever since 1997, they've been on a mission to give every woman the perfect fit, no matter the size or body shape.
And let me tell you - they've had great success doing it! With over 300 stores throughout Europe and Canada, and more than 2 million loyal members in their exclusive Club CHANGE, no one can deny that this brand knows exactly what they're doing.
Their brand identity is based on respect for the natural beauty of the female body, high-quality, and comfort. With such a reputation to hold up, you can already guess that standard, boring, white-background packshots wouldn't do their brand justice.
That's why they've gone with pictures of beautiful models, showing off their values of diversity and simple feminine beauty.
But the branding doesn't have to stop at product pictures... Dynamic Product Ads can be customised much further...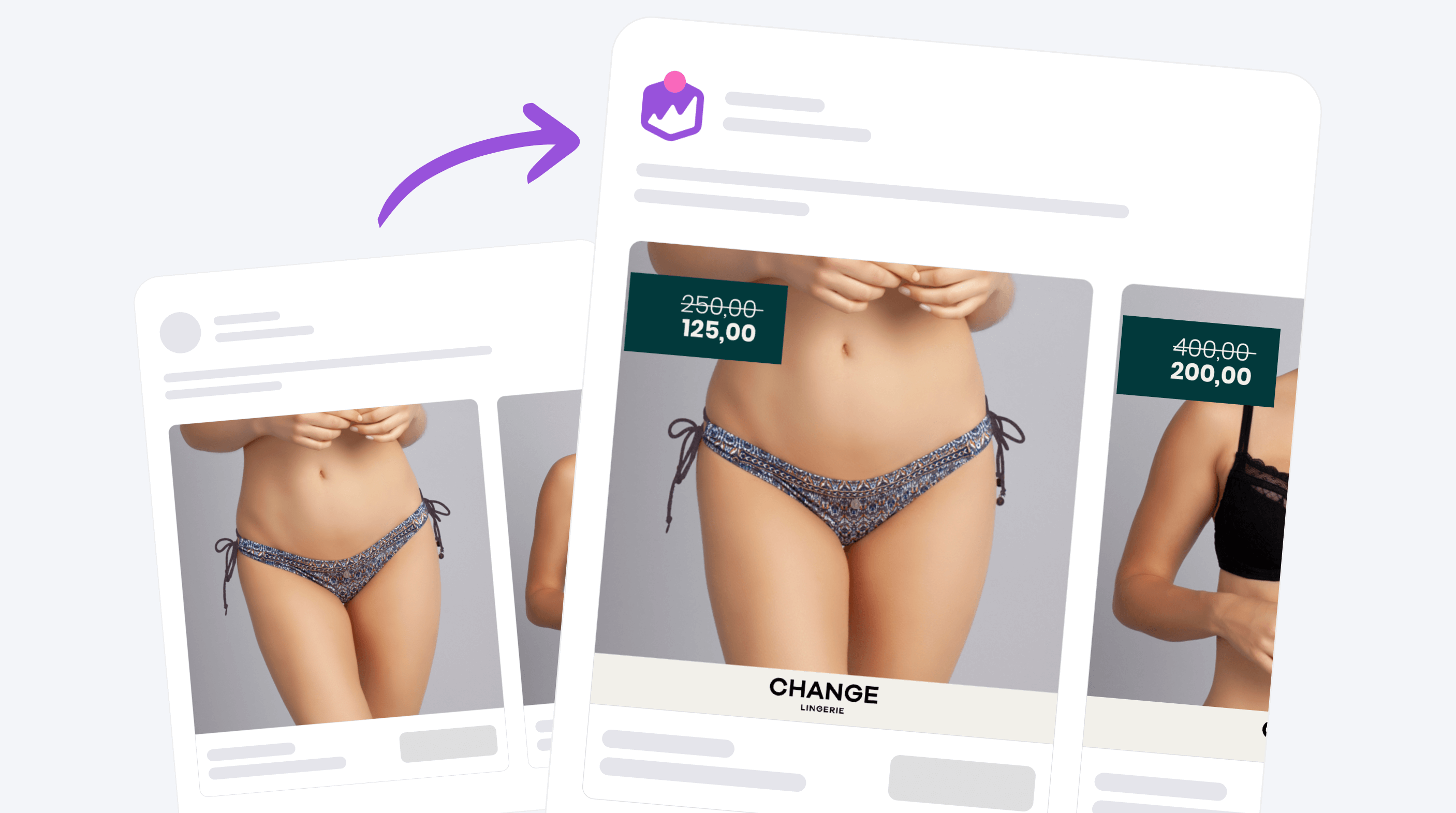 While these model pictures are stunning as is, CHANGE wanted to take it a step further.
Customising their paid social content allowed them to generate awareness for their special promotions and offers, to stay relevant with up-to-date designs, and to communicate more of their unique brand identity.
By using Confect they were able to drastically improve the production speed from an idea to a ready-to-advertise creative, and to try out different customised designs to find the best-performing one.
So let's dive deeper, and take a look at how the largest underwear brand in all of Scandinavia designs their Dynamic Product Ads.
How does CHANGE Lingerie design catalog ads?
Seasonal design
The first example we wanted to show off to you is CHANGE's winter season design.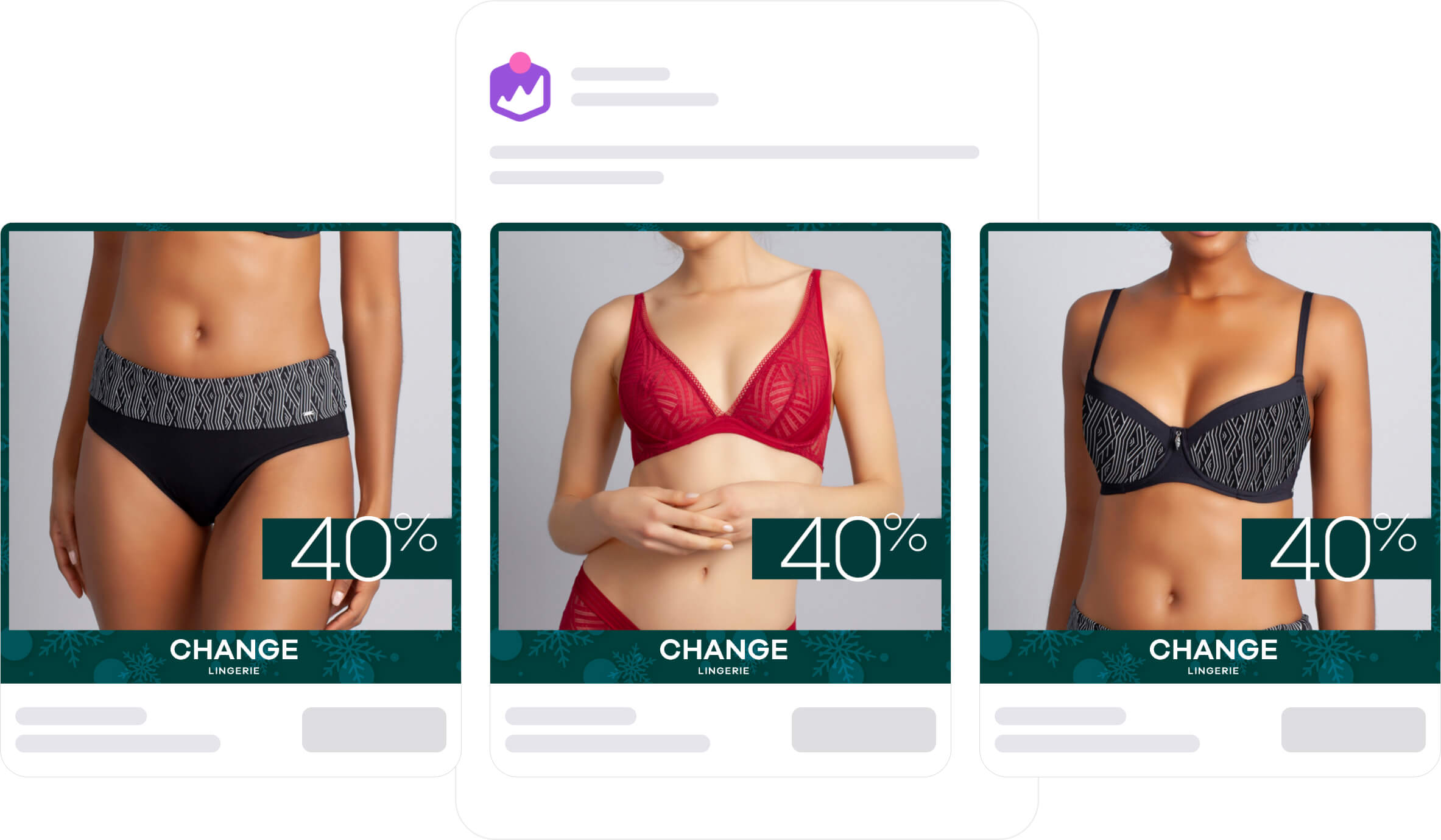 The background contains subtle snowflakes, beautifully tailored to the specific season. It ensures that these ads are perceived as recent and relevant during the winter months, without overwhelming the design with different elements, taking attention away from the main focus - the product.
Additionally, CHANGE combined this with a whopping 40% discount, making even more users rush to the checkout page.
Season-specific designs are great because they can offset ad fatigue. When users see the same design for months on end, they subconsciously tune it out, making the ad much much less effective.
But tailoring the design to the current season is a simple trick that keeps your content fresh, makes it relevant and more relatable to users.
With Confect customers, we see a trend that the advertisers reaching the highest performance have a habit of consistently creating new, fresh and recent content. With that said, CHANGE definitely belongs to our top-performers club.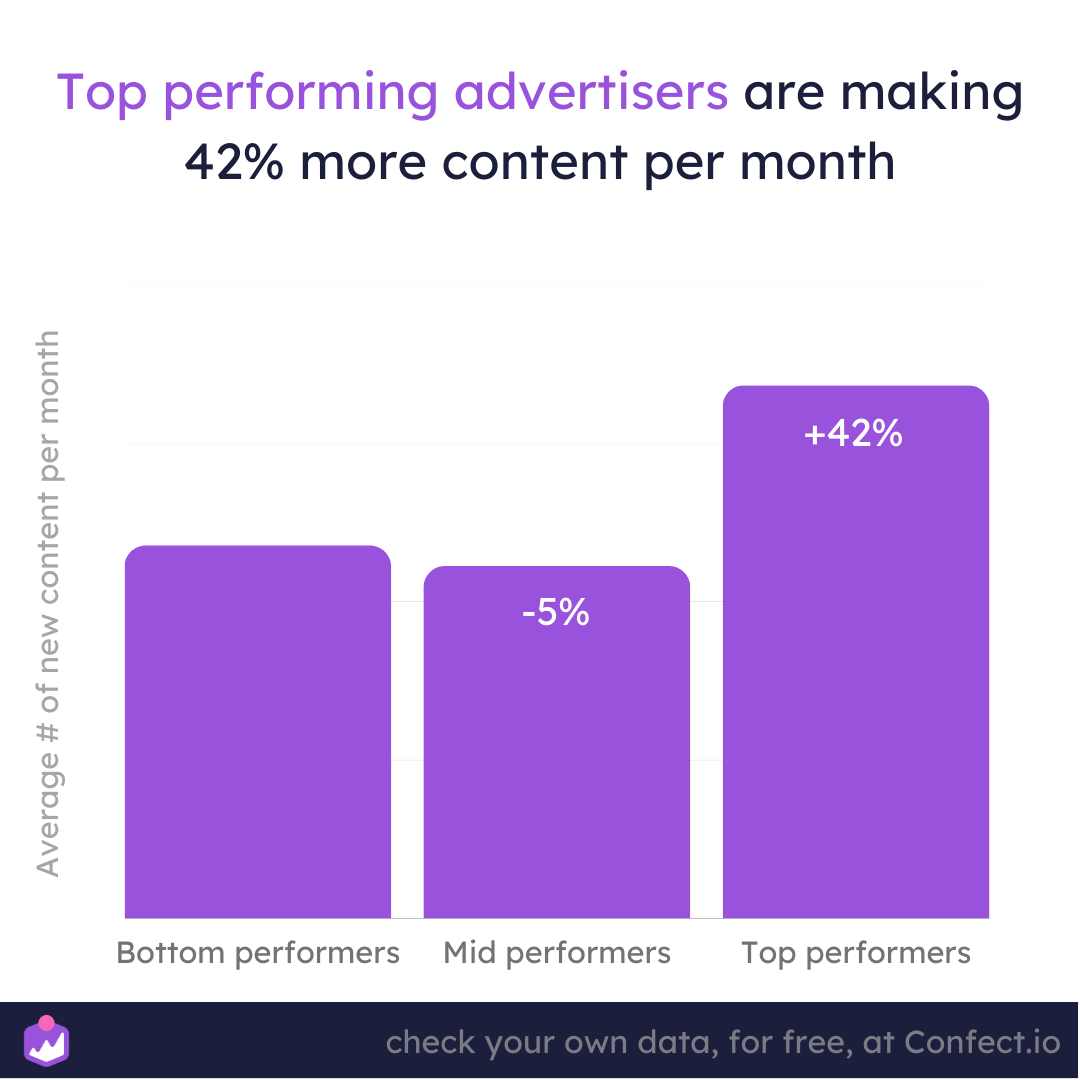 You can read more about what top-performing advertisers have in common here.
Unique selling points design
This next design shows CHANGE communicating everything the customer needs to know to buy.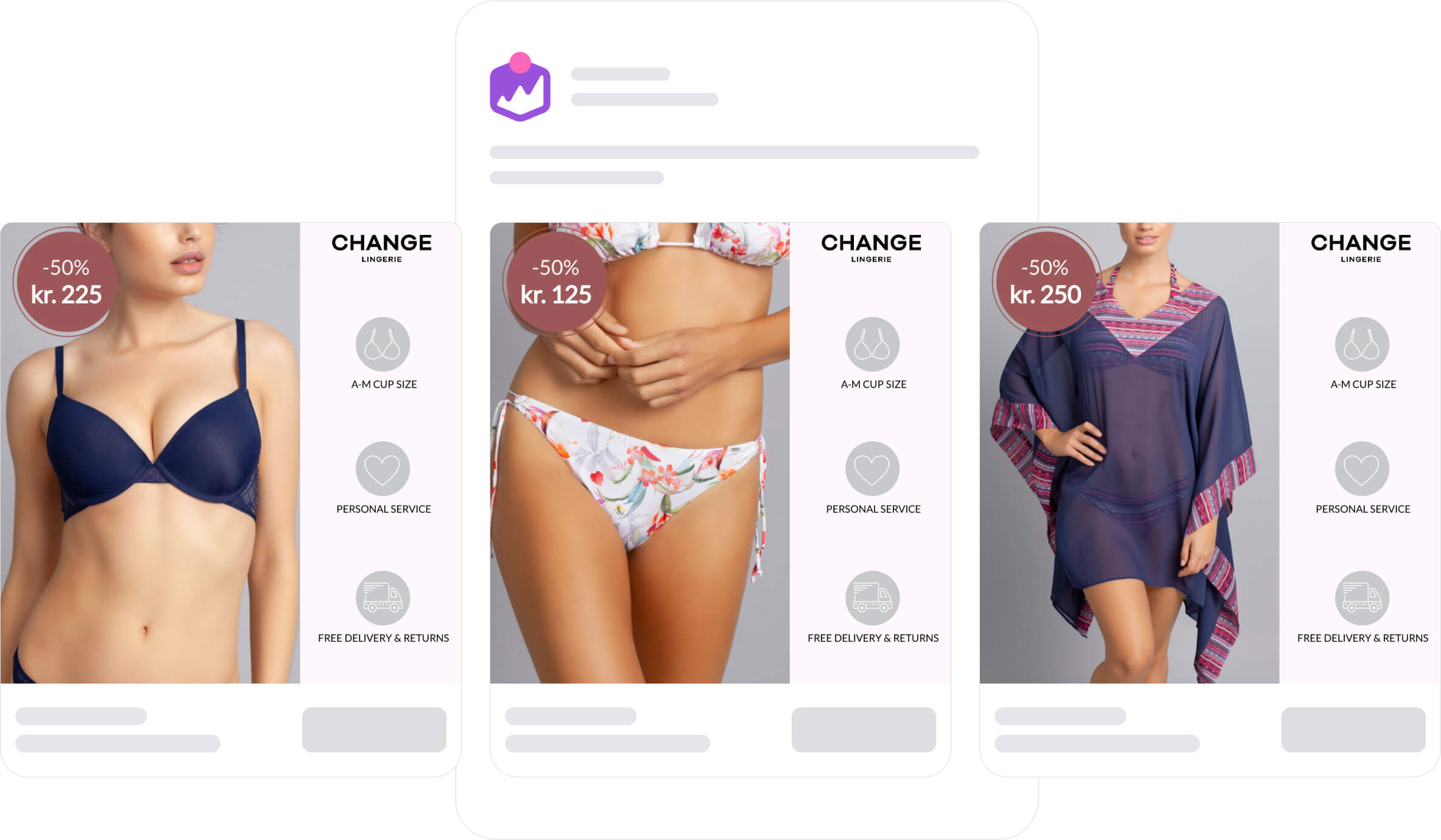 An extra large selection of sizes, personal service and free shipping. These selling points serve not only to make the offer more attractive and drive more user to the shop, but also to differentiate themselves from their competitors.
Their commitment to providing personal help with choosing the correct size, as well as their wide selection, makes them stand out in the industry. For many women, these details are the deciding factors.
CHANGE is not just any random underwear retailer. And it's ads like this one that help them not only generate sales, but also to establish and reinforce their brand identity and values.
In addition to the unique selling points, it also clearly shows the product's price, and current savings, using a price splash to make it more noticeable.
Showing prices in Dynamic Product Ads aligns customers' expectations and, on average, reaches a 20% higher performance.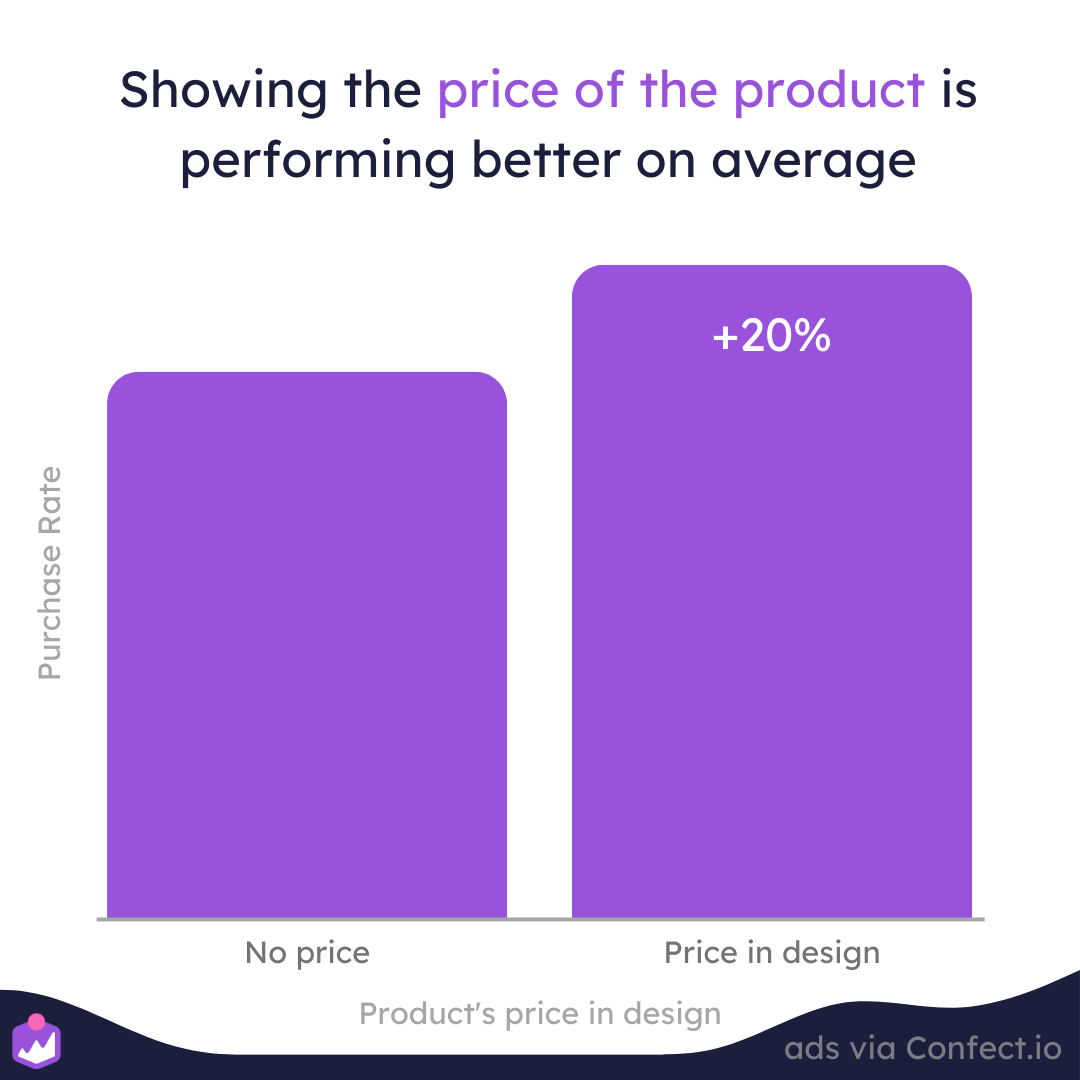 Read the ultimate guide for designing Dynamic Product Ads here.
Campaign design
The third and final design we've decided to show off is their take on a special promotion campaign.
Since this promotion ran for just one day, it was a great choice to go with a vibrant and saturated pink colour to draw more attention to the ad. The "40%" text is by far the largest font used in the design, making it jump out and be instantly noticeable while scrolling through a feed.
Urgency (i.e. today only) can work wonders in advertising. No one wants to miss out on the savings for a product they want, making users rush to get the product in their shopping carts.
But this isn't any random site-wide flash sale, it's for members only. You can only get the discount if you've signed up for Club CHANGE.
There's an age old adage that goes: "People want what they can't have". And so in the case of CHANGE, this promotion entices users to join the club in order to claim the savings and reap many other benefits.
From our analysis, VIP, or member exclusive, promotions are the single most effective type of sale that an eCommerce company could run. Good choice, CHANGE!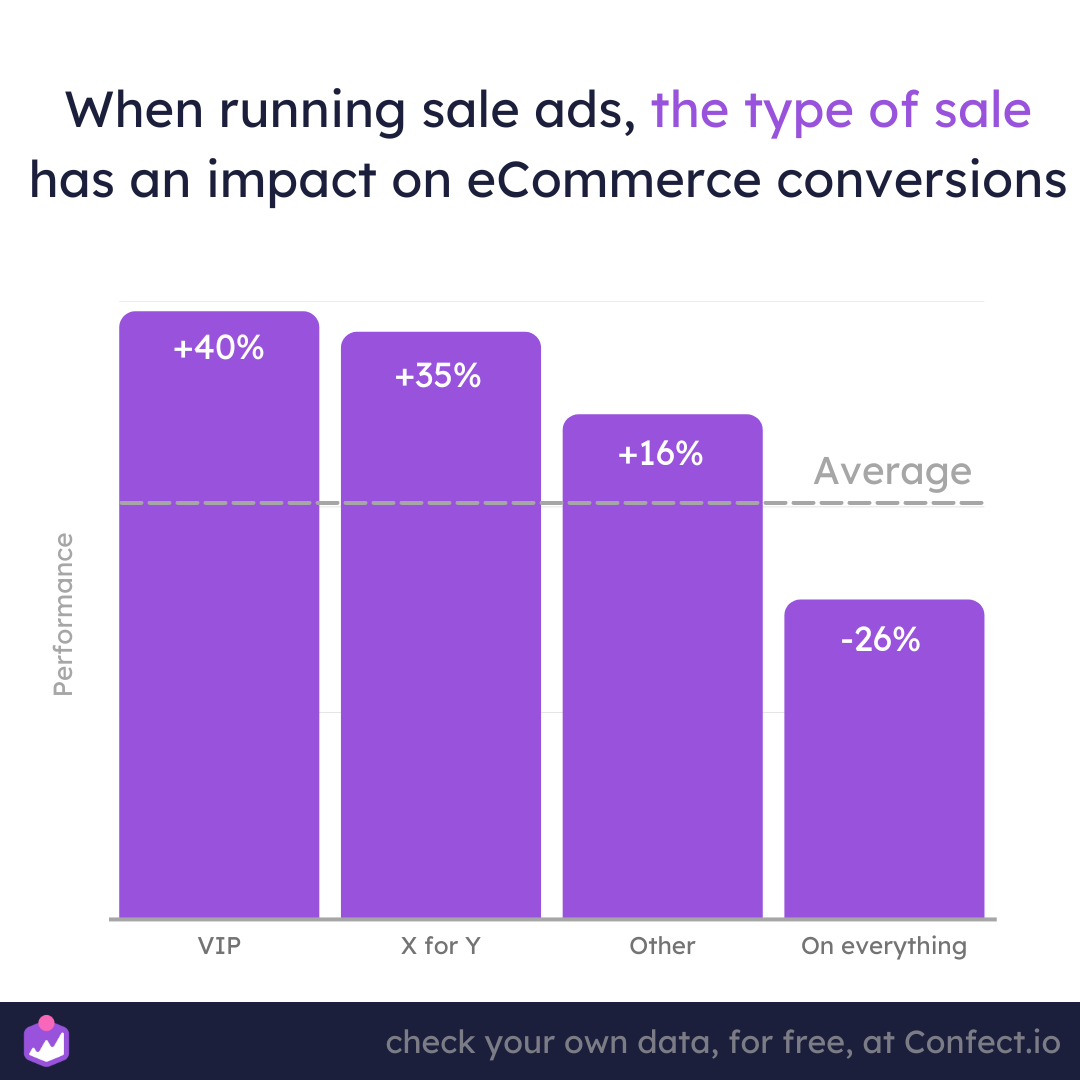 Check out our article about making the best possible SALE campaign.
What can we learn from CHANGE?
Even though CHANGE is highly specialised in what they do, we think there's a number of learnings that all advertisers could take out of their book.
We'll just give you a quick sum up of things to also apply in your content:
Create, and switch to, season-specific designs to offset ad fatigue and keep your ads recent.

Don't focus purely on short-term conversions. Use Dynamic Product Ads to also show off your brand values, differentiating factors, and to reinforce your positioning.

Run limited-time, or perhaps even exclusive, campaigns to create urgency and boost sales.